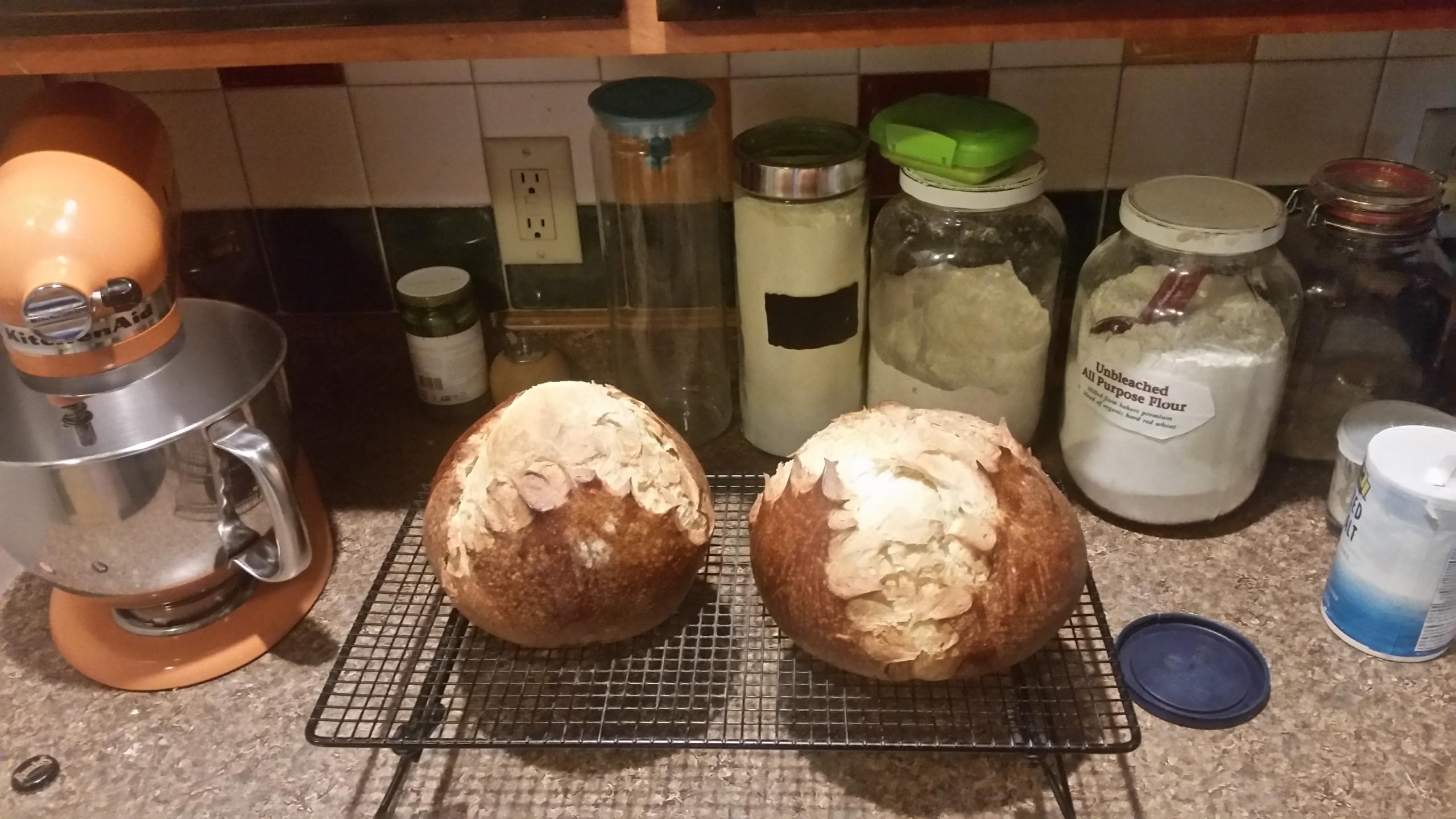 Recipe for Pinza Triestina adapted from the blog Nuvole di Farina
http://nuvoledifarina.blogspot.com/2012/04/cucina-regionale-giuliana-pinza-e.html
We had an Italian conductor from Trieste stay at our place for a week when he was visiting for a music festival.  He wanted to bring us a something from Italy so we asked for some traditional breads from Trieste. One was a Pinza – a sweet bread with 10% butter, lots of sugar, and rum. I finally got around to making it myself this weekend.  I adapted it to include some levain and used Grand Marnier instead of rum because we had it around. 
Have not tried it but looks and smells good. Directions were not clear on proofing(actually did not mention proofing after shaping at all). The cuts seem too distinct but looks good if not quite correct in any case..  
Levain:
250 g flour
150 g warm milk (this was a guess the recipe asked for a cup (bicchiere) of milk but a cup is not a standard unit of measure in Italy – I went 60% of original flour)
2 tbs  100% hydration starter
Let it ferment for 4 hours. The house was cold 70 F and it did not pass a float test. I put it in a warmed oven for another hour but still did not float but used it any way.
Primo impasto  (first dough – multiple builds common in Italina sweet breads like pandoro or pannetone):
Levain
250 g flour
2 tsp SAF gold yeast
100 g sugar
2 eggs
40 g butter (room temperature)
Water enough to make a stiff dough with levain, flour, and eggs.
I had to add water hear to get the extra 250 g flour to mix. I did not measure. After I had a fairly smooth dough I added the sugar, and then after it was absorbed the butter. Used a stand mixer and slowy added ingredients to let gluten develop . I put it in a warmed oven and it doubled in about an hour so it was ready for second mix (the recipe called for 3 hours).
Secondo impasto (second dough):
All of primo impasto
500 g flour
3 eggs + 1 yolk (save the white for a glaze)
150 g sugar
Peel of 1 lemon and 1 orange
Shot of Grand Marnier
Tsp vanilla extract
13 g salt (not included in the recipe but I added)
60 g butter (room temperature)
Again add ingredients slowly to make sure gluten develops. This was too much dough for my mixer so I had to split it in two.  This one took about two hours to double in size. Since I had already split the dough I just shaped each dough into a boule placed cut side down on a piece of parchment and put it in the fridge overnight.   I let it proof for 2 hours while heating oven. 
Cut a zigzag Y with scissors and glaze with egg white.
Cook 360 for 25 minutes, then 300 for 30 minutes.