August 22, 2014 - 11:34am
No Knead Sprouted Spelt, Barley & Potato Sourdough
It has been forever since Lucy and I baked a no knead bread but emkay baked a beautiful one earlier this week so Lucy was all hot to trot to make one too.  We have been messing around with sprouted multigrain flour for the past 3 bakes and wanted to continue along those lines with a high % of whole and sprouted grains.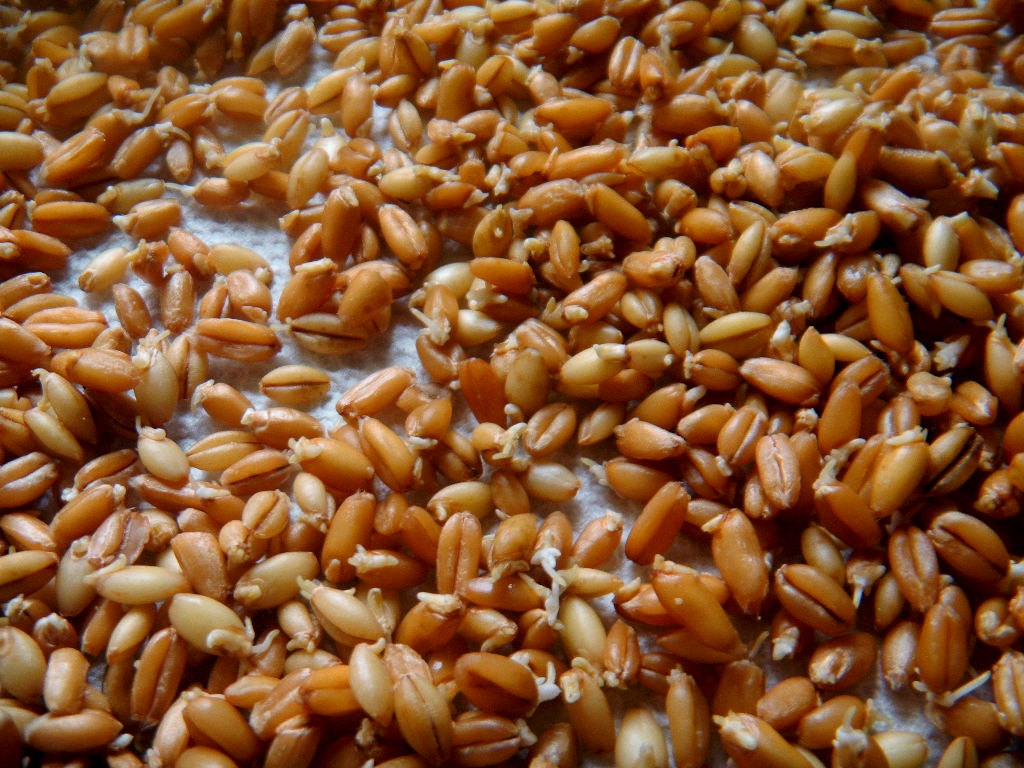 This week Lucy chose to sprout spelt, wheat and barley in equal amounts and take the same amount of each un-sprouted  to come up with another 58% whole grain bread with the remaining flour King Arthur bread flour.  We used the sprouting liquid for part of the dough liquid, some red malt and for a new twist added some potato flakes to the mix.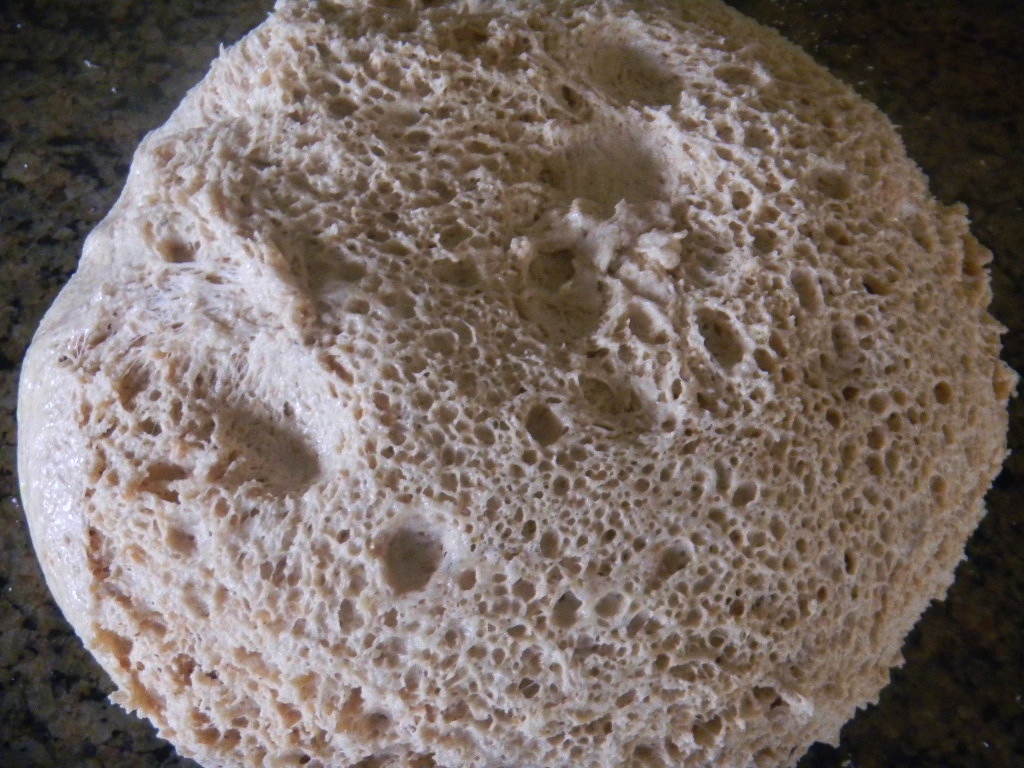 We didn't think that the spelt and sprouted grain would make it for Mary's 72 hour retard that she used.  But we though it might go 24- 48 hours.  We started the sprouts early Monday morning.   After 24 hours they were fully chatted and we dried them in the AZ sun.  We ground the sprouted grain and the whole grains together and sifted out the hard bits getting a 17% extraction.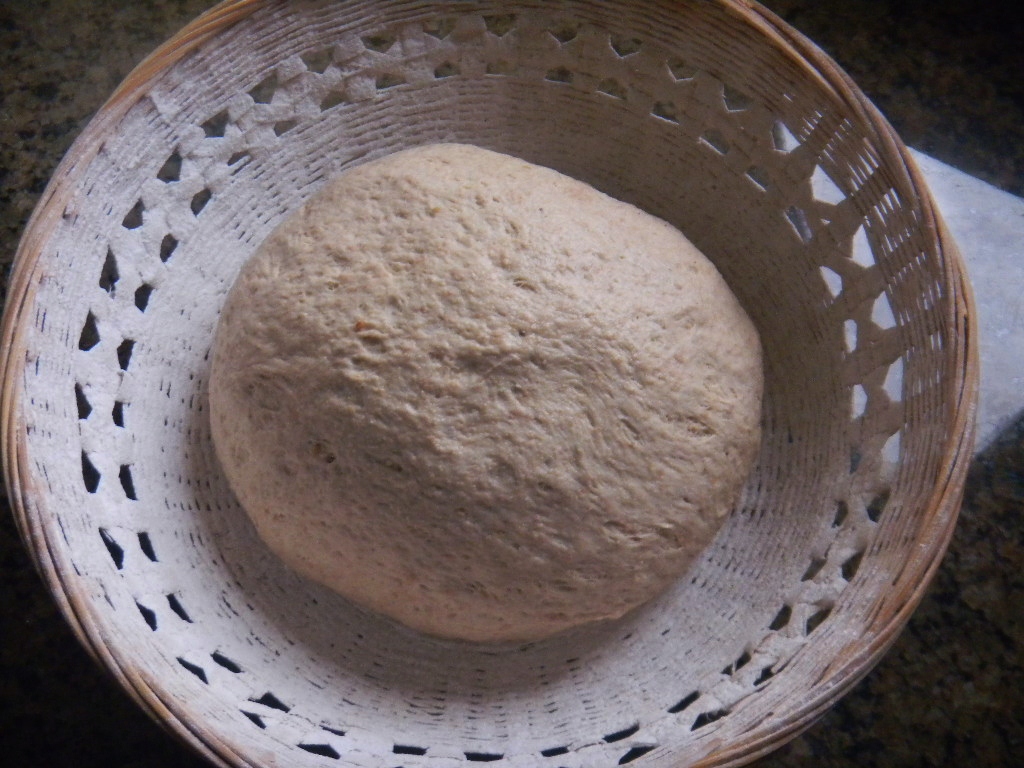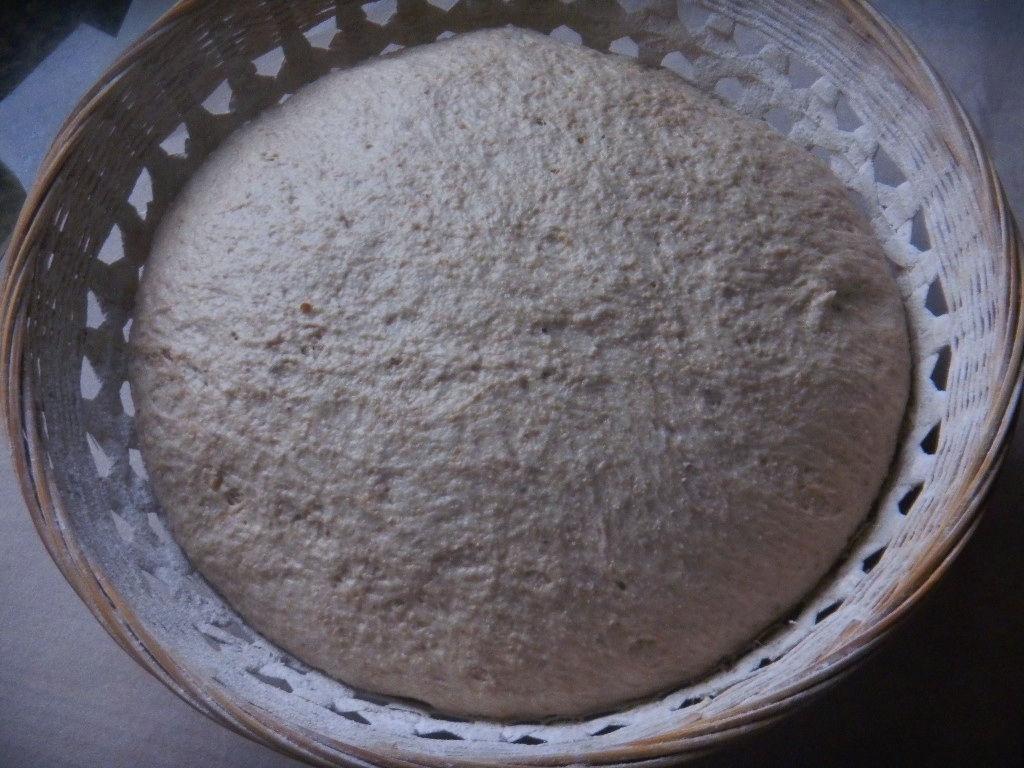 We got out our 10 week fridge stored starter and took 6 g of it to build the 106 g  levain over 3 stages throwing nothing away.  Once it rose 50% after the 3rd feeding, we refrigerated it overnight.  Wednesday morning we got the retarded levain out of the fridge to warm up on the counter and finishing its 3rd stage doubling while autolysing the dough flour, dough liquid, red malt and potato flakes with the salt sprinkled on top for 2 hours.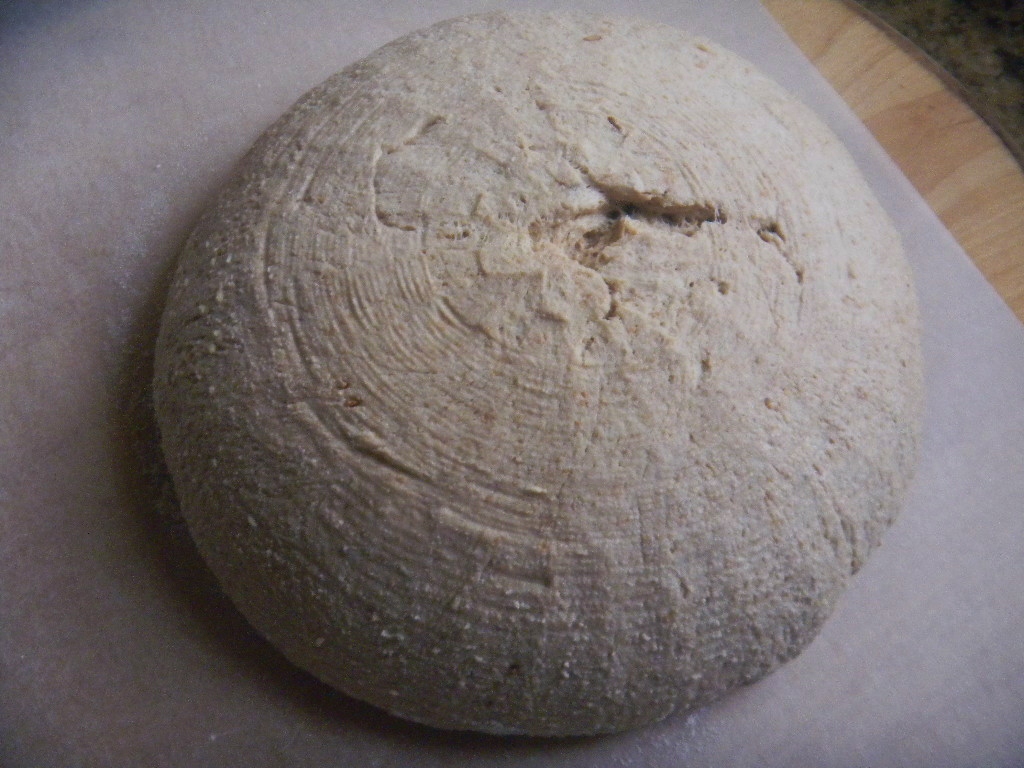 We mixed the levain into the dough with a spoon and then did 1 minute of slap and folds to get it thoroughly incorporated.  That was it for gluten development.  Mary left her dough on the counter for 9 hours but we cut it back to 6 hours since our kitchen is 15 F warmer than hers.  Still, it doubled in volume.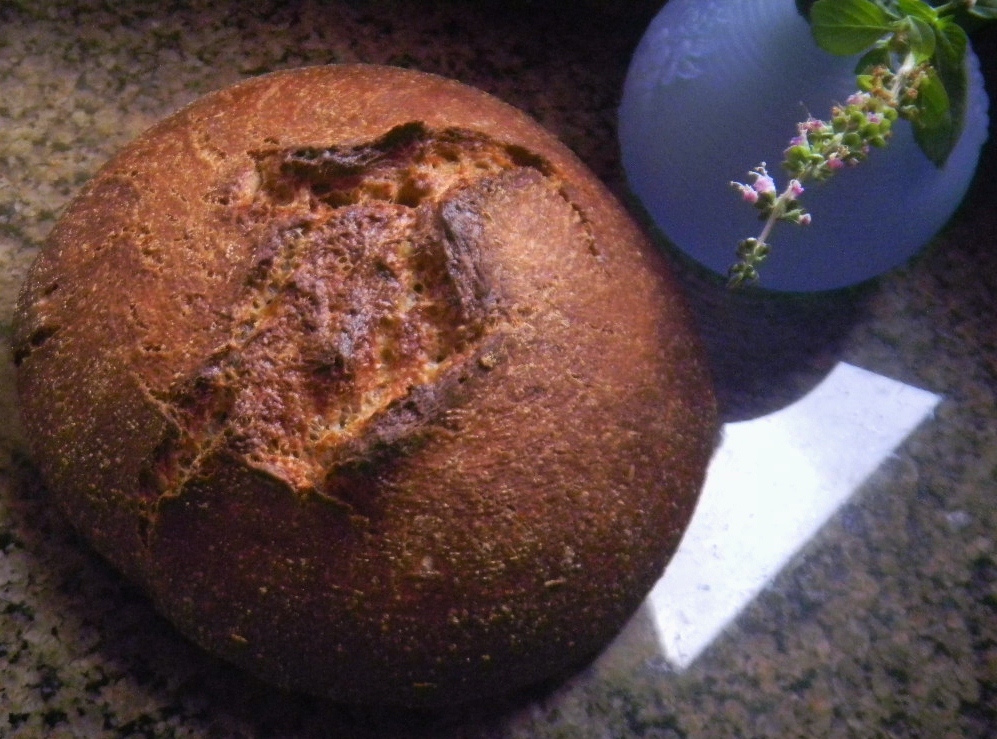 We then chucked it in the fridge for a 24 hour bulk ferment.  The next day it had kept on rising in the fridge and as now tripled.  Breaking from Mary's method, we then shaped the dough cold, put it in a floured basket, bagged it and put it back in the fridge for another 24 hour retard.
By Friday the dough had risen 50% in the fridge again.  We took it out to warm up and  finish proofing on the counter.  Lucy was happy that the dough didn't look like it was going to turn to goo.  We let it proof for 2 hours before firing up Big Old Betsy to 550 F with Mega Steam installed when it hit that temperature.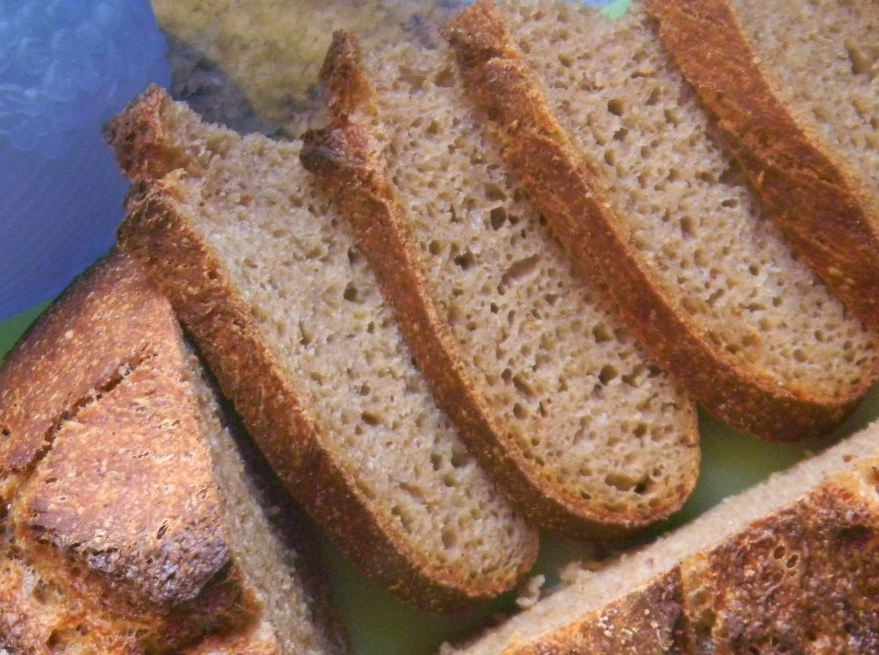 The dough had proofed on the counter for 2 ¾ hours before it was un-molded, no slash required as it was baked seam side up and hit the heat and steam.  We steamed it for 2 minutes and turned the oven down to 500 F.  After another 2 minutes we turned the oven down to 475 F and continued to steam another 11 minutes – 15 minutes total.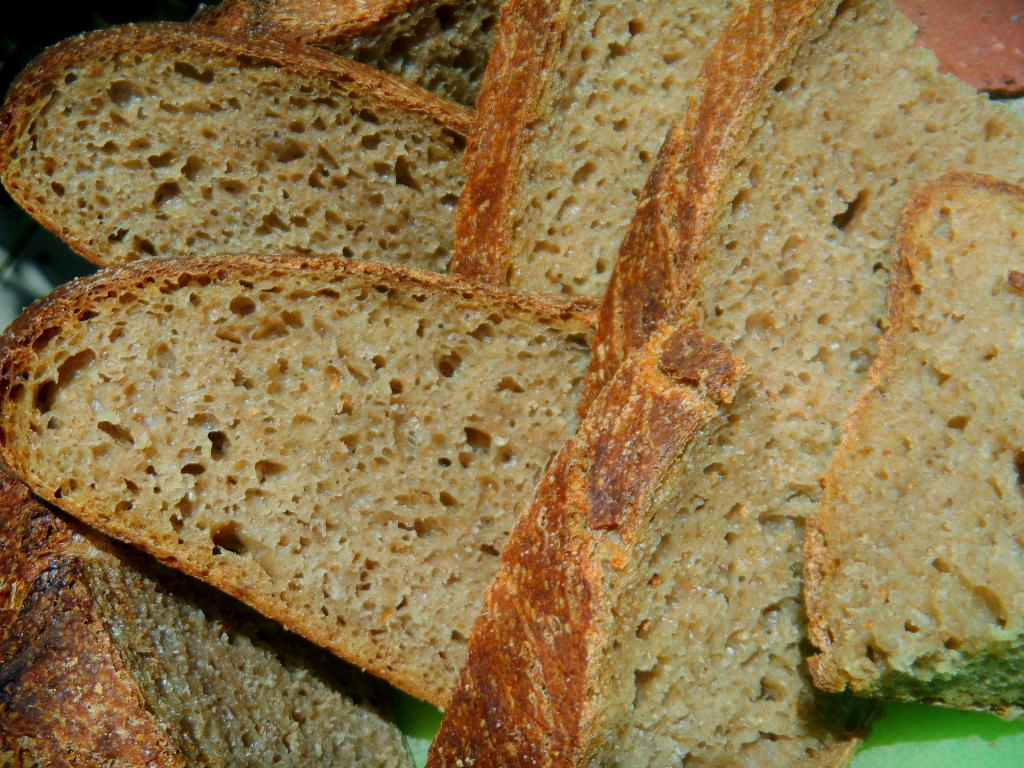 Once the steam came out we baked the bread for another 15 minutes at 425 F - convection this time.  We turned off the oven at 205 F and removed the bread from the oven when it hit 208 F.  It sprang, bloomed at the seams and browned up nicely. It came out of the oven very crispy -  rustic looking loaf for sure.  Will cut it for today's lunch sandwich to see how the crumb came out and, more importantly, get a taste since it smelled so delicious.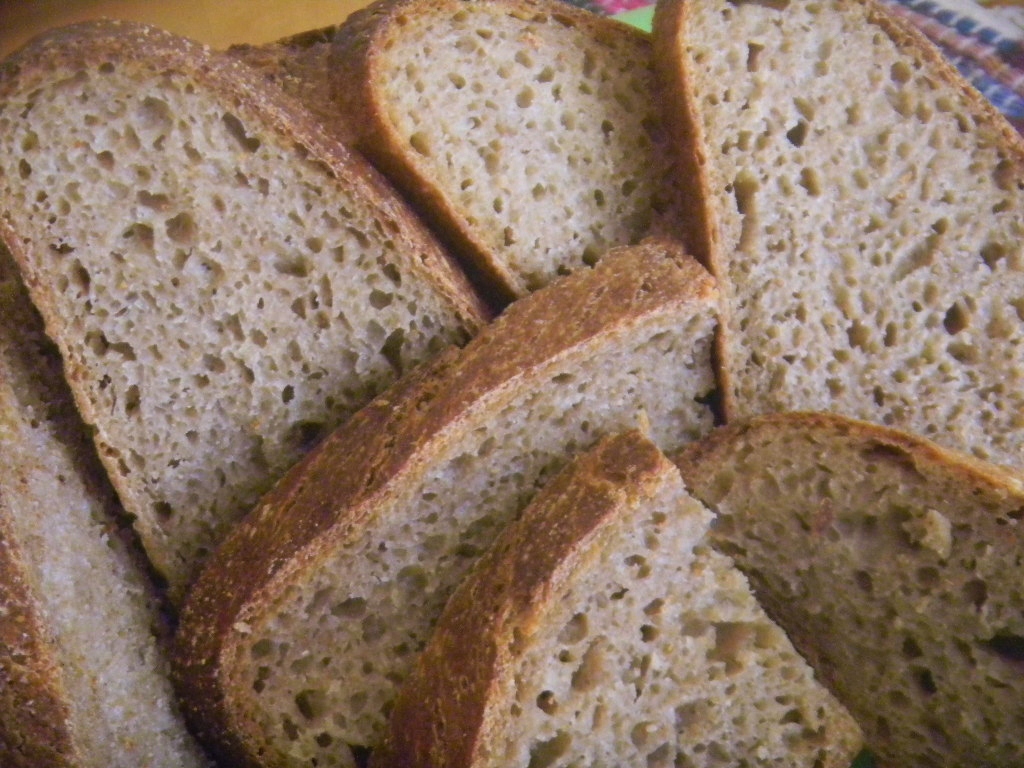 We are hoping the sour is pumped up with the 48 hr retard.  Why do a 3 day or 4 day bake when there is nothing like a 5 day bake?   I don't think a commercial bakery is going to do this 5 day process……. and make money at it.  My daughter is home and we are back from the airport so I can finish this post.  The bread is the most sour and tangy we have ever managed.;  The 10 week retarded starter, the 24 hour retarded 3 stage levain and the 48 hour retard of the dough really did their magic.  We go for tang all the time and our bread is pretty tang most always but ......this is in a league of its own.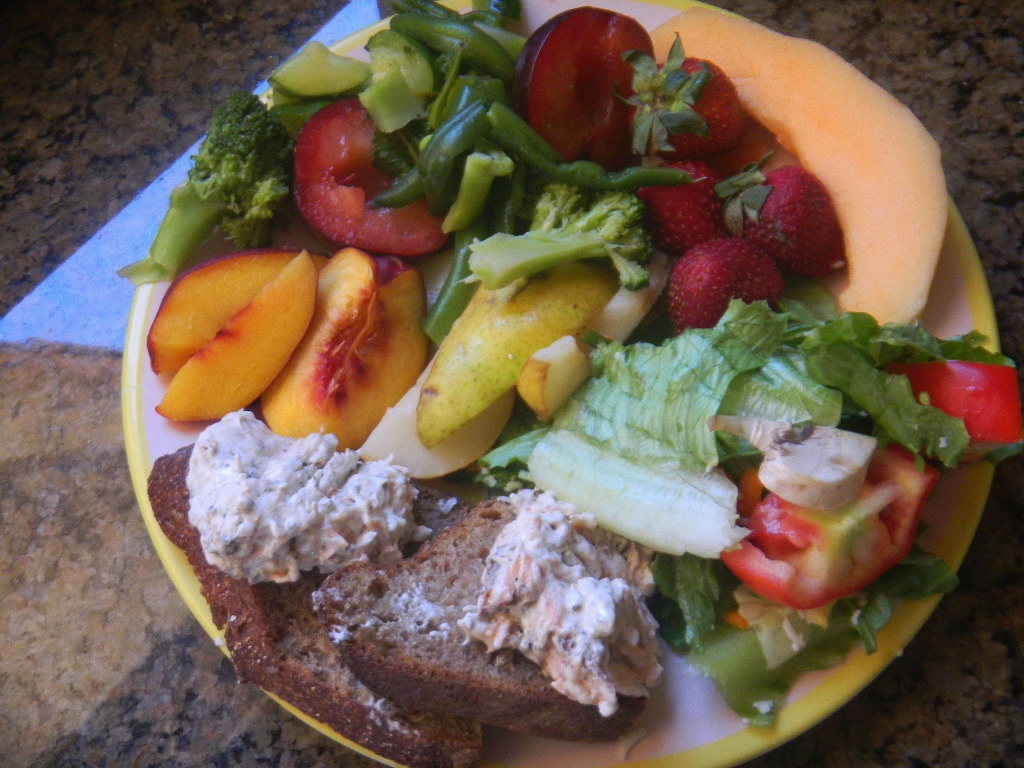 Last Friday's sprouted rye bake with salmon herb Allouette with salad, fruit veggies and melon. a bacon and egg breakfast .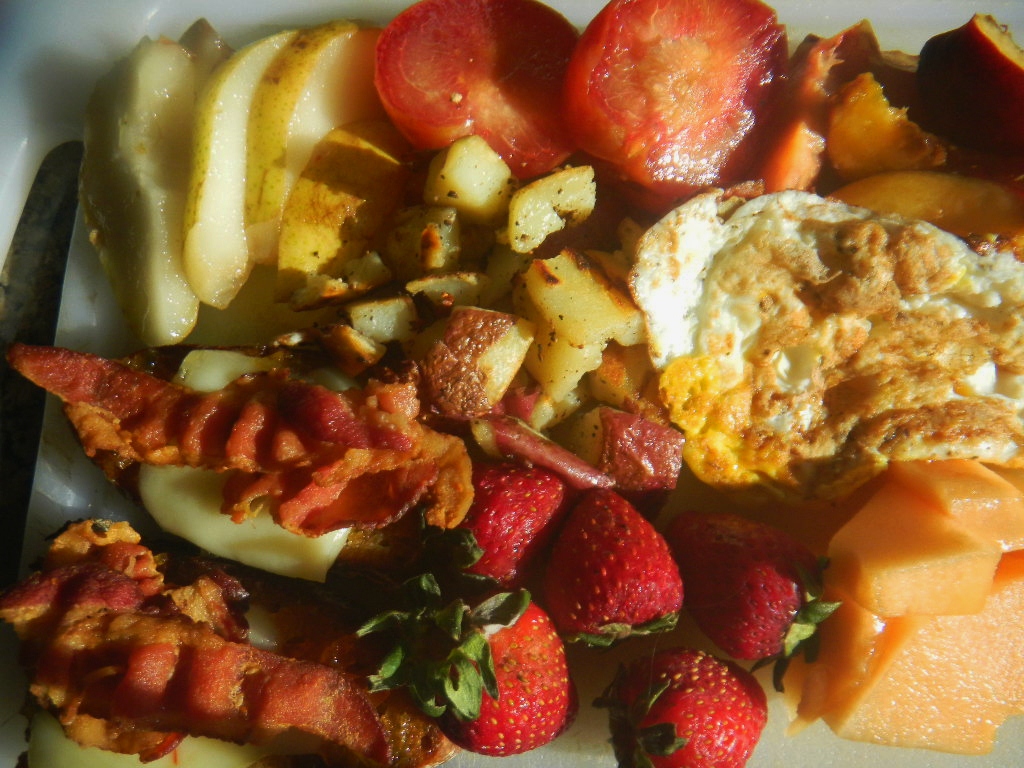 And a smoked rib and chicken dinner.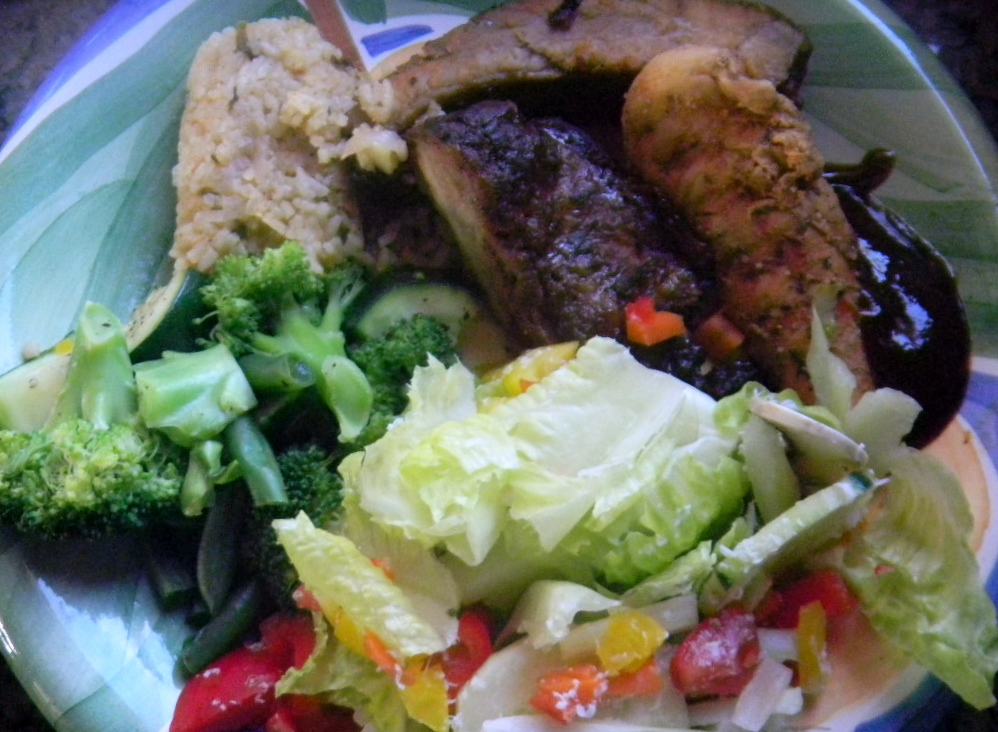 The crumb ended up soft, very moist and open.  We could have let this bake to 210 F without problem - thanks to the sprouted grains.  It is delicious.  We love spelt and mixed with the barley sprouted and whole grains makes for an earthy, hearty and healthy loaf.  Just delicious !  Now we will have to see if it gets even more tangy tomorrow or whether it mellows out some.  Either way it is a loaf well worth spending 5 days making :-)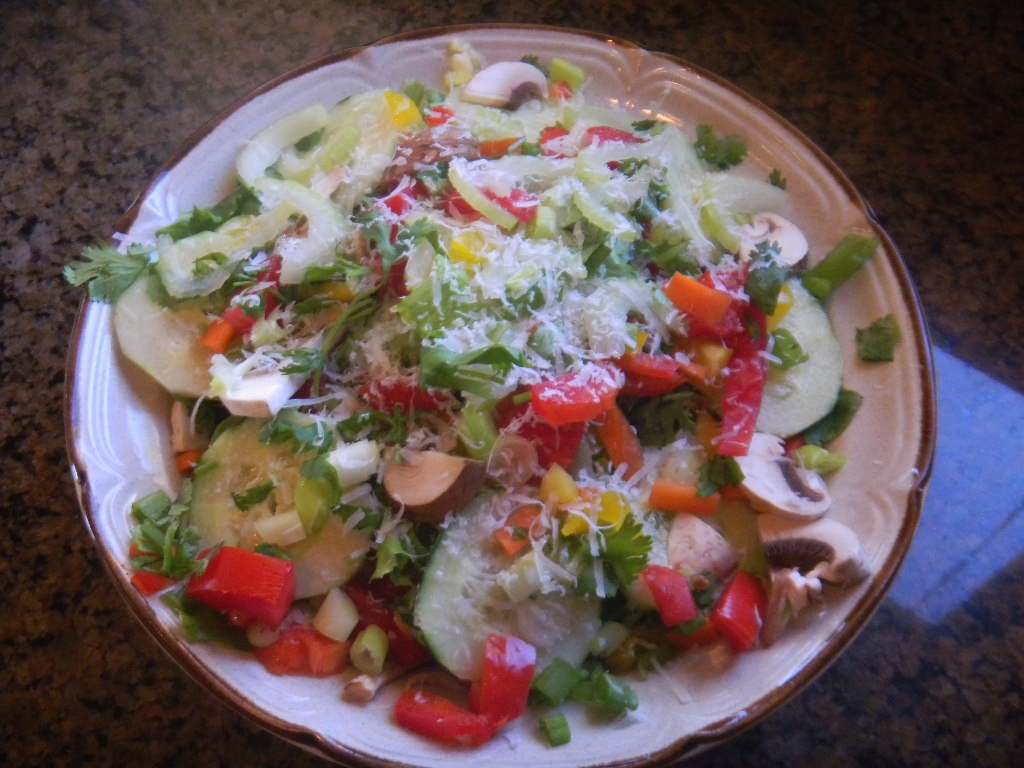 Lucy says never forget the salad to go with  that roasted onion and peppers with pepper jack cheese, chipotle, tomatillo and red pepper sauced  quesadilla.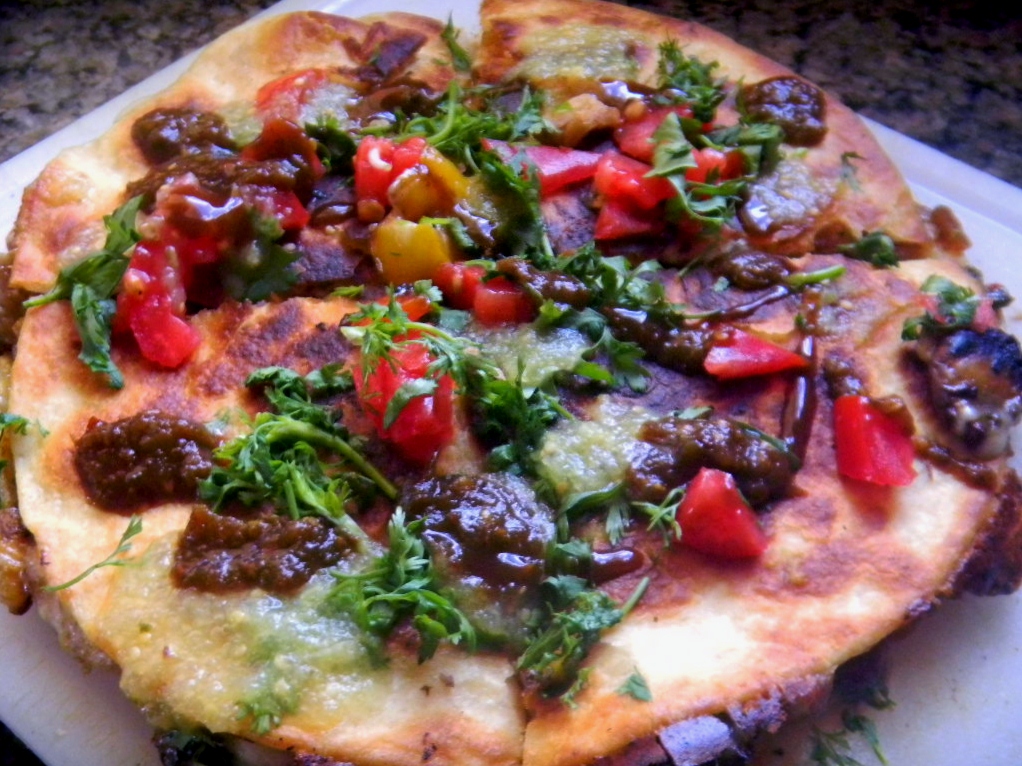 Formula
| | | | | | |
| --- | --- | --- | --- | --- | --- |
| RyeSD Starter Build | Build 1 | Build 2 |  Build 3 | Total | % |
| 10 Week Retarded Rye Starter | 6 | 0 | 0 | 6 | 1.32% |
| 16% Ext Sprouted Spelt, Barley & Wheat | 6 | 15 | 29 | 50 | 10.99% |
| Water | 6 | 15 | 29 | 50 | 10.99% |
| Total | 18 | 30 | 58 | 106 | 23.30% |
|   |   |   |   |   |   |
| Starter Totals |   | % |   |   |   |
| Flour | 53 | 11.65% |   |   |   |
| Water | 53 | 11.65% |   |   |   |
| Starter Hydration | 100.00% |   |   |   |   |
| Levain % of Total Flour | 11.18% |   |   |   |   |
|   |   |   |   |   |   |
| Dough Flour |   | % |   |   |   |
| 84% Ext. 1/2 Sprouted Spelt, Barley & Wheat | 245 | 53.85% |   |   |   |
| KA Bread Flour | 210 | 46.15% |   |   |   |
| Total Dough Flour | 455 | 100.00% |   |   |   |
|   |   |   |   |   |   |
| Salt | 10 | 1.95% |   |   |   |
| Sprout Water 94 & Water | 365 | 80.22% |   |   |   |
| Red Malt | 5 | 1.10% |   |   |   |
| Potato Flakes | 12 | 2.64% |   |   |   |
|   |   |   |   |   |   |
| Dough Hydration | 77.33% |   |   |   |   |
| Total Flour w/ Starter | 513 |   |   |   |   |
| Sprout Water 180 & Water w/ Starter | 418 |   |   |   |   |
|   |   |   |   |   |   |
| Hydration with Starter | 81.48% |   |   |   |   |
| Total Weight | 958 |   |   |   |   |
| % Whole Grain - Sprouted Grain | 58.49% | 28.27% |   |   |   |
| Total Hydration with Starter & Adds | 78.87% |   |   |   |   |