Lucy's Sorta Tzitzel Like Sprouted Sourdough
Lucy noticed that we were out of Jewish Deli Rye sandwich bread and pumpernickel too so she was flummoxed as to which one she would craft up a recipe for this week.  Of course she chose pumpernickel since I is always her favorite kind of bread but, since I had recently smoked a corned beef, freezing half, I told her the pumpernickel would have to wait.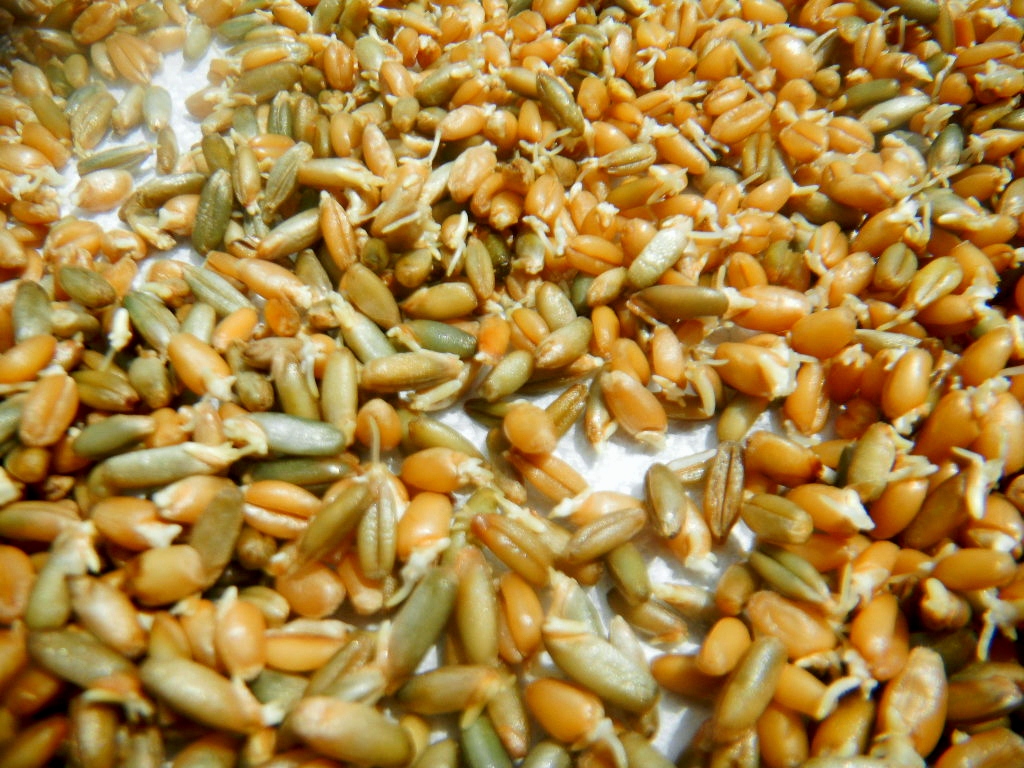 She knows out favorite JDR is tzitzel and we have messed with the formula  several times trying to get it right – without total success but we love the final SD bread anyway. It eventually became a 40% whole rye bread that was a little less hydrated than out usual bread for that amount of whole grains.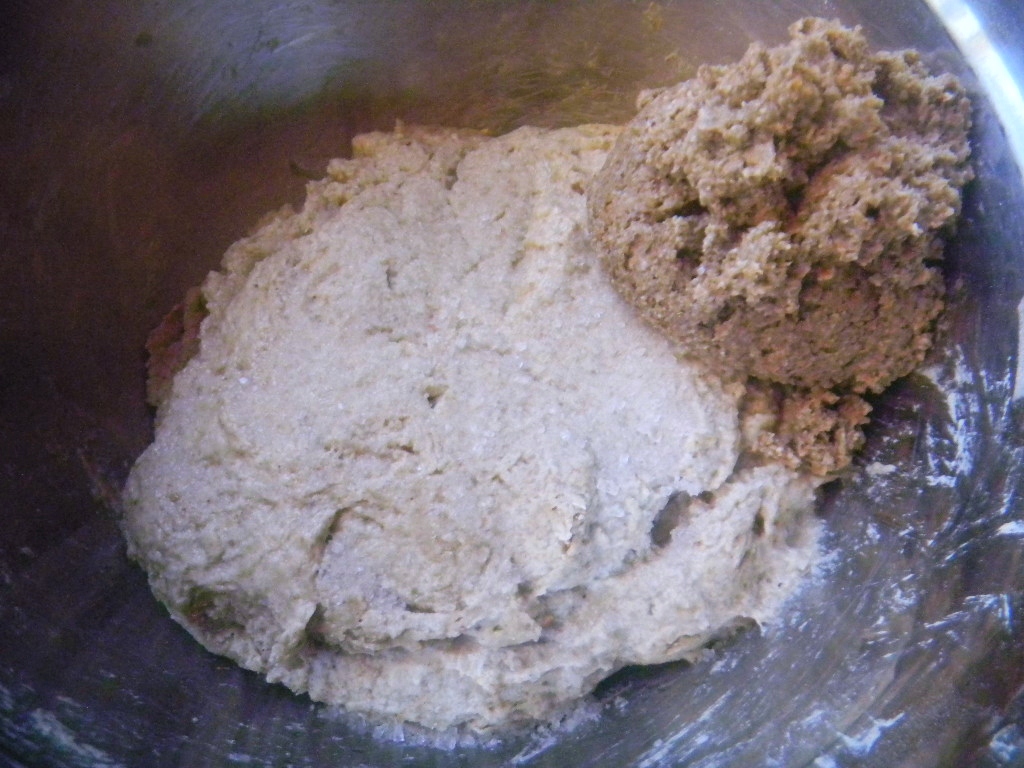 Lucy then decided to continue our sprouted grain baking by using 30% sprouted whole rye and wheat in the mix and increase the amount of whole grains to 60% by using 30% whole un-sprouted rye and wheat as well.  In the past, 30% sprouted grain in the mix became somewhat of a fermenting nemesis making a long, shaped proof in the fridge of 20 hours problematic.  We thought we would give it another go to verify the previous outcomes.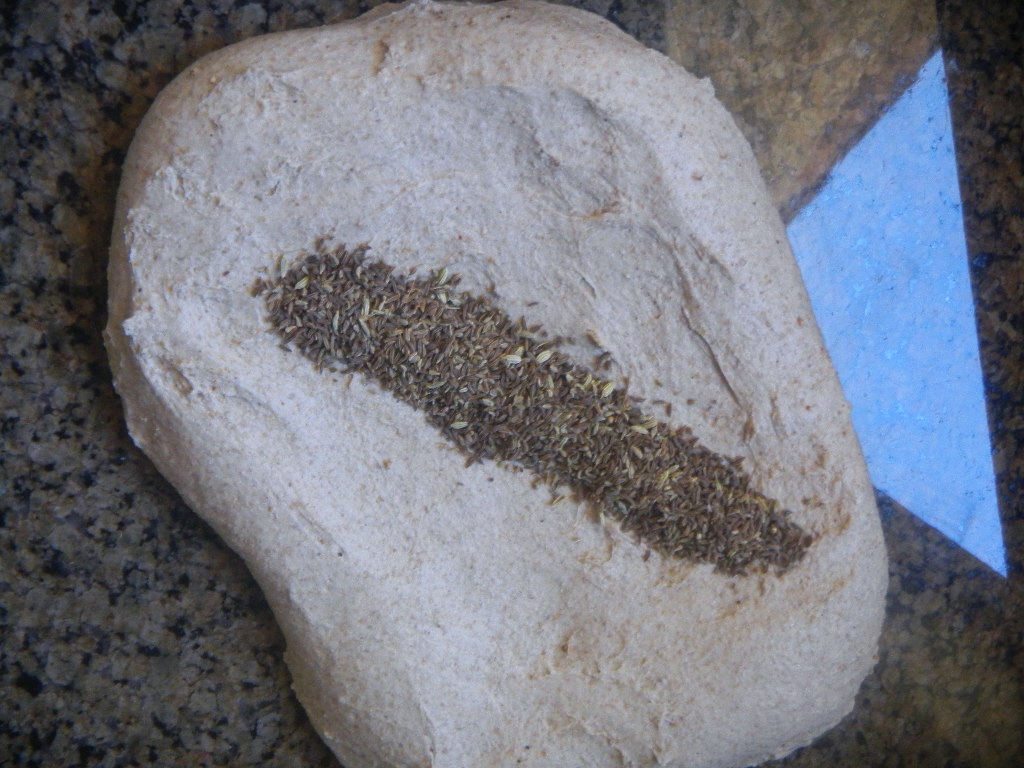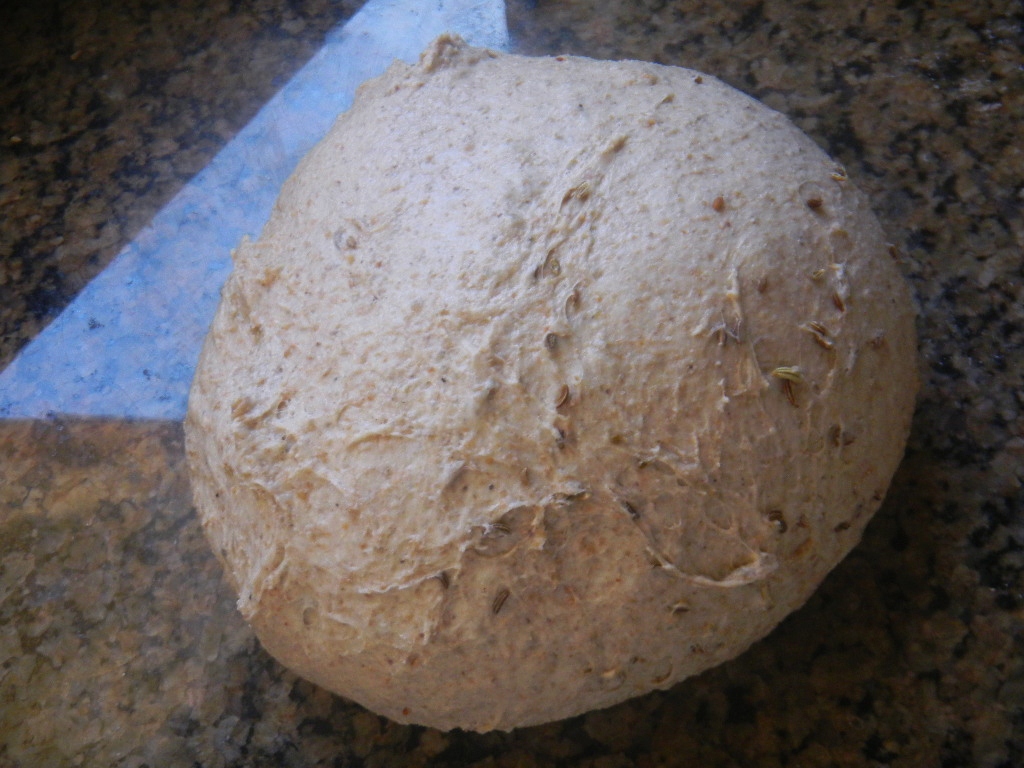 We sprouted the equal parts of rye and wheat on Monday and dried them outside in the AZ sun at 105 F on Wednesday before the monsoon rains came around dumping 2 of rain is a very short period of time.   We milled the sprouted and whole grains together and sifted out the 15% hard bits totaling 42 g which we fed to the 9 week retarded rye starter to make the levain over 3 builds.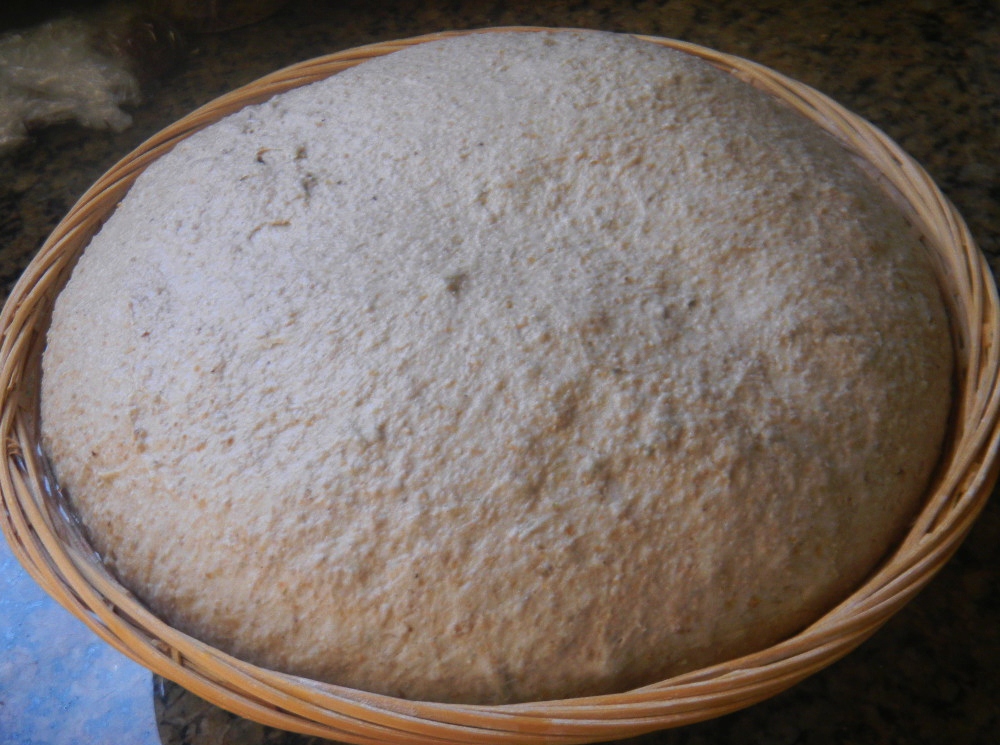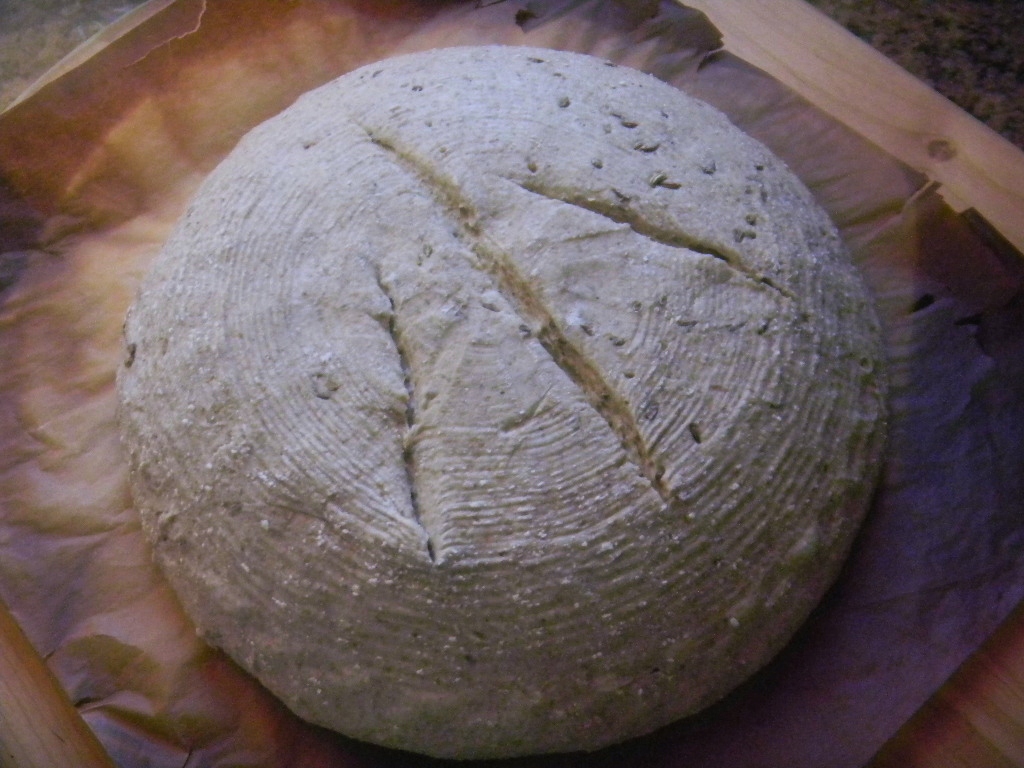 The first build was 2 hours the 2nd stage was 3 hours and 3rd stage was 4 hours.  Once the levain rose 50% in volume we retarded it for 12 hours.  An hour after the levain came out of the fridge the next day, we started the 1 hour autolyse with the remaining dough flour, red malt, sprouting water and water with the salt sprinkled on top – so no chance for forgetting it.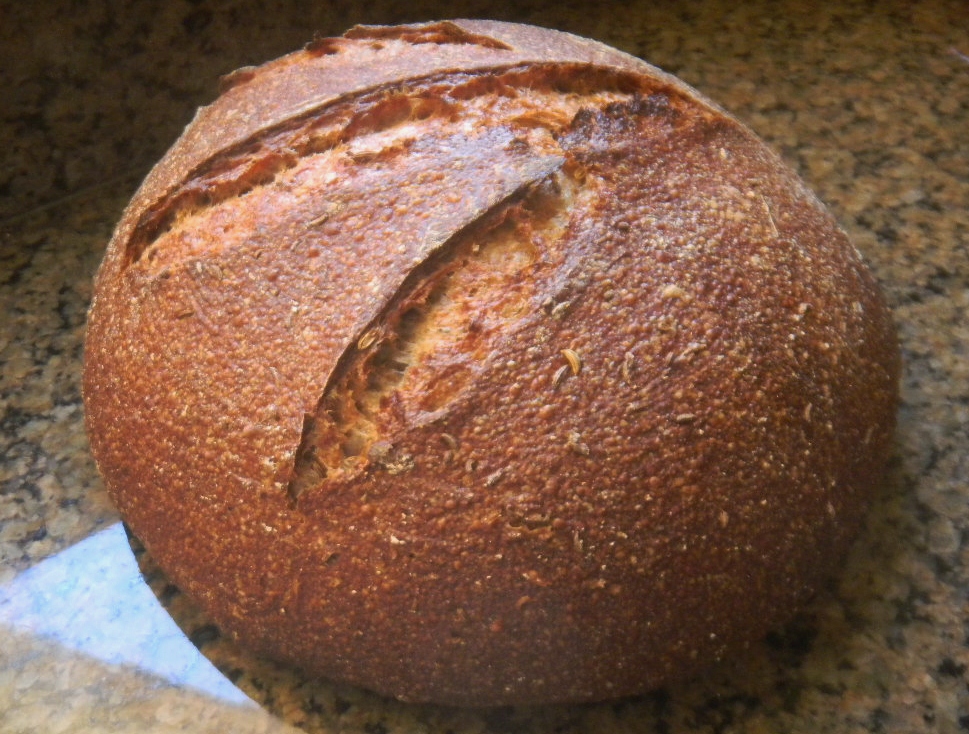 I know what you are thinking.  Tzitzel not made with any sprouted flour or even any whole meal flour either.  It is made with medium rye flour, bread flour and commercial yeast.  Lucy's Sorta Tizitzel Like Sprouted Sourdough is getting pretty far from the mark but since she can't read or understand English – it isn't all her fault.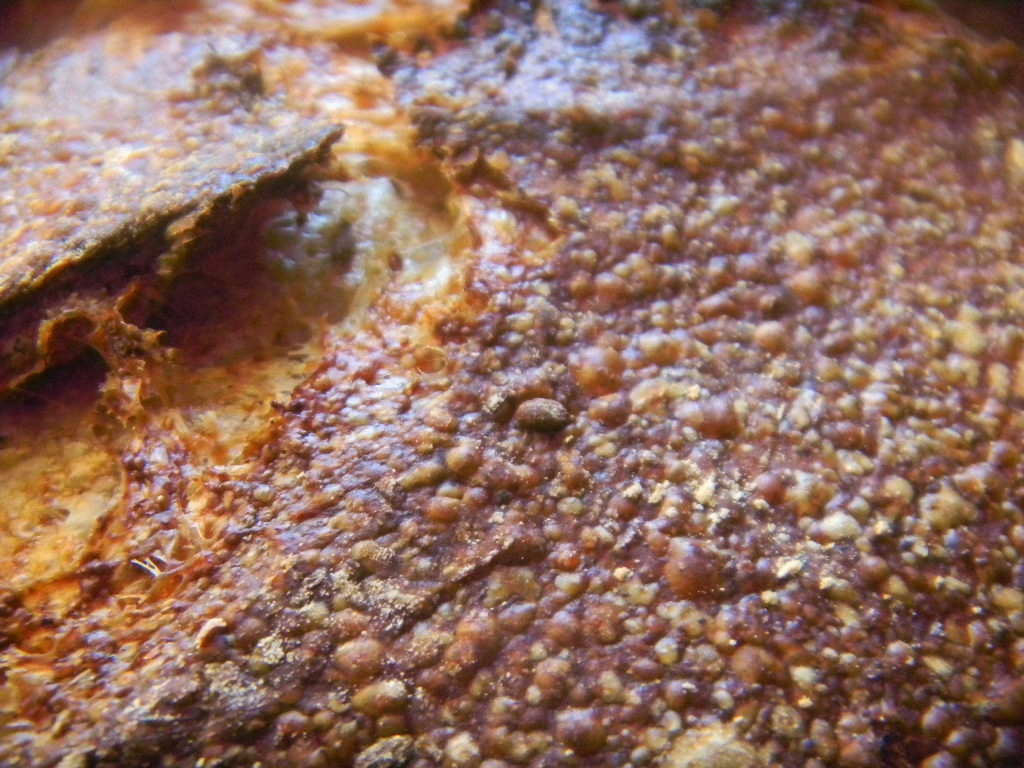 I think she just called it that to please her master and feed his Tzitizel Fever Fetish.  Still, it sounded pretty good if the sprouted flour didn't create its usual run away fermenting mass that would eat the fridge and probably the most susceptible and most tasty part of the kitchen.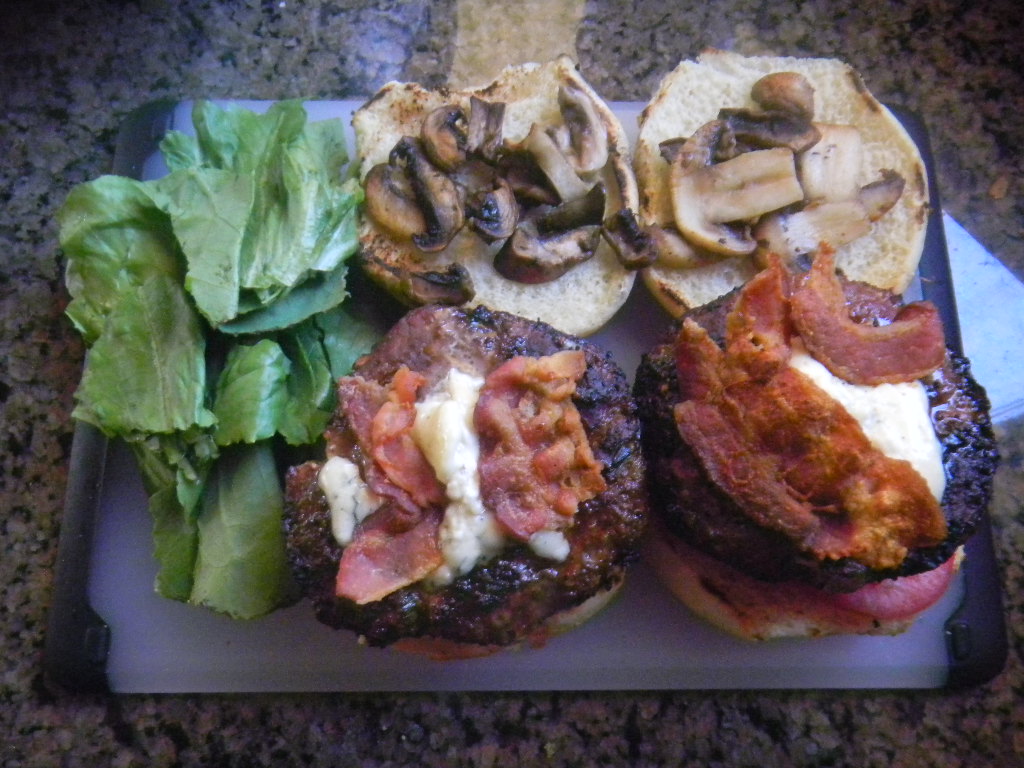 Tough to beat  good, bacon, brie,  blue cheese mushroon burger - once a month!
Once the levain hit the mix, we did our usual 3 sets of slap and folds of 7, 2 and 1 minute – all on 20 minute intervals.   Since the hydration was low for this amount of whole grains. We did 2 slaps to each fold and I can say thy dough completely quit sticking to the counter after the first 7 minutes.  With 30% whole rye in the mix you have to change your rule of thumb about quitting the first set of slap and folds when the dough stops sticking to the counter.  It was sticking much but there was a bit left behind – so no worries.  By the time we finished up the slap and folds the dough came off the counter clean.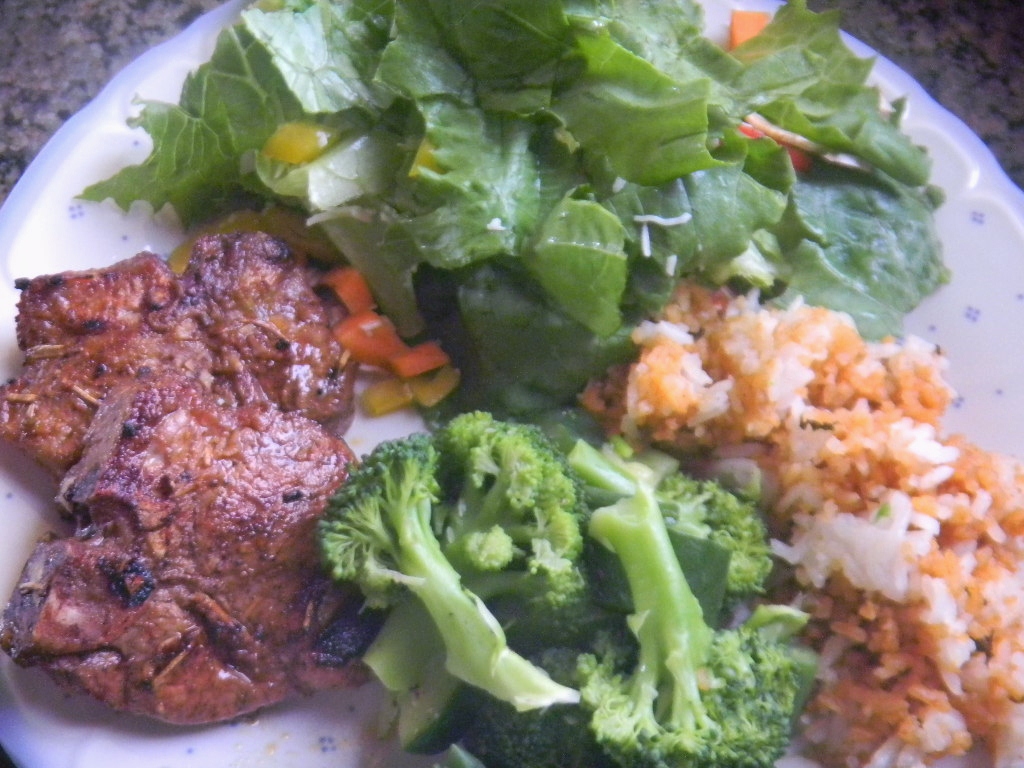 Can't remember the last time we had grilled lamb chops.
We incorporated the aromatic seeds into the dough on the first set of stretch and folds and they were thoroughly incorporated after the 3rd set.  The S&F's were done on 15 minute intervals unlike the slap and folds.  We normally would put more aromatic seeds in this bread but we wanted to get a better feel for the difference in taste using 30% sprouted whole grains and didn't want as much competition coming from the seeds.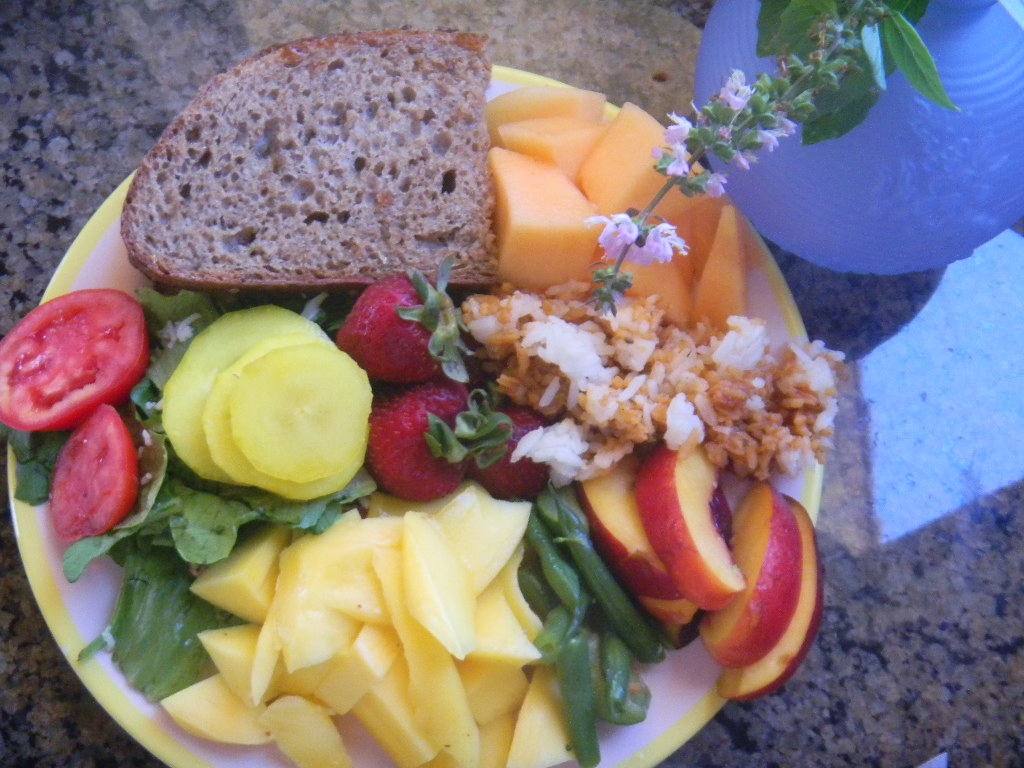 Once the S&F's were done, we shaped the dough into a boule rather than the typical Tzitzel batard.  It was immediately bagged in a trash can liner and placed in the fridge for a 20 retard but decided we would check it at 16 hours anyway.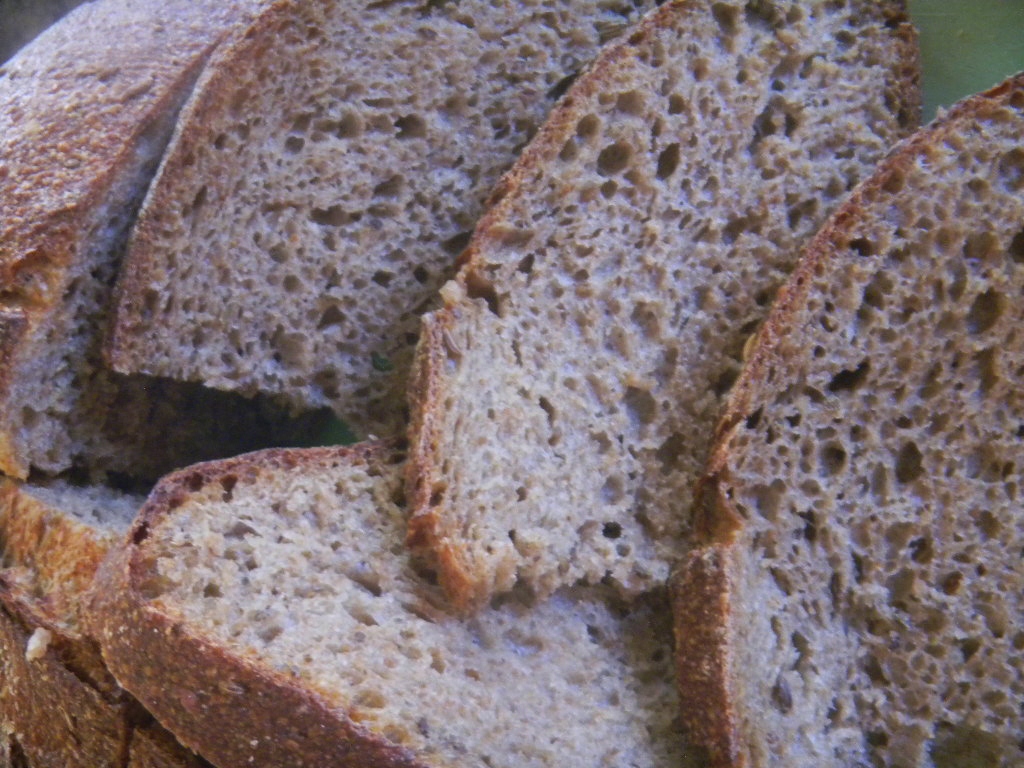 We took th proofed dough out of the fridge at the 20 hour mark and let it warm up on the counter for an hour before firing up the Mini oven.  We got 2 of Sylvia's steaming cups ready in the microwave, upended the dough onto parchment on the top vented cover of the MO's broiler pan, slashed the boule T-Rex style and slid the whole assembly into he mini oven at 500 F for 15 minutes of steam.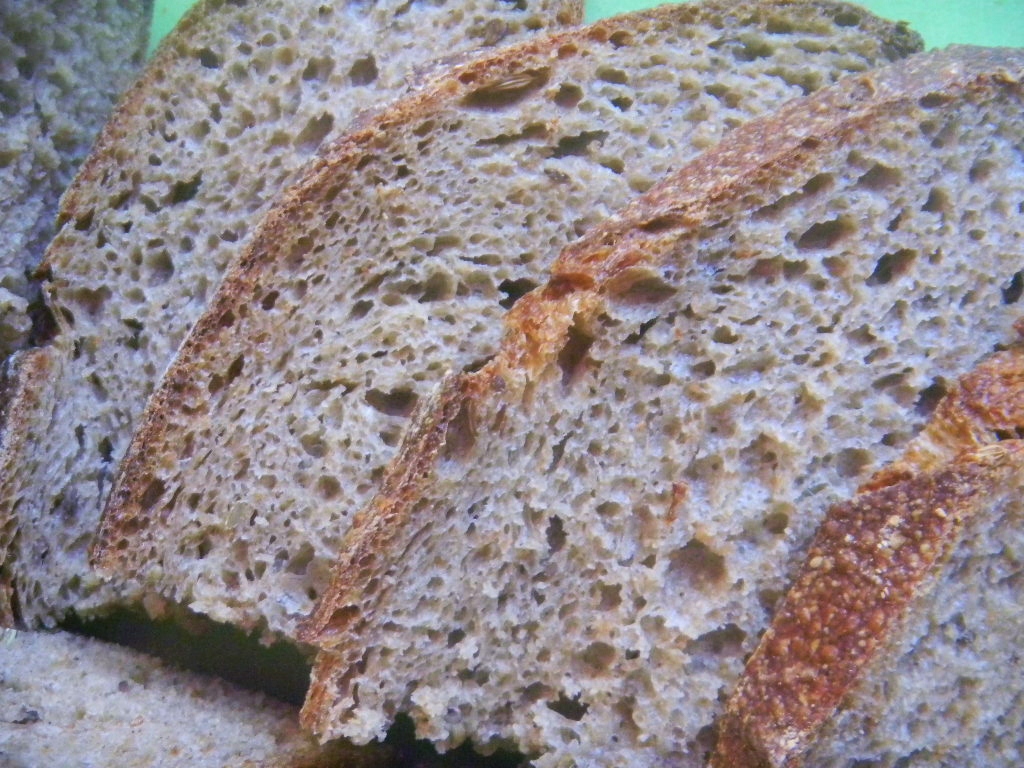 After 4 minutes we turned the oven sown to 475 F.  It is nice to be baking Mini Oven Style again.  After the steam came out, we turned the oven down to 425 F convection this time and continued to bake another 12 minutes until the bread reached 210 F on the inside and was removed to the cooling rack.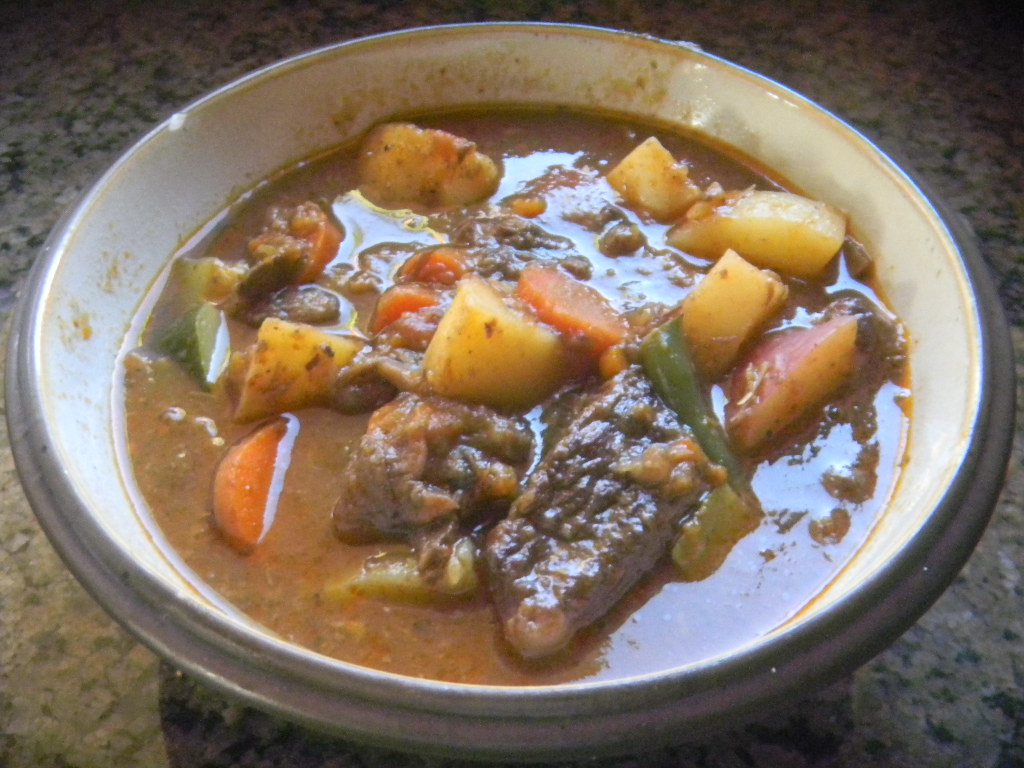 We love a rich beef stew even in the hot Az summer.
This bread smelled great when it was baking and filling the kitchen with that aromatic seed smell known to make master bakers fall their knees crying and also so their apprentices can get to them to do a nose rip so no one knows what their master is crying about for sure.  Lucy is famous for her nose rips and my wife and I have the scars to prove it – think Chinatown.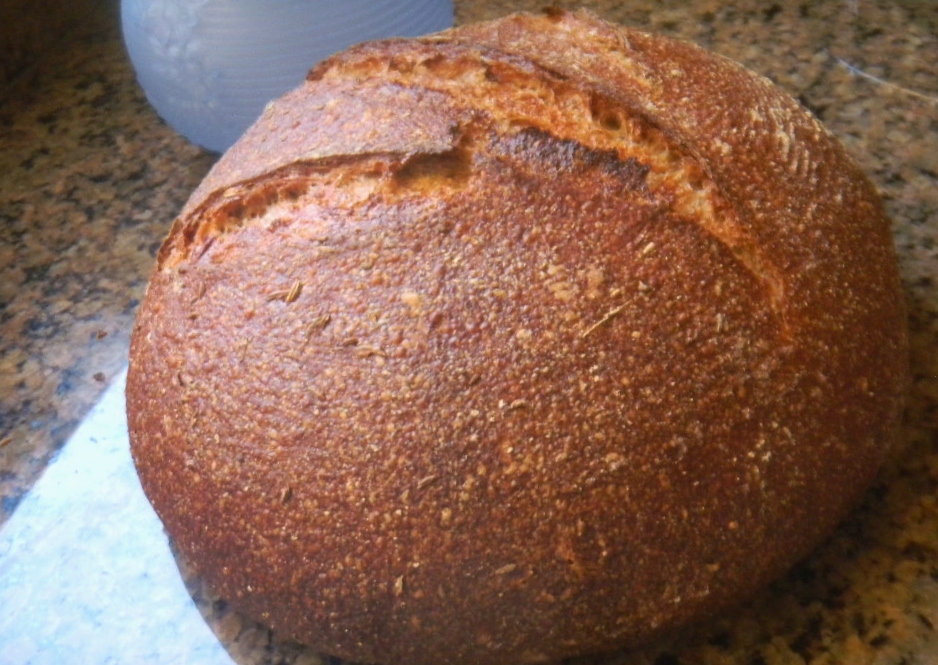 This bread browned up very well, sprang a bit and bloomed enough to reveal the nasty dinosaur footprint.   It came out of the oven very crisp with small blisters.  We will have to see how the crumb came out after lunch.  We had to dig out some smoked pork from the fridge for today's lunch after we tasted this bread.  This might be the best high percent whole grin Jewish deli rye style bread we have ever made.  The crumb was open, soft and moist.  The subtle aromatic seeds came through just enough.  The sprouted grain gave the bread a more complex and deeper flavor.  This is one fine sandwich bread.  Can't wait to but some smoked corned beef on it.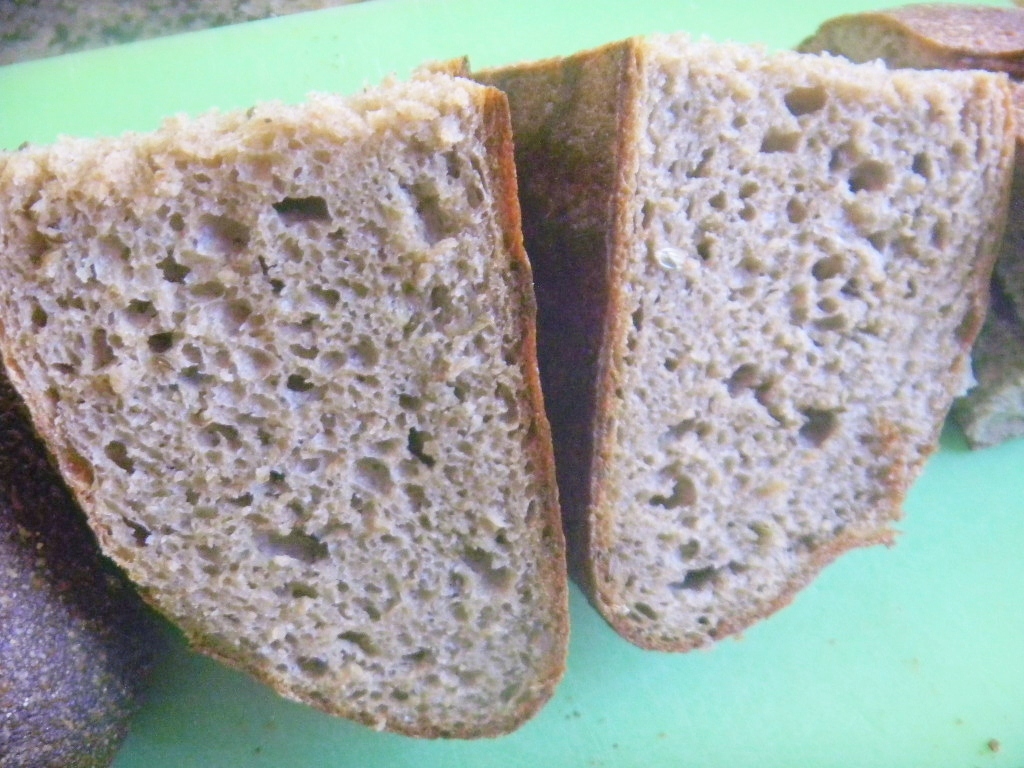 Formula
RyeSD Starter Build

Build 1

Build 2

 Build 3

Total

%

9 Week Retarded Rye Starter

6

0

0

6

1.31%

15% Ext. Sprouted Rye & Wheat

6

13

26

45

9.80%

Water

6

13

26

45

9.80%

Total

18

26

52

96

20.92%

 

 

 

 

 

 

Starter Totals

 

%

 

 

 

Flour

48

10.46%

 

 

 

Water

48

10.46%

 

 

 

Starter Hydration

100.00%

 

 

 

 

Levain % of Total Flour

10.67%

 

 

 

 

 

 

 

 

 

 

Dough Flour

 

%

 

 

 

85% Ext. Sprouted  Rye & Wheat

249

54.25%

 

 

 

KA Bread Flour

210

45.75%

 

 

 

Total Dough Flour

459

100.00%

 

 

 

 

 

 

 

 

 

Salt

10

1.95%

 

 

 

Sprout Water 180 & Water

340

74.07%

 

 

 

Dough Hydration

74.07%

 

 

 

 

 

 

 

 

 

 

Total Flour w/ Starter

512

 

 

 

 

Sprout Water 180 & Water w/ Starter

388

 

 

 

 

 

 

 

 

 

 

Total. Hydration with Starter

75.78%

 

 

 

 

Total Weight

927

 

 

 

 

% Whole Grain - Sprouted Grain

58.98%

27.93%

 

 

 

Spice Mix

12

2.61%

 

 

 

Red Malt

5

1.09%

 

 

 

Hydration with Starter & Adds

75.05%

 

 

 

 

 

 

 

 

 

 

Spice mix is 6 g caraway and 2 g each anise, corriander & fennel

 

 
And Lucy say's not forget the salad.