Another loaf made using the "Sponge and Dough" method, only this time the sponge contained whole wheat flour and vital wheat gluten.
Formula:
Sponge:
70% Stone Ground Red Whole Wheat Flour
5% Malted Milk Powder
2% Vital Wheat Gluten
0.5% Salt
0.6% Instant Yeast
0.18% Soy Lecithin Granules
73% Water (variable)
Dough
30% Bread Flour
4% Brown Sugar
3% Shortening
1.5% Salt
The method used is the same as in White Bread. The total amount of flour used in this recipe was 18 ounces (510 grams). The finished loaf weighed in at 2 pounds (907 grams). A Cuisinart DLC-2007 seven cup food processor was used in the production of this loaf.
The photo below shows the dough ingredients in the food processor work bowl before being blended with the metal chopping blade. After several pulses to blend the ingredients, they are dumped on top of the sponge and mixed by hand with a brotpisker (dough whisk).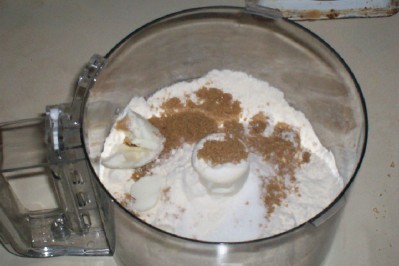 The metal chopping blade was removed and replaced with the plastic dough blade. The roughly mixed dough is then dumped in the food processor work bowl as shown below: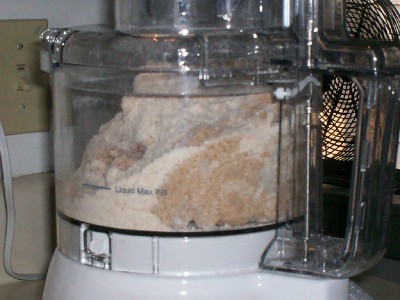 As can be seen from the photo, the dough ingredients have not been completely incorporated into the sponge (yet). Once the food processor is turned on, all of the ingredients are incorporated within a few seconds. Total remix time: 45 seconds. After mixing, the dough is turned out and rounded as shown below: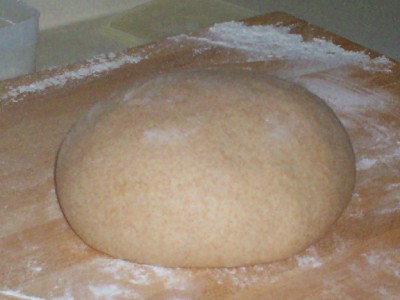 After a short rest (known as "floor time") the dough is panned, proofed, and baked.