Lemon and Corn Pie - Old Southern Favorite - Chess Pie
I'm pretty sire you won't find this pie in New York City - at least not a good one or one made with this recipe.  Like pecan pie, this is a very old Southern recipe and no two are the same - the chocolate version is Lucy's favorite even though chocolate is poison for dogs.
Ok.Lucy cheated by putting in an extra pat of butter at the very end to float around, melt wherever and adding more buttery goodness.
Mine is an easy one packed with less sugar and more flavor than the usual.  Some don't have corn, some don't have lemons, most have much less corn and lemon and most have way more sugar.
Since we we got the mill we put hole grains in everything and grind things we normally wouldn't for a recipe.
The crust of this one has 1/3 cup of whole grain mix of spelt. rye and farro to go with 1 C of AP, 1/8th tsp salt, 1 T of sugar, 4 T each of butter and shortening with 6 T of Ice water - no vodka this time.  Cut the fat into the flour and salt and then add the ice water but stop at 5 T to see if it needs the 6th one,  Make a disk, wrap in plastic and refrigerate for 45 minutes.  Roll it out into and right size for your pie pan and the refrigerate again while you make the filling,
4 T of butter and 1 C of sugar are creamed together and then 4 eggs are added and whisked until pale yellow.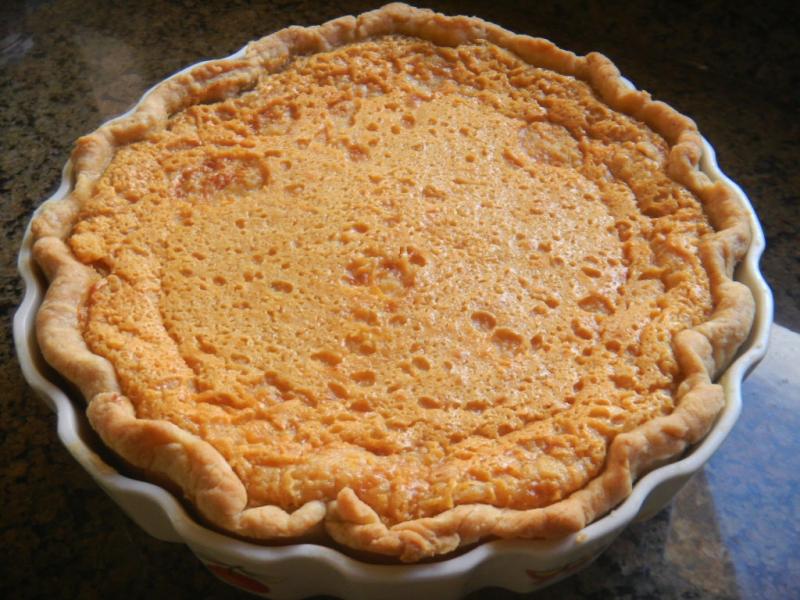 1 tsp of vanilla, 1 can of condensed milk,  1 can of Media Creama, 3 T of yellow corn meal ( I ground whole popcorn), the zest and juice of 3 lemions.  Wisk away until well combined.  Put the fillng in the pie shell and place in a pre-heated 350 F oven ( I used the mini oven) for 20 minutes, rotate 90 degrees and bake another 20 minutes.  Rotate 90 degrees and bake 5 more minutes and then rotate one last time and bake 5 more minutes - 50 minutes total,  until the top souffles and rises an inch above the rim of the crust and lightly browns - amazing how high it puffs up..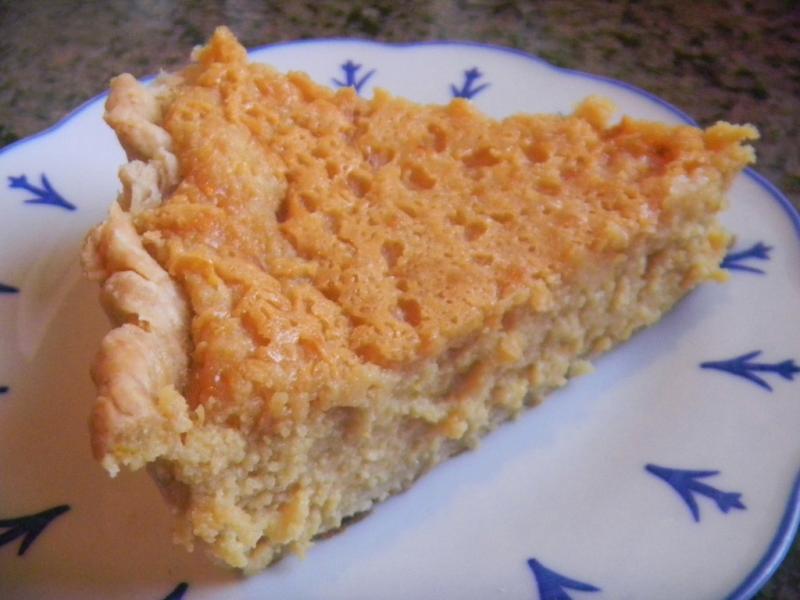 Let cool and serve at room temp.   If you want Chocolate Chess Pie, then remove the lemon juice and zest and sub in  2-4 T of cocoa powder, Lucy  I uses over 3, to make it as chocolaty as you like.