3 Sprouted Grain SD with One No Sprout
You never know what that Lucy will come up with next and the horrid heat of the summer only makes her brain box overheat mote than usual and there is no telling if a great bread recipe will come out of it or a cup of piping hot Joe.   This time she thought up something new – sprouted grain flour.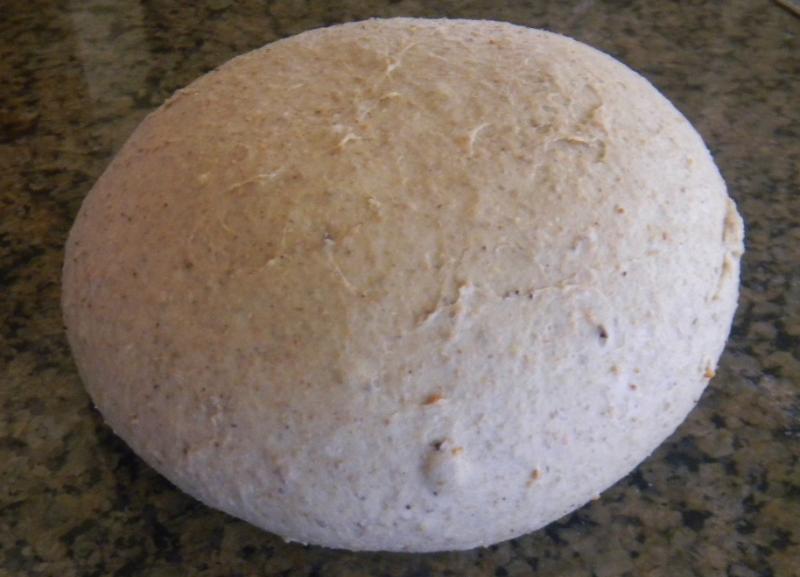 We have been doing sprouted grain and even sprouted beans for bread for a very long time.  We like sprouts as much as we like grain scalds, gruels, mashes and roux.  There really isn't much Lucy won't put in bread when it comes right down to it but she hasn't ever specified sprouting grain for 36 hours, drying them low and slow and then grinding them into flour.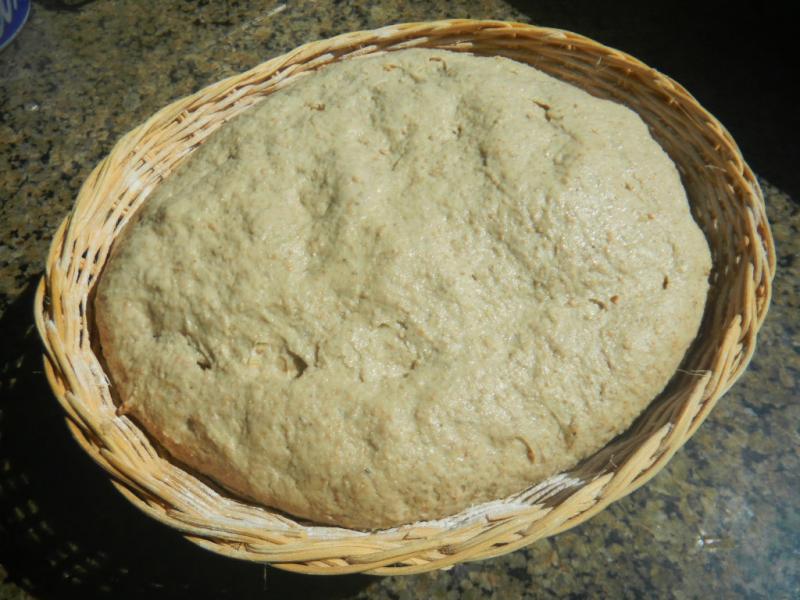 We have always sprouted them for 4-5 days and then dried them low and slow grinding half to make white diastatic malt, then taking the other half up in temperature to grind up and make red non-diastatic malt.  But with the new, new thing of sprouting grain till it chits, drying it and then making flour for bread out of it, Lucy just couldn't let this fad pass her by without giving it a go.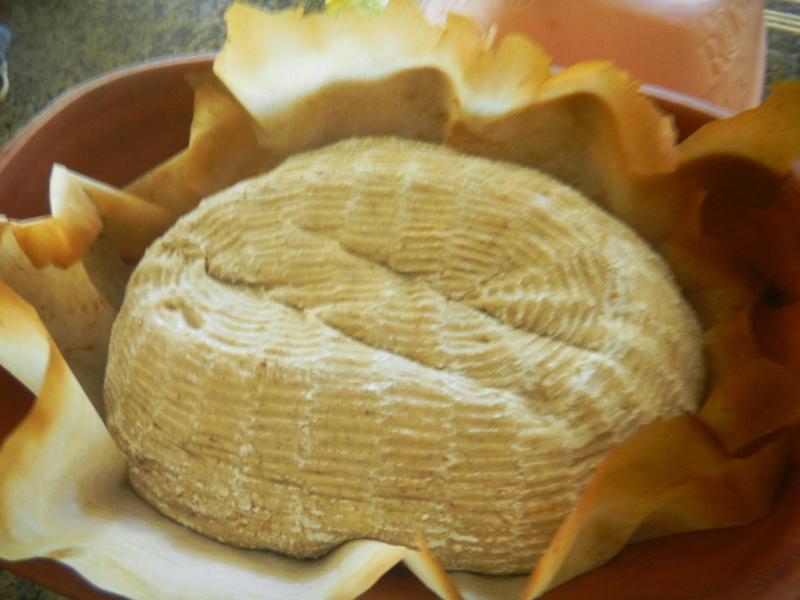 With it being over 100 F every day in the desert, we had perfect temperatures to dry the sprouted grain outdoors if we could figure out a way to keep the birds from eating it all.  Lucy chose her 3 current favorite grains for sprouting - rye, spelt and farro (in this case emmer).  The non sprouted whole grains also included the same 3 and the non sprouted, non whole grain flour was some 10% protein Kroger AP.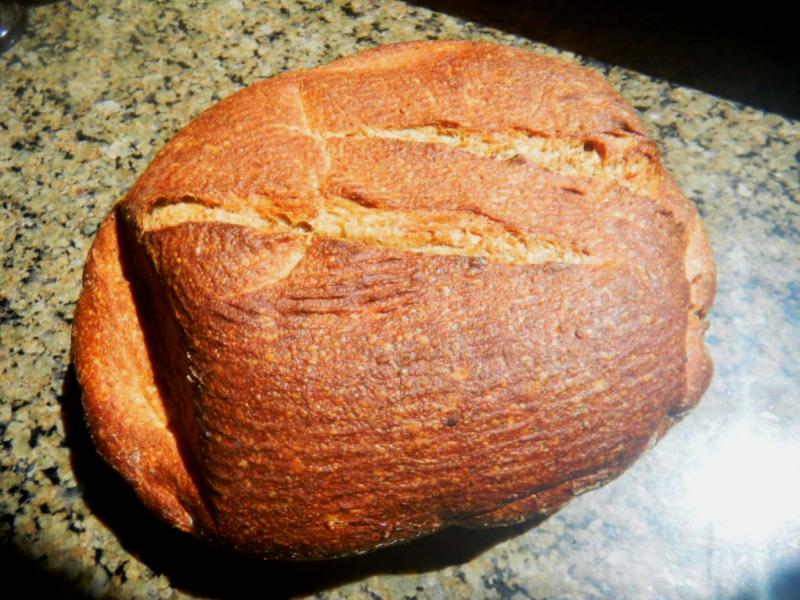 It's bad enough it got dropped on its top out of the Romertopf while soft but then picking it up on both ends to get it back in the oven was precious!
We loved the Swabian Potato bread so Lucy decided to add some boiled potato bread to the mix and use the boiling neater for the dough liquid along with the soaker water from the sprouts.  The 100 g of sprouts were started on Monday so they could be ground on Wednesday morning to include the hard bits in the levain and the rest  in the mix for the dough's 18 hour overnight retard and a Friday bake.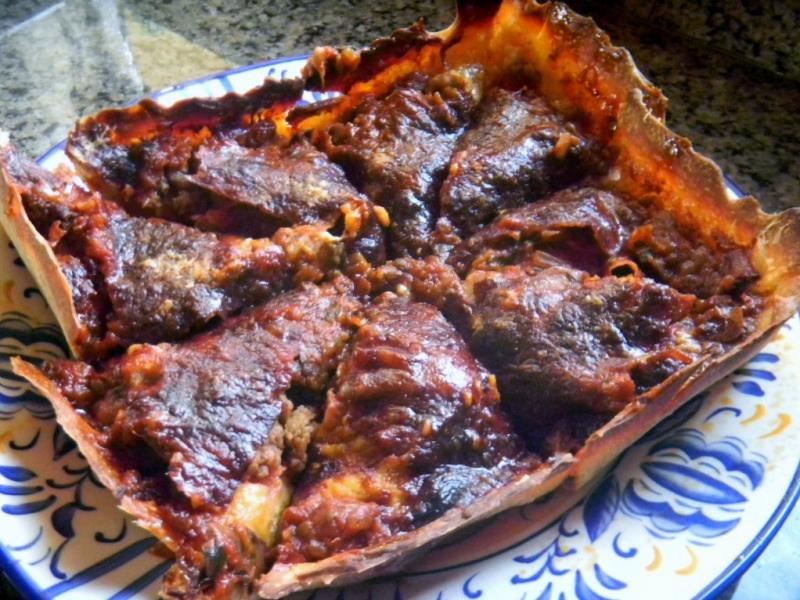 Forget the badly treated bred and have a piece of this deep dish pizza made from frozen dough. Two layers of mozzerella cheese, bottom and top,  two layers of pepperoni with hot Italian sausage sandwiched between covered in home made spicy sauce with Pecorino and Parmesan to cover.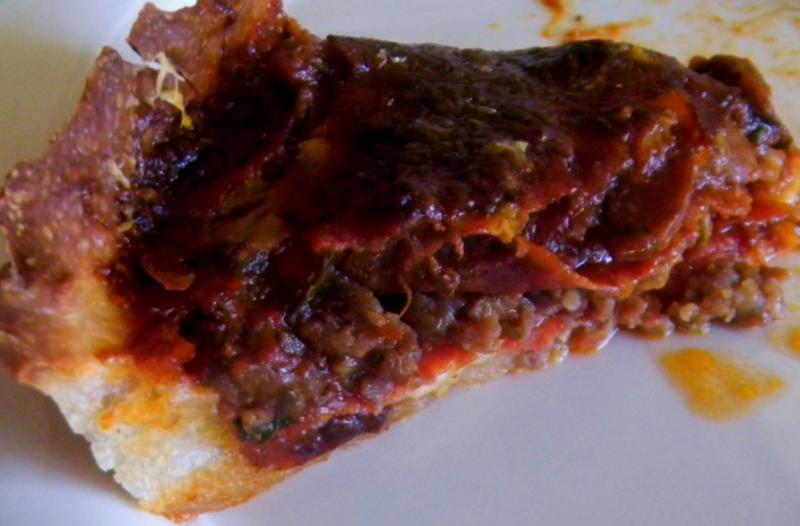 We dried the sprouts on the bottom of the mini oven's broiler pan covered with the vented top to keep the birds out.  If we had put it in the sun at 111 F, it would have been too hot, well over 150 F in that steel pan - so we put it in the shade under the Minneola tree to keep the temperature under 105 F.  We mixed the grain every hour to get the wet spot on top and in 4 hours the grain was dry.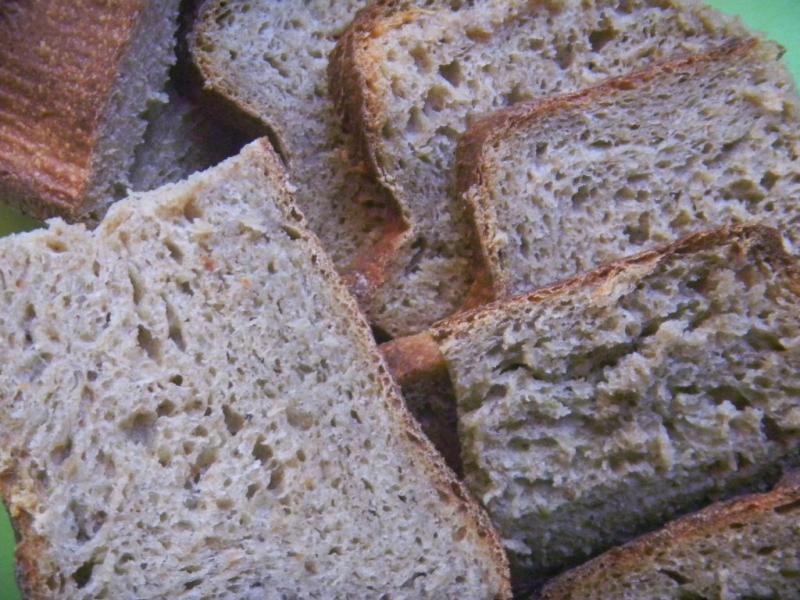 We ground it separately from the other 100 g of the same grains and got a darker color, larger bran and 85% extraction from the sprouts and an 86% extraction from the un-sprouted grain that resulted in a total of 31 g of hard bits that, per our usual, we fed to the  4 week retarded rye starter to make the levain over 3 feedings.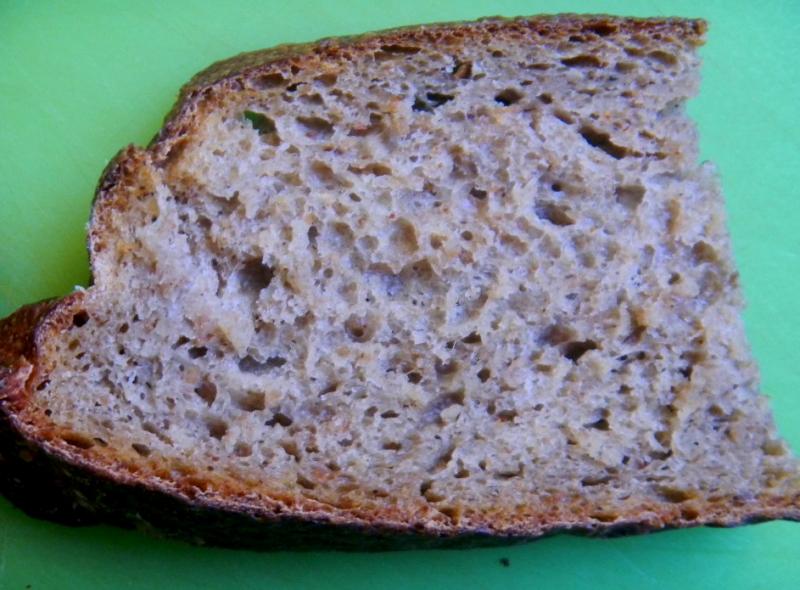 The levain was retarded for 24 hours when it rose 25% after the 3rd feeding.  The dough flour, red malt, honey, butter, potato, VWG and dough liquid were autolysed for 2 hours before the salt and the levain were added to the mix.
We did 3 sets of slap and folds of 7 2 and 1 minute to get the gluten developed for the 84% hydration dough.  With all the low gluten flours in the mix it was a fairly wet dough and those not used to it could cut 4% of the liquid - no worries to tighten it up some.   We then did 3 stets of stretch and folds form the compass points only.  All the slapping and stretching and folding were done on 20 minute intervals.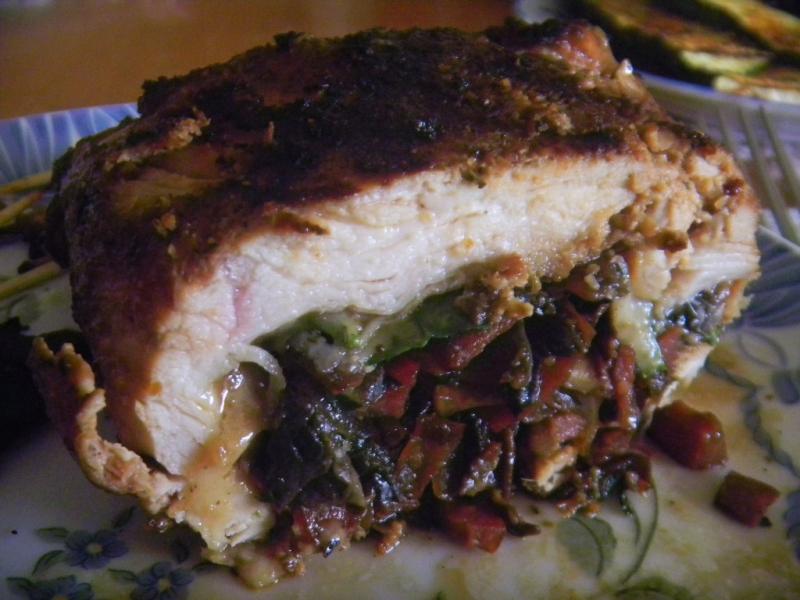 Another version of Dabrowman's stuffed chicken.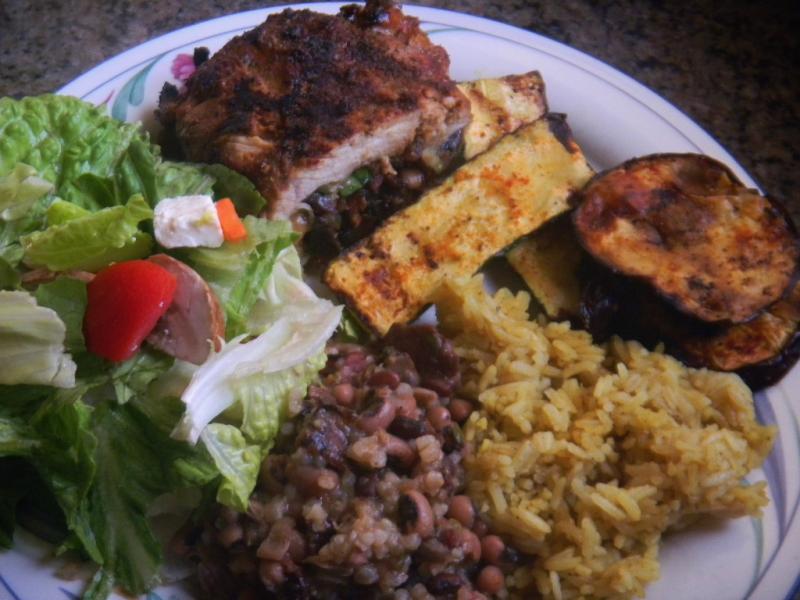 We let the dough rest for 20 minutes before pre-shaping and then shaping into a squat oval to fit the basket.   We also planned on eventually putting the dough into a preheated Romertopf oval shaped clay baker for baking – one we haven't used for awhile.  After bagging the dough and basket in a used trash can liner, we retarded the dough overnight in the fridge for 18 hours.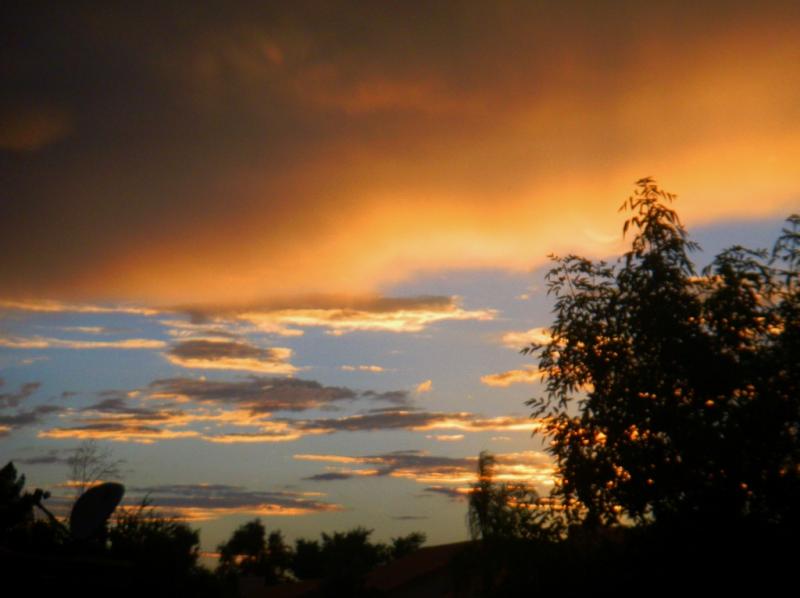 Ooooooohhhh.....Monsoooooooon!
We took the dough out of the fridge to warm up and began the half hour, water presoak of the clay baker.  We then loaded the soaked, but empty, clay baker it into a cold oven set for 465 F to preheat.   Once Big Old Betsy said she was at 465 F the clay baker was removed the bread upended on parchment, slashed and dropped into the clay baker.  The lid was put on and the clay baker was put into the oven for 25 minutes of lid on baking.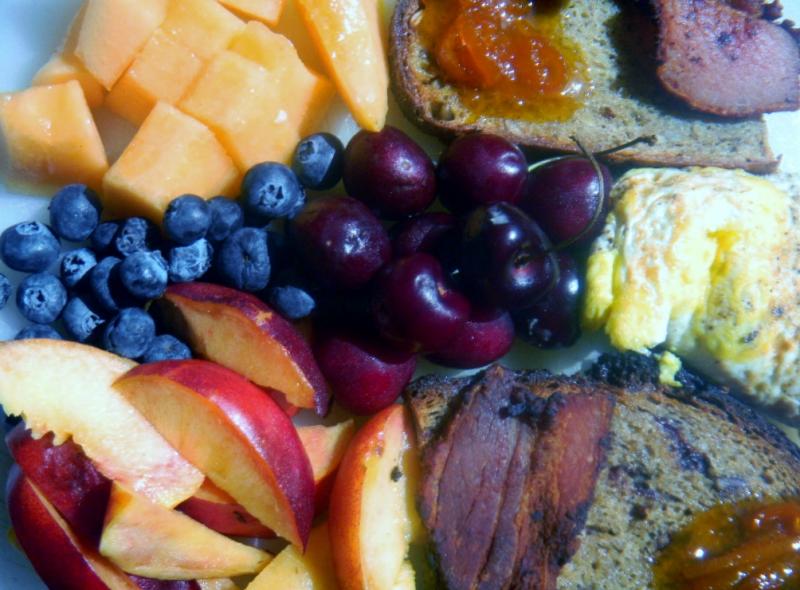 Last Friday's bake made for great breakfasts and lunches all week.
Once the lid came off, the oven was turned down to 425 F convection  The bread was immediately removed from the clay baker which was a huge mistake since the outside was soft and collapsed at it was turned out – don't do this – Bake it for 5 minutes with the lid off first.  We let the now ruined bred finish baking directly on the oven rack.  It had sprung and bloomed well under the lid and it browned well after collapsing too.  We took the bread out of the oven when it hit 205 F in the middle.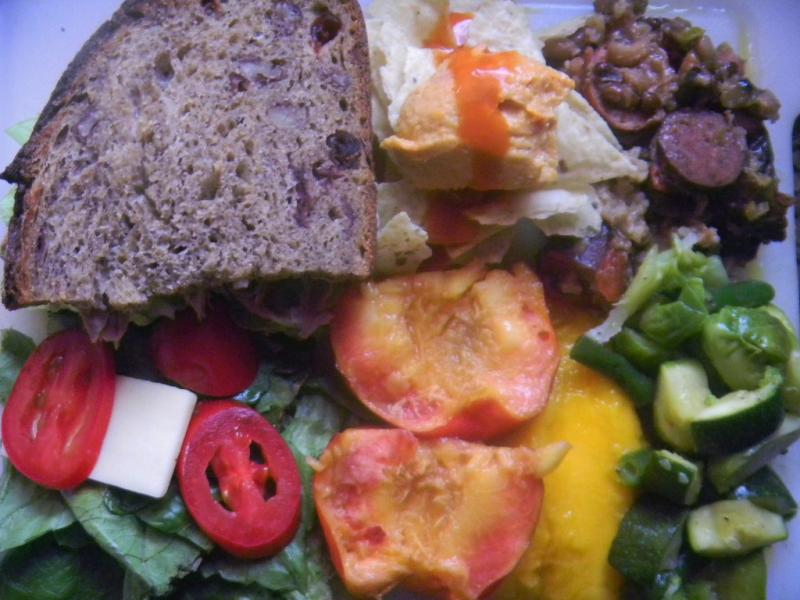 It has been a very long time since we messed up a loaf o bread like this one so I suppose Lucy had it coming to her. But It was more open than we thought it would be and it tasted fine so it isn't a total loss.  It made a great smoked chicken and cheese sandwich for lunch.
And Lucy says not to forget the salad.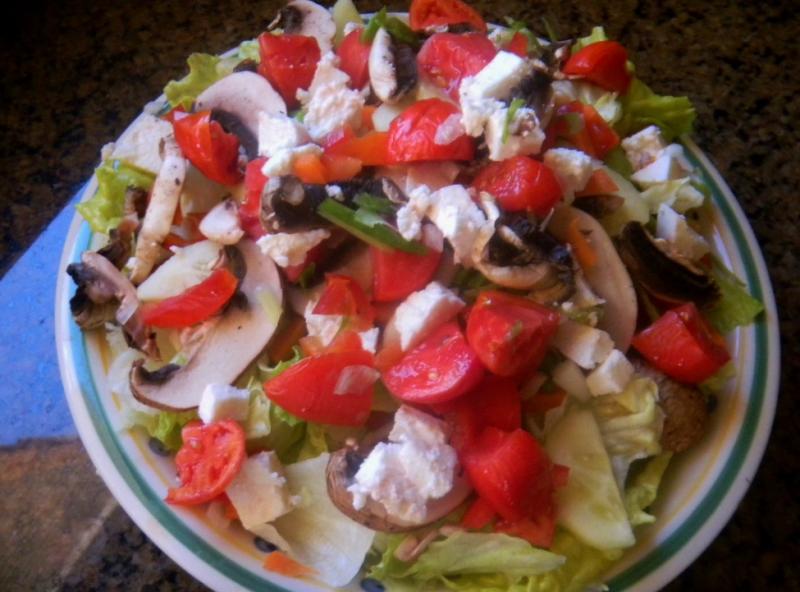 Formula
YW SD Starter Build

Build 1

Build 2

 Build 3

Total

%

4 Week Retarded Rye Starter

5

0

0

5

1.37%

85% Extraction 3 Grain

0

0

4

4

1.09%

15% Extraction 3 Grain

5

10

16

31

8.47%

Soaker Water

5

10

20

35

9.56%

Total

15

20

40

75

20.49%

 

 

 

 

 

 

Starter Totals

 

%

 

 

 

Flour

37.5

10.25%

 

 

 

Potato Water

37.5

10.25%

 

 

 

Starter Hydration

100.00%

 

 

 

 

Levain % of Total

8.94%

 

 

 

 

 

 

 

 

 

 

Dough Flour

 

%

 

 

 

85% Extract. Sprouted 3 Grain

83

22.68%

 

 

 

85% Extraction 3 Grain

83

22.68%

 

 

 

AP

200

54.64%

 

 

 

Total Dough Flour

366

100.00%

 

 

 

 

 

 

 

 

 

Salt

8

1.98%

 

 

 

Potato and Soaker Water

243

66.39%

 

 

 

Dough Hydration

66.39%

 

 

 

 

 

 

 

 

 

 

Add - Ins

 

%

 

 

 

Boiled Potato

92

25.14%

 

 

 

Honey

10

2.73%

 

 

 

Red Malt

10

2.73%

 

 

 

VWG

10

2.73%

 

 

 

Butter

25

6.83%

 

 

 

Total

147

40.16%

 

 

 

 

 

 

 

 

 

Total Flour w/ Starter

403.5

 

 

 

 

Total Liquid w/ Starter

280.5

 

 

 

 

 

 

 

 

 

 

Total. Hydration with Starter

69.52%

 

 

 

 

Hydration with Starter & Adds

83.80%

 

 

 

 

Total Weight

839

 

 

 

 

% Whole Grain

53.53%

 

 

 

 

 

 

 

 

 

 

The 3 whole grains are farro, rye and spelt.  Half of the 3

 

 

whole grains were sprouted, dried and milled intosprouted flour.