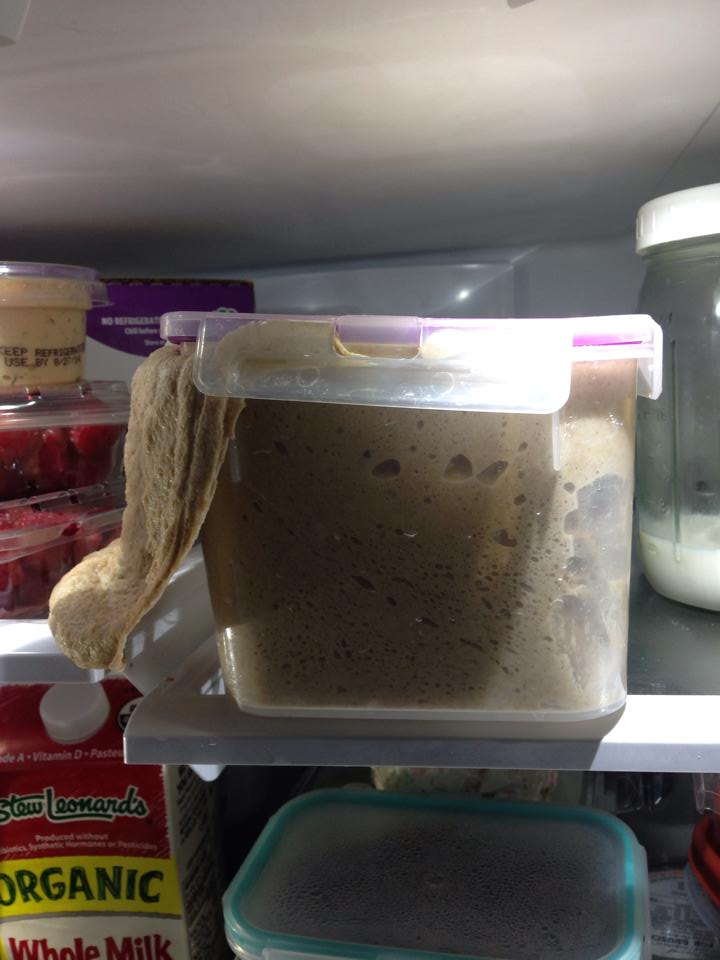 This time around I made the leaven Thursday morning (1 tbsp starter, 200 grams freshly milled flour and 200 grams water).
I also ground 700 grams of flour to mix with 300 grams of all purpose flour 765 grams of water, and let it sit in the fridge until 5:30 pm.  By 7:30, I mixed the leaven and the dough, added the 20 grams of salt and knead/turned it all in to a mass.
I turned it 4x over 2 hours and then once at the end of hour three, before sticking it in the fridge.  I had the oven quite warm for the pre-fridge turning.  And the dough was developing nicely ... maybe a little too nicely.
When I woke up Saturday morning, I saw that the top of my dough could not be contained.
Not to be deterred, I scraped out the cold dough, cut it in half, pre-shaped and let it bench rest for 20 minutes before shaping and sticking it in the fridge by 7:30 a.m.
By 10:30am or so, it looked ready to go.  One came out fairly easily, the other stuck a bit, but left no dough behind.
I have no crumb shot, but the bread came out delicious and moist.  It is not an airy crumb at all, unlike my first attempt at this formula.  I think it would have come out better without the overnight retarding and I will try this again this weekend, only I will shape and bake the same day.