Farmer's Market Week 37 (The Ogre) and more
So I've been hooked to "The Ogre" adaptation of Steve Scott's Grain de Lin from Breadlines   Recently it was brought to my attention indirectly that the hydration is actually supposed to be 109% while I've been thrilled with the loaves I made @ 102%.  I've made a couple small batches of this and decided I should share with my farmer friends as it is so good.  My adaptation replaced the "Lin" with "Oger" or flax with barley along with the decrease of hydration by 7%.  I'm calling it The Ogre Loaf.  
For my Tuesday Bake I went with my 70% Whole Wheat which I've done in previous Farmer's Markets but this loaf has given me trouble.  The resulting loaves were okay but not up to my standards and I apologized to my "tasters" but none seemed to mind.  The following day I made a small batch to remedy the situation.  I simply wanted to decrease the bulk ferment (which is where things got away from me).  I ended up doing that and increasing the hydration quite a bit.  The resulting loaf is in the books after one more trial proves it wasn't just a fluke.  You can find this formula here http://www.thefreshloaf.com/node/38393/farmers-market-week-31-70-ww-take-2-plus-kamut.  The changes to formula shown in below photos are decreased PF to 7% but still a 12 hour overnight build.  Decreased bulk to 2:20 with 4 folds @ 20 minute intervals.  And increased hydration to 110%. I think I'll increase the PF to 10% and that'll be the final change if all goes well.  
 I wanted a snack and made some 100% whole grain Anginettes.  I just subbed soft white wheat for AP flour and got pretty good results.  An Anginettes is a cakey vanilla cookie enrobed in a lemony flat icing.  
Levain: 3-4 hours @ 78-80F
---------------------------------
13 g   Seed Starter (66% hydration)
16 g  H20
13 g  Whole Wheat Flour
-----------------------------------
Soaker: 4 hours (make at same time as final levain)
------------------------------------
150g     Pearled Barley
100 g    Boiling H20
-------------------------------------
Final Dough DDT: 80F
-------------------------------------
672 g     H20
204 g     T85
455g      AP
17 g       Salt
-------------------------------------
Autolyse:  Mix levian with final h20 and flours until combined.  Sprinkle over salt and let rest 30 minutes
Mix  Squeeze and fold through to incorporate salt.  Add soaker (drain any excess h20) and continue squeezing and folding to combine evenly. 
Bulk Fermentation 4:00 with 5 folds @ 30 minute intervels.  Each fold consists of two letter folds followed by a fold from both sides. So three folds in all.  
Divide into 2 750g pices and tightly preshape.  Rest 30 minutes.  Flour your lined bowls generously with rice/ap mix
Shape using the folding technique:
turn out onto flour board and fold bottom half up short of the top.  Stretch from the left and over to middle and repeat from the other side.  Take the top and stretch and bring down and underneath.  tighten slightly using a scraper and your table and let rest a minute or so to seal up.  flour tops and place tops down into bowls.  Retard 15 hours.
Bake @ 500 with steam for 17 minutes and vented for 30-40 more.  A deep full bake is essential here. 
Cool Completely
---------------------------------------------------------------------------------------------------------------------------------------------------
The OGRE Loaf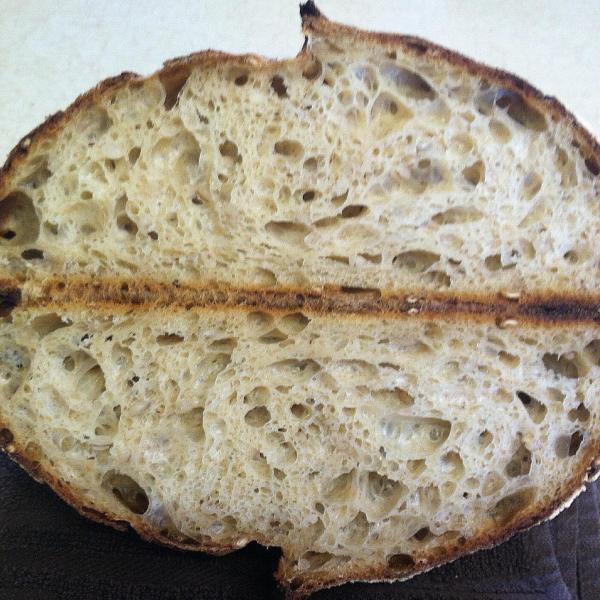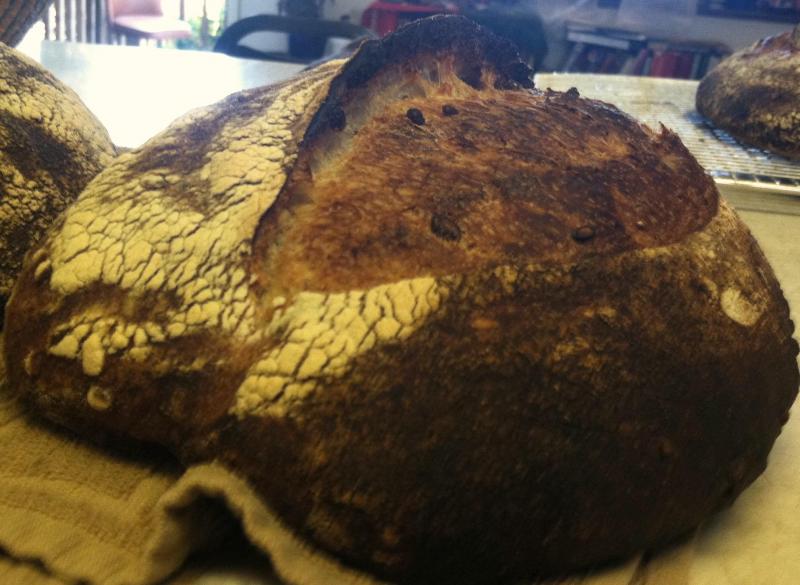 ----------------------------------------------------------------------------------------------------------------------------------------------------
Improved 70% WW
And the lemony delicious Anginettes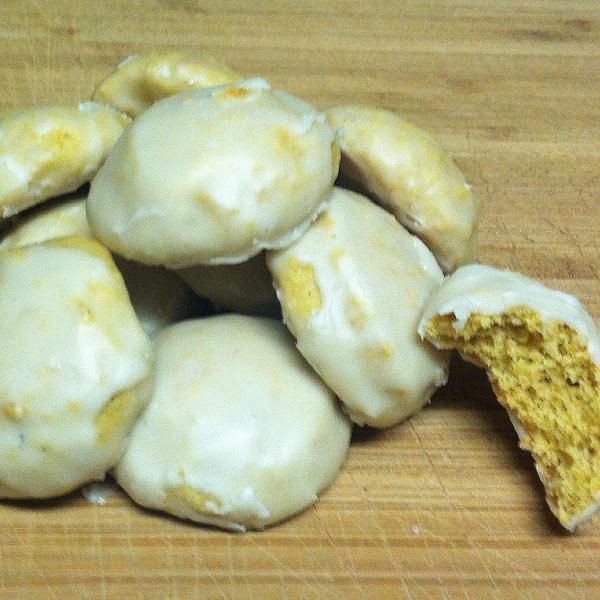 Cheers
Josh