First few sourdough loaves
I just bought and started experimenting with Tartine Book No. 3. I don't have the others, but I did some reading online (especially tartine-bread.blogspot.com, now girlmeetsrye.blogspot.com). Based on her recommendation, I'm working with a 100% rye, 100% hydration starter that I started at the end of May. So far I've made 3 recipes from Book No. 3, and decided to sign up here in order to start a record of my loaves where I can relate photos to recipes.  I have a handy dandy notebook to put down any notes as I go, but I know I'm not going to get around to printing out photos and taping them in.
My first recipe was actually a crispbread, the oatmeal porridge crispbread. I would not attempt making it without my pasta maker, but with the pasta maker it was actually pretty easy. The three year old did most of the handle turning for me. I found I could fit 1/5 of the dough, rolled to the thinnest setting, on one baking sheet (I had to cut it in two to handle it). The crispbreads seemed kind of bland to me, but my family is eating them very happily. They stand up to hummus and peanut butter, as long as you're gentle. 
My second recipe was the white wheat blend (Ode to Bourdon). I decided for purposes of timing to do a simultaneous leaven and autolyse, so mixed the leaven in the morning, and also mixed the autolyse (minus salt). I forgot to add the additional 50 g water when mixing the leaven and autolyse. Oops. I also needed to rotate the loaves halfway through; the first one was unevenly browned. Texture was fine. Flavor to me seemed unexceptional, but I'm using store bought flour and it's possible it's older. Again, the family is eating it quite quickly and happily. 
Here is the white wheat blend: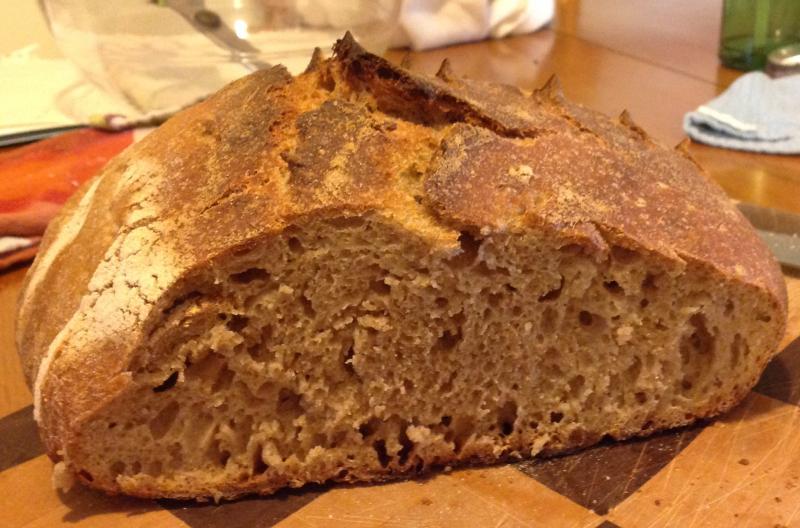 I found some spelt flour, so my third recipe was the spelt-wheat bread. Again, I did a simultaneous leaven and autolyse. Once the leaven was ready I mixed the two together, added the salt and additional 50 g water recommended by Robertson, and started my bulk ferment. Then I went online and read about how spelt doesn't absorb water as much as other flours, and that decreased hydration is recommended. Whoops. Sure enough, it was a very wet, sticky dough. Shaping was extremely difficult for my inexperienced hands. I gave it my best shot and let the dough do the final rise overnight in the fridge. When I baked it the next morning, even though it was cold it was still quite soft. It baked up OK, though I should have checked temp. The crumb of loaf #1 was very moist, almost a little tacky. It makes excellent toast, though.
The spelt wheat bread is the main photo for this post, as I couldn't figure out how to resize pics on an ipad and the main photo is allowed to be larger. 
Up next, I want to try turning the brown rice porridge bread into crispbreads and slathering them in sesame seeds. Robertson says this is a simple matter of decreasing the hydration to 50-60% (and cutting the recipe in half, so as to not wind up with a ridiculous number of crispbreads). We'll see. I may also try making the oatmeal porridge bread, as I'd like to get a couple more loaves baked before we go out of town for a week.