Need Input---Tartine 3 Einkorn Bread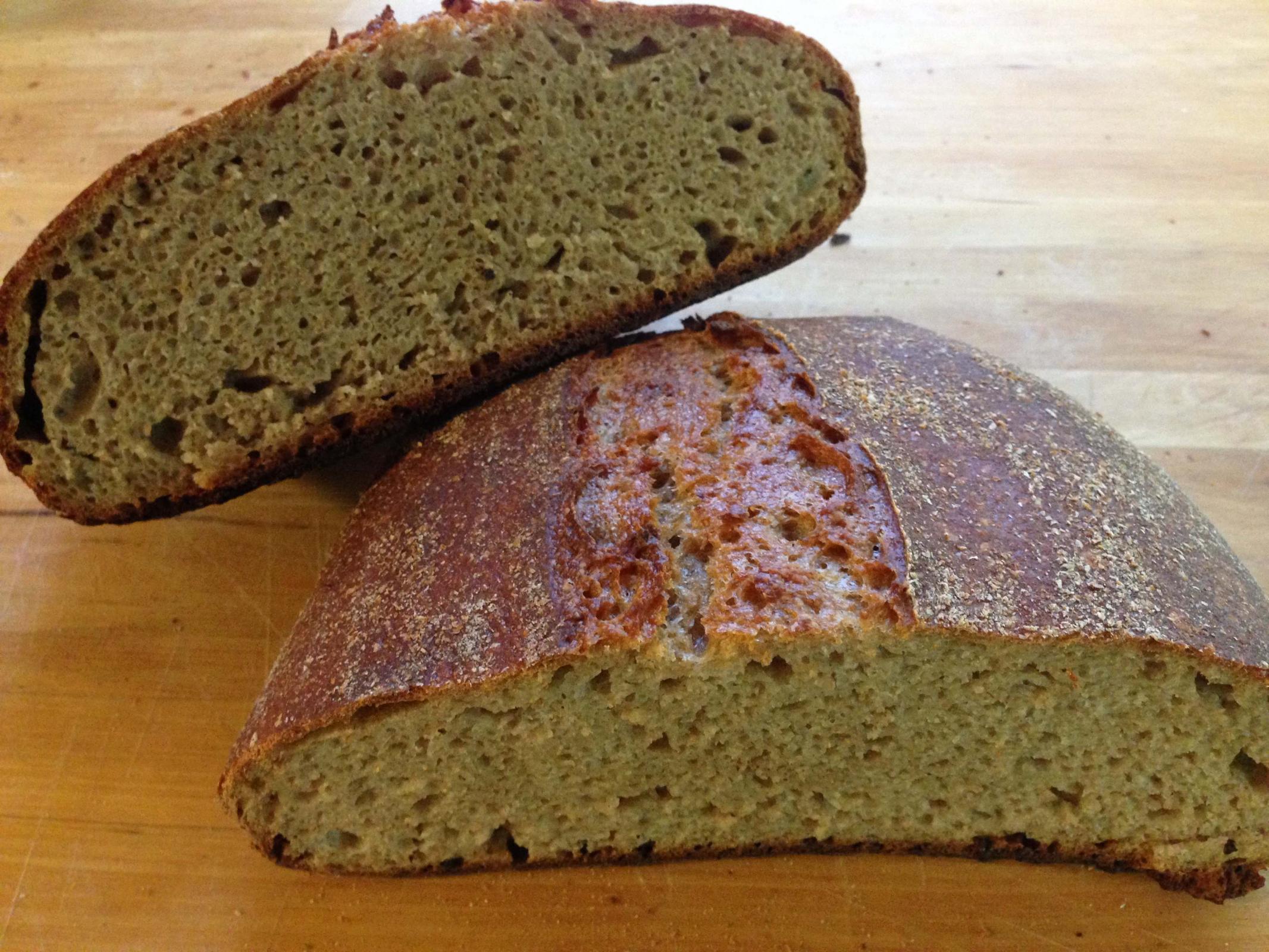 Hello,
I am baking the einkorn bread formula out of Tartine Book 3. Below I provide some background, the formula, my experiences with the formula, then some questions for input and photos of latest bake.
First, I have made the country bread with excellent results. I say this as point of reference. I have an excellent starter, I know how it behaves, it is always well and frequently fed, I can shape a boule etc. I'm an amateur to be sure, but I'm searching for any input here.
Second, I have done 4 different bakes with this formula varying the hydration for the last.
400g Medium-strong flour (KA Bread)
300g Einkorn (Blue Bird Farm organic)
300g High Extraction Flour (50-50 KA Bread and whole wheat)
70g wheat germ
850g H2O (more on varying later)
150g leavan (equal flour to water mix)
25g salt
In the first two bakes the dough was in an ocean of water; I could barely handle the stuff. I did a 40 min autolyse for the first, 24h autolyse for the second. I did the standard turns every ½ hour for ~4 hours. I bench rested for ½ hour, folded and proofed over night in ref rig. Predictably, at least on the dough behavior, the dough did not hold any shape on the bench, looked like a mud pie. The bake, again predictably, provided very little spring. The crumb was dense, but edible. I did not get the nice holes in the crumb I was seeking.
Third bake, I reduced the H2O to 750g. Autolyse was 3 hours (starter included), then added salt and fermented (with turns) for ~4hours. The dough was much more manageable and seemed to have a reasonable shape on the bench, but not where I am used to when baking the country loaves (all bread flour). The bake gave me better oven spring, but I'm sill wishing for better lift and a more 'open' crumb. Also the cooked bread seemed moist/doughy; it left sticky stuff on the knife. The bread has great flavor. (see picts).
Okay, if you have made it this far, THANK YOU.
Is this tighter crumb structure normal, i.e., should I be happy?
Should I reduce the wheat flour and increase bread flour to provide more structure?
All suggestions and comments are appreciated.