We are back from Italy - A bread/foodie report
Susan and I have just returned from two weeks in Italy. We spent a week in Venice, a couple days in Lucca and 4 days in Liguria. We broke up our return trip with an overnight stay in Milan. I am happy to report that the bread we had was much superior to that of our last visit to Amelia-Romagna and Tuscany  three years ago. 
The bread we were served in restaurants was almost always made wholly with white flour.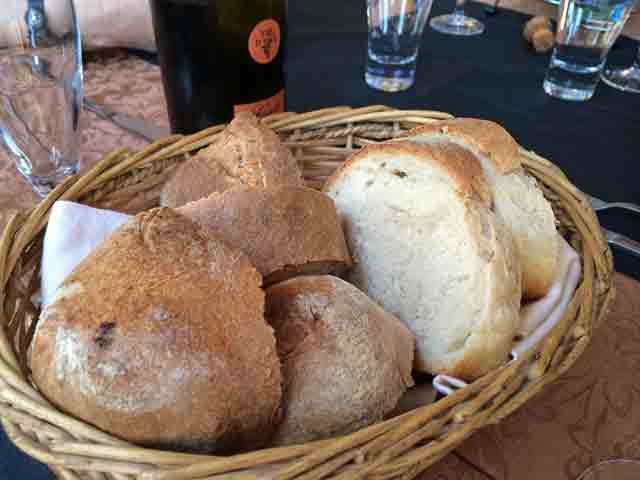 Once, we had some bread that, from its color, I think had some durum flour in the mix. I did see a loaf called "Pane Altamura" in a bakery we walked into in Milan, and I saw "Pane Integrale" on another bakery's list of its breads in Levanto (Liguria), but we didn't taste any of those.  
 Industrially-produced bread was displayed in supermarkets, but so was a wider variety of flours for both bread and pizza-making. This was what I found in the largest grocery in Venice.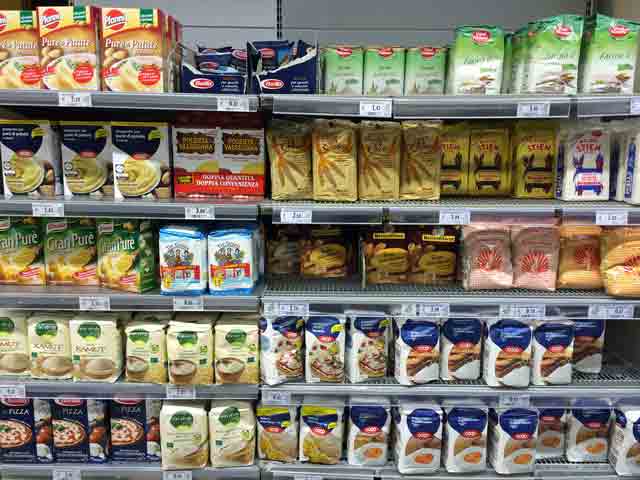 There was a profusion of small, artisinal bakeries in all the towns we visited, as well as small produce markets, fish mongers, butchers and gelaterias.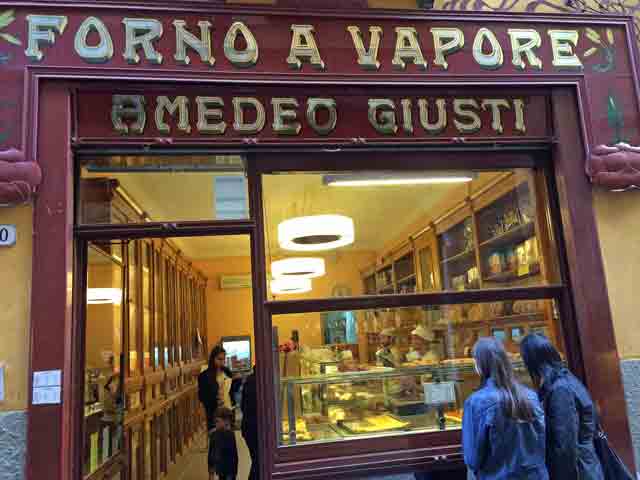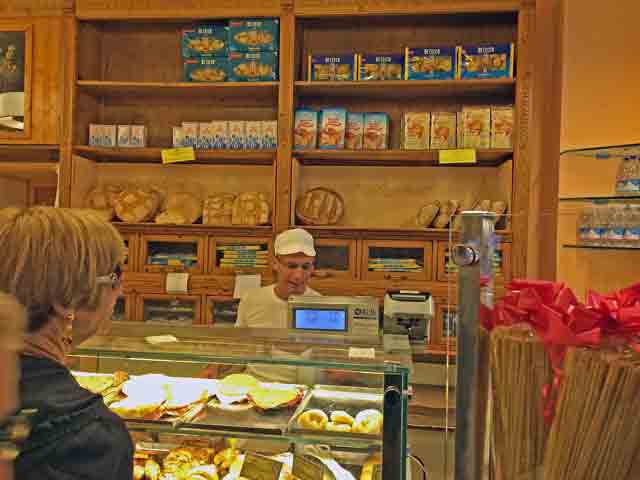 My sense is that this was typical of small towns in Italy. I suspect it is less true in big cities, but even there, the neighborhood bakery is commonly encountered, at least everywhere I have been. 
 Pizza was originally associated with Naples and was unheard of in Northern Italy. Them days is gone forever. It is seen now on the menus of most restaurants except perhaps the spiffiest, but we didn't go to any of those. Interestingly, in many restaurants, pizza is only served at dinner time. I wonder if this is related to a culture in which, at one time, the big meal of the day was served mid-day, not in the evening. I had low expectations of the pizza in the North, but was pleasantly surprised. It was pretty good in Lucca, although it was much, much better in Liguria. The typical local pizza was thin crusted. Most was baked in wood-fired ovens, but not all.
We most enjoyed what was most often called "Pizza vegetariana."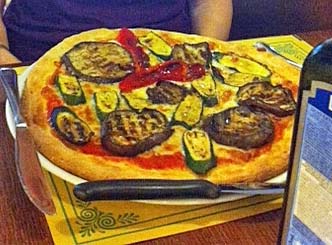 This had some tomato sauce, cheese and slices of zucchini and eggplant. Some also had bell pepper. So, pizza was pretty ubiquitous.
I was not happy to find American fast food restaurants in the larger cities (Venice, Milan). I was a bit happier to see hamburgers on the menus of some restaurants and a bit happier yet to see "Pane da hamburger" displayed in a bakery window in Lucca. They looked pretty good, too.
 The specialties of the Ligurian coast are fish - especially anchovies -, pasta with shellfish and pasta or gnocchi with pesto. We ate very well. In the USA, when you say "anchovy," people think of the salted anchovies most often used on pizza. In Liguria, the anchovy is called "The princess of the sea" and is prepared numerous ways - fried, "pickled" in lemon juice like ceviche, in a pasta sauce … I know I've forgotten some of the ways we saw anchovies prepared, and I'm certain there are others we didn't encounter at all.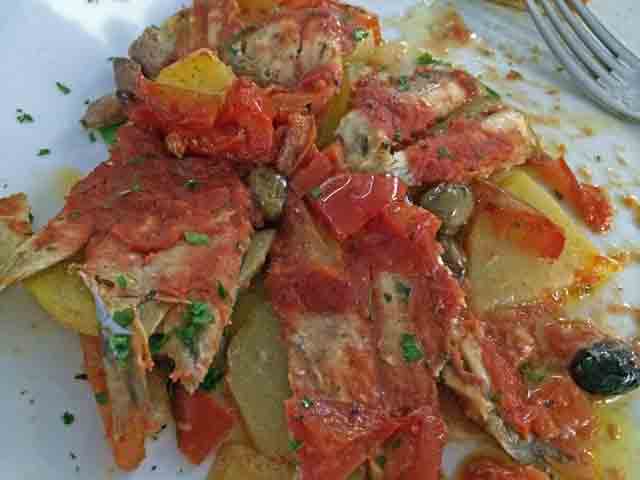 Anchovies with potatoes, tomatoes and olives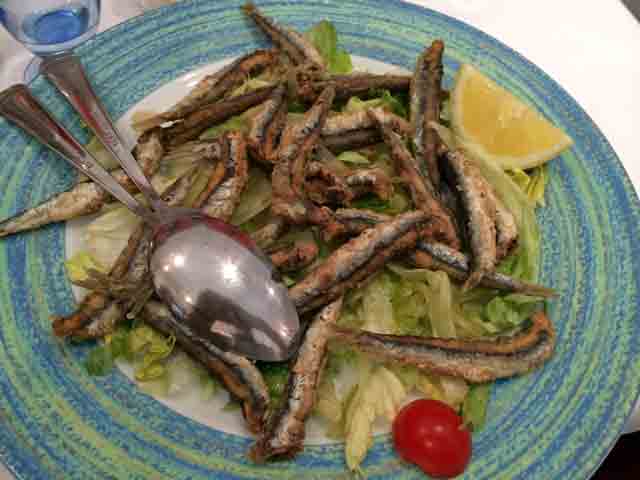 Fried Anchovies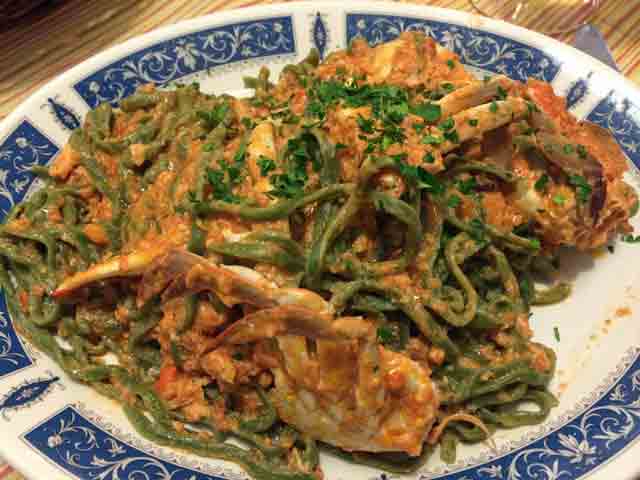 Taglierini verde with crab
We had a terrific time! I've focused here on the food, particularly bread and its "relatives," but the areas we visited in Italy this trip were visually stunning. The art we saw was fabulous. And the people we encountered were delightful. I'm eager to return.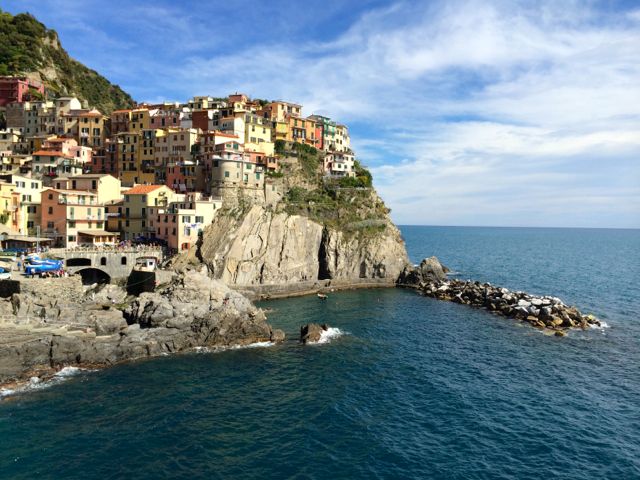 Manarola
David