Memorial Weekend Pizza - 2014
Like everyone else around her, at least those who count, Lucy loves pizza just about more than she loves pumpernickel. It is a closer race than one might think.   We usually start off the weekend with grilled salmon on Friday night.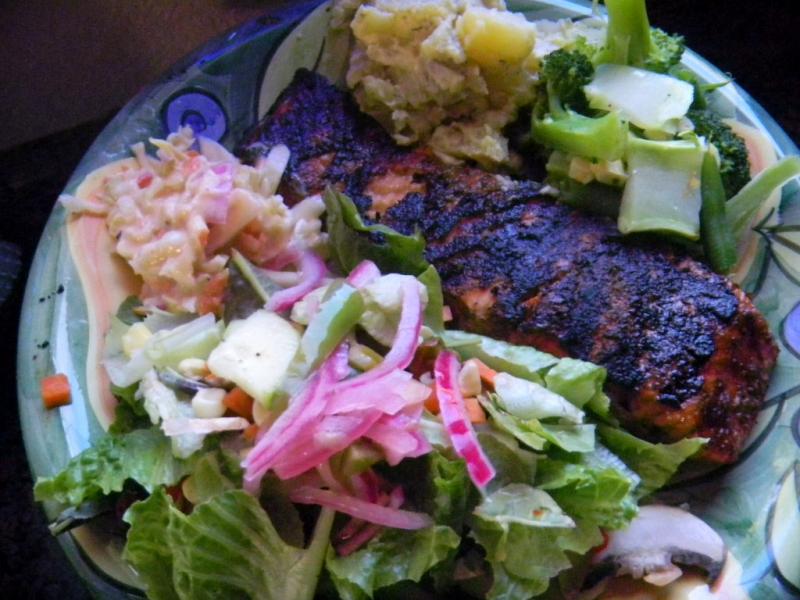 Then Saturday we do something Mexican, this year was grilled pork that was then made carnitas style by sautéing it with bacon fat in a cast iron skillet to really bring out the tastes of old Mexico.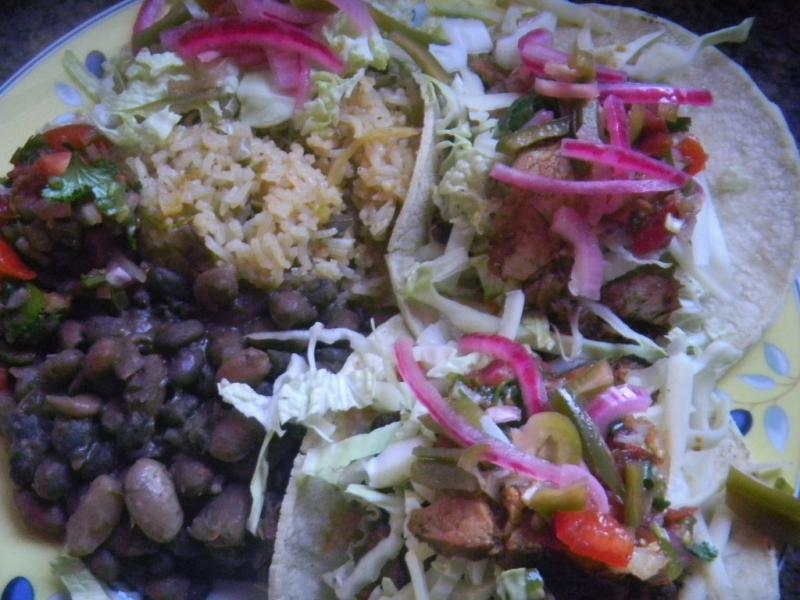 Sunday night is reserved for pizza.  This year we made the crust a little bit different with some Desert Semolina from Hayden Mills, mixed with our favorite tortilla AP flour from La Fama with a combo levain of YW and Rye Sour.  Today is smoked ribs and chicken thighs in memory of those who died fighting to protect us and to let us do as we please today.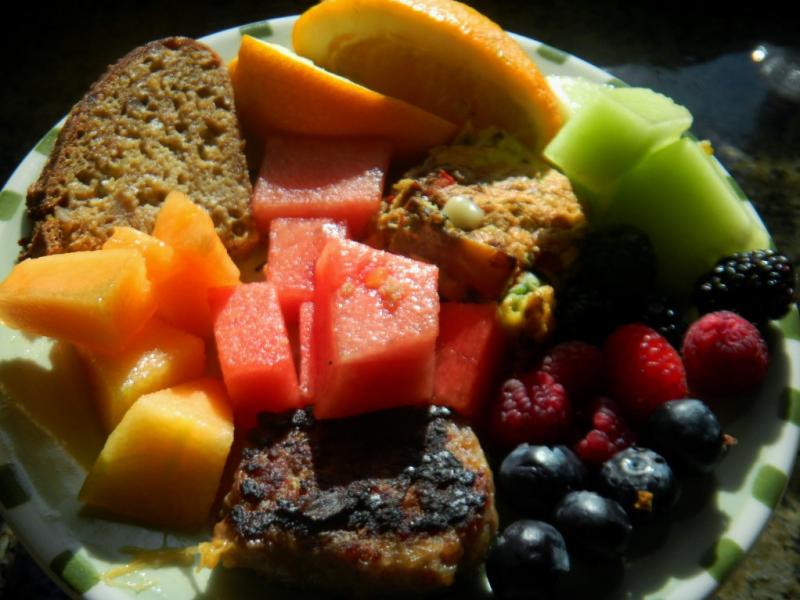 Don't forget breakfast and lunch.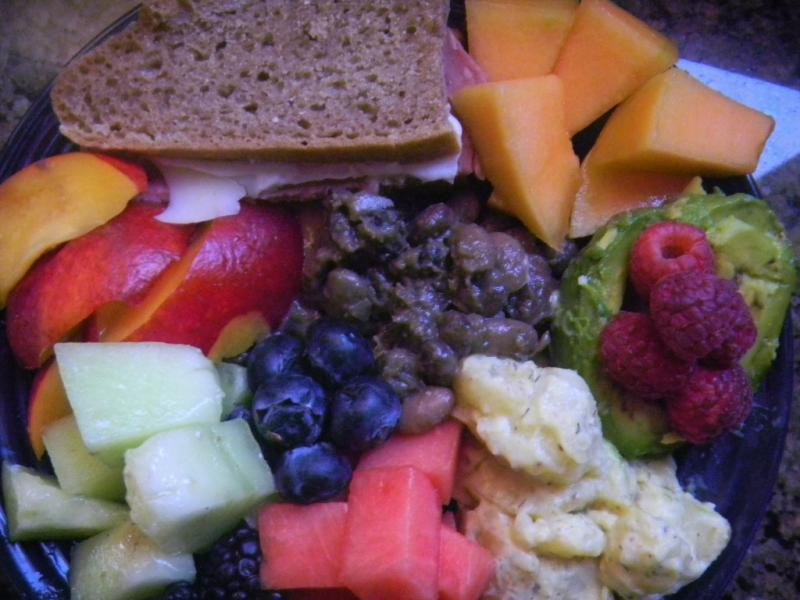 .An added bonus, our daughter is off to Seattle and Vancouver to visit a sorority sister which leaves the cooking and baking field wide open this weekend to try something a new way.   You would think that being young you would be less set in your ways but our daughter likes her food made the traditional way she grew up loving - especially for holidays.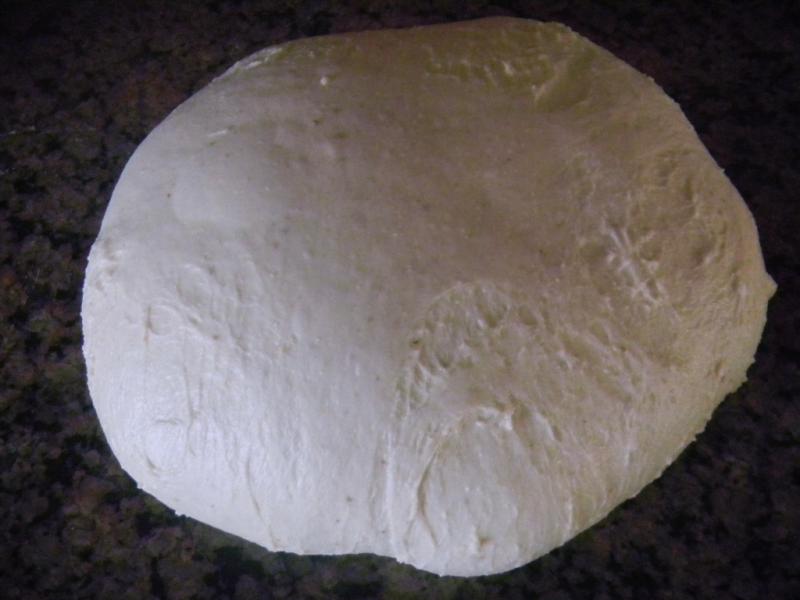 For the pizza, Lucy made a levain of 10 g of rye sour, 66 g of LaFama AP and 66 g of YW and let it sit out overnight for 8 hours.  it easily doubled over that time.  Then she mixed up 50 grams of Desert Durum and 350 g of LaFama with 260 g of water, 10 g each of salt and sugar and added them to the levain.   We let the shaggy mass let it sit for 30 minutes.  This gave us a 70% hydration dough.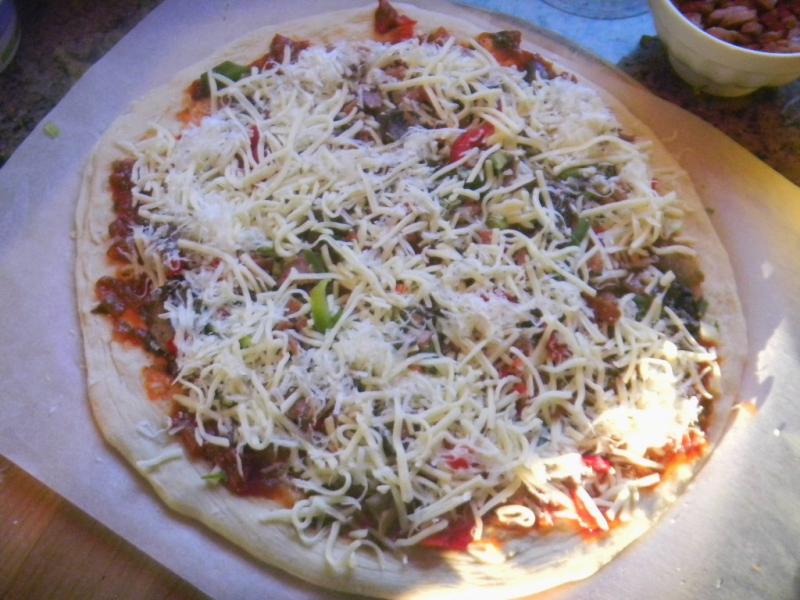 Lucy then added 20 g of olive oil and did 3 sets of slap and folds on 5, 2 and 1 minute on 20 minute intervals and 3 sets of stretch and folds from the compass points only - also on 20 minute intervals.  The dough was then refrigerated for 6 hours.  We warmed it up for 2 hours before forming 3 dough balls – freezing one for later ala Phyllis.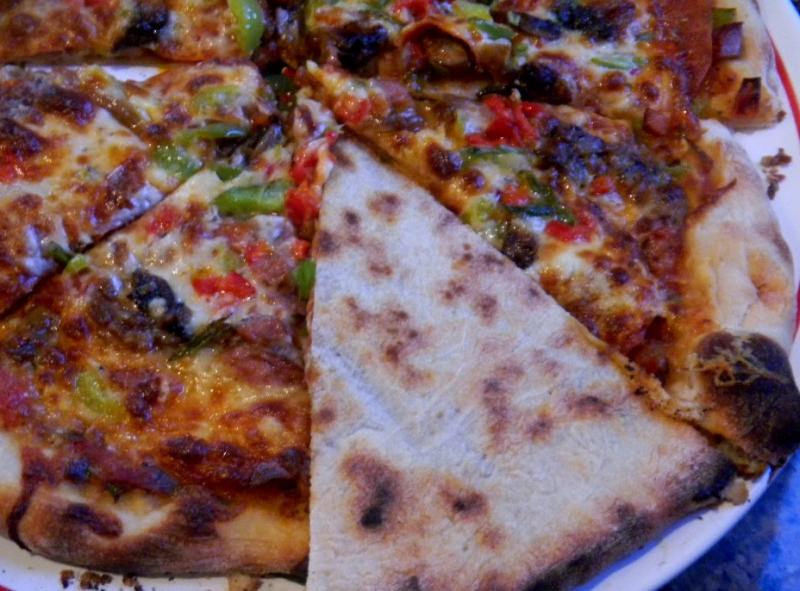 Once it warmed up the dough was formed into crusts on parchment easily, ala Ian, since we had planned on not doing a par bake of the crust  - also no rosemary, sun dried tomato or garlic in the dough and no mojo de ajo spread on top of the crust either so we are getting far a field from the taste an method of our regular pizza dough.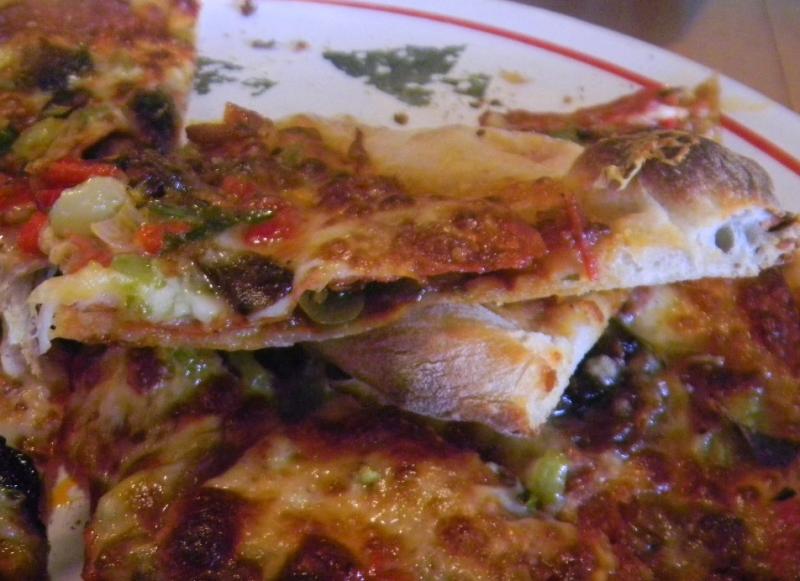 The toppings were a little different.  Andouille sausage replaced the hot Italian one.  Store bough pepperoni replaced the home made one.  We caramelized the Andouiille first and then the red onion, crimini and button mushrooms all together, instead of separately, in the fat .  We didn't caramelize the hot chili and pepper mix of yellow banana, Serrano, Poblano, Hatch green and jalapenos.  The green onion and the red bell pepper were left fresh.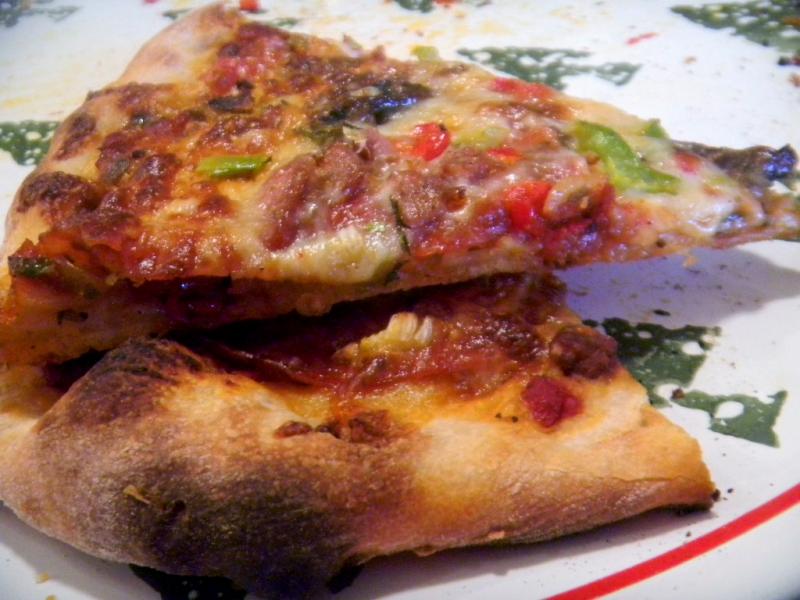 We only used the standard 3 cheeses of mozzarella, Pecorino and Parmesan.  There was some fresh basil flowers from the back yard but we forgot to put them on.  We were very hungry and when hunger strikes around here we forget who we are… much less if there was basil to go on top.  I'm not sure Lucy remembers who she is even today.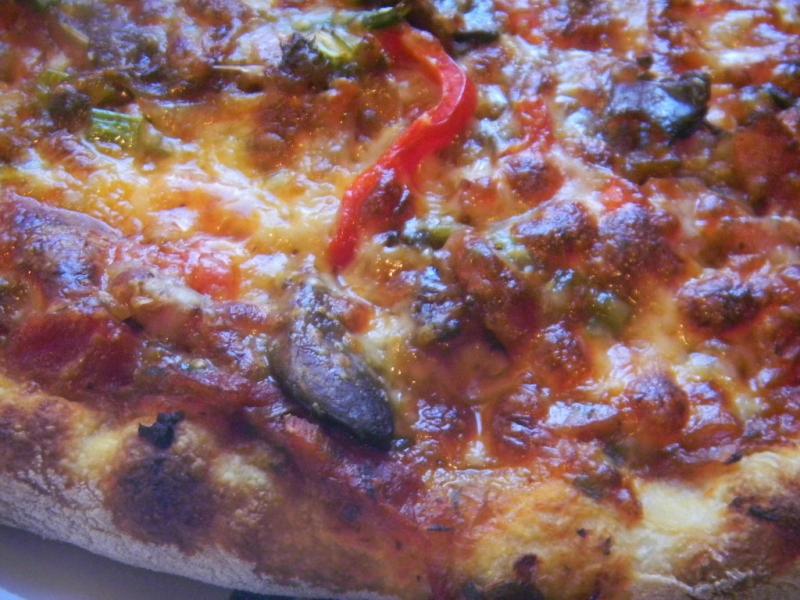 We like our pizza crust very thin, as thin as a cheap paper plate and so crisp it doesn't bend or fold like NY style pizza.  We want it to crunch when you bite into it even if it is cold.  We also like them loaded up which makes the crunch part tough and why we normally par bake the crust for 3 minutes.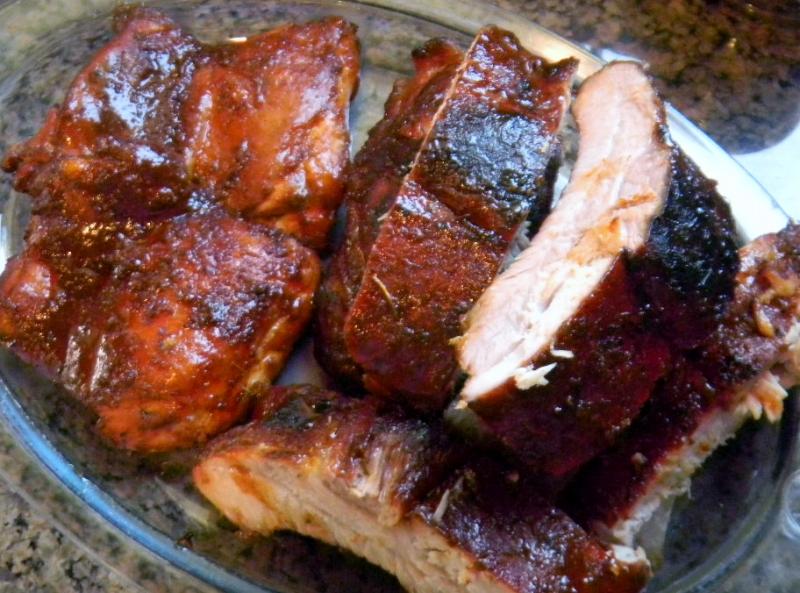 In the smoker they go - can't wait for them to get done later today!.
This curst came out perfect even without the par baking but it took 8 minutes at 550 F to get it just right and not burn the crust - top or bottom.  My wife loved this pizza and I thought it was almost as good as Lucy can make it, except for out SD version that has the herbs garlic and sun dried tomato in it – and mojo de ajo on it.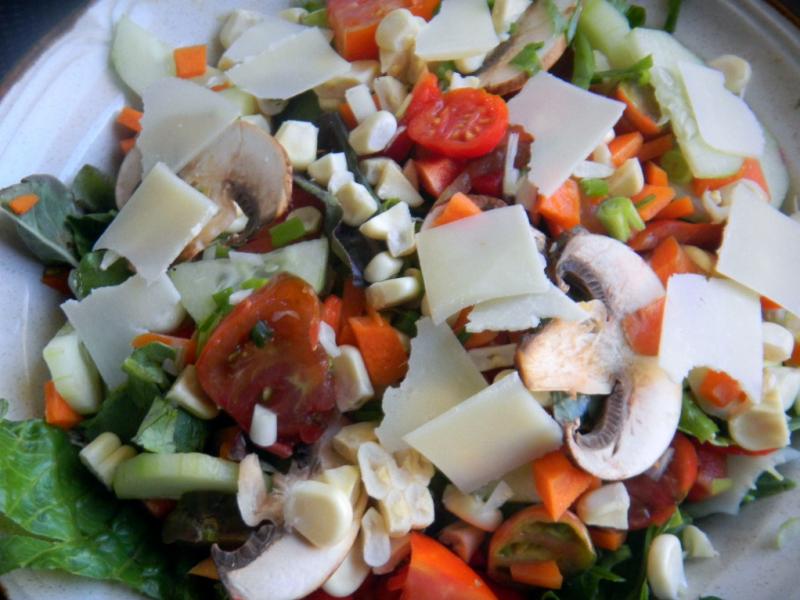 Lucy says not to forget the salad!
Hopefully the ribs and chicken will turn out all right to cap off a fine Memorial Weekend.  Hope yours was just a good as Friday's sunset.