First loaf without commercial yeast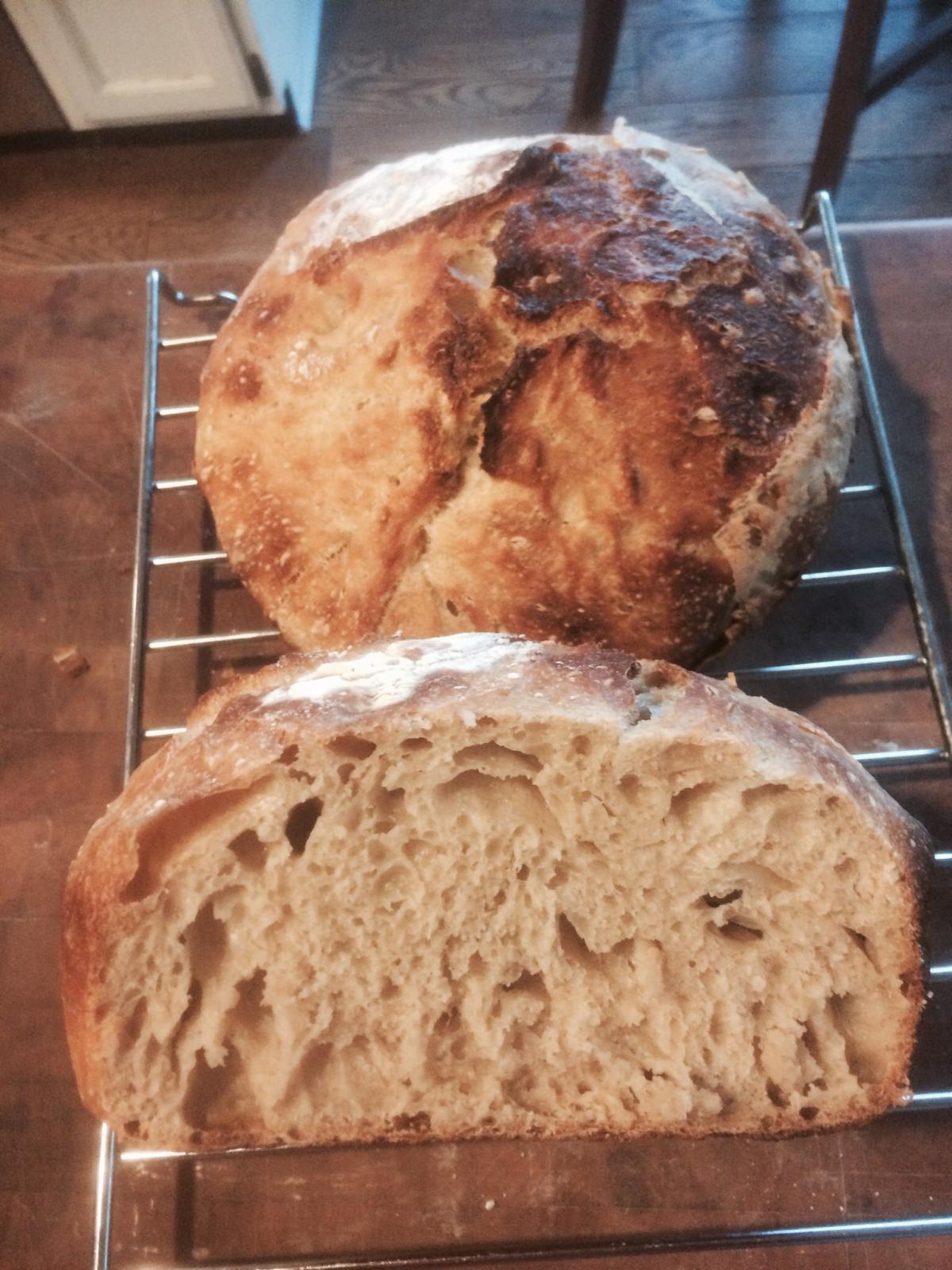 Yesterday I baked my first batch of bread using my sourdough starter with no commercial yeast.  I am  pleased with the result.  Previously I had been baking rustic loaves using commercial yeast and the covered Dutch Oven baking technique.  The bread was beautiful, the crumb acceptable but the taste very ordinary.  The taste of the sourdough bread was far superior.
The purpose of this post is to encourage bakers who are using commercial yeast exclusively to give sourdough starter a try.  It's pretty easy.
Notes on starter.  I used 25g organic rye flour, 25g KA all purpose and 50 grams of water.  Each day for first 10 days I discarded all but 50 g of starter and added 25g organic rye flour, 25g KA all purpose and 50 grams of water.  For the next 2 days I feed the starter twice.  I baked the following day.
The night before I baked I made the leaven.  I used 1 tablespoon of the mature starter 100 g of rye organic flour and 100 g of King Arthur all-purpose flour and 200 g of warm water.  The next morning the leaven was very active.
The formula I used
200 g leaven
500g bread flour
400 g KA all purpose flour
100 g KA white whole wheat flour
750 g warm (80) Water
20 g salt
The technique for bulk fermentation, stretching, folding and loaf shaping was from Tartine Bread book Vol 1.  The bread was baked in a 450 oven with the cover on for 20 minutes and cover off for 25 minutes.
The one problem I had was the dough was still quite "sticky" after the final rise.  I had trouble getting the dough out of the proofing baskets and into the cooker without ruining the shape of the loaves.  I also could not score the loaves.  Should I try less water next time or is that my loaf shaping skills need to improve?