Getting Ready for Ploetziade 2
Lucy has been gathering up ancient grains like farro and einkorn and Kamut and other allowed newer organic heirloom grains that are being replanted in small quantities in Arizona like Desert Durum, Pima Club and Sonoran White.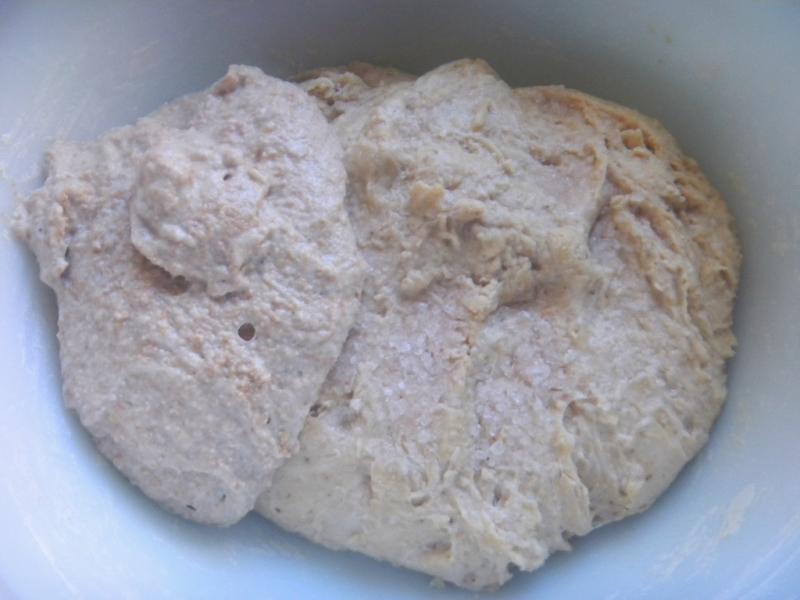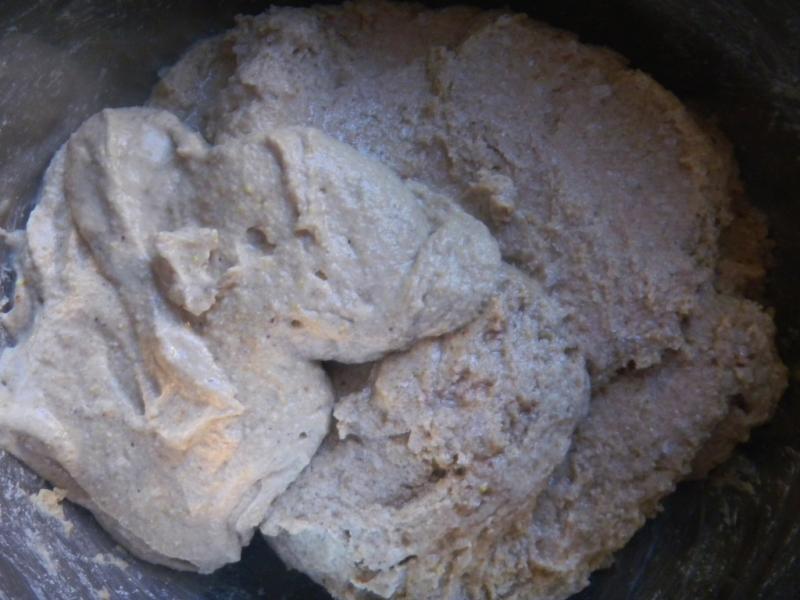 It is heartening that the folks at Hayden Mills and the O'Odham / Pima Indians at Ramona Farms are replanting these grains and offering them for sale - even if at steep prices.  It has been an interesting endeavor just to find some of these and talk to the people involved.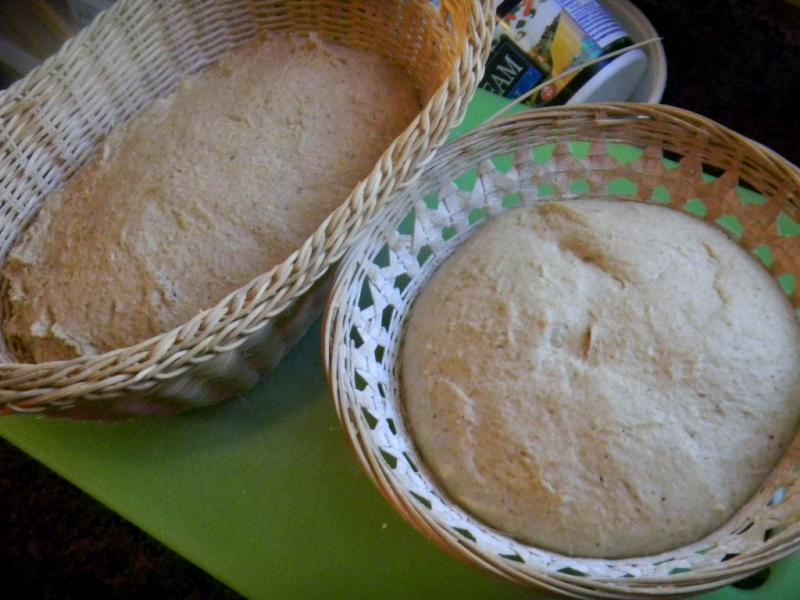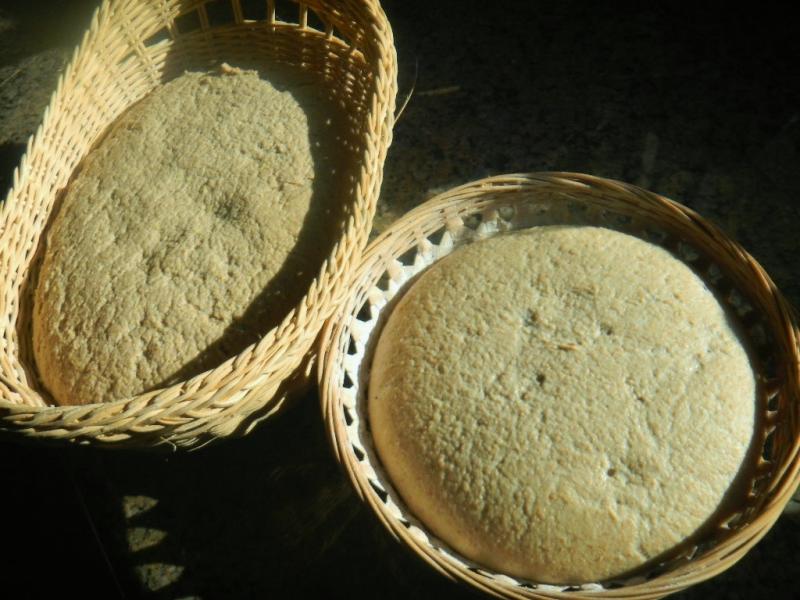 We know there are so many other grains out there that could be brought back to life but there is a reason why these grains went out of favor in the first place too and not many bread bakers can afford to spend $5-$7 a pound for these grains either.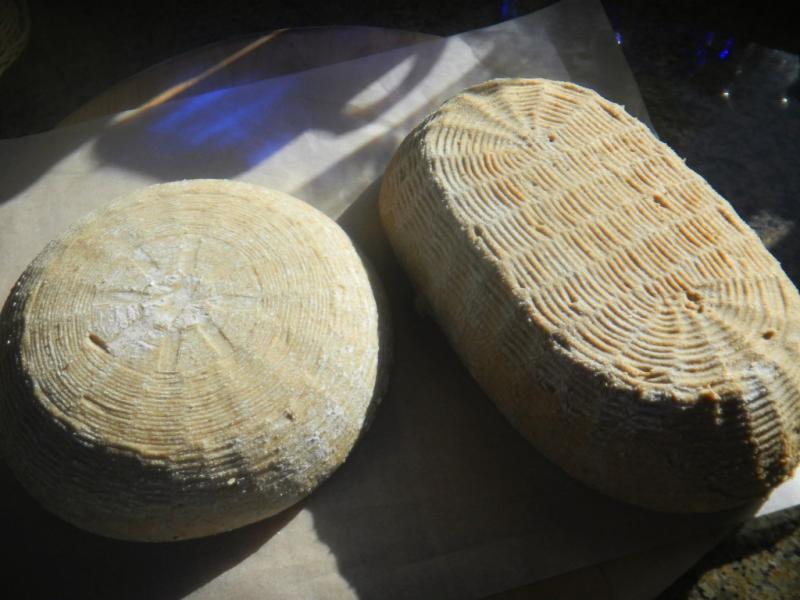 One of Lucy's recipes took the left over 85% extraction 7 grain flour from last Friday's bake that already had farro and Kamut in the mix and added some Hayden Mills Desert Durum and Farro to it along with the Einkorn we found at Whole Foods to get the mix up to a real 9 grain bread.  I know that Lucy has an 11 or maybe even 13 grain variation in her someday.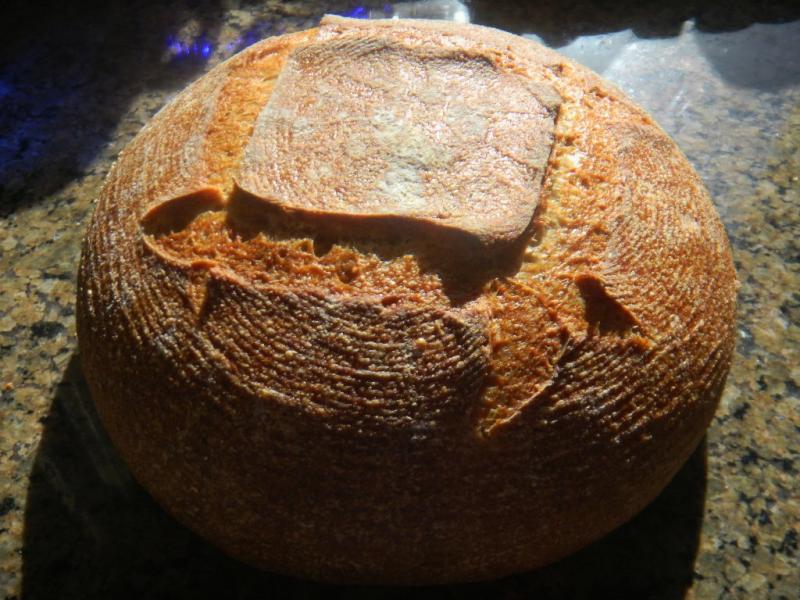 Even though she already had some rye in the mix she tossed in some left over whole rye too just to get some whole grain in there even though this bread doesn't need it being that the rest of the grains are 85% extraction. We have been wanting to make a bread like this for a while to see what getting the hardest bits out of the mix might  bring to the party.
The other bread is a 50% whole grain bread using Pima Club and White Sonoran for the whole grains and AP for the other 50%.  The two whole grains are white wheat varieties that are supposedly low in gluten so the AP was a good paring to keep the gluten low.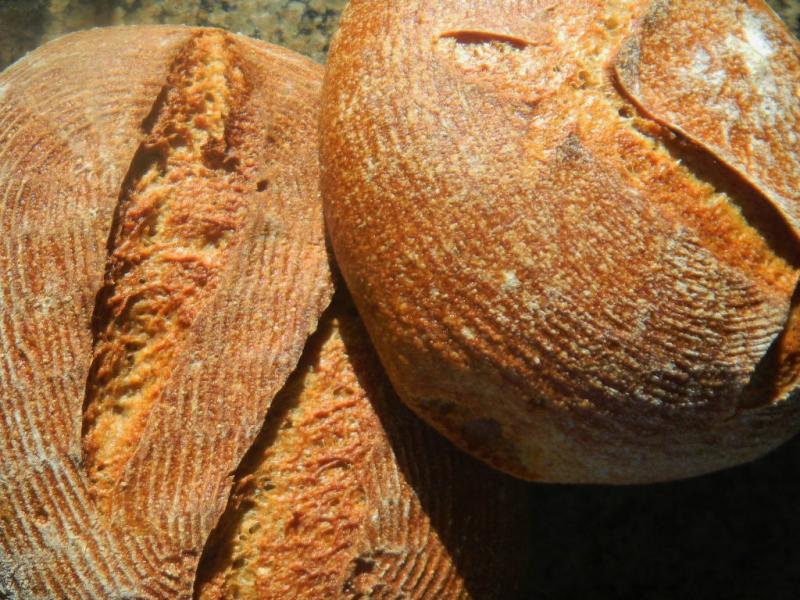 Folks think that these 'weak gluten'  flours are good for making tortillas, cookies and cakes and they are but eventually, we want to try them out on baguettes since they too are also made with low gluten flour – and pizza too.   I'm guessing, after seeing this bread from the outside, that it also can make some fine sourdough too.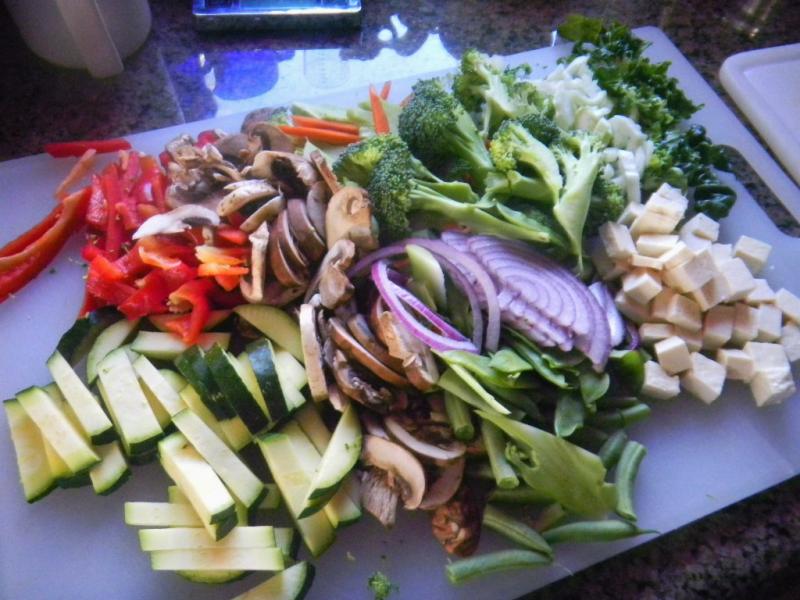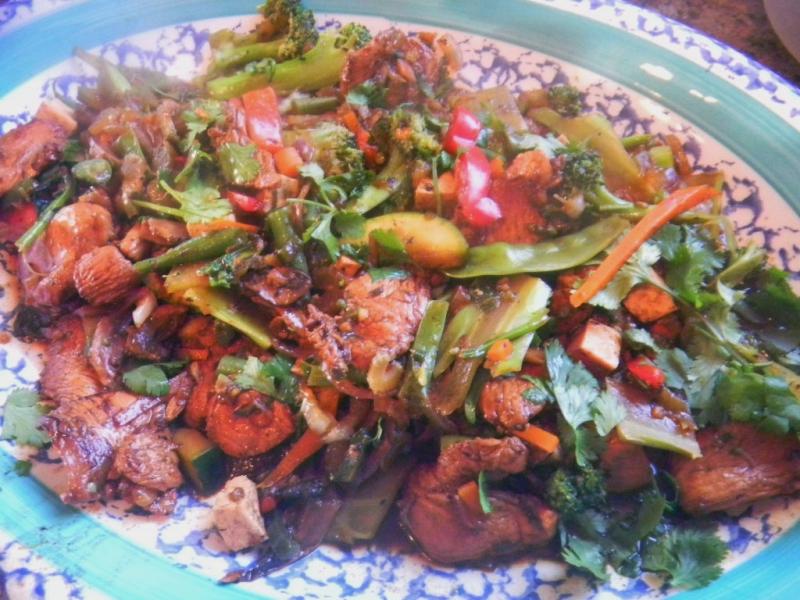 The mis en place for ........................................................a fine Chinese 5 spice stir fry
The levain for the 9 grain was made with the same 85% extraction flour but the levain for the AZ bread was made from the 15% hard bits sifted out from the milling process.   If there are hard bits in the mix we like to put them into the levain build to get them a wet for as long as possible.  The other difference was that the levain for the 9 grain bread was refrigerated for 48 hours, 1 hour after the 3rd feeding and the AZ levain was not refrigerated at all.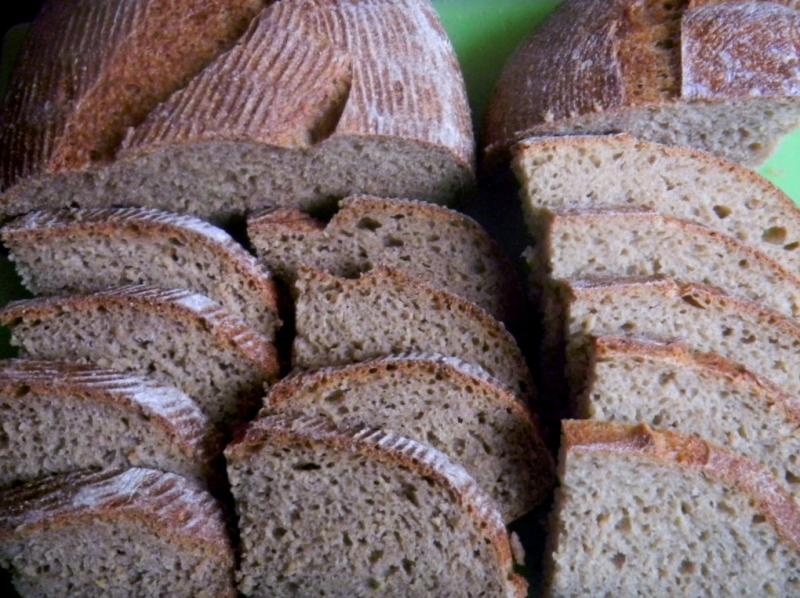 Each of the breads had a 1 hour autolyse with the dough flour and water with the pink Himalayan sea salt sprinkled on top.  The hydration was 5% higher for the 9 grain at 80%.  Each went through 3 sets of slap and folds of 5, 1 and 1 minute on 15 minute intervals.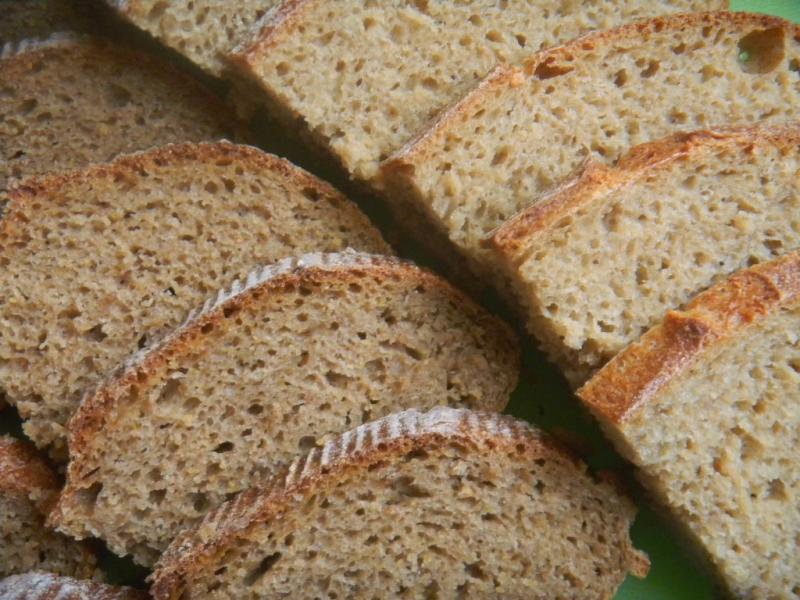 Oddly the 85% extraction dough felt much more slack and new thought it would be the other way around.   No stretch and folds or bulk ferment was done.  We quickly pre-shaped and then shaped a boule and an oval and placed the dough into the baskets, bagged them and retarded them for 14 hours.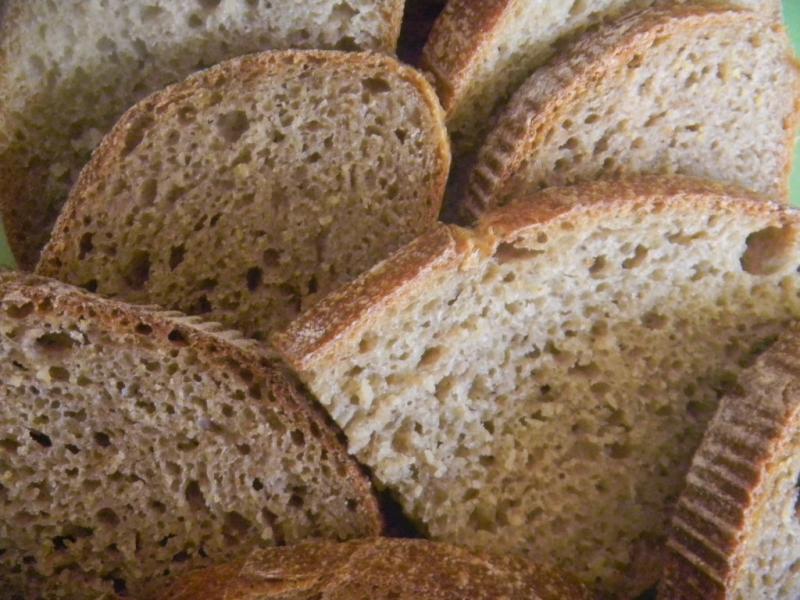 First thing this morning we fired up Big Old Betsy for the 550 F regular bake preheating.   When she hit 525 F we put 2 of Sylvia's steaming pans and a larger one of David's Lava Rocks.   Sylvia's pans had rolled up kitchen towels in them and all 3 were half full of water.  By the time BOB hit 5560 F the steam was billowing.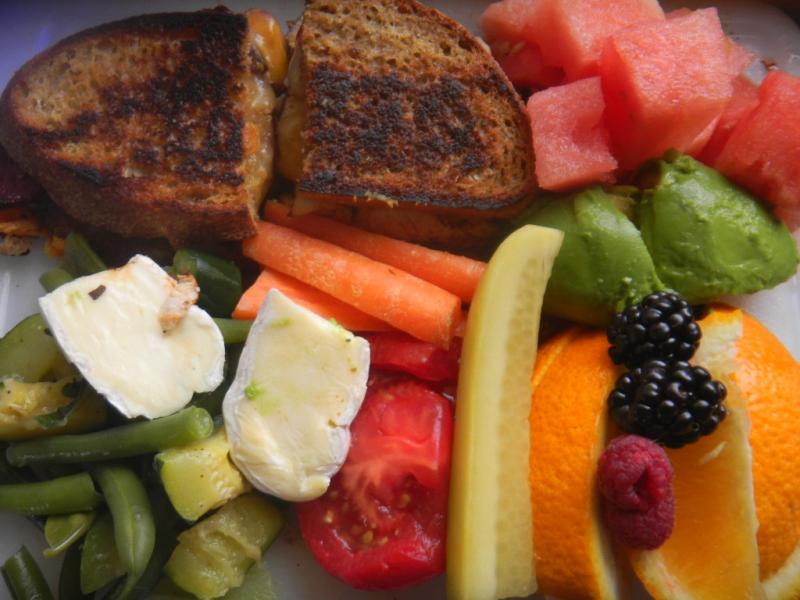 A healthy breakfast and lunch should always be on the menu.We removed the dough from the fridge and the baskets by overturning them onto parchment on a peel.  We did a quick slash job on them and into the oven on the bottom stone they went.  After 2 minutes we turned the oven down to 465 F and continued to steam for a total of 15 minutes.  Once the steam came out we turned the oven down to 425 F - convection this time.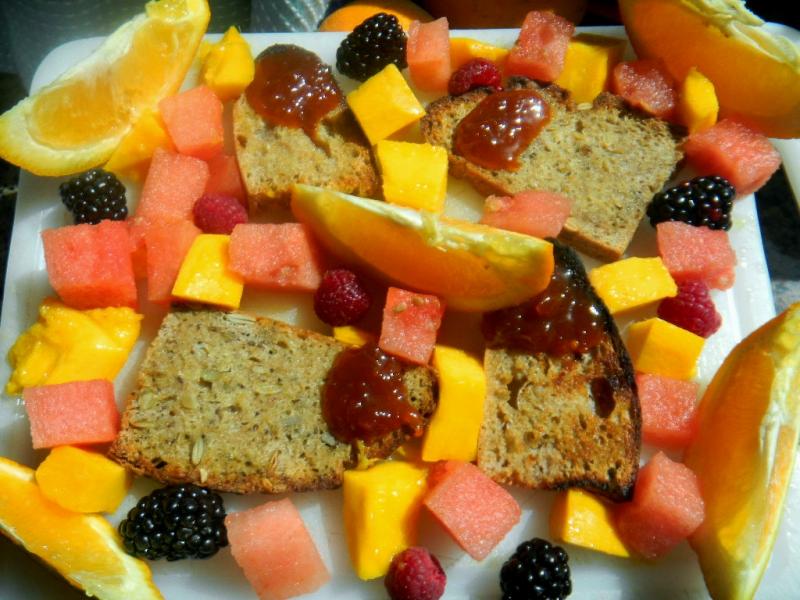 The smaller AZ loaf was done in 30 minutes total and the larger 9 grain loaf took 5 minutes more.  Both sprang, bloomed browned up nicely with tiny blisters.  One was slightly darker than the other one though.  After coming out of the oven crunchy, the crust of both went soft as they cooled.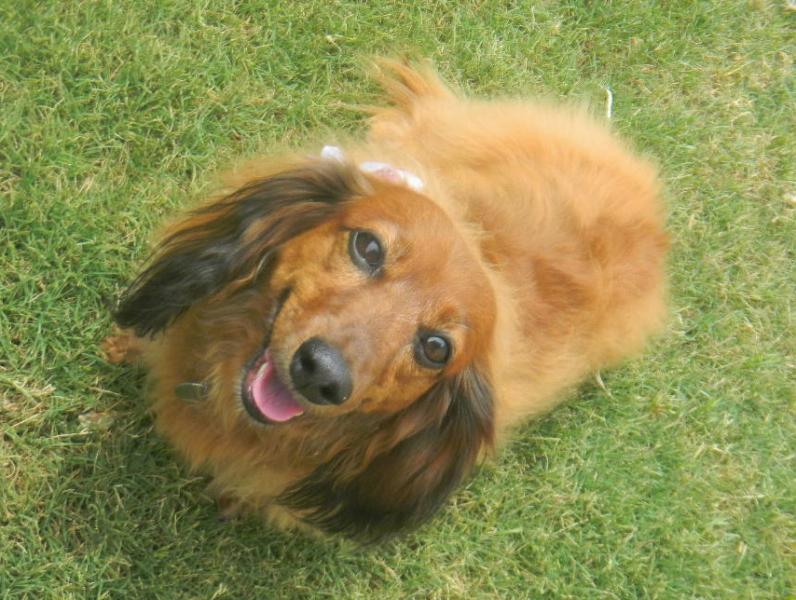 Lucy got all dolled up today for Mother's Day with a bath and some much needed grooming.
The crumb of both came out less open than we had hoped for but for bread this healthy and hearty it is still light enough, moist and soft.  Lucy and I liked the 9 grain because of its deeper flavor and more sour but the girls will like the lighter AZ bread the best.  Neither has ans seeds,nuts, fruits, scald or sprouts in them even though both are healthy options for sure.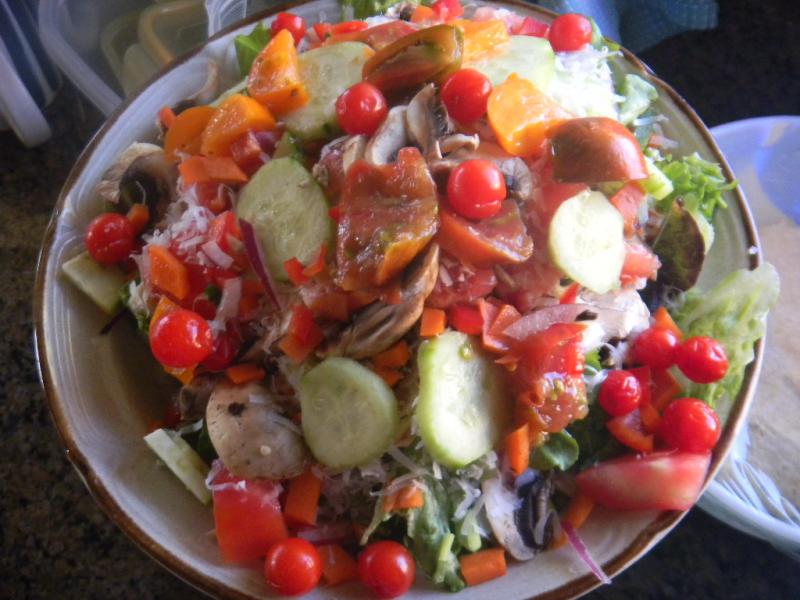 Lucy reminds you to not forget the salad especially when it has home grown heirloom tomatoes. 
Formula
| | | | | | |
| --- | --- | --- | --- | --- | --- |
| Pima Club and White Sonoran Boule |   |   |   |   |   |
|   | Build 1 | Build 2 |  Build 3 | Total | % |
| SD starter | 5 | 0 | 0 | 5 | 1.08% |
| AP | 5 | 10 | 15 | 30 | 7.50% |
| 15% Extract Pima & Sonoran | 5 | 10 | 15 | 30 | 7.50% |
| Water | 10 | 20 | 30 | 60 | 15.00% |
| Total | 25 | 40 | 60 | 125 | 31.25% |
|   |   |   |   |   |   |
|   |   | % |   |   |   |
| Flour | 62.5 | 15.63% |   |   |   |
| Water | 62.5 | 15.63% |   |   |   |
| Hydration | 100.00% |   |   |   |   |
| Levain % of Total | 15.08% |   |   |   |   |
|   |   |   |   |   |   |
| Dough Flour |   | % |   |   |   |
| Pima Club | 100 | 25.00% |   |   |   |
| AP | 200 | 50.00% |   |   |   |
| White Sonoran | 100 | 25.00% |   |   |   |
| Dough Flour | 400 | 100.00% |   |   |   |
|   |   |   |   |   |   |
| Salt | 9 | 1.95% |   |   |   |
| Water | 289 | 72.25% |   |   |   |
| Dough Hydration | 72.25% |   |   |   |   |
|   |   |   |   |   |   |
| Total Flour | 462.5 |   |   |   |   |
| Water | 351.5 |   |   |   |   |
| T. Dough Hydration | 76.00% |   |   |   |   |
| Whole Grain  % | 50.00% |   |   |   |   |
| Total Weight | 829 |   |   |   |   |
| Hydration w/ Adds | 75.03% |   |   |   |   |
|   |   |   |   |   |   |
| Add - Ins |   | % |   |   |   |
| Red Malt | 3 | 0.75% |   |   |   |
| White Malt | 3 | 0.75% |   |   |   |
| Total | 6 | 1.50% |   |   |   |
85 Percent Extraction Multigrain Sourdough

 

 

 

 

 

 

Build 1

Build 2

 Build 3

Total

%

SD starter

10

0

0

10

1.71%

85% Extraction Wheat

10

20

40

70

13.73%

Water

10

20

40

70

13.73%

Total

30

40

80

150

29.41%

 

 

 

 

 

 

 

 

%

 

 

 

Flour

75

14.71%

 

 

 

Water

75

14.71%

 

 

 

Hydration

100.00%

 

 

 

 

Levain % of Total

13.45%

 

 

 

 

 

 

 

 

 

 

Dough Flour

 

%

 

 

 

Whole Rye

37

7.25%

 

 

 

85% Extracttion MG Mix

473

92.75%

 

 

 

Dough Flour

510

100.00%

 

 

 

 

 

 

 

 

 

Salt

11

1.88%

 

 

 

Water

416

81.57%

 

 

 

Dough Hydration

81.57%

 

 

 

 

 

 

 

 

 

 

Total Flour

585

 

 

 

 

Water

491

 

 

 

 

T. Dough Hydration

83.93%

 

 

 

 

Whole Grain Equivalent %

7.35%

 

 

 

 

Total Weight

1,115

 

 

 

 

Hydration w/ Adds

80.10%

 

 

 

 

 

 

 

 

 

 

Add - Ins

 

%

 

 

 

Red Malt

6

1.18%

 

 

 

White Malt

6

1.18%

 

 

 

VW Gluten

16

3.14%

 

 

 

Total

28

5.49%

 

 

 

 

 

 

 

 

 

85% Etraction includes:: Buckwheat, Einkorn. barley, farro

 

 

 wheat, spelt, corn & oat - Plus the whole rye makes 9 grains