This is my version of Pain de Campagne.  It took three attempts before I was satisfied with the result.  The first two loaves were too sour for my liking.  It was only when Josh suggested that I use more starter in my levain build, instead of less, that I finally got the result I wanted.  :)
Levain
50g mature whole wheat starter
100g water
100g whole wheat flour
Allow to peak.  Once it has peaked and started to recede, it will get more and more acidic.  I wanted a young levain for this loaf so I used it when it reached its highest point.  This took somewhere between four and five hours in my 28 degrees C kitchen.  It had a nice fruity aroma and wasn't at all sour.
Main Dough
200g of the levain
350g water
50g rye
1/2 tsp diastatic malt
450g bread flour
Disperse the levain in the water with a wire whisk.  I like to whisk it up until it has a good foam on top.  Next, whisk in rye and malt powder.  Then add bread flour with spatula and mix until all the flour has been moistened.
Then:
add 10g salt
knead to medium gluten development
Now:
bulk ferment for 1 hour with a turn at 30 minutes
Next:
pre-shape
rest 10 minutes
final shape
Put into well floured banneton and after about half an hour cover and:
retard for 12 hours in the fridge
Bake
 at 230 C with steam for 15 minutes
Then:
reduce heat to 200 C and bake for a further 30 - 35 minutes
The proportionately large amount of levain in this recipe means that the dough develops really quickly hence the relatively short bulk fermentation time.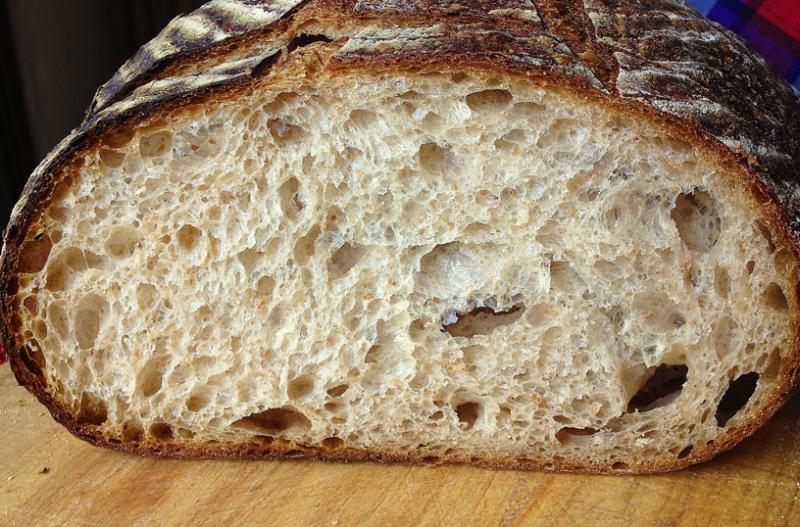 For the first two attempts I used smaller amounts of starter (30 and 20g respectively) and let the levain ripen for 12 hours.  As Josh suggested, this made for a more sour levain.  So more starter and a shorter ripening time is what he recommended.  It worked really well and I am really pleased with the way this turned out.  
I like adding all my whole wheat to the levain as I feel it gives it more 'wheaty' flavour.  On the other hand, I don't like adding too much rye to the levain as it gets too sour too quickly.
The flavour of this bread improves with time and by day two (yesterday) it had a slight tang.