Last of the Easter Sourdough Bakes Turns Ugly in a Tasty Way
This Easter we are having smoked baby back ribs and smoked chicken with pasta and potato salads, Cole slaw and smoked BBQ beans.  Not our usual Easter fare but that means we needed a good whitish SD bread to replace the usual Wonder Bread that comes with Kansas City, MO  BBQ.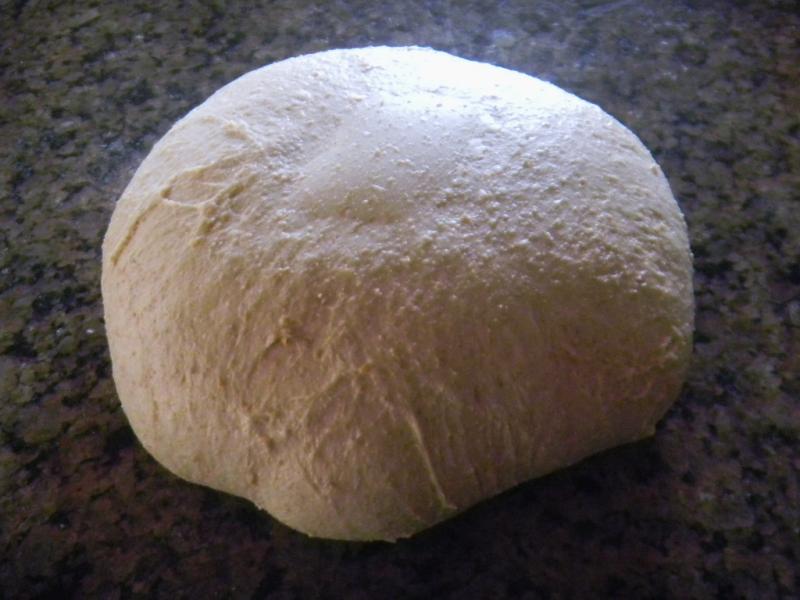 We had a multigrain levain in the fridge that had doubled in 2 hours the day before so we knew it was in tip top shape since we have been feeding it every day since we starter balking hot cross buns from it on Good Friday.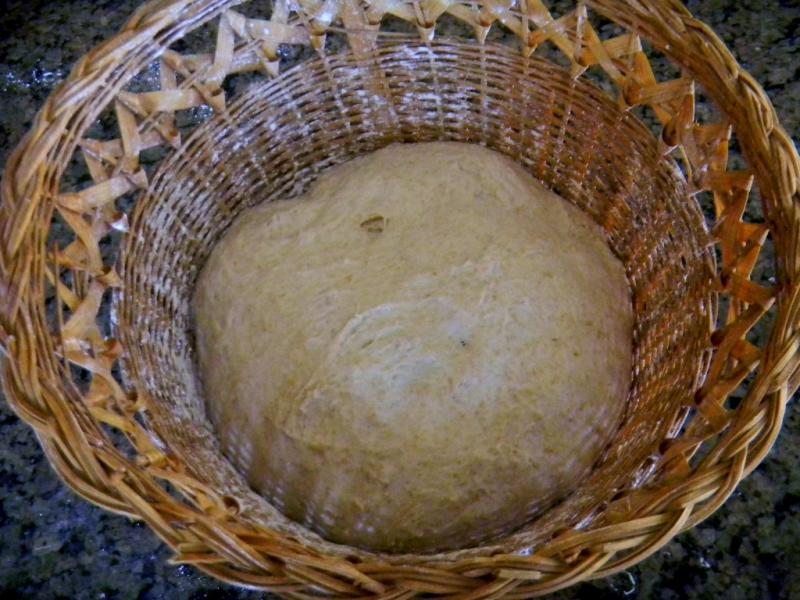 We also had some 87% and 89 % extraction whole wheat and multi-grain flour that we have been baling with since Friday as well.  We love this flour as it makes such great tasting bread.  It is thirsty but works so well at high hydration and the dough is a delight to work with.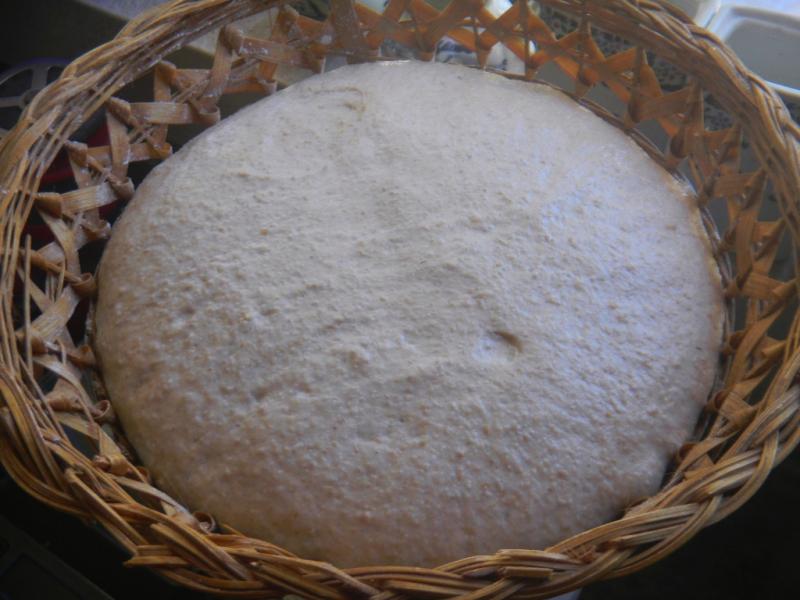 The multi-grains were; wheat, buckwheat, oat, spelt, rye, barley farro and Kamut – a nice mix of grains with the wheat being twice the amount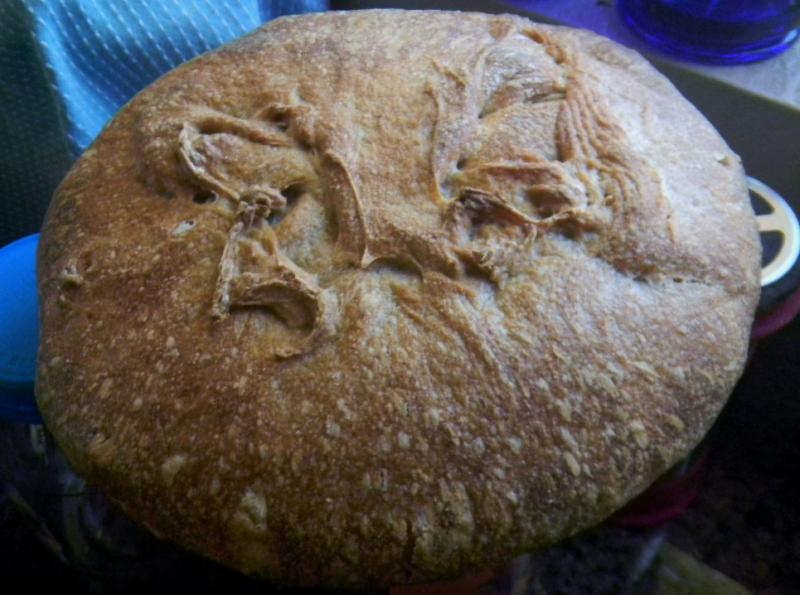 of the others.  We thought we would throw in some AP too and get the whole grains to fit in at about a 40% equivalent.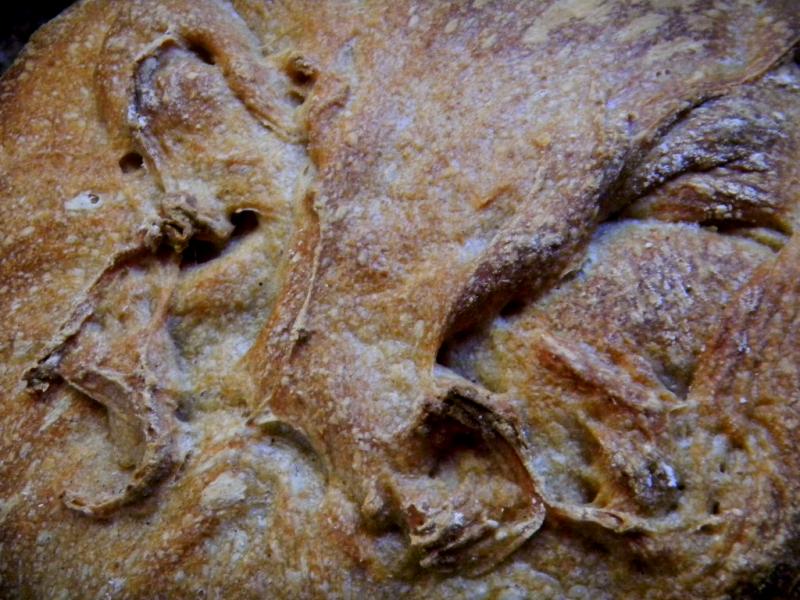 Since were making a less than 70 g loaf, we got to use our new small basket for the first time.  We like it a lot and for 50 cents our usual basket bargain at Goodwill.   We did a quick mix including everything except the salt, which was sprinkled in top and let the dough sit for 30 minutes so the flour could hydrate.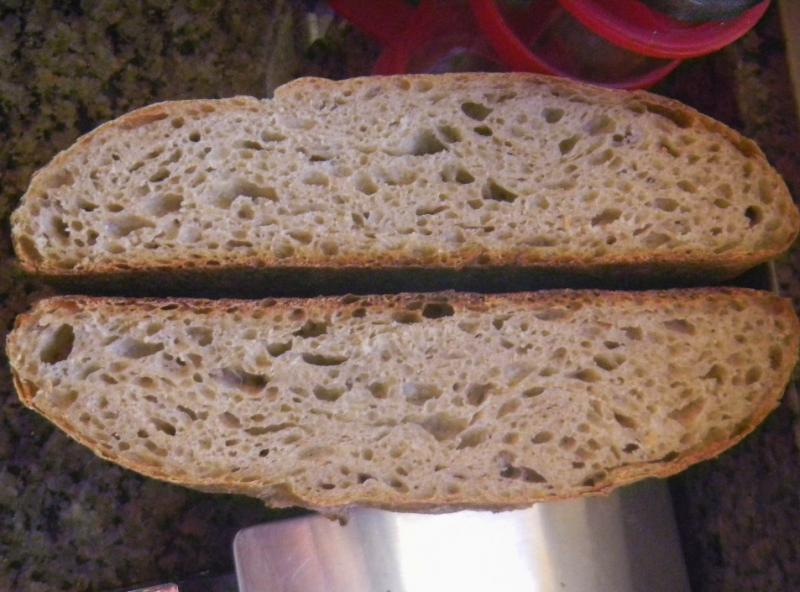 We then mixed in the salt and did 3 sets of slap and folds on 5, 2 and 1 minutes where the dough quit sticking at the 4 minute mark of the first set.  These were followed by 3 sets of stretch and folds, from the compass points.  All the slapping , stretching and folds were done on 12 minute intervals.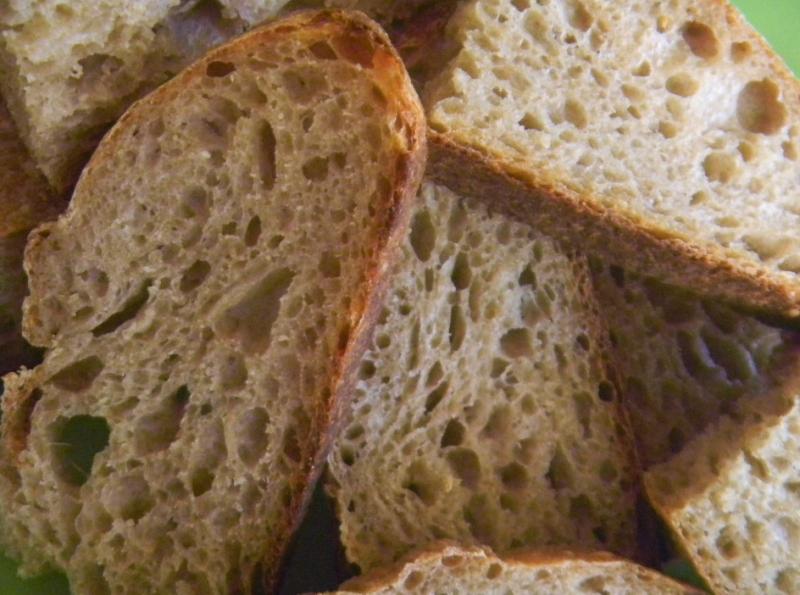 We then shaped the dough and placed it the rice floured basket but forgot to rice flour the boule as we always do for a new basket so it can't stick.  After a short 2 hour proof, It was 85 F in the kitchen today, the dough had doubled on the counter and ready to be baked.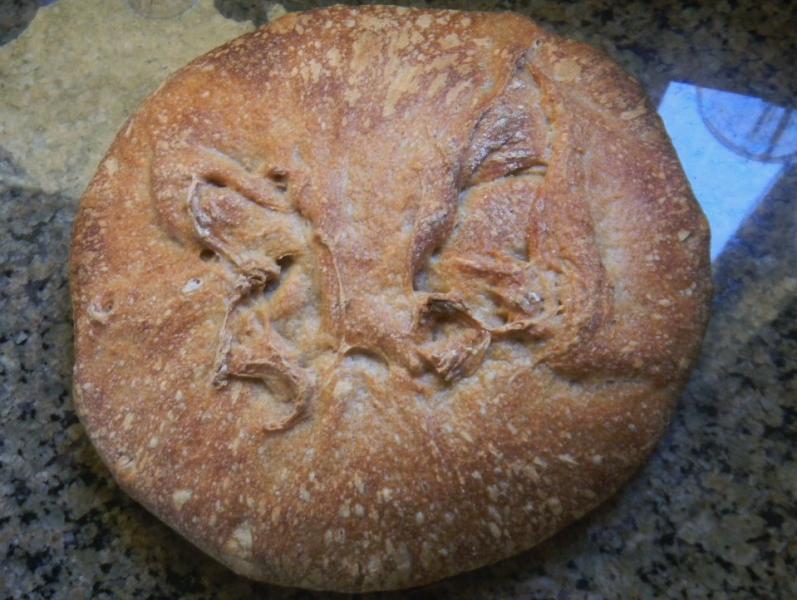 It was wet and giggly so of course it stuck – really badly too.  I actually had to grab it and drag it out of the basket, from three places causing it to lose all of its airy proof.  We should have reshaped it and proofed it again.  But we were out of time so into the DO it went for 12 minutes of steam at 450 F.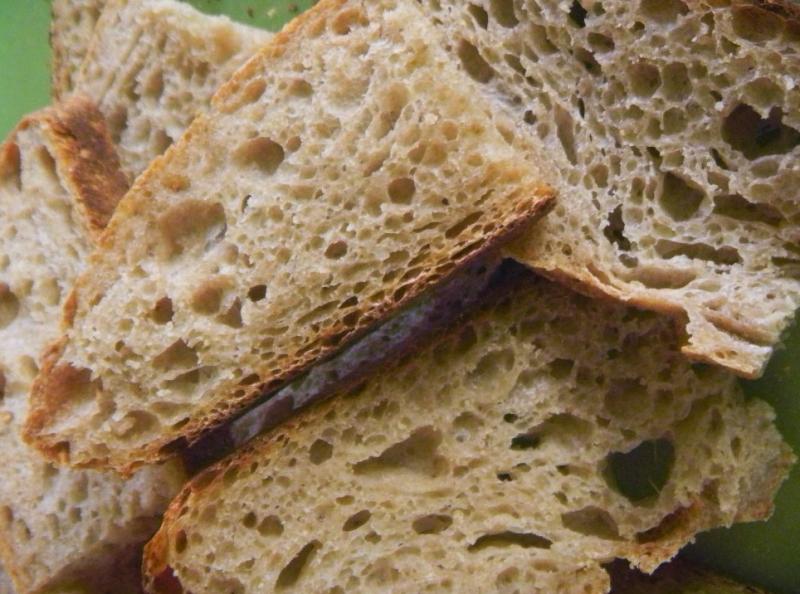 Once the lid came off we continued to bake for 5 minutes of 425 F convection before we removed the bread from the DO and placed it on the bottom stone to finish browning.  !0minurted later the bread was done.  Be baked it to 210 F because it wasn't browning a s dark as we wanted at our usual 205 F.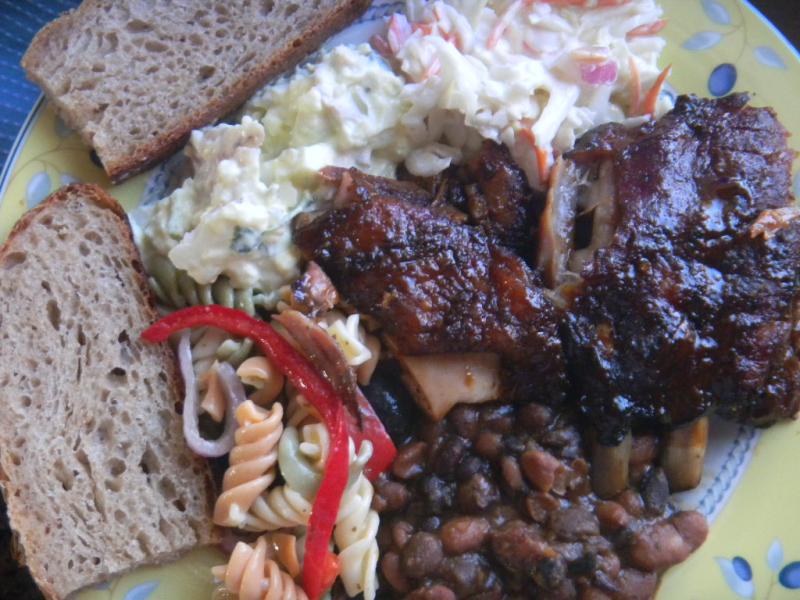 The bread really never sprang much and it never got a dark as we like either.  Still, it was very tasty and the crumb was open, soft and glossy but not quite as moist as our 205 F bakes. This is still a fine tasting SD bread and not at all horrible except in the way it looks - all squashed and weird looking on the outside and not as open as it would have been either.  Can't wait to have it with the ribs and chicken for Easter Dinner…..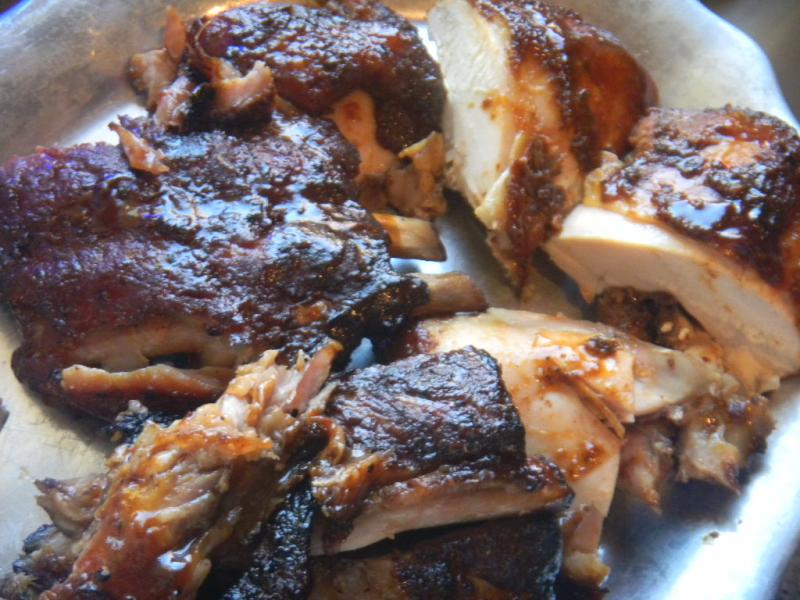 Happy Easter to all.
Formula
| | | | | | |
| --- | --- | --- | --- | --- | --- |
|   | Build 1 | Build 2 |  Build 3 | Total | % |
| SD starter | 10 | 0 | 0 | 10 | 2.86% |
| 11% Extraction Multigrain | 4 | 4 | 0 | 8 | 2.67% |
| AP | 0 | 0 | 25 | 25 | 8.33% |
| 15 % exraction Whole Wheat | 6 | 6 | 0 | 12 | 4.00% |
| Water | 10 | 10 | 25 | 45 | 15.00% |
| Total | 30 | 20 | 50 | 100 | 33.33% |
|   |   |   |   |   |   |
|   |   | % |   |   |   |
| Flour | 50 | 16.67% |   |   |   |
| Water | 50 | 16.67% |   |   |   |
| Hydration | 100.00% |   |   |   |   |
| Levain % of Total | 15.82% |   |   |   |   |
|   |   |   |   |   |   |
| Dough Flour |   | % |   |   |   |
| AP | 150 | 50.00% |   |   |   |
| 87% Extracxtion Multigrain Mix | 150 | 50.00% |   |   |   |
| Dough Flour | 300 | 100.00% |   |   |   |
|   |   |   |   |   |   |
| Salt | 7 | 2.00% |   |   |   |
| Water | 225 | 75.00% |   |   |   |
| Dough Hydration | 75.00% |   |   |   |   |
|   |   |   |   |   |   |
| Total Flour | 350 |   |   |   |   |
| Water | 275 |   |   |   |   |
| T. Dough Hydration | 78.57% |   |   |   |   |
| Whole Grain % | 40.00% |   |   |   |   |
|   |   |   |   |   |   |
| Hydration w/ Adds | 78.57% |   |   |   |   |
| Total Weight | 632 |   |   |   |   |