This isn't like our usual Kitchen Sink Banana Bread because it isn't iced and doesn't have the usual snickered fruits.  So this is just plain Chocolate Chip and Walnut Banana Bread but it did have an extra banana in it making 4 total.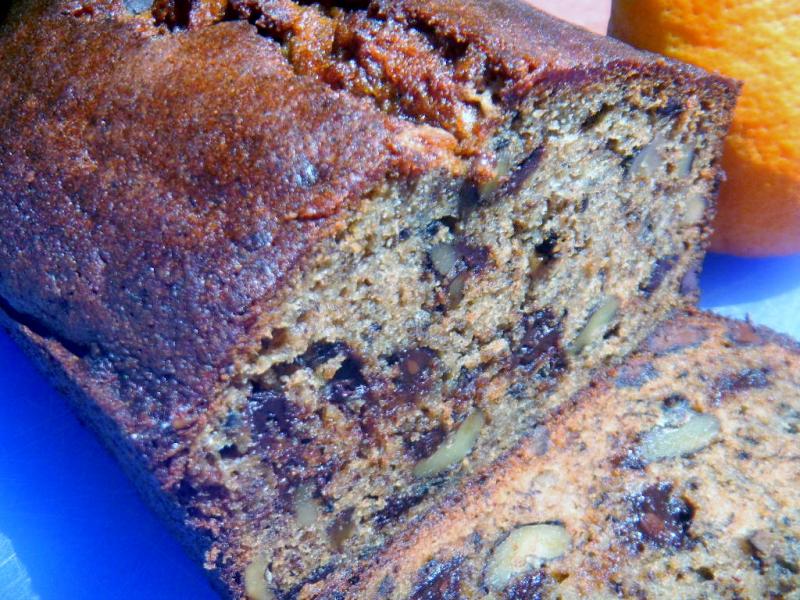 These bananas came out of the freezer which I where they go when they get perfect for bread and no one wants to eat them.  Banana bread is one of out very favorites but we usually make his recipe into cupcakes for portion control and then just eat two of them!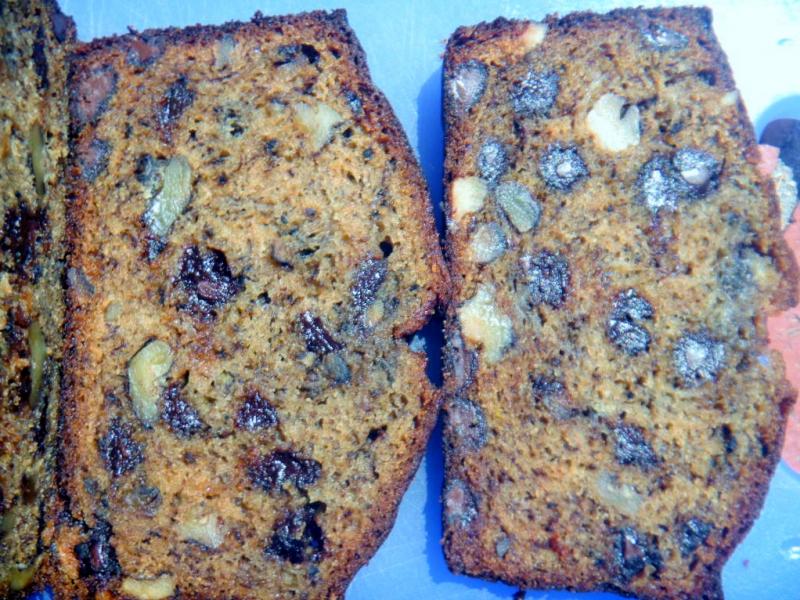 This batch came out well and after tasting it to make sure it wasn't poison, we packed of the rest of it tour daughter's Boyfriend's parents as a partially eaten Easter gift,  Well, we didn't know we were going to sent it until after we had tasted it for poison.  We sent a quarter of one of our SD bakes of late that was a little on the white side too.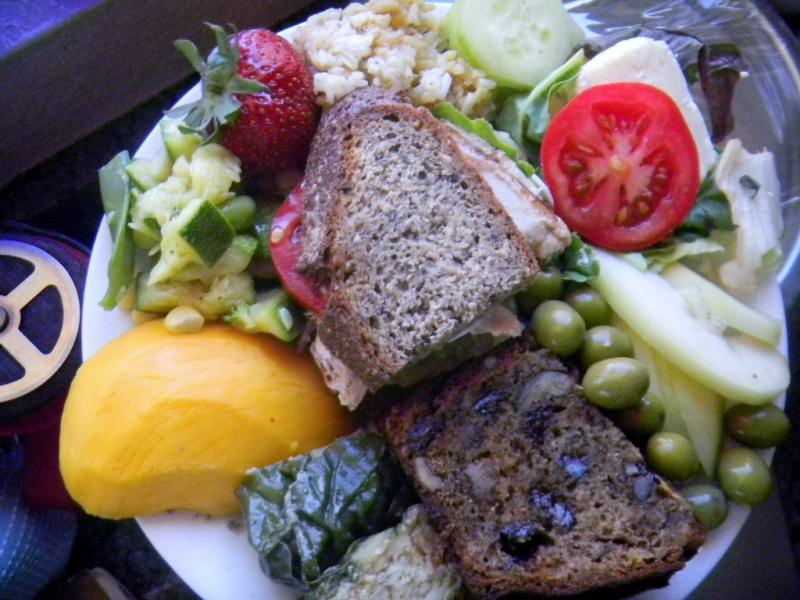 If the daughter wouldn't have already flown the coup to New Mexico, I would have sent some uncut hot cross buns Lucy and I made today.  They smell tasty.  I think I have published the recipe for this BB before and all you have to do is leave out the snockered fruits and don't ice it.  But I can't remember so will put here again.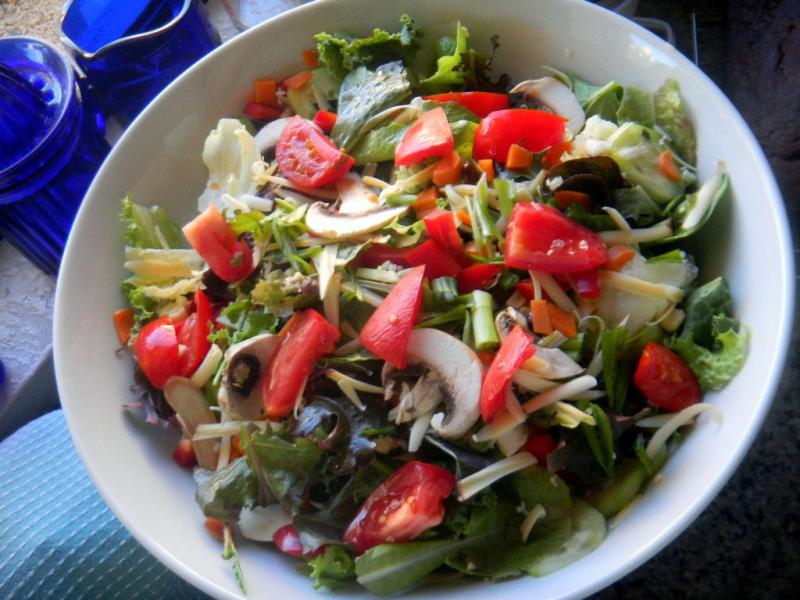 Lucy says don't forget to have a salad with that Banana Bread
Recipe
Preheat oven to 350 degrees.
Dry Mix:
1 ½ C plus 2 T flour
¼ tsp salt
1/8 tsp each ginger, cloves, allspice
1 tsp each cinnamon and nutmeg
1 tsp baking soda
¼ tsp baking powder
1 C chopped walnuts
1 C chopped chocolate chips 
Bourbon Fruit – add bourbon to below dried fruits in a Pyrex 1 cup measuring cup covered with plastic wrap.  Microwave on high for 30 seconds and set aside 15 minutes to plump up fruits.
2 T bourbon
¼ C raisins or sultanas
¼ C dried cranberries
¼ C dried apricots cut into raisin size pieces 
Wet Mix:
 3 mashed up ripe bananas
1/8 cup sour cream
1 tsp vanilla
2 eggs
½ C vegetable oil
½ C each brown and white sugar
Add ½ C sugar, ½ C brown sugar and Bourbon fruits to wet mix and stir until sugar is dissolved.  Mix the wet into the dry and stir 50 times with spatula until the flour is incorporated.

Quickly fill cupcake paper liners 3/4th full or put into PAM sprayed large bread loaf pan.
Bake cupcakes for about 12-16 minutes until wooden toothpick comes out clean.  Loaves will take 45 minutes or more for wooden skewer to come out clean. 
After 20 minutes remove from pans and let cool completely on wire racks.  Ice both with cream cheese vanilla icing and put sprinkles on each to decorate per the holiday or special occasion.  Makes about 21 cupcakes or 1 large bread loaf pan.
Cream Cheese Frosting
Ingredients
1/4 C butter, softened
4 oz. cream cheese, softened
8 oz. package powdered sugar
1/2 tsp vanilla extract.
You can cub the juice of ½ of a lemon and the zest if you prefer that to vanilla 
Preparation
Beat butter and cream cheese at medium speed with an electric mixer until creamy. Gradually add powdered sugar, beating at low speed until blended; stir in vanilla.