An introduction with bread
I baked you a loaf!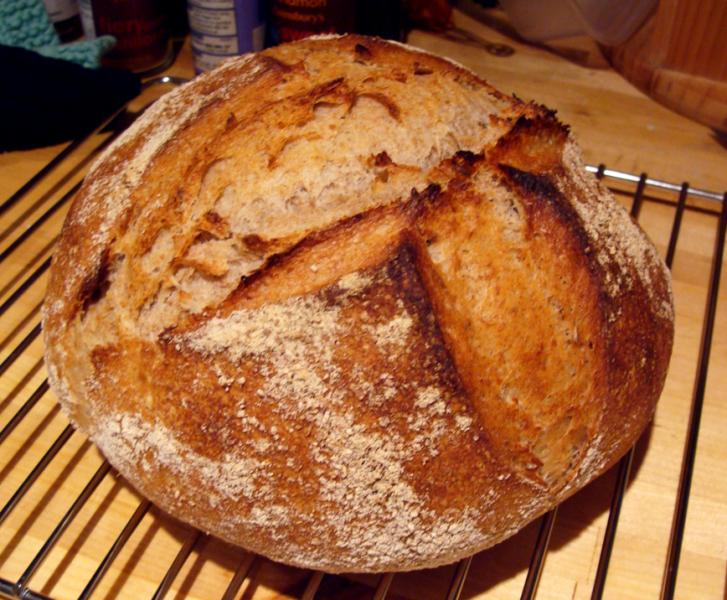 Hello, I'm Dylan. I usually live in Brooklyn, NY, but am currently living in Cambridge in England for my research. I'm a grad student in physics at NYU and probably spend more time than my thesis advisor would like on baking and other non-physics pursuits. Of course, one of the things that makes me excited about baking (and brewing) is that it is a manifestation of physics, chemistry, and microbiology. I've learned a lot and think my bread, beer, and research has benefitted from my reading about yeast and enzymes.
So onto the loaf. I got into bread baking because I was already making pizza regularly and I thought bread would be a good way to get rid of spent grain from brewing. In my most recent move, I lost the ability to dry my spent grain and stopped baking bread, but I picked it back up again after some visits to Sullivan Street Bakery lead me to buy Jim Lahey's My Bread.
Since coming to England I picked up sourdough as a replacement for my lost pursuit of brewing, and have become a frequent visitor to this site to learn about sourdough, high-hydration, and generally artisan techniques. Thanks to all of you for making this loaf (and many yet to come) possible!
This was made with a bread flour starter that I turned into a levain that fermented for 12 hours, followed by a 3 hour ferment of a final dough with 30% rye. I baked it at my oven's max (probably ~475–500 F) on a preheat cast iron skillet with an aluminum bowl inverted over it to make a lid. I removed the bowl after about 15 minutes and let it bake for a total of about 35. It's delicious and the crumb and crust seem quite good, although there is a thin layer towards the bottom of the loaf that seems underbaked (you can see it as a slightly dark stripe). Any advice is welcome, of course!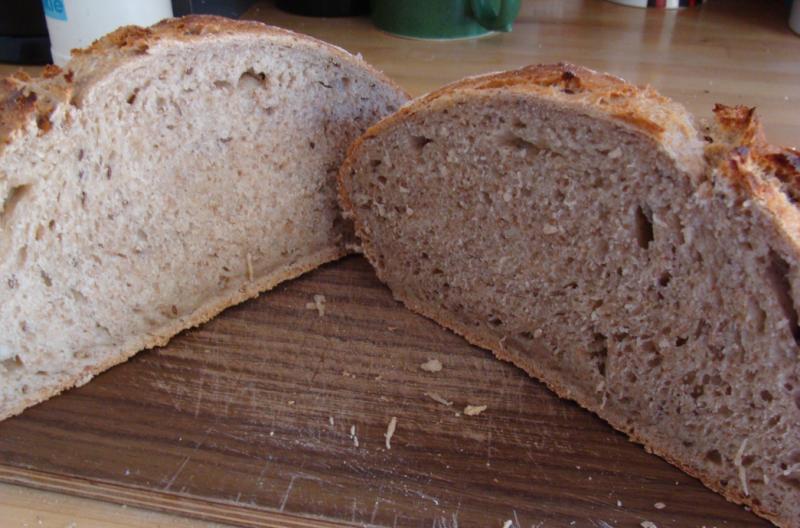 I look forward to getting to know you all better as a participant rather than a lurker.