This was my second attempt at this loaf.  Intrigued by David's description of how good it tasted, I just had to give it a try.  My first go yielded a flat boule that was very, very sour and quite pale.  I let everything go on too long especially the final proof in the fridge.  Due to other commitments, it stayed in the fridge for almost 20 hours as opposed to the 12 that David recommended.
The second time round I shortened everything.  Instead of letting the starters ferment for 14 hours, I gave them 7 which is quite enough for our 30C temperatures we have been having recently.  I autolysed for 50 mins and retarded for 12.  
I pretty much stuck to David's recipe except that I only added 510g of water effectively making this an 80% hydration loaf.  If you notice any small discrepancies between the weights of the ingredients in mine and David's recipe it is only because I usually round everything off so it looks neater!
Total Formula
85g whole wheat levain
270g rye levain
510g water
140g whole wheat flour
545g bread flour
I whisked the levains into the water to ensure even dispersion and then added the flour.  I let this autolyse for 50 minutes then added:
I hand kneaded until medium gluten development.  Although it was sticky at first, this dough came together surprisingly quickly for an 80% hydration bread.  It was easier to handle than the Tartine dough which is only 75% water.  Not sure why but guess that it might have something to do with the levain being more acid.  It was actually a delight to handle and not the nightmare I imagined.  The only reason I reduced the water to 80% was because I was wary of hand kneading such a wet dough.
I baked on a baking stone with steam for 15 mins and then uncovered for another 25 minutes.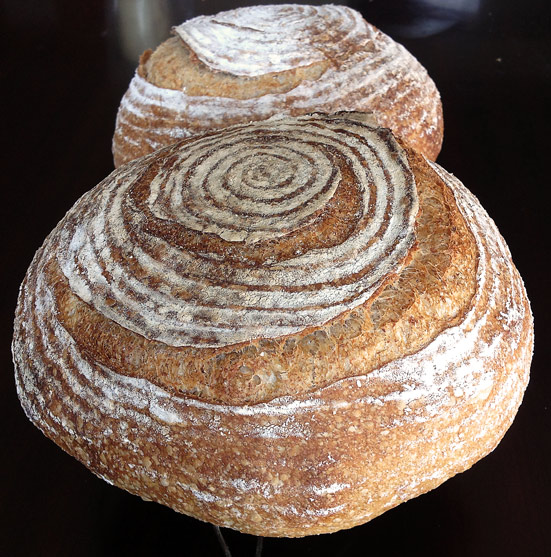 I waited 3 hours before I cut into one of the boules and found the sour quite pronounced but not as sour as my first attempt.  Interestingly that sour mellowed out on the second day.  It didn't seem quite as sharp.  Not sure how that works, either.  Perhaps it was just because other flavors were coming through on day 2.  Whatever, I definitely preferred the taste on the second day.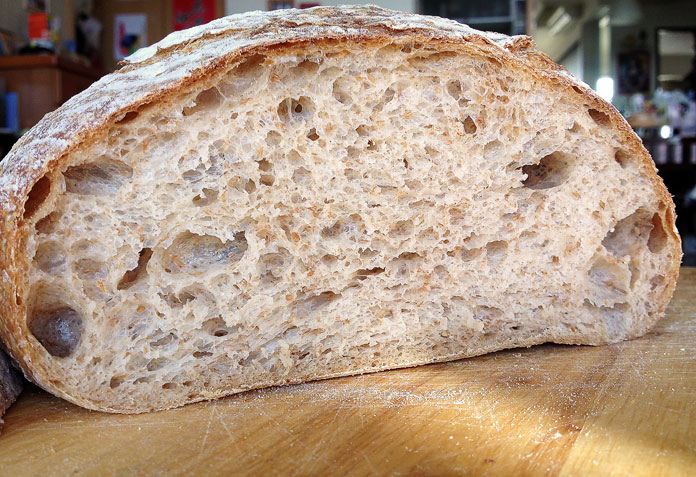 Will definitely try this loaf again, but think I might try white rye instead of whole rye and shoot for something a little less sour.  Having said that, this loaf tastes really great with a mature cheddar.  Just bread and cheese.  No butter.  Very more-ish.  Thanks to David for his detailed formula and write up.