February 25, 2014 - 9:34pm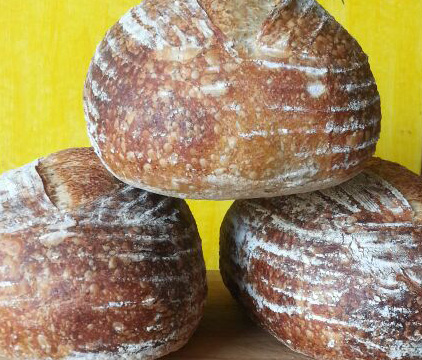 I received a copy of Tartine for Christmas last year and have been making the basic country loaf regularly since then.  The quantity of dough the recipe makes is perfect for my three 25cm oblong bannetons.  I scale the dough to 650 grams a piece and retard in the refrigerator for up to 18 hours.  The above loaves were only retarded for 12 hours.  
I pretty much do everything as per the recipe except that I add all the water at once.  In other words, I don't hold back 50g to add after the resting period.  It saves an extra step and prevents very messy hands from trying to squeeze the water into the dough. My other variation is that I do knead.   I don't have a stand mixer so I knead by hand.  About 400 slap and folds or until the dough is moderately developed.  I like to think this gives the loaves better volume and height but I have never done a side by side test so I can't be sure.  Anyway I like kneading dough and it is a difficult habit to break.
I bake at 230C on a baking stone with steam for 15 mins (no convection) and then for a 25 mins without steam with the convection on.  I'm not sure how this relates to the baking instructions in the book but this is what works for me and my oven.  I know in the book they use a Dutch oven or a combo cooker but I am not certain of the baking times.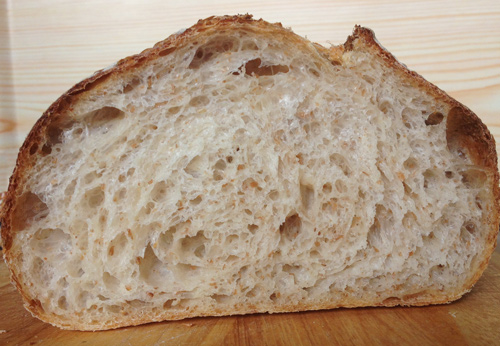 A cross section of the crumb.
And finally, my favourite use for this loaf: grilled cheese!  This one is just a basic cheese and tomato.  The tomatoes are vine ripened organic and beautifully sweet!