February 7, 2014 - 11:20am
Dark Russian Jewish Rye Bread with Porter, Prunes, Nuts and Aromatic Seeds
This bread is a different version of a formula that Lucy dreamt up back last May that we liked very much and can be found  here: 
http://www.thefreshloaf.com/node/33480/dark-russian-jewish-deli-rye-porter-onion-sprouts-and-aromatic-seeds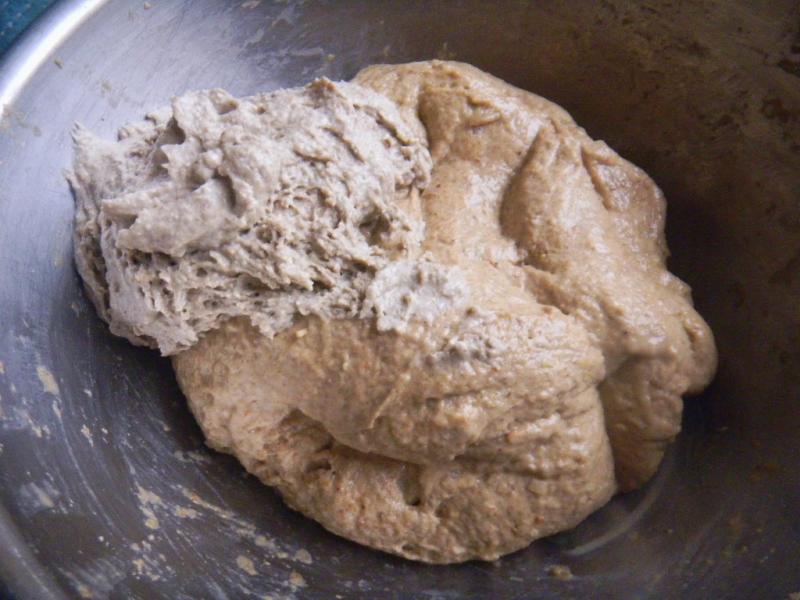 We dropped; the rye spouts, cocoa and instant coffee, 6 grain cereal whole oat and white malt completely while adding; whole wheat, rolled oats, prunes, chia seeds and expensive mixed nuts (pecan, Brazil, hazelnut and almond).  The toadies changed in that they had; wheat and oat bran, wheat germ, 6 grain cereal and quinoa in them this time and the whole grain was dropped for 60% to 50%.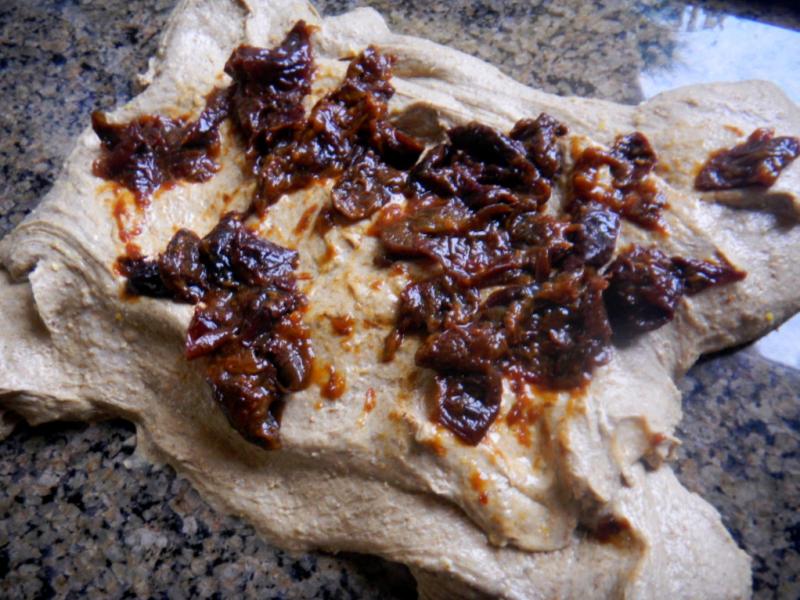 We upped the aromatic seeds this time too because they were too subtle last time and we have grown to like them more too.  Lucy hates just about everything bread wise except pumpernickel it seems but, she was at the Vet getting her teeth cleaned and one extracted - poor thing.  Thankfully, she whipped this formula up for me before she went to Apprentice Painville – poor thing.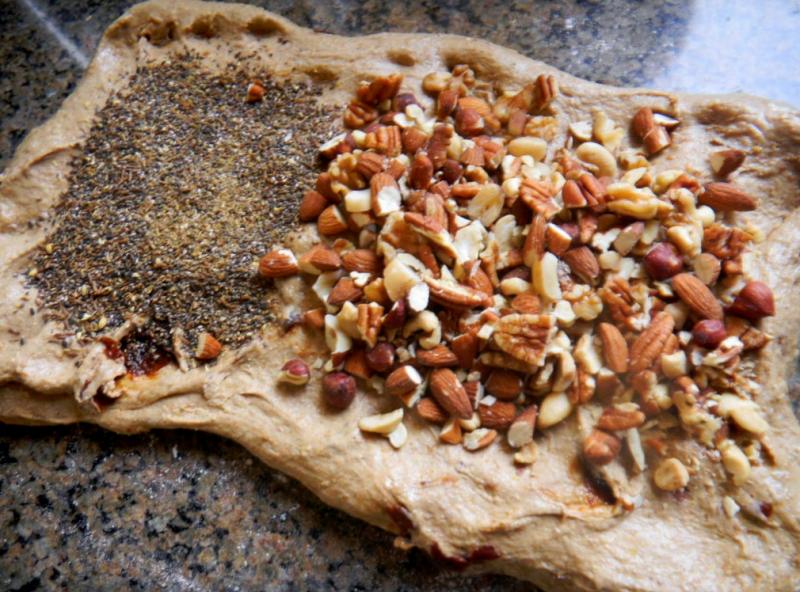 Since we decided to do a longer retard of the dough than normal we cut the starter to 10 g, from out 15 gram normal for this size of bread  and the levain amount was cut to 13% of the flour and water total in the dough instead of our normal 20%.  This should allow us to get an 18 hour final proof retard in the fridge without over proofing - also the reason we dropped the white malt in trying to slow things down.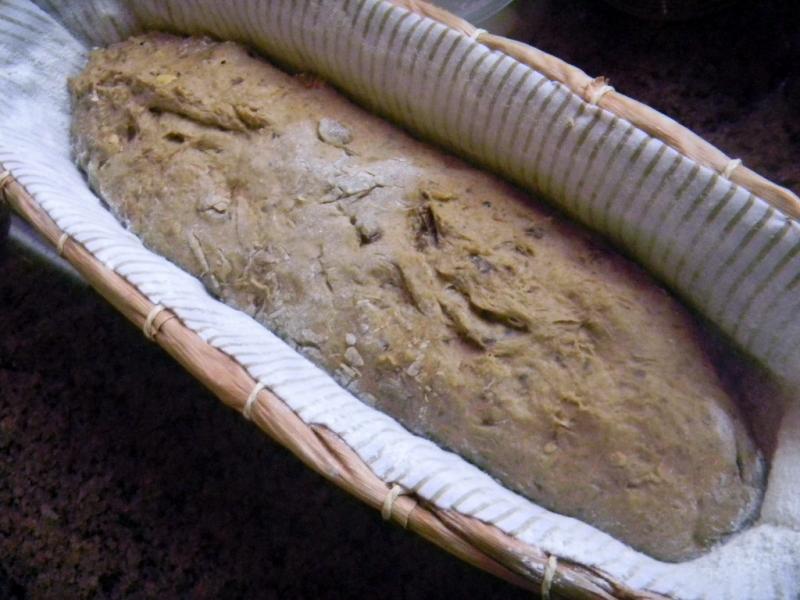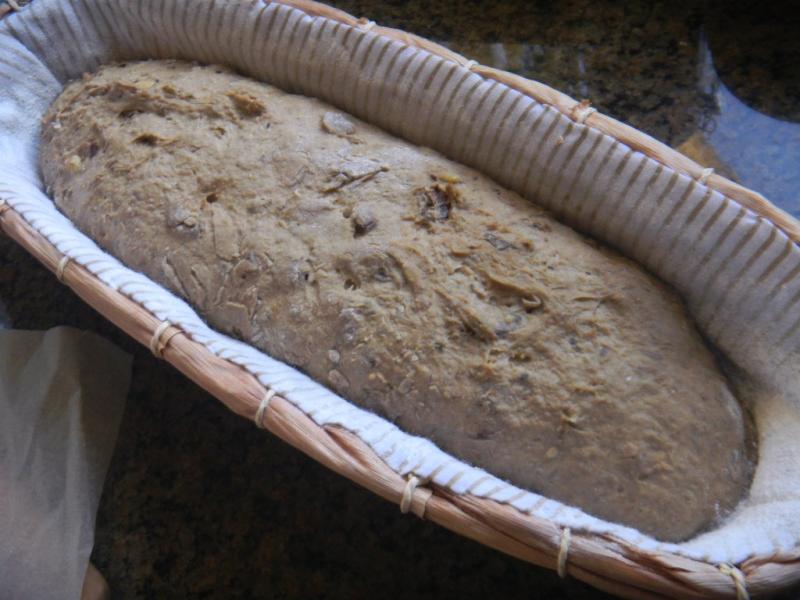 We built the levain as per our usual of late, 3 4 hour stages and refrigerating it for 24 hours after the 3rd stage feeding when it had risen 25%.   We took it out of the fridge to finish its doubling in volume.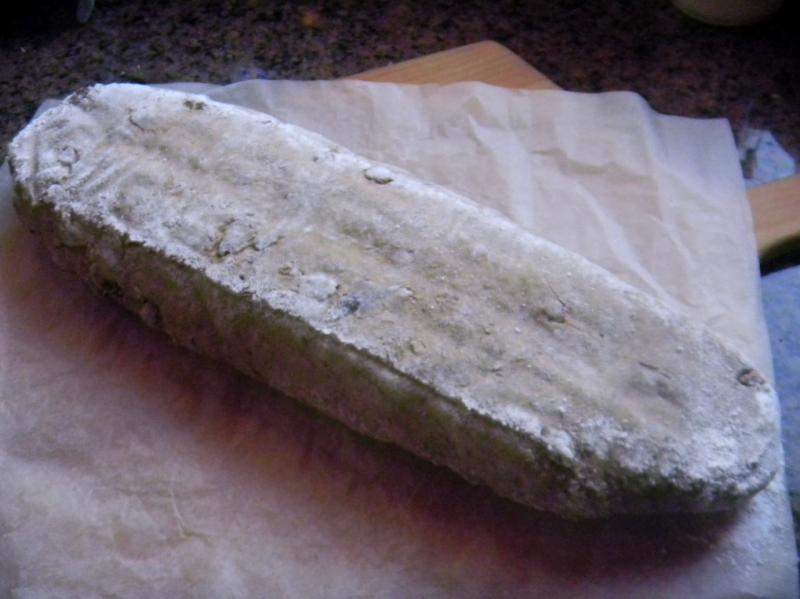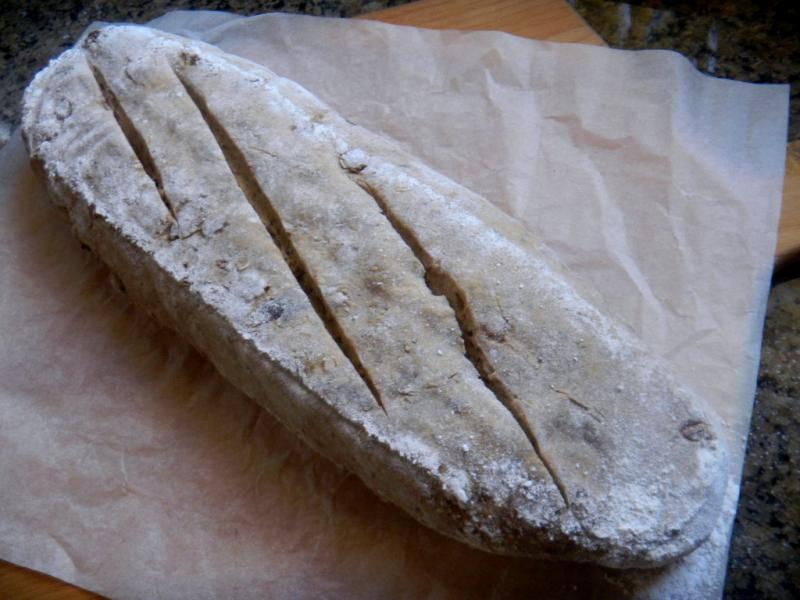 While the levain as doing its final rise on the heating pad we autolysed the rest of the wet and dry with the exception of the prunes, nuts, salt and aromatic seeds and put it on the heating pad to keep warm for 2 hours.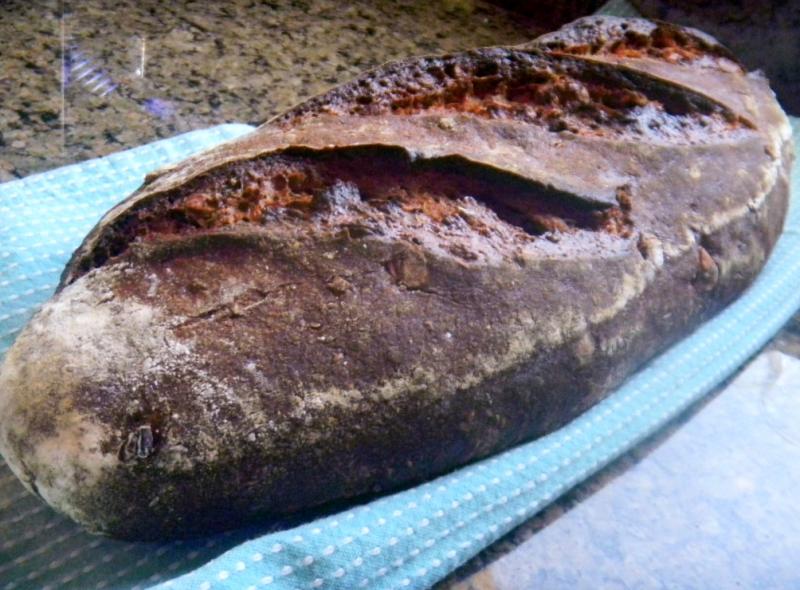 Once the salt and levain was added to the autolyse we did 10minutes of slap and folds of 7, 2 and 1 minutes with 15 minutes.  We than did 3 sets of stretch and folds to get all the add its incorporated. All the slapping, stretching and folding was done on 15 minute intervals where the dough was left on the counter covered by a stainless steel mixing bowl.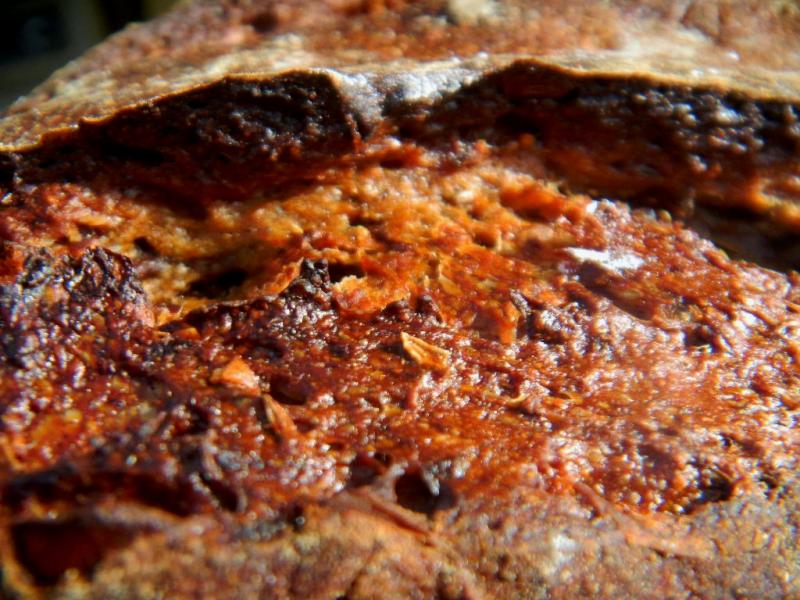 Once the gluten development was finished, we all owed the dough to ferment in the bowl on the heating pad for 1 1/2 hours before pre-shaping and shaping into a longish batard and placing it in a basket lined with a rice floured kitchen tea towel.  It was immediately bagged and refrigerated 30 minutes later for 18 hours.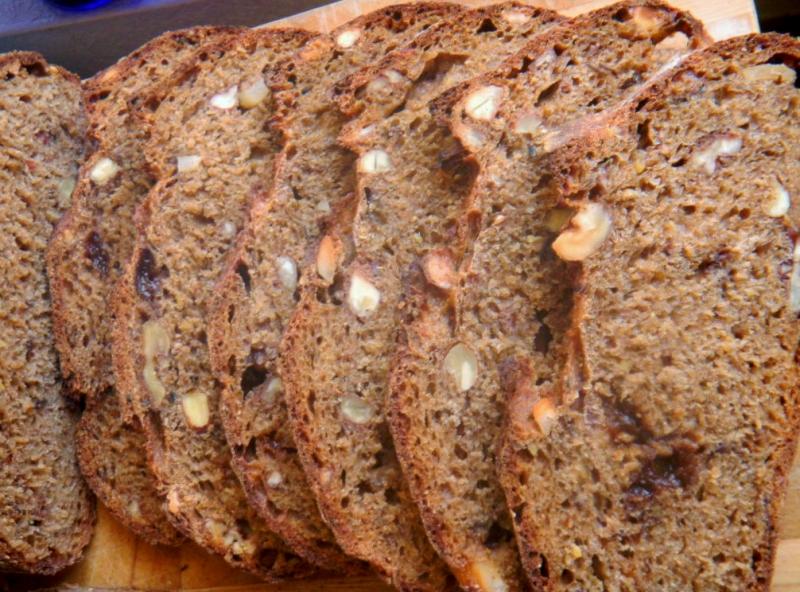 It proofed to 90% in the fridge and would be ready to bake after sitting on the counter for an hour and half, so we fired up BOB (odd name for Big Old Betsy) to 550 F 40 minutes unto that warm up   Last time we proofed and baked this bread in a cold enameled DO but this time we decided to bake it on a stone since it got too big for the Romertopf.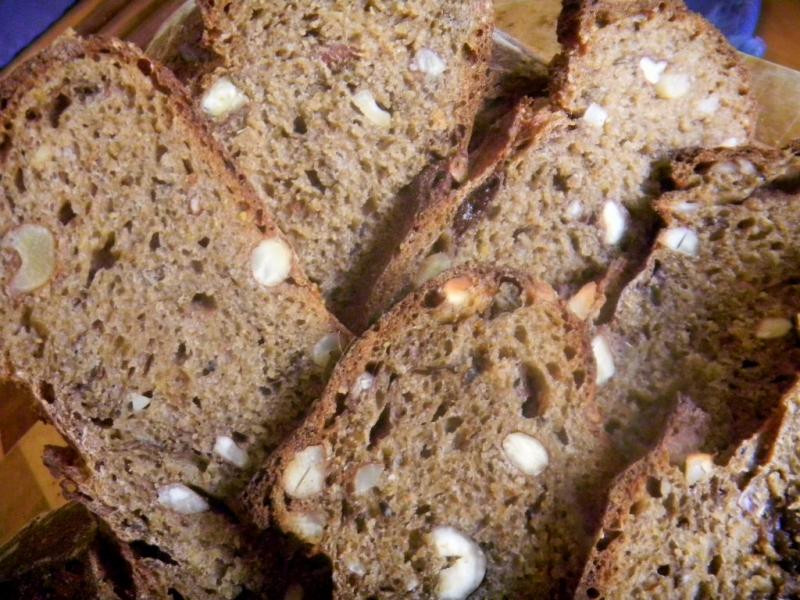 This one is too long for the 16 round stone and almost too big for the rectangular stone. We had to slide it in on a 45 degree angle after un-molding it onto parchment paper on a peel, also on a 45 degree angle, we slashed it with a serrated tomato knife.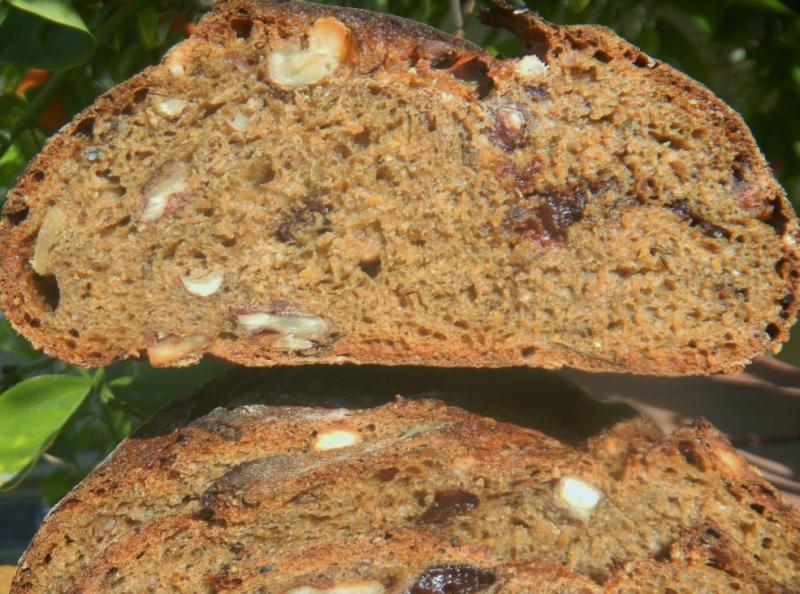 Mega Steam was provided with a Pyrex pan half full of water and lava rocks on the lower rack with the baking stone right above and the other stone sandwiching the bread.  We baked the bread for 12 minutes with steam - minutes  at 500 F and 8 at 475 F.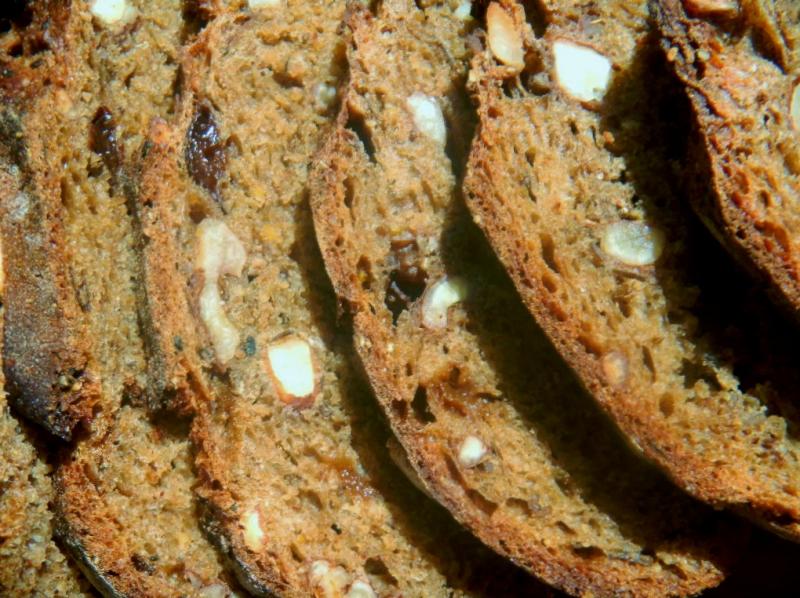 Once the steam came out we continued baking at 427 F – fan on this time.  In 15 minutes the bread was done, reading 205 F on the inside.  We did rotate it on the stone every 5 minutes to ensure equal baking on the various 45 degree angles.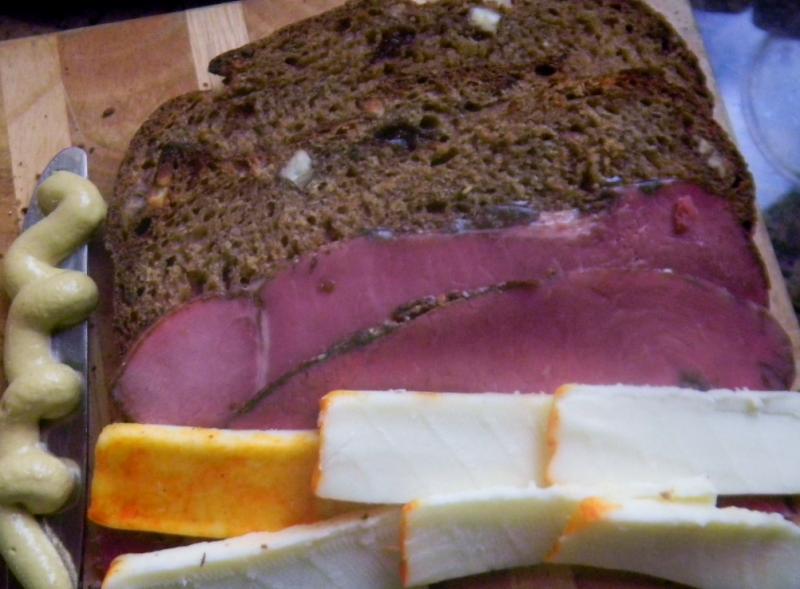 The crust browned up well as it bloomed and sprang while the kitchen smelled terrific.  The crumb was less open than we thought it would be but light soft and moist for a loaf with so much stuff inside.  The subtle aromatic seeds were especially nice and the nuts a fine addition.  Overall it is a nice looking loaf inside and out as well as a fine tasting one and guaranteed you won't find one on sale anywhere:-)  It made a fine pastrami, Munster and Dijon Sandwich with and apple, green bean, asparagus, broccoli, Brussels sprout and Mexican grey squash, blue and Camembert cheeses salad, carrot coins sweet and Yukon Gold potato wedges. - delicious!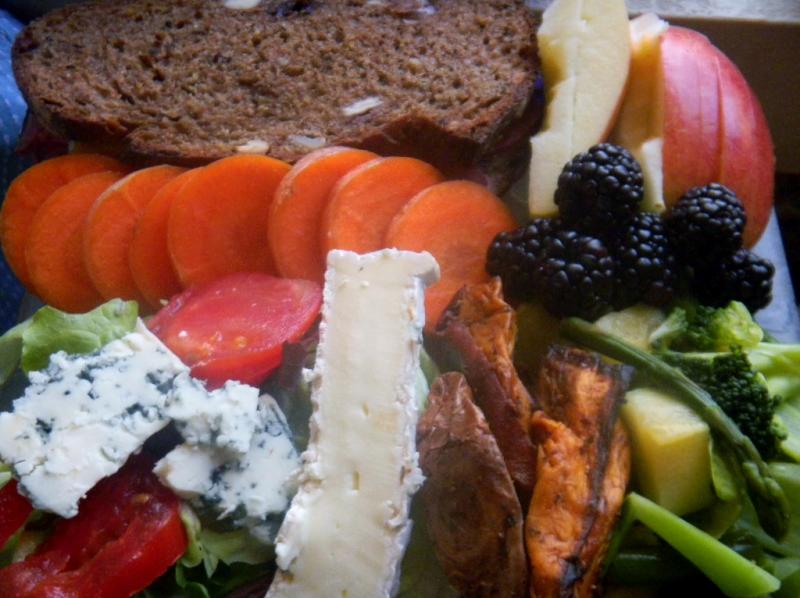 Thanks to Mini Oven and hanseata (Karin) for the rye, nuts and aromatic seeds and to janetcook for the corn. These three Baking Ladies inspiration for this bread according to Lucy who is in bad shape after yesterday's ordeal.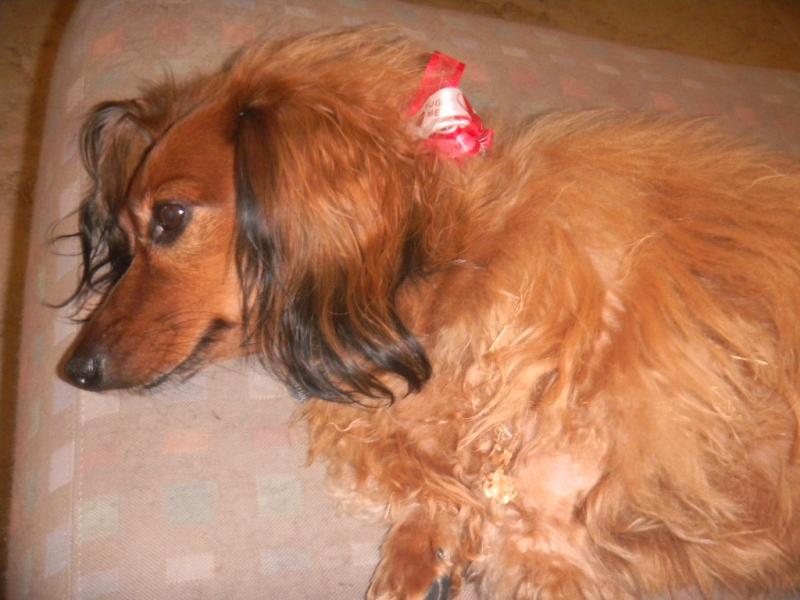 Formula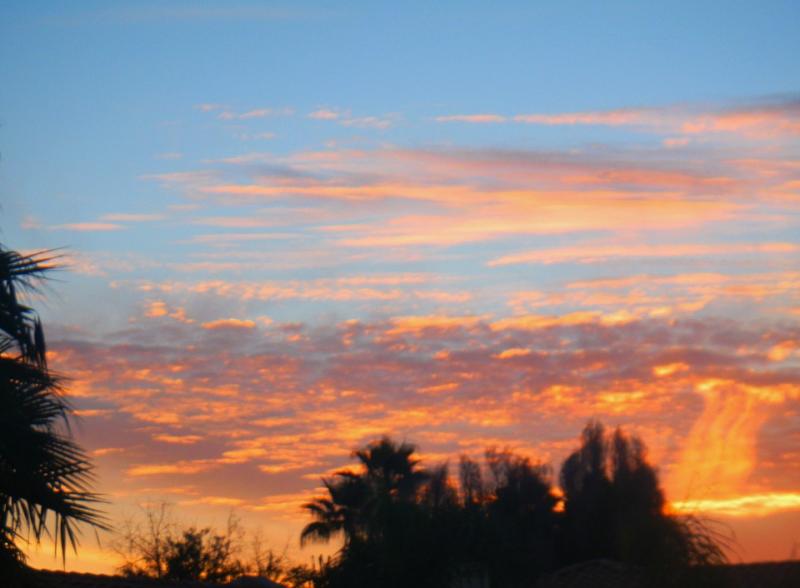 | | | | | | |
| --- | --- | --- | --- | --- | --- |
| Rye Sour Levain | Build 1 | Build 2 |  Build 3 | Total | % |
| WW, Spelt & RyeSD Starter | 10 | 0 | 0 | 10 | 1.64% |
| Dark Rye | 10 | 20 | 40 | 70 | 11.49% |
| Water | 10 | 20 | 40 | 70 | 11.49% |
| Total | 30 | 40 | 80 | 150 | 24.67% |
|   |   |   |   |   |   |
| Levain Totals |   | % |   |   |   |
| Dark Rye Flour | 75 | 12.32% |   |   |   |
| Water | 75 | 12.32% |   |   |   |
| Hydration | 100.00% |   |   |   |   |
|   |   |   |   |   |   |
| Levain % of Total | 13.16% |   |   |   |   |
|   |   |   |   |   |   |
| Dough Flour |   | % |   |   |   |
| Dark rye | 185 | 30.38% |   |   |   |
| Rolled Oat | 10 | 1.64% |   |   |   |
| Potato Flakes | 10 | 1.64% |   |   |   |
| Coarse Yellow Corn Grits | 10 | 1.64% |   |   |   |
| Whole Wheat | 25 | 4.11% |   |   |   |
| AP | 294 | 48.28% |   |   |   |
| Dough Flour | 534 | 87.68% |   |   |   |
|   |   |   |   |   |   |
| Salt | 11 | 1.81% |   |   |   |
| Porter 355 & Onion Water 92 | 447 | 73.40% |   |   |   |
| Dough Hydration | 83.71% |   |   |   |   |
|   |   |   |   |   |   |
| Total Flour | 609 | 100.00% |   |   |   |
| Onion Soaker 75, Porter 370 & Water 75 | 522 |   |   |   |   |
| T. Dough Hydration | 85.71% |   |   |   |   |
| Whole Grain % | 49.75% |   |   |   |   |
|   |   |   |   |   |   |
| Hydration w/ Adds | 83.05% |   |   |   |   |
| Total Weight | 1,475 | 2.76 |   |   |   |
|   |   |   |   |   |   |
| Add - Ins |   | % |   |   |   |
| Toadies | 10 | 1.64% |   |   |   |
| Honey | 14 | 2.30% |   |   |   |
| Prunes | 100 | 16.42% |   |   |   |
| Red Rye Malt | 8 | 1.31% |   |   |   |
| Chia Seeds | 17 | 2.79% |   |   |   |
| Anise, Coriander, Fennel | 8 | 1.31% |   |   |   |
| Caraway | 8 | 1.31% |   |   |   |
| Pecan, Walnut, Hazelnut, Brazil | 150 | 24.63% |   |   |   |
| VW Gluten | 10 | 1.64% |   |   |   |
| Dried Minced Onion | 8 | 1.31% |   |   |   |
| Total | 333 | 54.68% |   |   |   |
|   |   |   |   |   |   |
| Weight of rehydrated onions was 18 g |   |   |   |   |   |
|   |   |   |   |   |   |