January 26, 2014 - 7:26pm
"Finnish Rye" from the SFBI
I am on a mailing list which periodically sends me formulas for new breads developed at the San Francisco Baking Institute. The most recent mailing was for a "Finnish Rye." Here's a link: Finnish Rye Bread Formula Now, I cannot attest to the Finnish provenance of this bread. Nor would I call it a "rye bread." It is only 22% rye. In fact, it has more whole wheat flour (35%) than rye. Anyway, it is a multigrain bread made with a liquid levain, a cracked wheat soaker and a flaxseed soaker. It looked interesting, but I definitely would not have made it this soon but for Paul's (PJKobulnicky) bake of it (see SFBI's Finnish Rye) that looks so good. 
I followed the SFBI formula with these modifications:
1. For the Wheat Soaker, I used coarse bulgur.
2. I added about 20g additional water during the early dough mix because the dough seemed dry to me. (That was before the soakers were added.)
3. I mixed the dough for about 7 minutes before adding the soakers.
4. After mixing the soakers into the dough at low speed for 3 or 4 minutes, I transferred the dough to a floured board and hand kneaded for another 3 minutes to distribute the bulgur and fax seeds better and develop the gluten a bit more.
5. I bulk fermented at 76 dF for 2.5 hours. I did not feel the prescribed 1.5-2 hours resulted in sufficient fermentation.
6. I proofed for 45 minutes at 85 dF.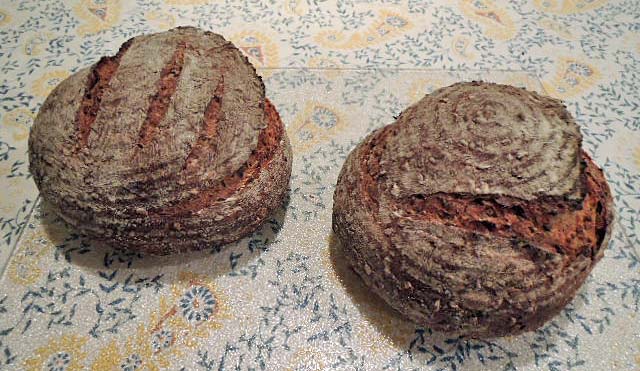 The dough was pretty sticky with the additional water I had added. The crust softened quickly with cooling and was pleasantly chewy. The crumb was more open than Paul's, probably because of the additional water and the extra gluten development. The crumb was soft but somewhat chewy.
When first tasted a couple hours after baking, the flavor was very nice except that the flavor of the molasses and the sweetness seemed excessive. There was also a clear flavor of flaxseeds (which I happens to like). However, the flavor profile evolved considerably by the next day. Now, the bread had the flavor of a honey whole wheat bread. The distinct flavors of molasses, flaxseeds and rye have all melded and are no longer identifiable (to my taste). I had said in Paul's blog I would reduce the molasses next time. I'm not so sure now, but I might try it with honey rather than molasses.
I have eaten it plain, toasted with almond butter and un-toasted with a bit of sweet butter. I enjoyed the last option most, so far. We are going to have some tonight as leftover roast chicken sandwiches.
Both my wife and I like this bread a lot, and I expect it will be baked often. However, I will classify it in my my mind as a whole wheat bread rather than as a rye bread.
David