January 25, 2014 - 1:05pm
Some advice needed please.
Last couple of loaves have had holes like these which I initially thought was my failure to de-gas/knock back however I took extra time here to ensure I pressed out any large pockets at the shaping stage.  I'm guessing therefore this is a result of the hydration and proofing times?
These were the Pain Natural and Pain Rustique loaves from weekendbakery.com
http://www.weekendbakery.com/posts/sourdough-pain-naturel/
Poolish: Wheat 115g, Water 115g, starter 15g (100%)
Dough: Wheat 340g,  Water 180g, Salt 7.5g
Mixed, 20min autolyse, 4min knead, rest 50min, (S+F, rest 50min) x2,  shape, proof 2.5 hrs, bake
Oven spring is fine, taste is fine just too many large holes.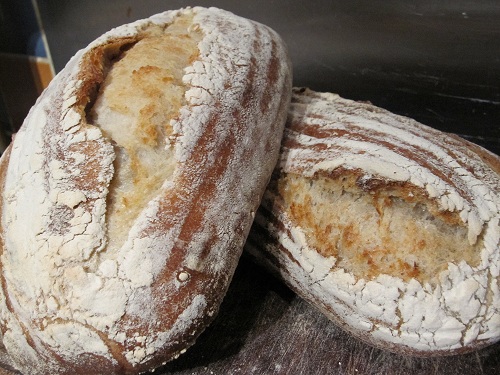 Cheers