January 23, 2014 - 7:23pm
Yeast Water and Poolish 42 Percent Whole Multigrain Walnut and Pistachio Bread
We have been working our way up to higher and higher percent whole grains using sourdough and trying to get an open crumb. So far 30 percent – no worries but Lucy can only eat so much white bread sourdough before she starts feeling guilty.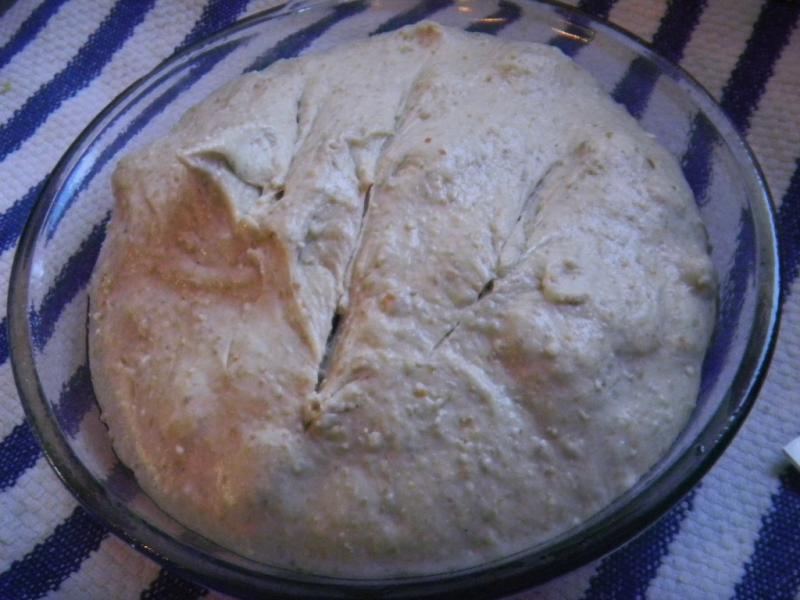 So we made a YW whole grain levain from the cast offs from feeding it and a small whit flour poolish to speed things along since this was not going to be a bread with a long overnight retard but one that we could get done in a day not including the 12 hour levain for the YW.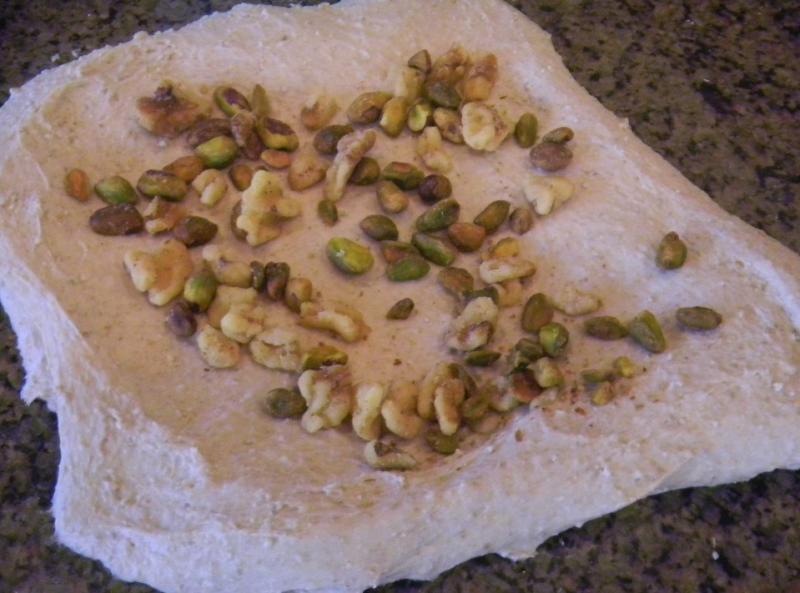 We came in at 43% whole grains, all in the YW levain, and we added some pistachios and walnuts in the mix to give it some taste since there was no sourdough tang to fall back on.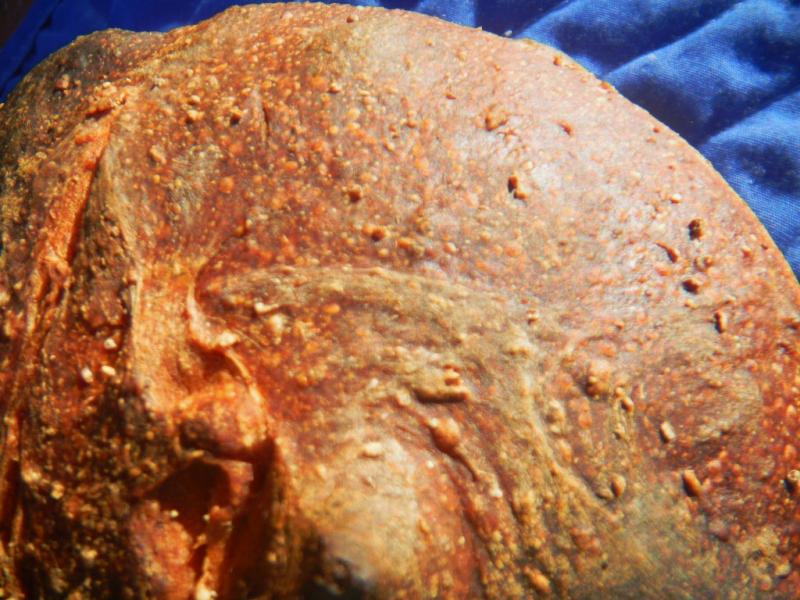 We did a large one build levain using half YW and half a mix of whole grain flours that we ground up in our trusty Krupp's coffee grinder.  The multigrain mix was wheat, spelt, farro and rye in equal amounts.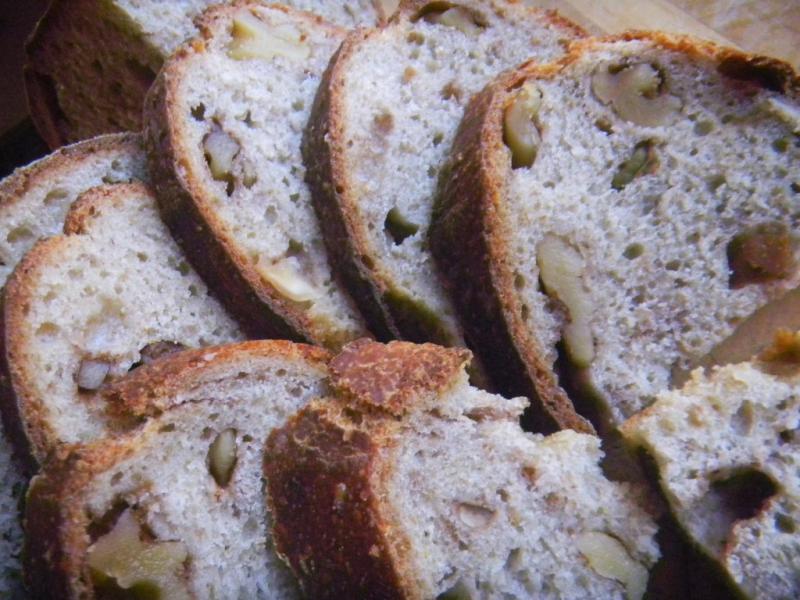 We did the usual slap and folds to develop the gluten and stretch and folds to incorporate the nuts but we then shaped the sough free form into a boule and dropped it on some parchment paper on a small Pyrex lid to proof on the heating pad.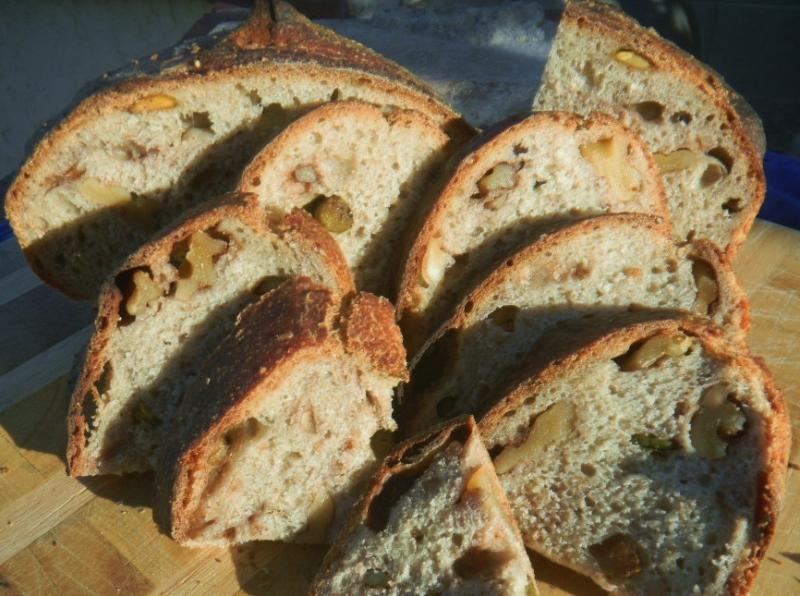 We were again running out of time before this bread had to go into the oven and hoped that the poolish would eventually kick in to get the proof to 85% before hitting the heat but we only got 70% during the 3 hour final proof.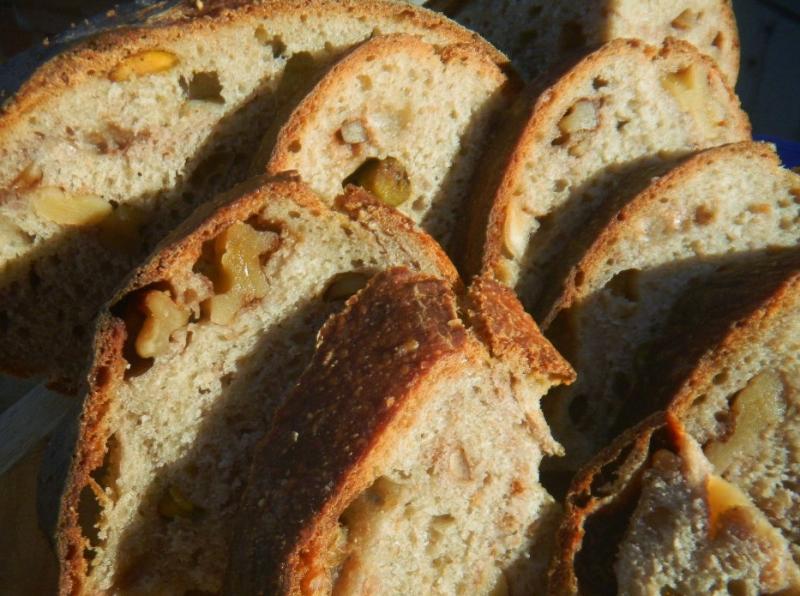 Then several weird things happened.  The bread would not slash with a razor, so Lucy thought about a pair of scissors but didn't want to wash one more thing being deathly afraid of water that isn't in her bowl.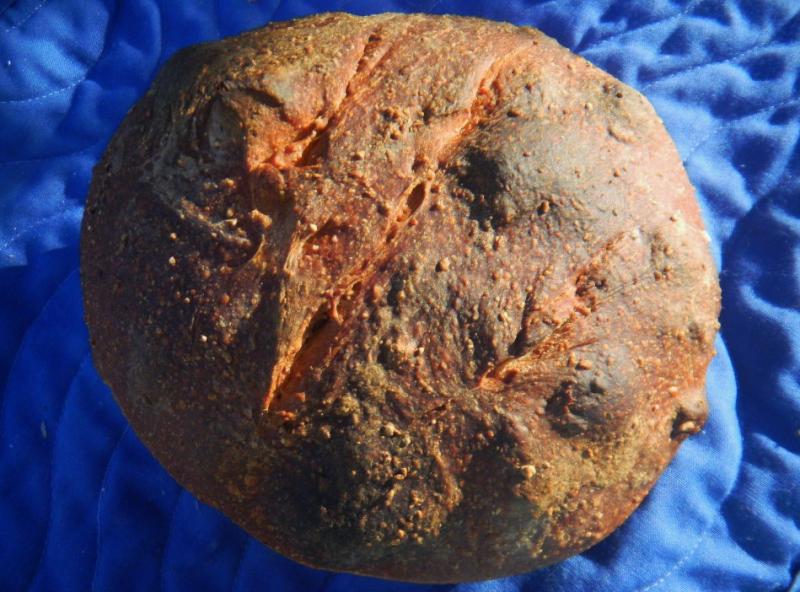 Because the dough was under proofed and poorly slashed, the bottom blew out of this bread as it sprang in the oven without a hint of bloom.  No worries until the bread started to brown excessively and needed to be covered with foil for the last 10 minutes of baking.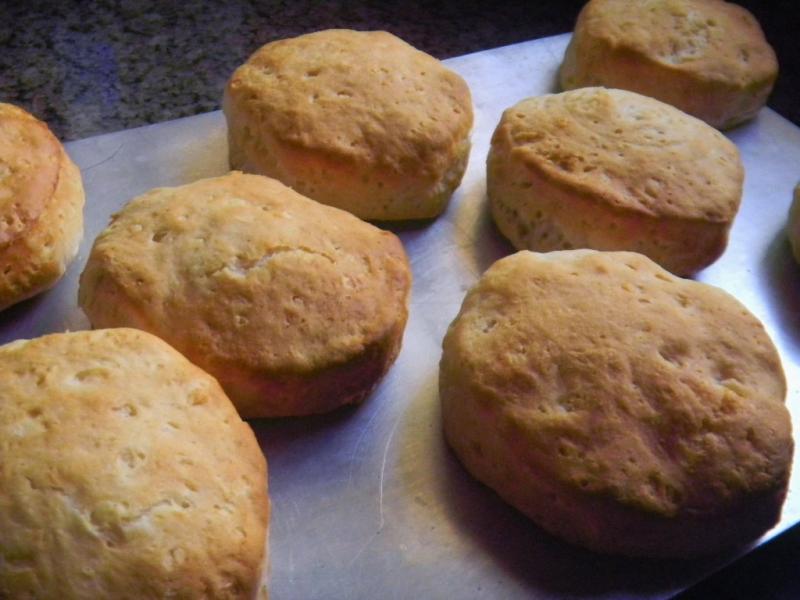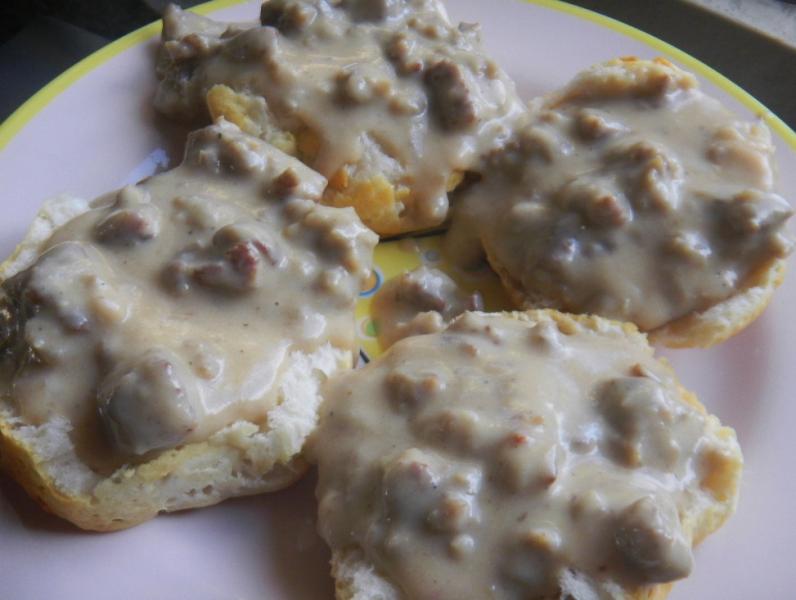 We love biscuits and sausage country gravy.
Normally a bread on the small side would take about 27 minutes to get to 205 F on the inside in the mini oven but at 27 minutes it still had 10 more minutes to go - why this was so we no idea.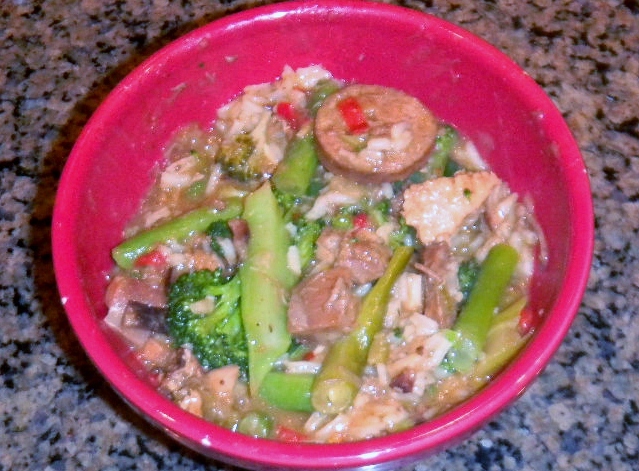 Smoked; chicken, Anduouilli sausage and pulled pork etouffee is tough to beat.
 It did have some blisters due to (2) of Sylvia's steaming cups and it did spring 100% when it hit the heat, still, It isn't much of a looker on the outside but the inside was also a surprise.  With that spring I though thought it would be more open but my daughter said it was more dense than usual - compared to a 25% white bread without any nuts.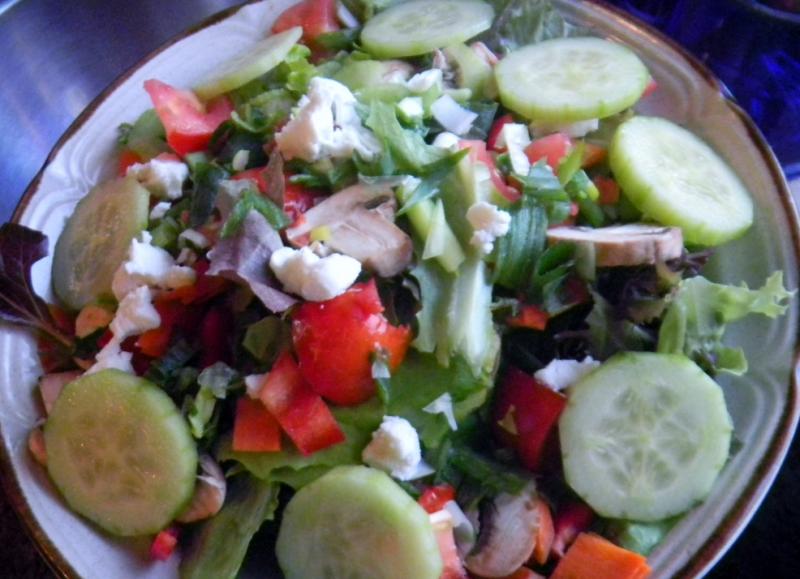 A tasty honey goat cheese salad from the pot garden.
The girls liked the taste since there was no sour at all and the nuts really came through since they didn't have to compete with 10 other ingredients.  It's not my favorite kind of bread but it did taste great for a non SD white bread with nuts.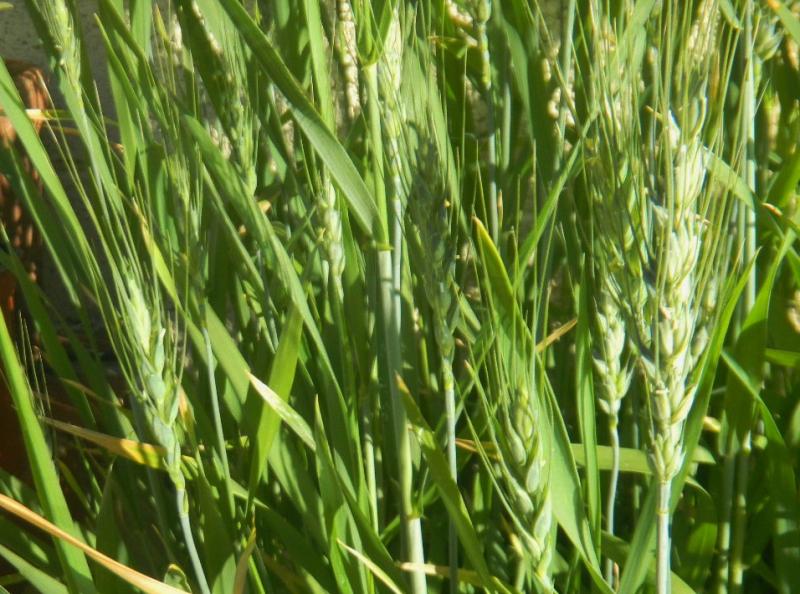 The wheat will be ready to harvest soon.
Tomorrow we will crank out a 50% whole grain SD and see if that fits the bill for our sour craving a little better.  Hope the holes are better too. 
| | | | |
| --- | --- | --- | --- |
| Yeast Water Build | Build 1 | Total | % |
| Pinch of ADY |   |   |   |
| Yeast Water | 138 | 138 | 42.33% |
| Whole Multigrain Mix | 138 | 138 | 42.33% |
| Water | 50 | 50 | 15.34% |
| Total | 276 | 276 | 84.66% |
|   |   |   |   |
| Yeast Water & Pinch of ADY Poolish |   | % |   |
| Flour | 188 | 57.67% |   |
| Water | 188 | 57.67% |   |
| Starter Hydration | 100.00% |   |   |
| Levain % of Total | 55.29% |   |   |
|   |   |   |   |
| Dough Flour |   | % |   |
| AP | 138 | 42.33% |   |
| Total Dough Flour | 138 | 42.33% |   |
|   |   |   |   |
| Salt | 6 | 1.84% |   |
| Potato Water | 89 | 27.30% |   |
| Dough Hydration w/o starter | 64.49% |   |   |
| Tot. Hydration  w/ Starter  | 84.97% |   |   |
|   |   |   |   |
| Total Flour | 326 |   |   |
| Potato Water 89, Water | 277 |   |   |
|   |   |   |   |
| Total Hydration with Adds | 84.13% |   |   |
| Total Weight | 680 |   |   |
|   |   |   |   |
| Whole Grains | 42.33% |   |   |
|   |   |   |   |
| Add - Ins |   | % |   |
| VWG | 8 | 2.45% |   |
| Walnuts & Pistachios | 55 | 16.87% |   |
| Total | 71 | 21.78% |   |