December 30, 2013 - 7:04pm
San Francisco-style Sourdough and dishes made with it
As the weather has turned cooler, my sourdough breads have become less tasty. They have  had a less complex flavor and have been less tangy than those baked last Summer. My kitchen is in the mid-60's of late, while it was in the high-70's (or low-80's)  in the heat of summer. So, in the interest of science and other noble causes, I set out to return my SFSD to its rightful tastiness.
The truth is that I changed a number things at once, which is poor scientific methodology. But  I think I know what made the biggest difference, and the important thing is that I made some really good bread.
The basic formula and methods for my San Francisco-style Sourdough with increased whole wheat can be found here: San Francisco-style Sourdough Bread with increased whole wheat flour And here is what I did differently:
1. I fed my levain with some firm starter that had been refrigerated for about 3 days, rather than freshly refreshed starter.
2. I fermented the levain for 9 hours at 76 dF, rather than overnight at room temperature. I then refrigerated it for about 12 hours.
3. I mixed the autolyse with water warmed to 90 dF rather than cool water.
4. After a 1 hour autolyse, I mixed the dough and fermented it in bulk at 76 dF for 4 hours.
5. I then divided the dough and shaped boules and refrigerated for 24 hours.
6. I baked at 475 dF for 12 minutes, then convection baked at 445 dF for 14 minutes more.
Here is the result: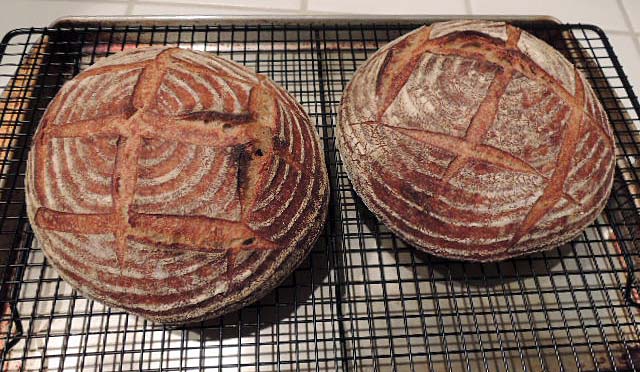 The crust is a little darker than usual. I prefer it this way. And the crumb ...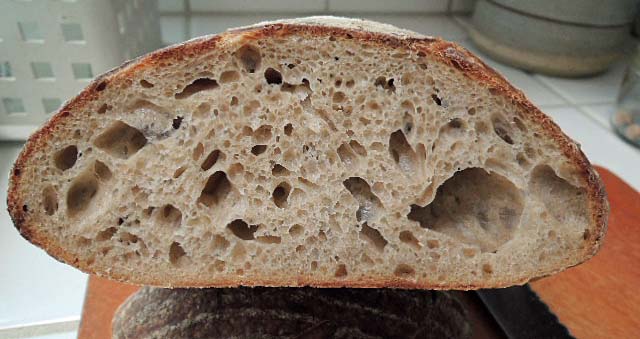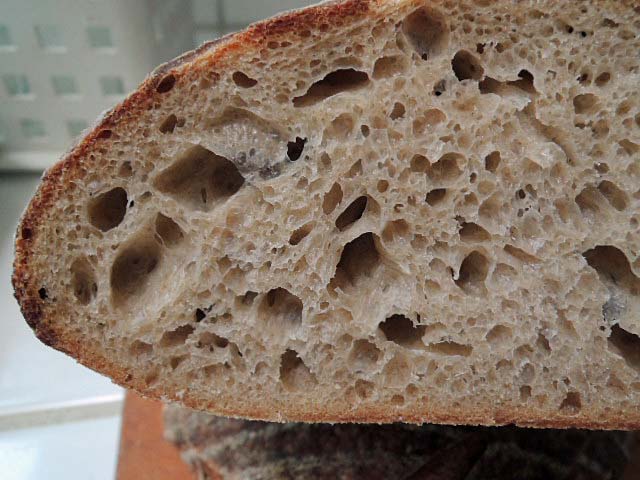 Mixed at the same hydration level as usual, this dough was noticeably  more slack from the time I mixed the autolyse. I guess that must be because my flour had more water content with the cooler whether. I think that is why I got the much more open crumb. It is also possible that increased enzyme activity played a role.
In any event, this bake produced bread with a crunchy crust, chewy but tender crumb and a delicious flavor that was both more complex and more tangy than my previous few bakes of this bread. I think I have a new procedure, at least until hot weather returns.
We often have bread that is a few days old and starting to get a bit dry, even for breakfast toast.  I hate throwing out bread, and I seldom do. Many of my favorite dishes made with bread of advancing age are made with croutons - slices of bread that I dry in the oven before using.
Except when drying bread for salad croutons or breadcrumbs, I slice it thinly and put it on a baking sheet or pizza pan. If I want it to remain pale, I convection bake the slices at 250 dF for 15 minutes on each side. If I want the slices browned, I convection bake at 350 dF for 15 minutes on one side, then turn them over, brush them with EVOO and bake for another 10 to 15 minutes. Then, depending on how I am going to use them, I may rub the warm, dried slices with a clove of garlic. That's what I did for these ...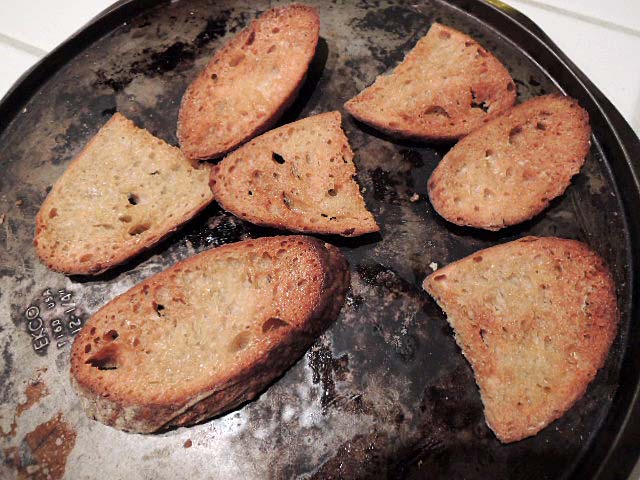 These croutons served to support heaps of grated gruyere cheese, floating in onion soup and run under the broiler for 90 seconds before serving.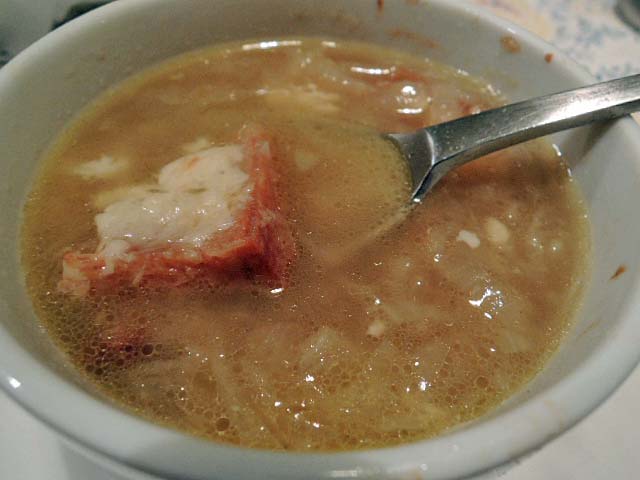 Croutons made in this way are also delicious put in the bottom of a soup bowl before filling it with ribollita or another hearty soup.
The slices of SFSD can also be toasted in a toaster and then left in the toaster for a few minutes to dry out further. That method makes a nice base for crostini. These are topped by a chicken giblet dice sautéed in olive oil with shallots, herbs and madera wine.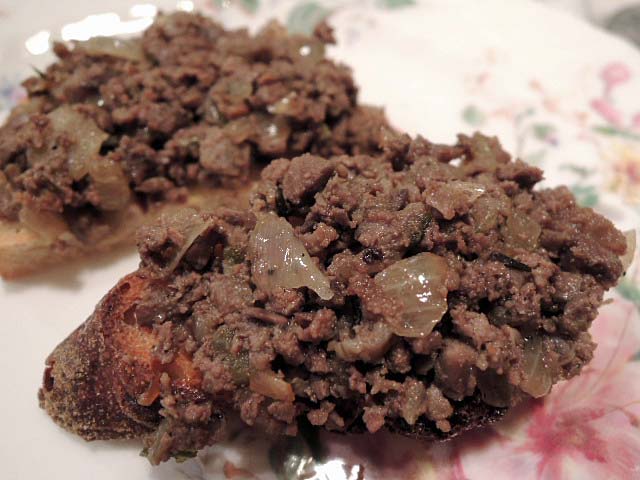 The giblets came surrounded by a whole chicken! We roasted it while eating the crostini and discussing how we really should have just made the crostini our dinner. 
Happy baking!
David