December 29, 2013 - 10:37am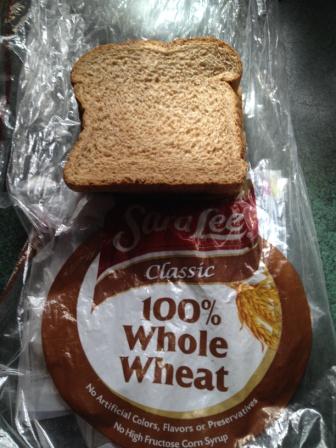 My hubby bought this this bread about end of March 2013 with best by date April 21. (sometimes he is home sick after the good old American store bought bread). He did not finish it because he did not like it . There were still some pieces left in the bag. After a few weeks I wondered because the bread still looked and felt the same so I decided to leave it so we would see what would happen. The closed bag with the bread in it sat all summer in my hot kitchen (no AC) .There was and still is not any change in the bread (it is now Dec.)!
As you see it is labeled as no artificial Colors, flavors or Preservatives and No High Fructose Corn Syrup.
Ingredients: whole Wheat Flour, water, sugar, wheat gluten, cultured wheat flour, molasses , salt, soybean oil, wheat bran , datem, monoglycerides, calcium sulfate, citric acid, grain vinegar, soy lecithin, potassium iodate, soy flour.
I always tease him because he really gets a lot more! for his money than with my bread (flour, water, salt and yeast).
So how is this possible???
Barbara