December 25, 2013 - 10:17am
Throwdown Alert: The Battle of the Panettones
Merry Christmas everyone!    We started out day,  my wife, myself, and mother-in law (močiutė aka babushka) with a delicious Panettone and Caribou coffee laced with peppermint mocha.  A made my first Panettone two days ago and it has been sitting in the cupboard awaiting Christmas morning.  Unbeknownst to me, my wife and močiutė had stopped by the Italian grocery store (Caputo's) two days ago while I was baking and picked up what they thought would be the best Panettone on the shelf.  For $5.99 or whatever they paid.. this was my surprise, to do a taste test before the onslaught of Christmas dinner while our taste-buds were still working!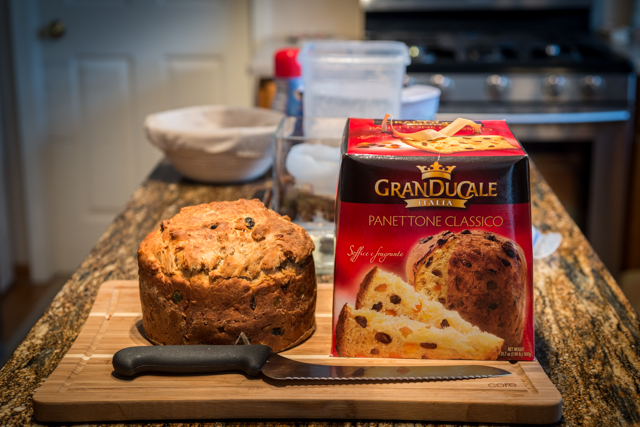 So I carefully opened the box and weighted the two.  Mine was a little over 3 lbs.  Can you say "brick"?  The Granducale, much bigger in height was just 2 lbs.   Uggg... things do not look good for me.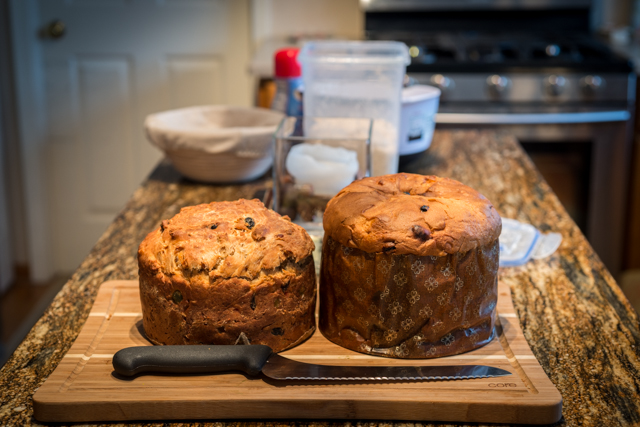 I'll admit, I did vary from the prescribed recipe in Peter Reinhart's BBA.  I added in at least two more ounces of rum with the candied fruit and threw it all into the mix... I doubled the orange extract ( 2T ) and threw in 2T of lemon extract just because I had it... and I doubled the vanilla extract 2T instead of 1.  All that extra liquid... but I figured I would make up for it with extra flour.  Oh, did I mention I did not have an unbleached flour so I used bleached!  And instead of just the egg yolk, I threw in another whole egg.  Details, I know.  And of course, I used my Tartain bread starter, not enough time to create the barm recommended in the book for the wild-yeast sponge... shouldn't make a difference... right???  Hey... I had the professional paper form although not in picture... wife removed for some reason before I could stop her.  So we cut some cake...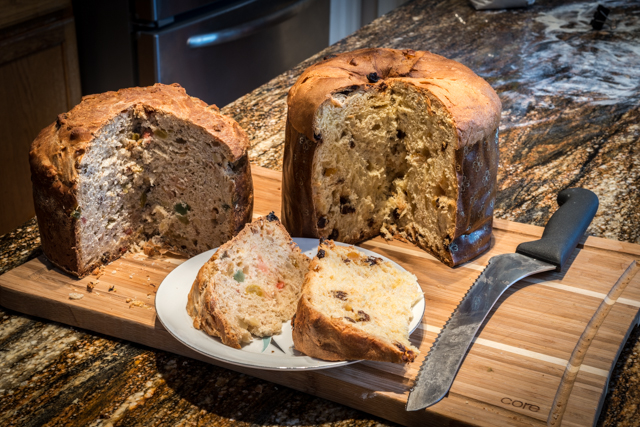 And the taste test began...  The Granducale was light and airy.  The raisins, plump and juicy.  An excellent panettone if I don't say so myself.  Mine was heavy, much more dense and dryer to the taste.  We all kept going back and forth between bites of Panettone and sips of coffee.  Močiutė thought mine was more like a bread, the store bought one was more a cake.  But we all agreed that flavor wise, they were both very good.  So I didn't get as much rise, big deal!  The Italians have been making this for centuries, this is my very first one.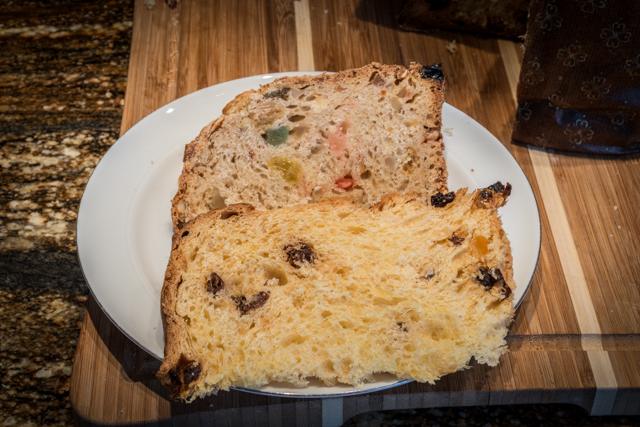 Our two week old, Monika slept through the entire thing...