December 1, 2013 - 3:32pm
Crumb shot of Cherry Chocolate Espresso Sourdough AND formula lol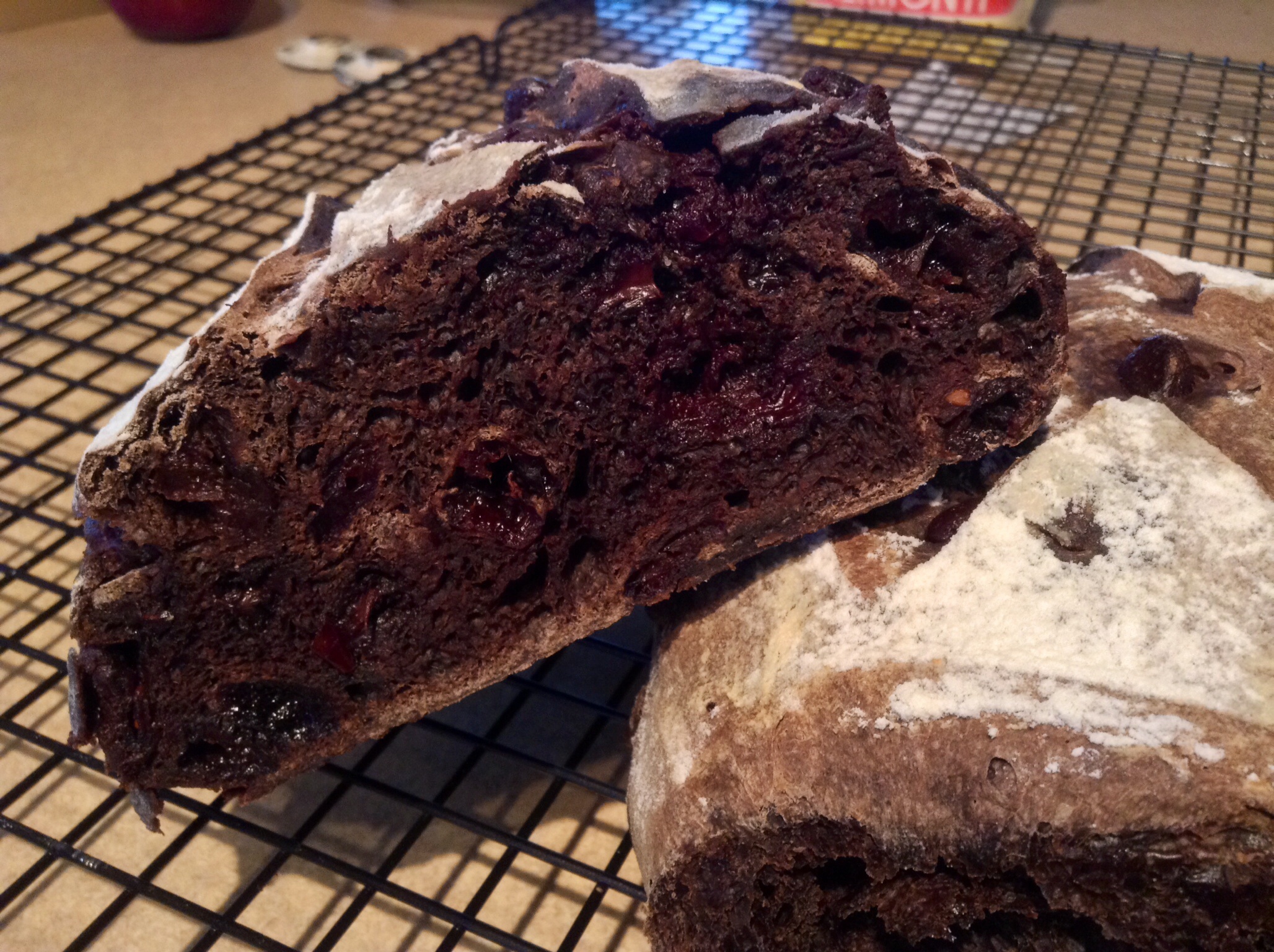 This is my take on a bread by Emmanuel Hadjiandreou in How to make Bread with a few variations including an overnight fermentation.  This bread is NOT overly sweet so don't be turned off by that!
330 g white bread flour (I used KAF Organic High Gluten but will try AP next time)
170g 100% hydration sourdough starter
200 g warm water
8 g salt
20 g unsweetened cocoa powder
30 g espresso powder 
125 g unsweetened dried bing cherries
80 g semisweet chocolate chips
75 g dark chocolate covered cranberries  (can omit and add extra cherries or chocolate chips)
In a large bowl mix flour and water until just combined and let rest 30 min. 
Add the rest of the ingredients until well mixed. Stretch and fold in the bowl every 45 min or an hour until dough feels well developed. This took 5 hours for me in my cold kitchen. When dough is developed divide in 2 and shape into 2 rounds. I used an oblong banneton that holds 2 lbs of dough and laid the rounds side by side seam side up but shape however you wish. Place in plastic bag and refrigerate overnight. 
Next day take out dough and proof. This took me 3-1/2 hours and I had it in my over the stove microwave with the light on. 
Preheat oven to 425F. Score dough however you wish and sprinkle with white flour. Load in oven on baking stone with added steam if desired. Bake for 30 minutes. Internal temp was 190F for me. Mine was a bit dark on the bottom so I may make an adjustment for future bakes