November 30, 2013 - 9:27am
Josh's Thanksgiving and Hanukkah Stollen
Josh's stolen, is not really his per se but the one he makes at work. It is a yeasted version, aged a little over 3 weeks.  It was filled with nuts and dried fruits covered in powdered sugar.  The crust was brown and the crumb was just slightly sweet - just the way we like it.  You can slice it in 1/4" slices, no problem, for those on a diet.  It is delicious and my daughter's boyfriend liked it too.  He had ever heard of stolen before - we have a new convert!  Lucy hasn't made French toast with it yet but you know that treat will soon be on the breakfast menu.  Thanks for the stolen Josh!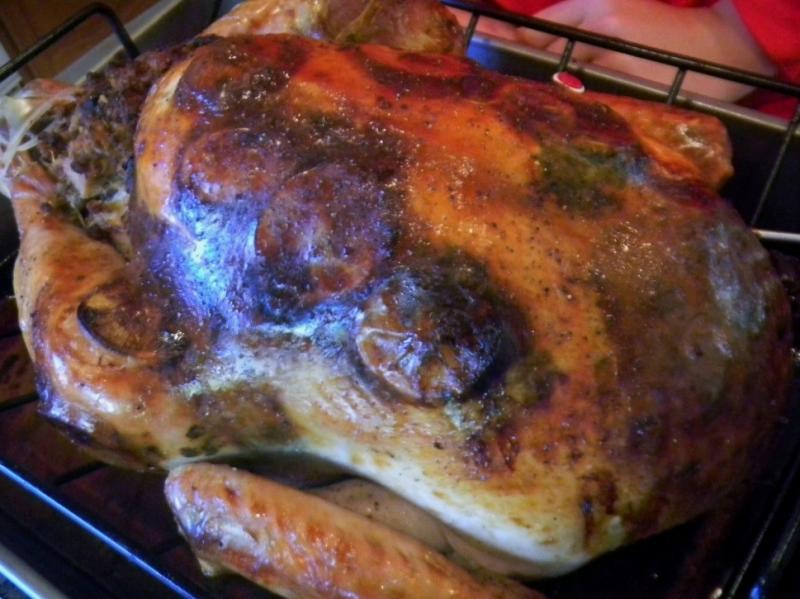 The stollen was accompanied by Lucy's Herbed Butter & Lemon Sliced Turkey.  The picture was at 155 F when the stuffing was taken out and the now separate bird and stuffing were returned to a 325 F convection oven until the bird hit 162 F.  We have found this the best way to get the stuffing infused with the bird's drippings while making sure the entire top of the dressing gets caramelized and ensuring there is no possibility of unsafe contamination of the stuffing or bird – and the bird is not overcooked and perfectly done.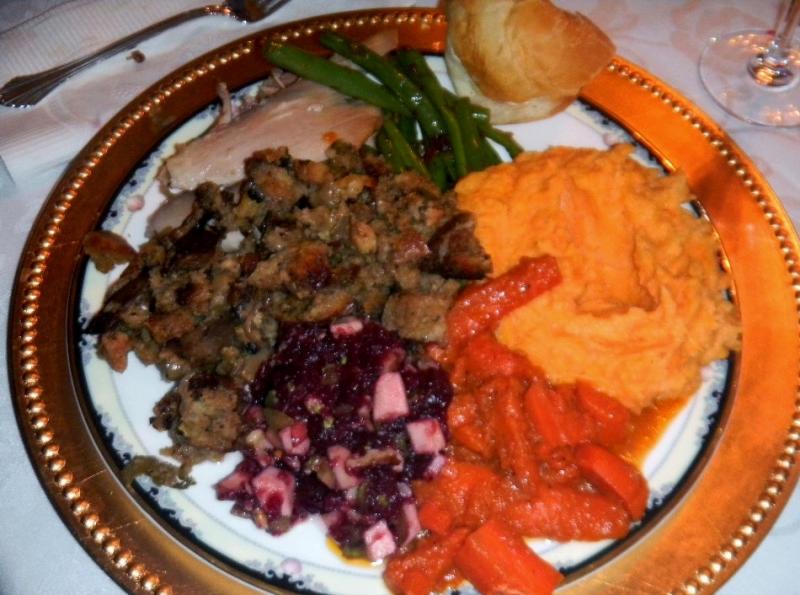 Here is my plate showing a half of my daughter's fine rolls (ate the other half first thing) and her garlic and sun dried tomato green beans, Great Grandma Geraldine's sausage stuffing, Great Grandma Ester's cranberry salad, Julia Child's carrots and my wife's Sweet and Yukon Gold, Butter and Sour Cream mashed potatoes.  The giblet gravy was the surprise favorite of our guests but I forgot to put some on the mashed potatoes before taking the picture.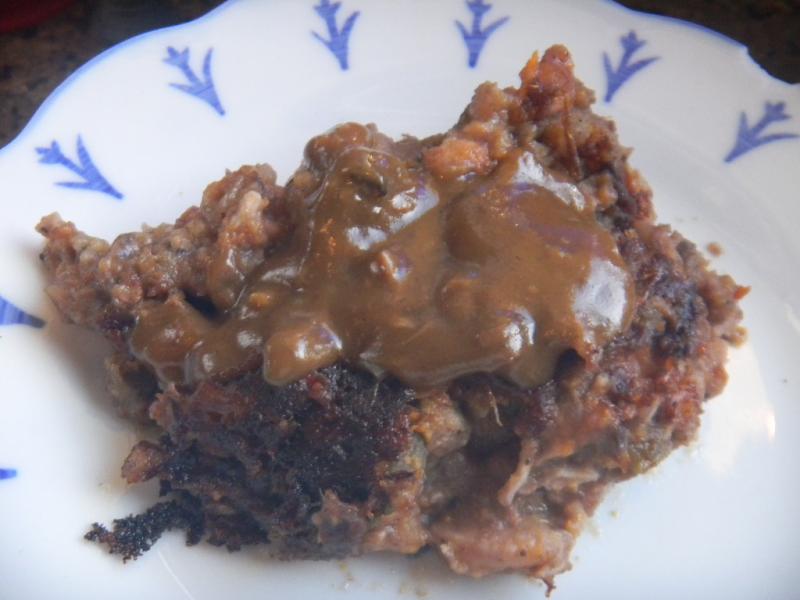 Breakfast Bubbles and Squeak with some of that gravy on top.
 Sorry, no pictures of the pies for desert but our guests brought a most unusual kind of upside down pecan pie like we had ever seen before – very tasty and not too sweet - my wife made her signature pumpkin pie.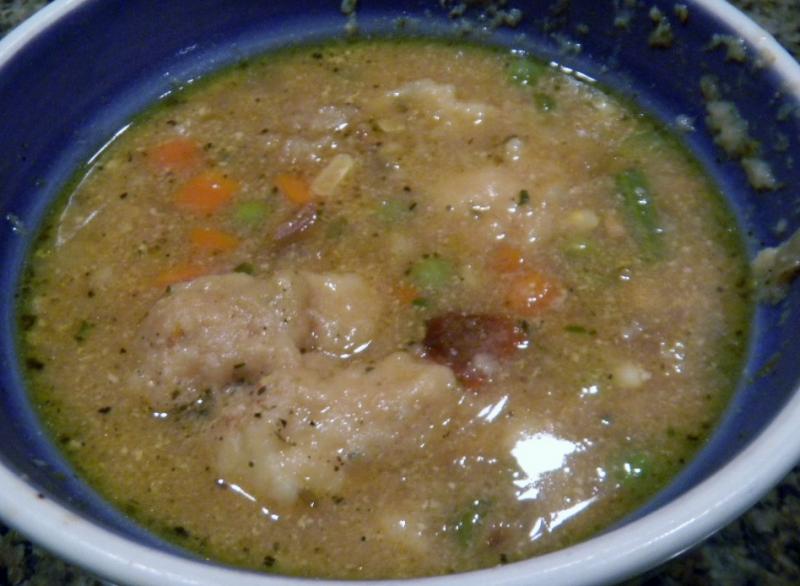 Turkey and Dumplings
This is what Thanksgiving and Hanukkah are all about - family, friends good food and good times to remember.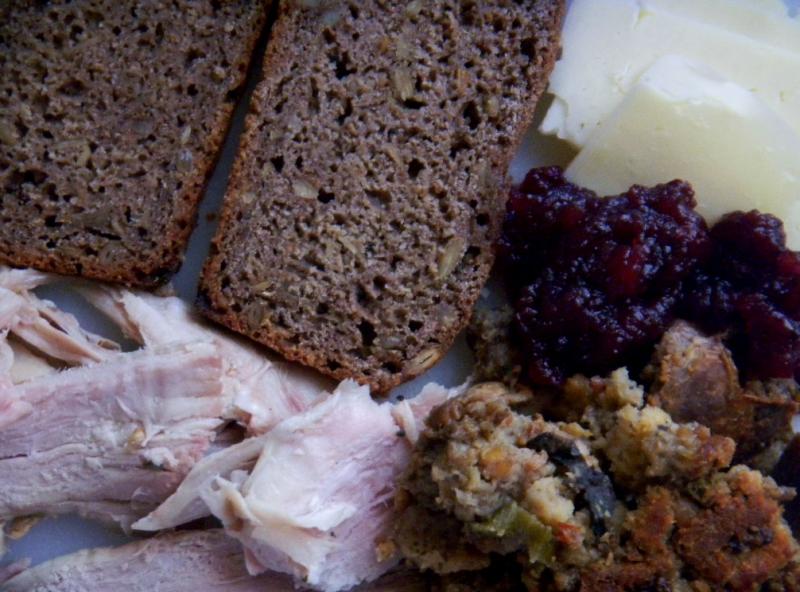 What makes this Thanksgiving leftover sandwich special is Mini's 100% Rye and Walnut Bread!
Happy Thanksgiving and Hanukkah to all with a little Happy Baking thrown in for good measure!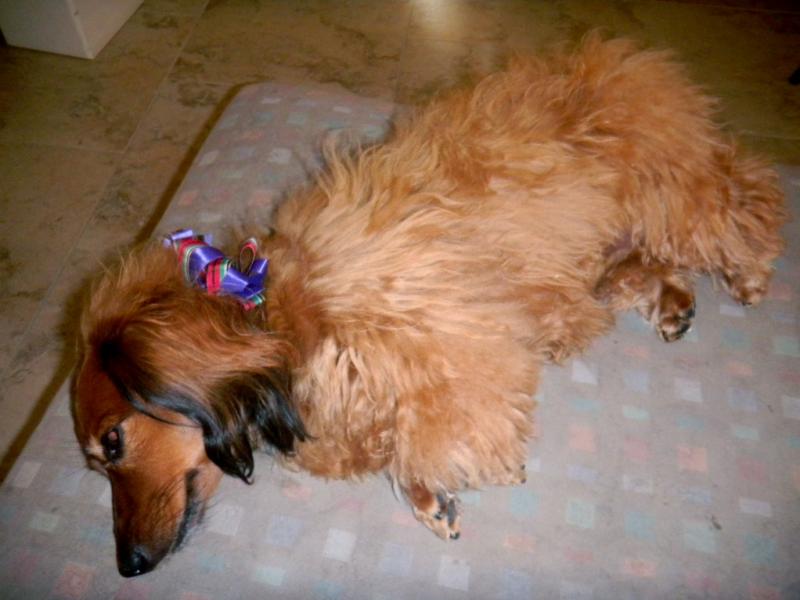 Home grown tomatoes for Thanksgivng is a treat too - even though they weren't on the menu.  Winter tomatoes are the sweetest around here.