October 23, 2013 - 11:47am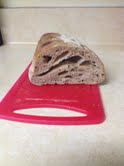 Help! I have so many rye bread questions! I have been baking high-hydration whole grain sourdoughs for 2 years now, but just ventured into baking with rye (and other atypical/non gluten flours, like buckwheat). My last couple of attempts at baking rye sourdoughs weren't very promising. My first try I kneaded the dough for EVER (15-20min) in fear that it wouldn't be developed enough, and was surprised when it came out as a tough, close crumbed, dry brick. My second attempt, I kneaded the dough significantly less (~10min total) as I heard that overkneading can incorporate so much air into a loaf that it dries it out, but the end result was the same.
My most recent bake was with Tartine's Country Rye recipe. This high hydration formula calls for only stretch and folds, no kneading. I must say that the bread tastes incredible! I was so surprised! However, there are still many other problems. First of all...
Despite slashing the dough, the cuts did not allow any relief for the expanding loaf as it still burst out of the side. This happened with my last batch of rye as well, but has never happened with my wheat loaves. Does anyone have any advice/information on this issue?
Lastly, both the loaf pictured below and the loaves I baked last time had GIANT holes just in very center of the loaf. What is the meaning of this? My last loaf had only one air hole: a giant tunnel through the very center. Again, I have not had this problem baking with wheat. I do not use oil when shaping or in any of the dough handling phases.
When monitoring dough development when using rye flour, how do your evaluations differ from those that you do for wheat flour? Obviously the dough is stickier. When kneading, I noticed that the dough had a strong window pane and was cohesive after just a few (5 or so) minutes-yet I kept kneading because I thought intensive kneading was crucial for rye dough.
Anyway, I LOVE rye and want to be able to consistently produce great loaves, so any valuable information you have would be greatly appreciated! Thanks