October 17, 2013 - 8:03pm
After seeing Dwayne's Mice Bake I had to do one ….eeeerrrr…..two and throw in a free pumpkin for them to guard.  Instead of pumpkin, we roasted some sweet potato to get rid of as much water as possible.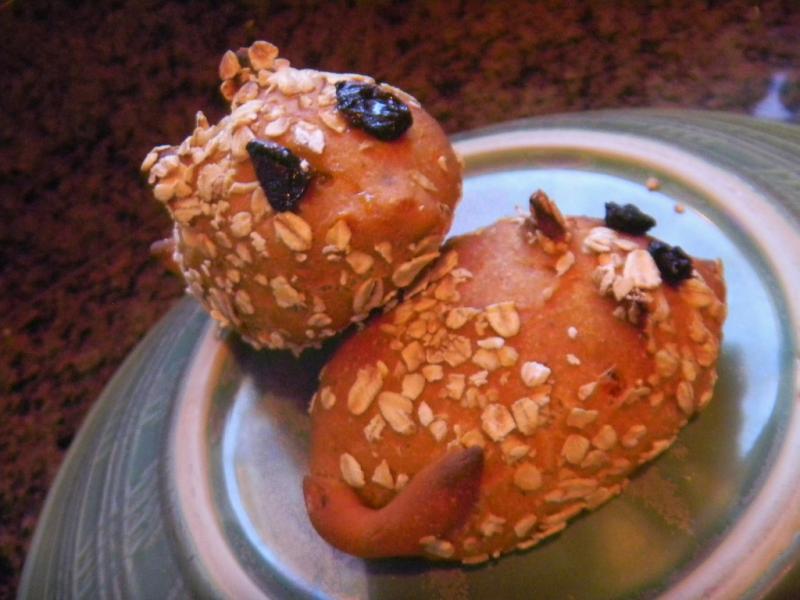 The dough was leavened by a poolish, enriched and sweetened with added pumpkin pie spice to bring out the Thanksgiving smell in the house as they baked.  I'm starting to get in holiday mood even though it is more than a month away.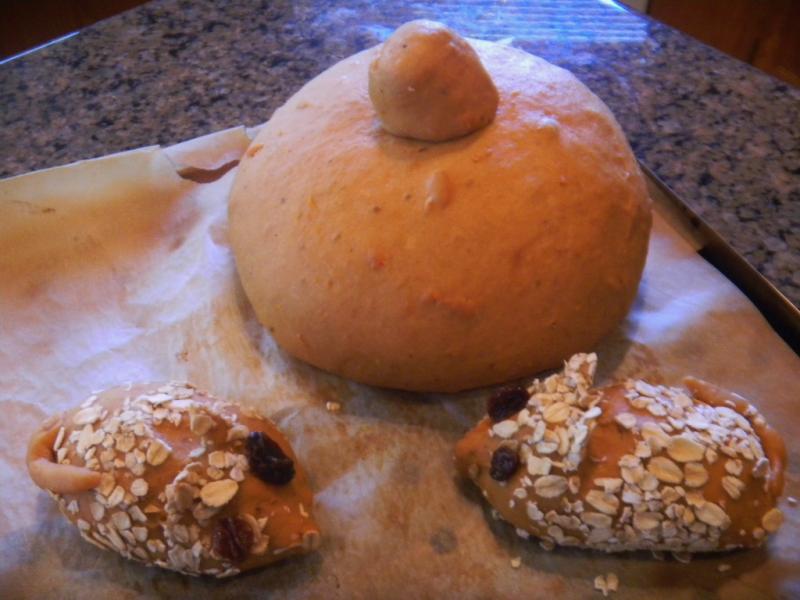 We sis out usual slap and folds and folds but the kept the hydration low since the pumpkin was going to be free formed without any support while proofing .  We baked them in the mini oven starting at 450 F with steam for 10 minutes but turning the temperature down to 400 F after 5 minutes.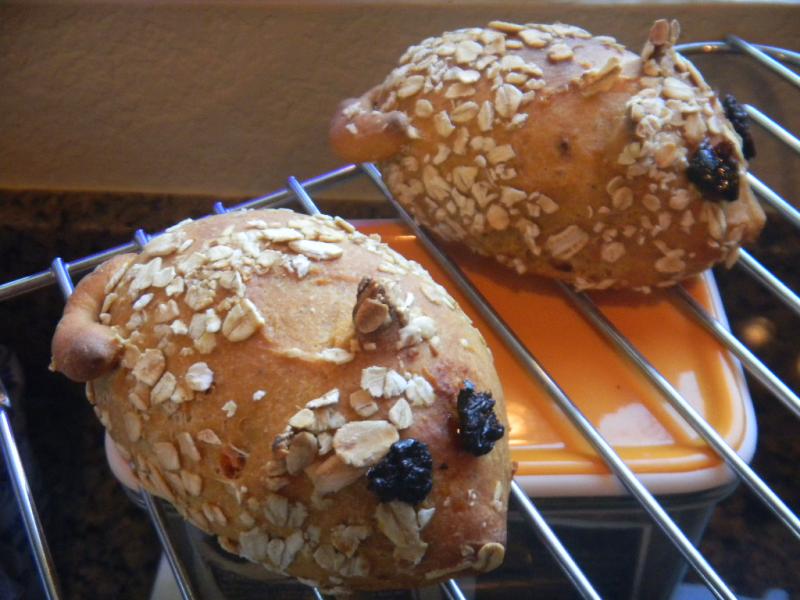 When the steam came out we turned the temperature down to 350 F until the pumpkin got to 195 F on the inside.  It was so much fun to make the mice and pumpkin.  Hope it tastes as good as the mice looked.  They looked furry cute in their rolled oat coats.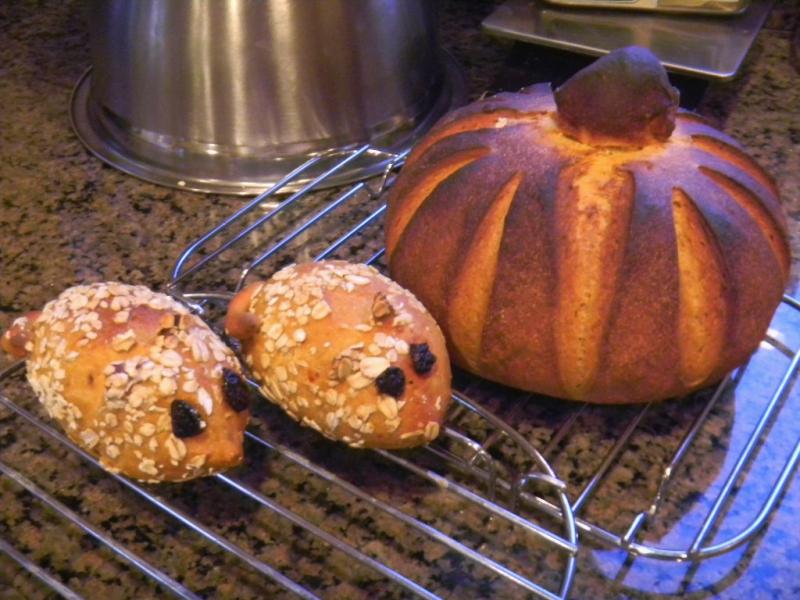 Formula
| | | | | |
| --- | --- | --- | --- | --- |
|   | Build 1 | Build 2 | Total | % |
| Pinch of ADY | 0 | 0 | 0 | 0.00% |
| AP | 50 | 50 | 100 | 22.22% |
| Water | 50 | 25 | 75 | 16.67% |
| Total | 100 | 75 | 175 | 38.89% |
|   |   |   |   |   |
| Multigrain SD Levain |   | % |   |   |
| Flour | 100 | 22.22% |   |   |
| Soaker & Prune Water | 75 | 16.67% |   |   |
| Hydration | 75.00% |   |   |   |
|   |   |   |   |   |
| Levain % of Total | 17.84% |   |   |   |
|   |   |   |   |   |
| Dough Flour |   | % |   |   |
| White Whole Wheat | 125 | 27.78% |   |   |
| AP | 225 | 50.00% |   |   |
| Dough Flour | 350 | 77.78% |   |   |
|   |   |   |   |   |
| Salt | 8 | 1.78% |   |   |
| Water | 165 | 36.67% |   |   |
| Dough Hydration | 47.14% |   |   |   |
|   |   |   |   |   |
| Total Flour | 450 | 100.00% |   |   |
| Soaker, Prune Water 75, Water | 240 | 53.33% |   |   |
| T. Dough Hydration | 53.33% |   |   |   |
| % Whole Grain | 22.22% |   |   |   |
|   |   |   |   |   |
| Hydration w/ Adds | 67.58% |   |   |   |
| Total Weight | 981 |   |   |   |
|   |   |   |   |   |
| Add - Ins |   | % |   |   |
| Butter | 40 | 8.89% |   |   |
| Barley Malt Syrup | 11 | 2.44% |   |   |
| Sweet Potato | 180 | 40.00% |   |   |
| Non Fat Dry Milk Powder | 10 | 2.22% |   |   |
| Brownn Sugar | 25 | 5.56% |   |   |
| VW Gluten | 12 | 2.67% |   |   |
| Total | 283 | 62.89% |   |   |
|   |   |   |   |   |
| Rolled oats to roll the mice in |   |   |   |   |
| All weights in grams |   |   |   |   |