September 26, 2013 - 10:48am
40% rye 60% spelt RYW and Whey
An experiment with pluses and minuses. The original formula was posted here:http://www.thefreshloaf.com/node/28855/spelt-beach. There weren't really any directives  . I mixed the levain and it was gang busters when it grew ! I subbed my active raisin yeast water for all the water and used my rye wild yeast. I had to refrigerate it after only 6 hrs as it was already doubled. I didn't want it too sour. The next day I blithely mixed the dough "batter" using my RWY and subbed in 100 g whey as I was short of RWY ....uhoh...Juergen has stone ground spelt ....hm...I don't. Instead I now had a bowl of cake batter !  What to do. I looked at about a dozen threads to see what others had done with their spelt loaves. Not much help. It runs the gamut from in the bowl s&f's to out of the bowl s&f's to both to a batter placed in lined tins...well you get the idea. 
I forged ahead. Did several rounds of folds in the bowl...looked great. Did one on the board with flour...um...no. Did one with the countertop oiled...yes !  Except after a few minutes it slumped...badly. I gave up. I shaped...haha...2 boules...actually dumped 2 blobs  into floured lined baskets. I let them set out while I went to the gym. The rose and rose right up and over the edges of the cloths...ugh. I gave up again...put the baskets into a plastic bag and chucked them into the fridge...time to retard and re-group. 
Juergen was kind enough to answer my messages...he had a similar experience...wet wet dough. I heated the pots to 500 and took out the two baskets...up oh...fallen dough....sigh. What to do...forge ahead ! I tucked in the edges and made sure the cloth was loose. I turned them out...surprise they held their shape !  Not so fast....when I placed them in the pots they spread. Oh well. You can see the results. Holes, crisp crust, gelatinized crumb that is tender and flavorful. A little sour but not much. Short profile...LOL...me too...I am only 5'2". I shall try this one again. I am now convinced that me and spelt can get along. 
Oh ...I will never stop using YW ! I have two jars bubbling away in the fridge...both apple. I have decided I love it best. Here are some pics. 
levain after 6 hrs
fresh from the retarding :
turned out of basket...there is hope !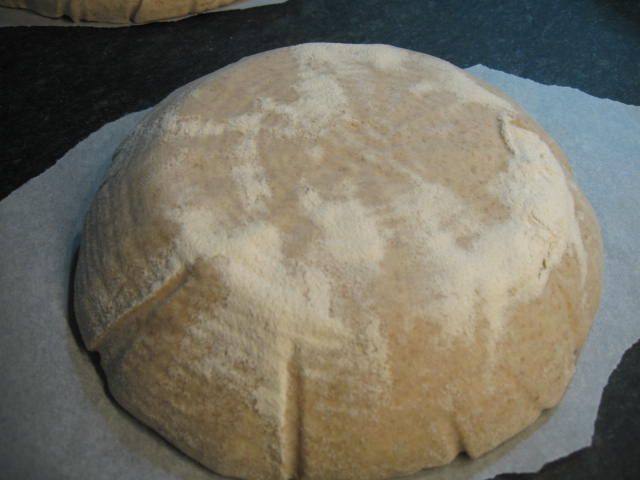 crust:
crumb: