September 25, 2013 - 11:48am
Josh's Sprouted Wheat Levain w/ Barley and Rye
Lately I've been so focused on baking what I know consistently and well that I haven't tried new things.   Fortunately I am still a regular browser (if less frequent commenter) on TFL and there is a lot of new out there.   Josh (golgi170) has been posting one interesting bread after another, and I haven't had a chance to start let alone catch up.   Yesterday I decided to try his Sprouted Wheat Levain, that of the beautiful ear.    When I first saw this, I wanted to make it, but lacked the flours he used:   sprouted wheat and barley.   As these things happen, first one and then the other made its way into my cupboard.   No excuses.   Time to bake.  
Not only the flours were new.   Just about every bit of Josh's methods were new.   I resisted the urge to revert to Hamelman methodology and just kept doing the new things even though I was mystified.   More on this shortly.
But first the taste.  Short story:  very good, very interesting, very sour.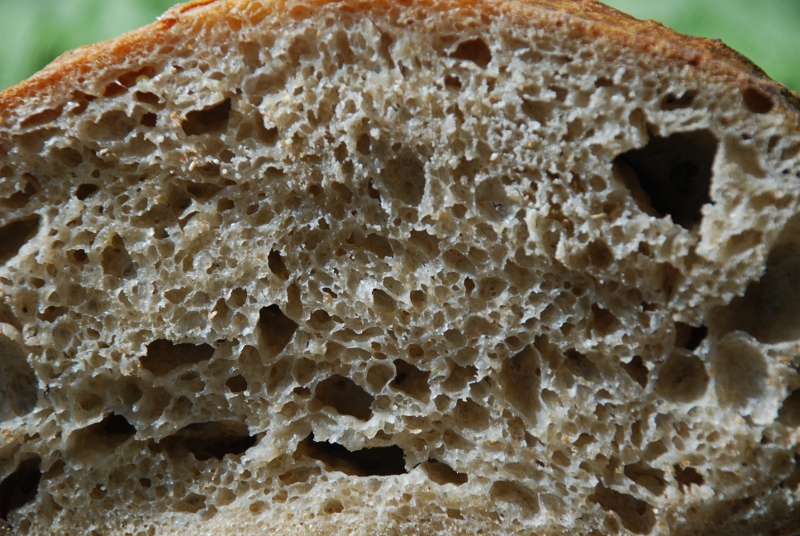 Now a bit longer story.   This is a loaf with a kick to it.   If that were all, I wouldn't have been happy.   In addition to the sour, there are subtle undertones.   Furthermore, the crumb has a moist texture that is very pleasant and the crust is light and crisp.   Delicious.  Unfortunately we cut into the loaf so soon that the cut is a bit ragged in the picture above.   Hope you get the idea anyhow.  
Now back to the methodology, formula, etc.   First difference for me at least, is that one of the interesting new flours went into the starter instead of final dough.   I usually let my starter be what it is (that is 67% hydration all white) and then make modifications elsewhere.   Here the starter is built with sprouted wheat flour which then is not introduced into the final dough.  
Final dough calls for malted bread flour.   I haven't been able to lay my hand on that.   Instead I used my usual KAAP.   The ingredients include malted barley.    Does that count?  
Second, a complex mixing protocol.   Long autolyse, then mix in starter, then salt, then after development add in some withheld water and mix again.  
Next two French slap periods.   Ok.   I'll admit it.   Here is where I bailed.   No way was I going to slap that wet dough around.   Instead I put it back into the mixer for a few seconds, at half hour interval, twice.  Half hour later, did stretch and fold in bowl.   Half hour later, stretch and fold on counter.   I think I got decent dough development, so hopefully that wasn't such a big deviation.    
Next long counter ferment - 4 hours.   Why so long?   Won't it over-ferment?   No I guess not.   And yet, my urge was to cut it short to 2.5 hours given the long retard ahead.   But I didn't.  
Josh says 8-12 hour retard.   Here my schedule got away from me, so I did 15 hours.   Perhaps less sour if I'd been able to get to it sooner? 
Then bake at very high temperature, for 50% shorter than usual.    Eeek.   Why so hot?   Why so short?  But really lovely crust came out of that.  
So with all that, different, delicious bread.   Can't argue with that.  
And did I get Josh's beautiful ear?   No such luck.   A tame, even open.   Maybe next time.