Farmer's Market Week 13 Sprouted Wheat Levain w/ Barley and Rye
My vacation has begun... with baking.  I've eyed the Arrowhead Mills Sprouted Wheat Flour for some time and decided it was time to use it.  My attempts here were directed at a solid everyday bread.  No fillers besides the 25% Whole Grain addition.  The dough is quite fantastic.  Very smooth and elastic with great strength.  It was so active and happy at the time of divide/shape I didn't dare proof it at room temp at all and went straight to the retarder for 8 hours (maybe a mistake).  Holy Oven Spring.  
Made a big change for my steaming. I went and bought a big bag of lava rocks and filled my roasting pan with them.  Poured about 2 Cups of water in at start of bake and removed after 13 minutes.  This seems to have provided much more steam than the towels/smaller rock tray.  A winner that takes less effort, yes please.  
Formula  (77% hydration)
For 2 loaves @ 
Levain (6 hours at 75 degrees)  77% hydration
205      Sprouted Wheat Flour
147.5   H20
103       White Starter (100%)
---------------------------------------------------------------
Finished Dough:  Autolyse 2 hours  DDT (76-78F)
600       H20
373.3    Malted Bread Flour (11.5 % protein)
350.8   Hi Protein Bread Flour (14% protein)
34         Barley Flour
16.5     Rye Flour
22         Sea Salt
-----------------------------------------------------------------
1)  Mix Levain and let rise 6 hours.  This was quite stiff as the wheat really sopped up the H20 but I wanted the levain to be at the final dough hydration as has been my method of late.  
2)  Autolyse Flours and Water for 2 hours (Hold back 10% of water)
3)  Add levain and mix on speed 1 to incorporate (3-5 minutes).  Add salt and continue until well distributed. 
4)  Turn to speed 2 (I am using a commercial hobart with 4 speeds) so lo medium. and develop dough.  
5)  Once well developed add remaining water and mix on speed 1 until dough comes back together. 
6)  Bulk Ferment 4 hours:  2 sets of French slap @ 15 minutes followed by 2 s + f's at 40 minutes.
7)  Divide and preshape.  Rest 20 minutes.  
8)  Shape into floured bowls.  Cover and retard 8-12 hours
(due to minor underproofing I might give them 30-60 minutes at room temp before retarding.)
9)  Bake at 500 with steam for 12 minutes(10 minutes might be better), then lower to 480 and continue for 10-15 minutes. 
Cool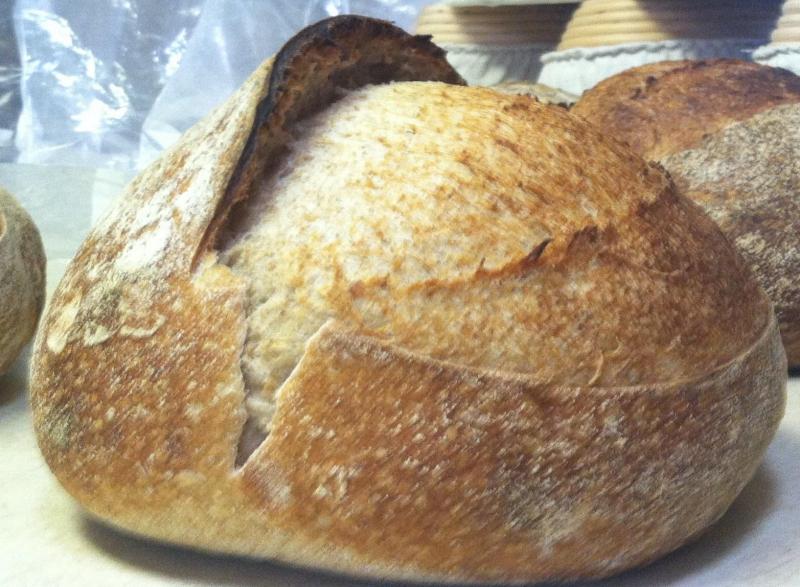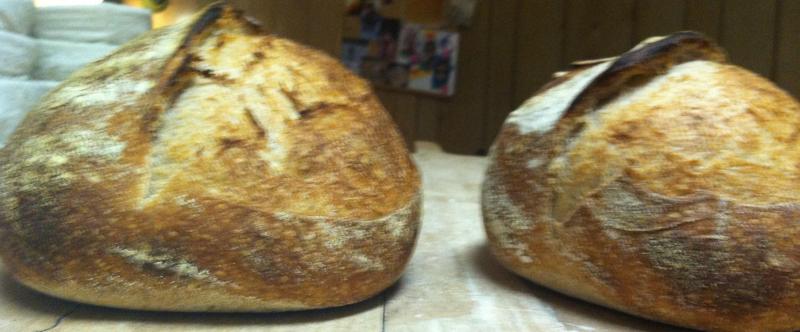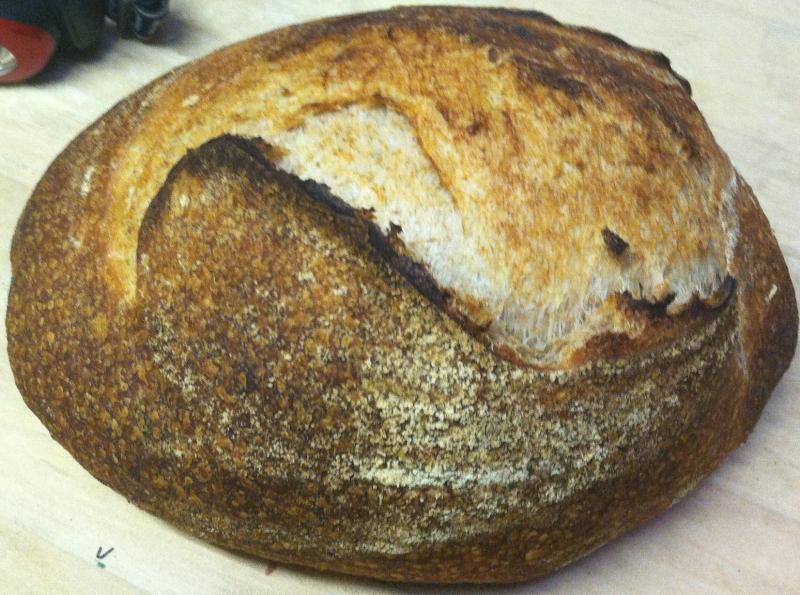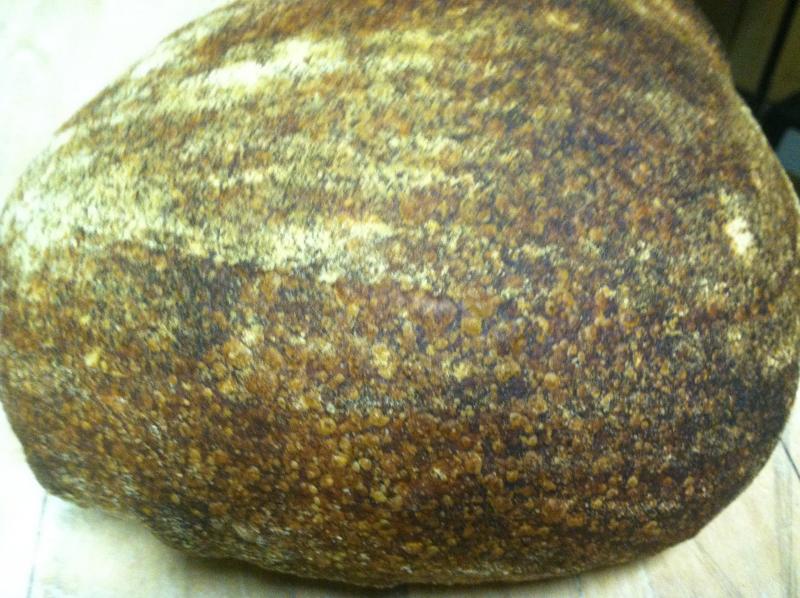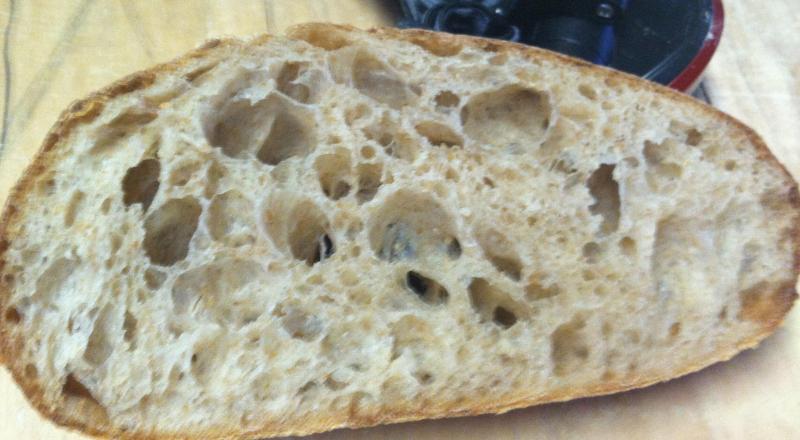 Bounty Pictures to come.  I certainly made myself look good and didn't show the blowout scores.  The oven spring and my lack of sleep made scoring pretty bad til the last two sets.  Anyhoo.  
Its quite tasty.  Thin chewy crust with a soft moist crumb and a nice bit of sour.  
Josh