September 11, 2013 - 8:35pm
Yeast Water 35% Whole Wheat Hamburger Thins and HD Buns
We have been trying out various versions of buns for hot dogs and hamburgers.   This time we went back to basics and looked for a whole wheat bun on the King Arthur website.  We found their 100% WW one for hot dogs and their white bread one for hamburgers.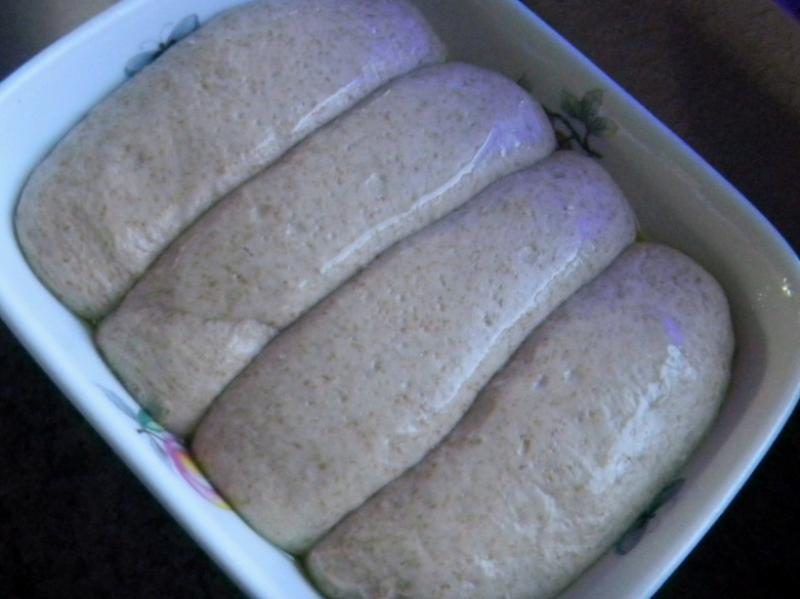 Since we were going to do a 35% whole wheat one, we decided to combine the two, replace the sugar with honey, drop the commercial yeast and replace it with yeast water, up the hydration  to 75% and add some cream cheese to mix like Ian does on so many of his bun bakes.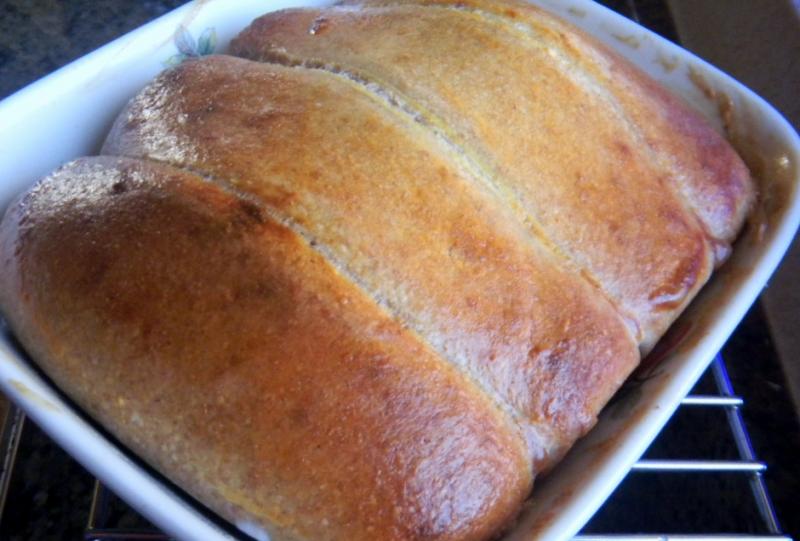 We were needing to refresh the cherry YW anyway so did so, with only apples this time, and used the remainder to make a 1 stage, 100% hydration, levain over 300g that sat out at room temperature for 8 hours before we refrigerated it overnight after it had risen 75% in volume.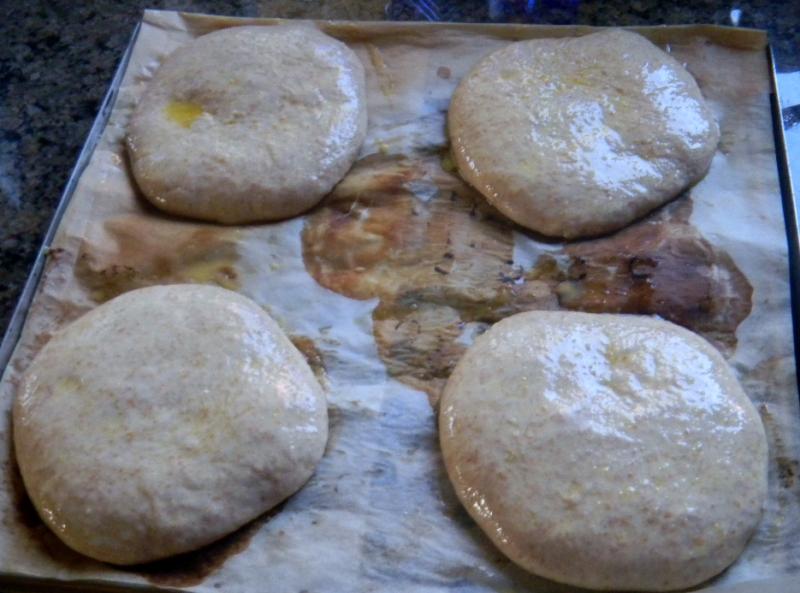 The next morning we let the YW levain finish its last 25% of rise on the counter.  When it had doubled we through everything together and did 5 minutes of slap and folds and then let the dough rest for 10 minutes before doing another 5 minutes of slap and folds.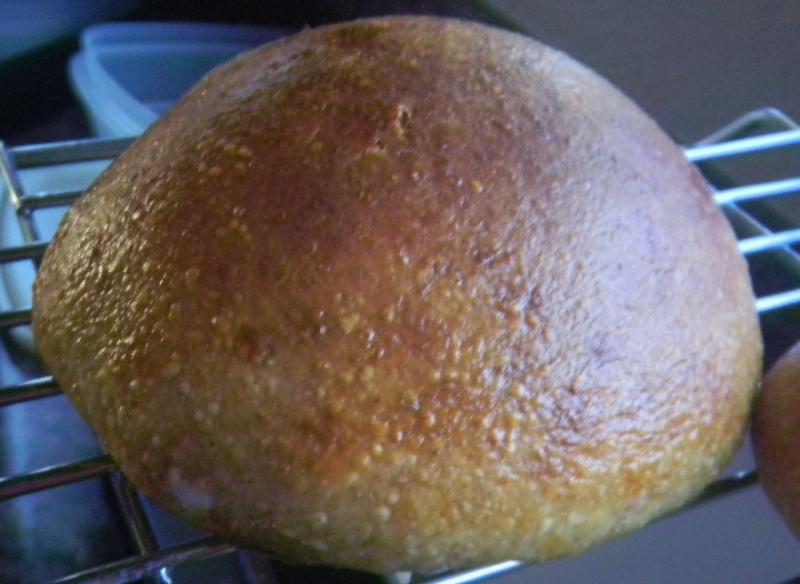 After a 15 minute rest we did 2 sets of S&F's on 15 minute intervals before allowing the dough to ferment on the counter for an hour.  We then pieced out the dough into (8) 110 g pieces and pre-shaped 4 of them into  hot dog buns and 4 into balls for hamburger thins.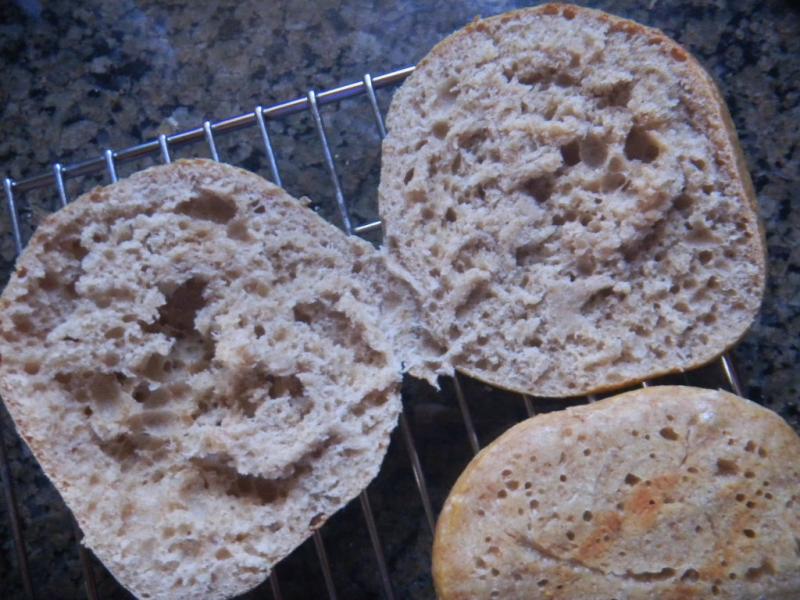 10 minutes later we final shaped the buns putting the hot dog buns into a small Pyrex pan to proof and the hamburger thins on parchment on the top lid of the mini oven's broiler pan.  The buns were allowed to proof for 5 hours on the counter.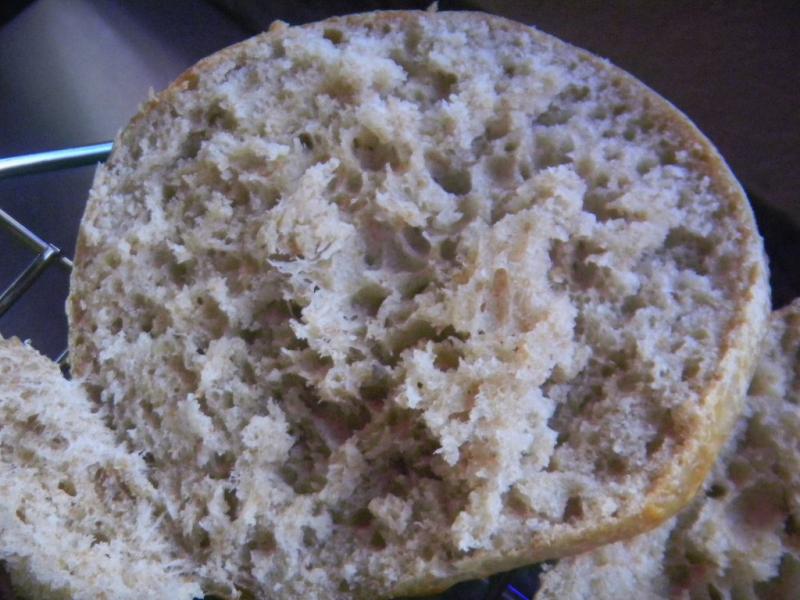 The hot dog buns were brushed with an egg wash and were the first to go into the mini oven at 425 F after 8 minutes of baking the oven was turned down to 375 F convection this time.  After 8 minutes with the fan the hot dog buns were deemed done and the hamburger thins then received the identical treatment.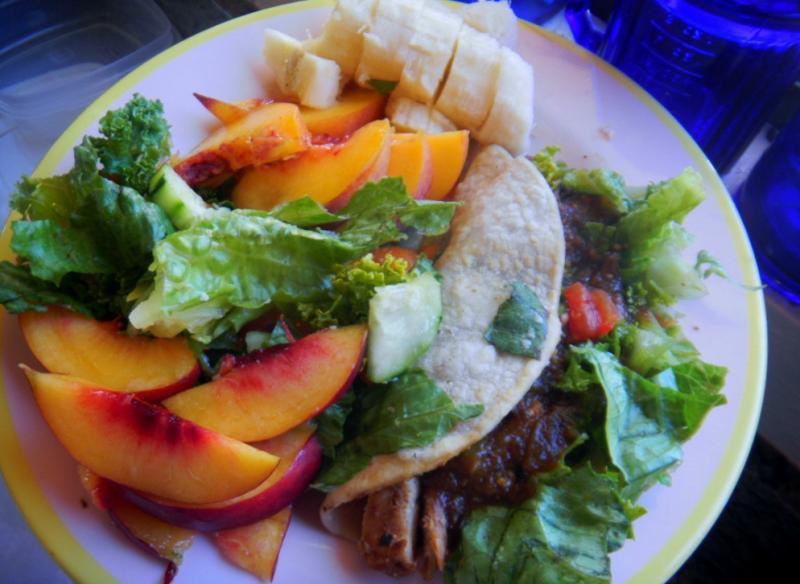 The buns blistered up like the mini usually seems to manage every time.  They were brown and shiny.  Wow!  These buns sprang 3 times their pre mini oven height!  Yes 3 times higher - only yeast water can do that according to my bread baking experience. These bins were very open, light, airy and moist – the buns we have ever manages to date.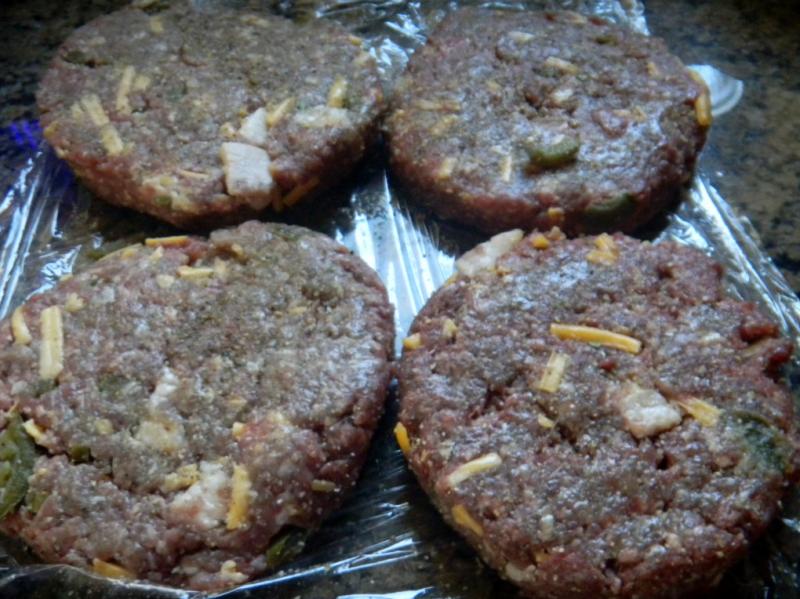 Yes, there is some hotnpeppers, cheese adn bacon in those beef patties.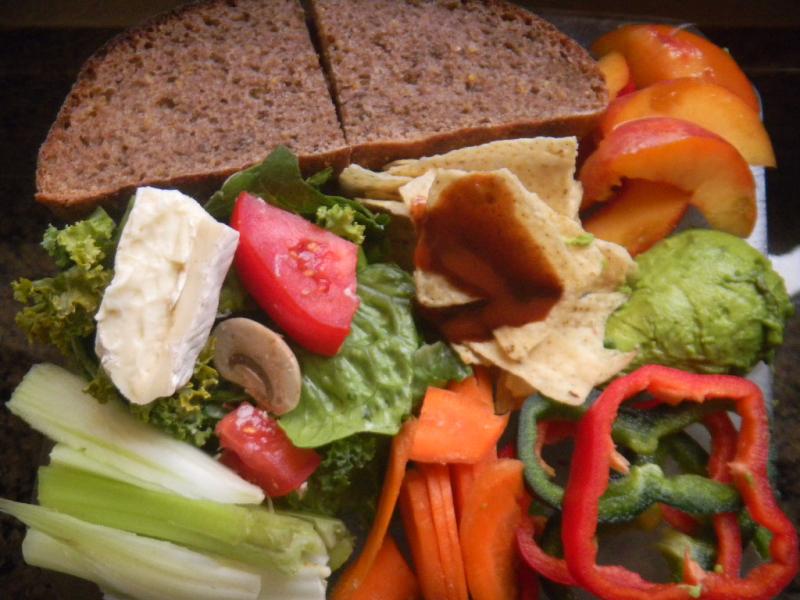 Today's lunch with that fine Taztzel and I bet there is some pastrami in there too!
 They were tasty too but not sour at all.  Lucy was especially happy that her sister, our daughter was accepted into PA school.  Yeah.  We are all so happy for her.  She requested tacos (Pibil, carnitas, grouper, chicken and carne asada) with guacamole, red and green hot sauces, pico de gillo, smoked pork necks in beans and Mexican green rice last night for dinner.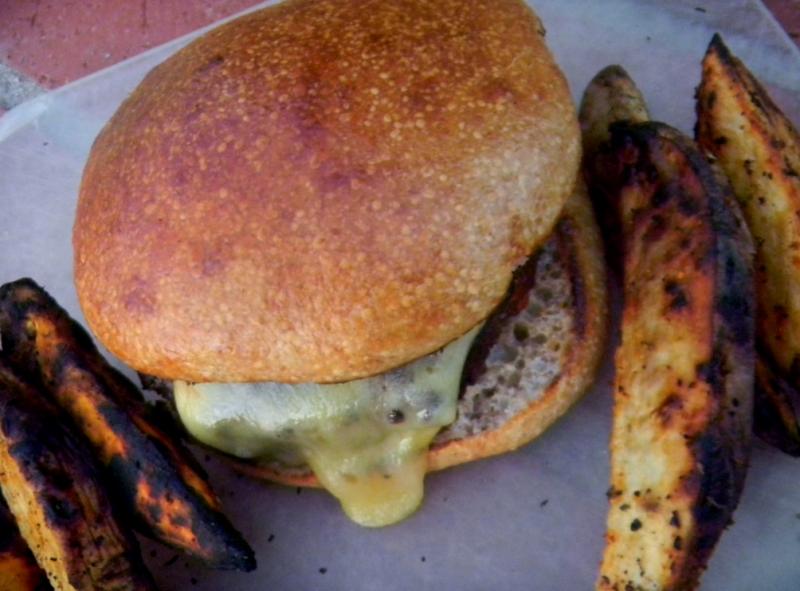 Tonight she got hamburgers, caramelized onion, mushrooms and various hot peppers with sweet and regular grilled potato wedges.    She even liked the buns!  Congrats to Molly!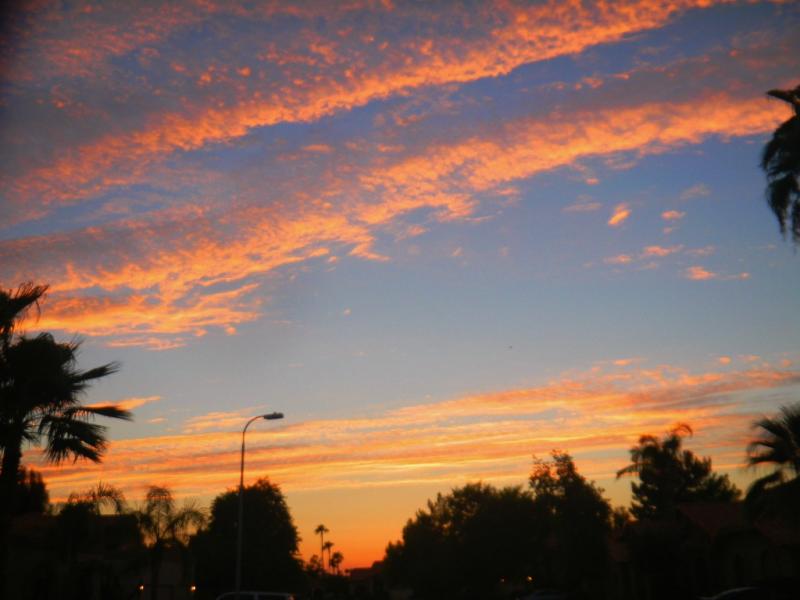 Formula
Yeast Water 35% Whole Wheat Hamburger Thins

 

 

Build 1

Total

%

Whole Wheat

158

158

34.50%

Yeast Water

158

158

34.50%

Total

316

316

34.50%

 

 

 

 

Multigrain SD Levain

 

%

 

Flour

158

34.50%

 

Water

158

34.50%

 

Hydration

100.00%

 

 

 

 

 

 

Levain % of Total

316

42.08%

 

 

 

 

 

Dough Flour

 

%

 

AP

300

65.50%

 

Dough Flour

300

65.50%

 

 

 

 

 

Salt

9

1.97%

 

Water

135

29.48%

 

Dough Hydration

45.00%

 

 

 

 

 

 

Total Flour

458

100.00%

 

Water 158, Yeast Water 90

293

63.97%

 

T. Dough Hydration

63.97%

 

 

% Whole Grain Flour

34.50%

 

 

 

 

 

 

Hydration w/ Adds

73.36%

 

 

Total Weight

884

 

 

 

 

 

 

Add - Ins

 

%

 

Honey

20

4.37%

 

Butter

20

4.37%

 

Cream Cheese

20

4.37%

 

Potato Flakes

8

1.75%

 

VW Gluten

10

2.18%

 

Egg

46

10.04%

 

Total

124

27.07%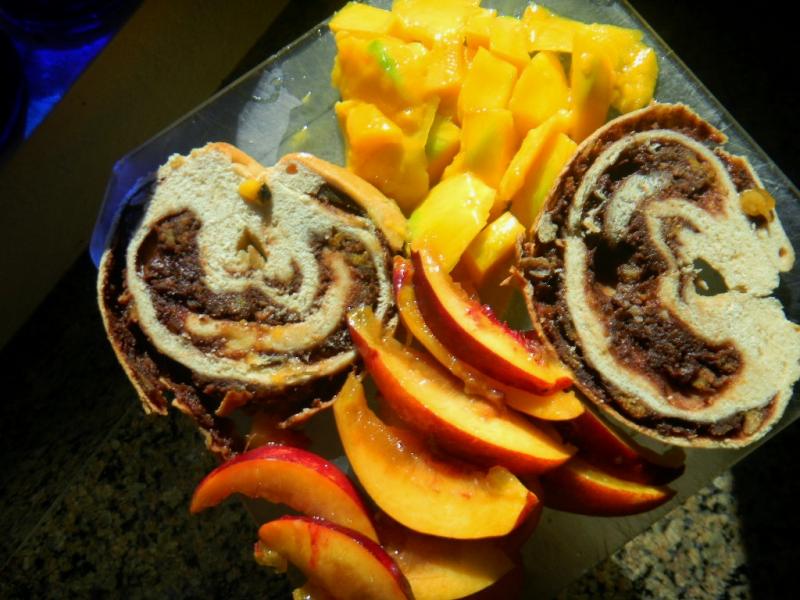 A fine breakfast for the PA girl too!