August 31, 2013 - 11:08am
Three Levain Friday Night Pizza Night - With a Surpise Ending
It being summer in AZ, we are baking our pizzas on the gas grill outside.  We prefer the big old GE inside for pizzas but the gas grill does a half decent job with the pizza stone heated up.  One plus is that the gas grill can get to 650 F and the crust is super crispy, even though the top may not be browned enough.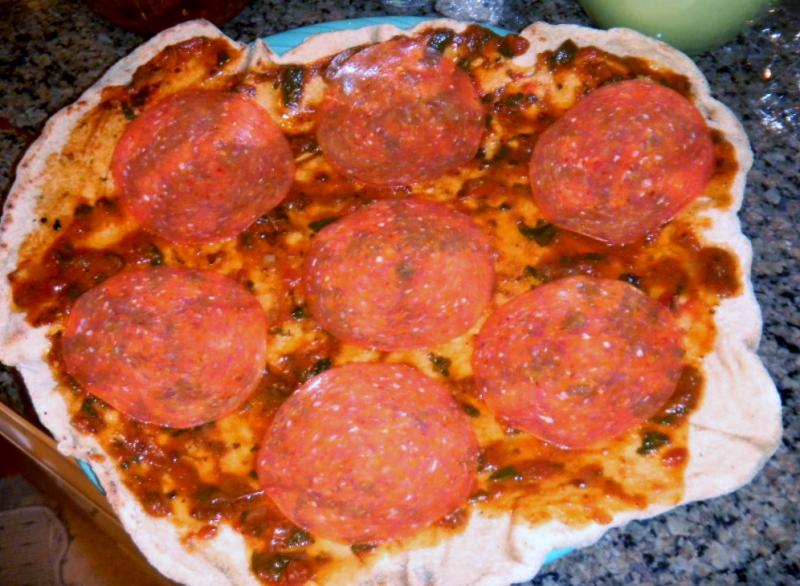 See through pepperoni can go under the cheese adn still bake up well trapping that fat next to the sauce.
This dough had been in the fridge for 48 hours and was nice to work with and was tough but pliable when stretching over the knuckles.  The leaven for this was repeat of a three-peat - a pinch of yeast biga, yeast water, sourdough starter and flour – the same one used earlier this week for that fine crust on Lucy's Fruit Stupid; a peach and plum and Nutella galette.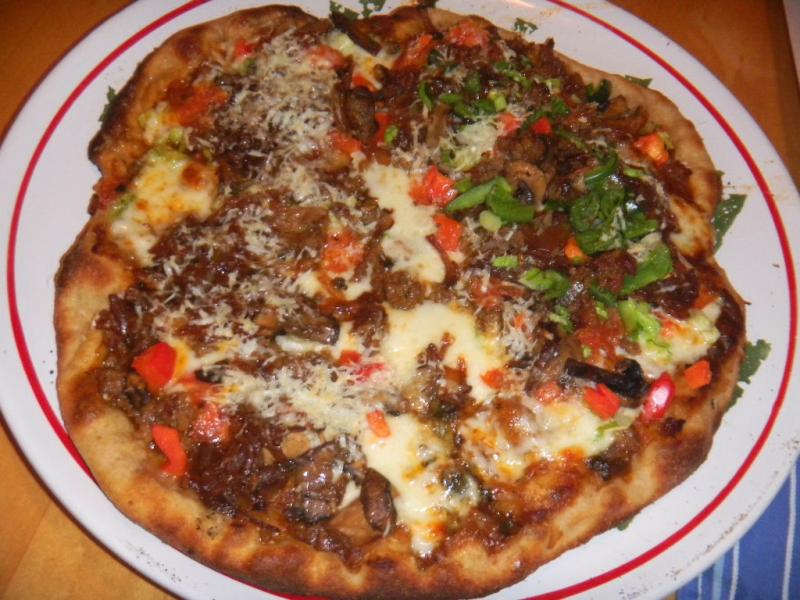 The girls split their pizza #1, each making half to their liking.
One thing we did different this time is to liberally dust the counter and the top of the dough with semolina when forming and to use whole wheat pastry flour for 25% of the flour mixed with AP and bread flour.  Semolina just sounds like Italy to me and it takes the tackiness out of the dough just as well as flour does when forming.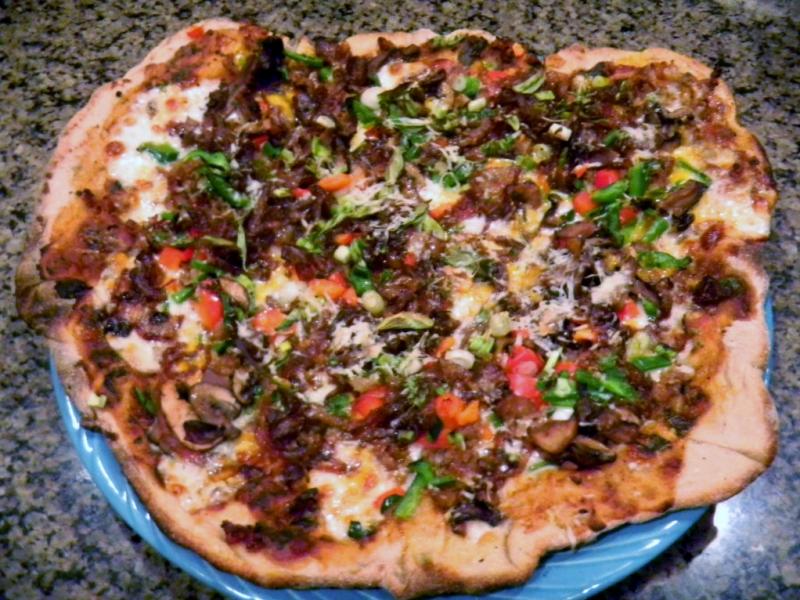 Pizza #2 was everything included for one low price that was flipped over after par baking.
 My shaping of these pies was a little fast which produced an odd shape but I could tell the monsoon was going to blow in right as the first pie was to go on the grill.  Poor Lucy had the be Jesus scared out of her with all the wind. lightening, thunder and rain.  Since she usually forms the pies and was beside herself, I tried my best.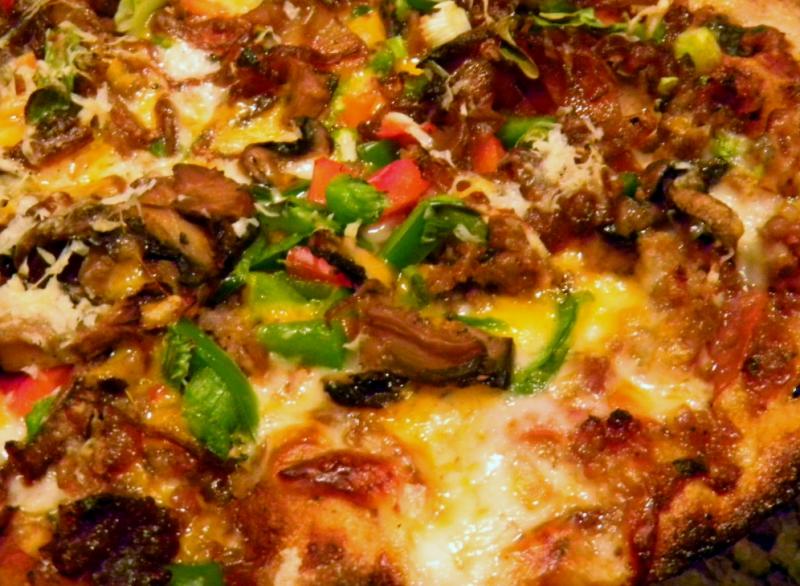 The poor grill was struggling to  keep the heat in so on the 2nd pie instead of par baking for 3 minutes and then taking it off and loading it up, we par baked it for 2 minutes, took it off and then flipped it over and loaded up the once stone side down with the toppings.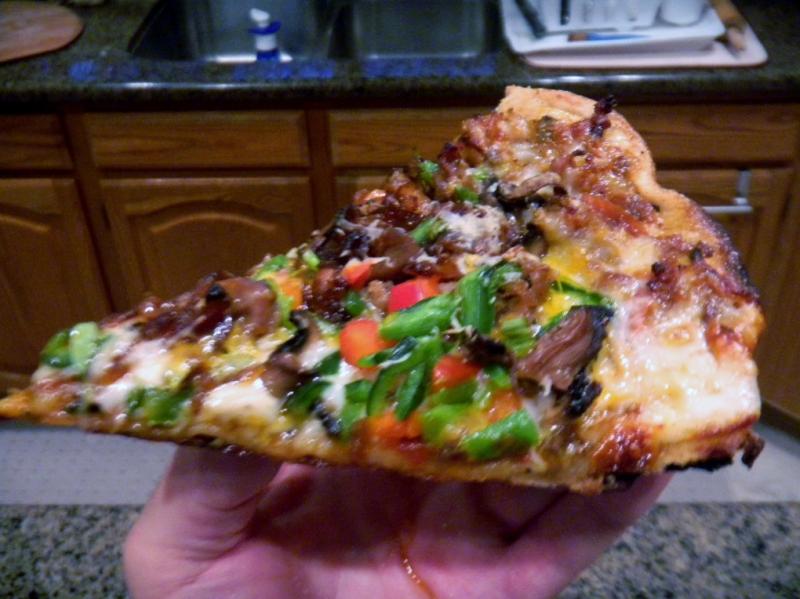 For this pie we didn't brush Mojo de Ajo on the top until it had been par baked and flipped.  The first pie had Mojo de Ajo brushed on top before it went on the stone for par baking.  We did not put our normal rosemary, garlic and sun dried tomatoes in the dough this time.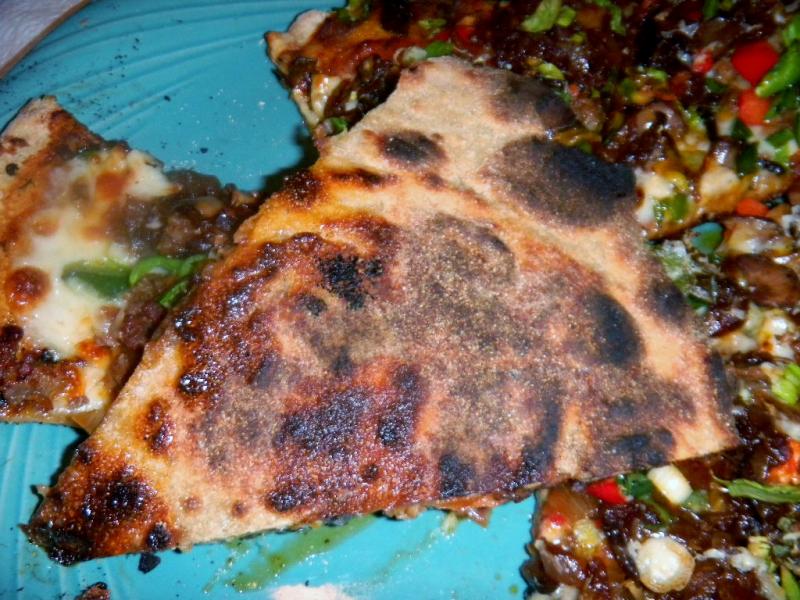 The bottom was perfectly browned even after being flipped - very crispy and tasty.
The toppings were the usual home made sauce, mozzarella, parmesan and romano, red, jalapeno and poblamo peppers, green and caramelized onions, carmelized , king oyster, crimini and shiitake mushrooms, hot Italian sausage, grilled squash, steamed broccoli and pepperoni.  I put a little aged super sharp cheddar on mine too.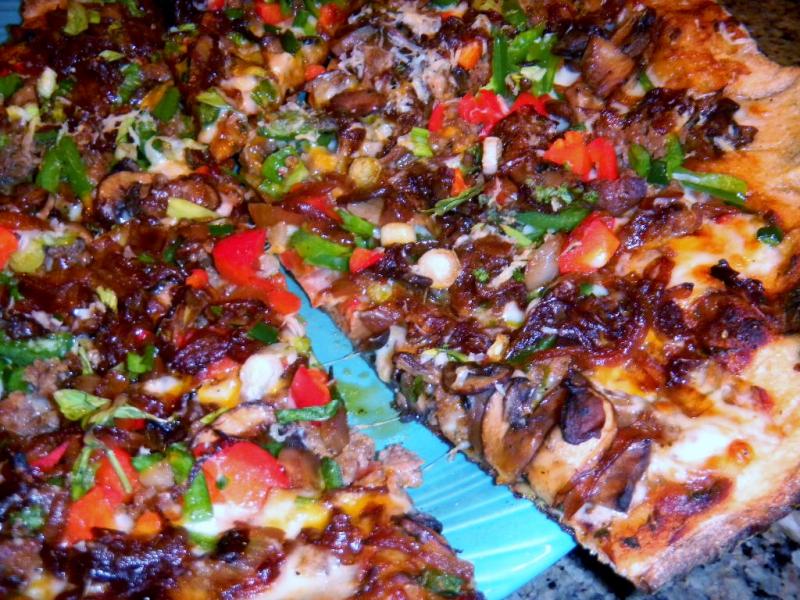 My pie was the 2md one and the crust was stupendously crispy and tasty.  It took 6 minutes after it went back on the stone after the par bake and loading it up.  It wasn't the best looking pizza because it was flipped but it tasted fantastic.  I might start flipping them all the time even when made indoors.
Saturday morning's breakfast was a home made English muffin with butter and caramelized medium Minneola marmalade, hot breakfast sausage, half a peach, half a mango, a slice of cantaloupe chopped up  and an omelet with hot pepper jack cheese.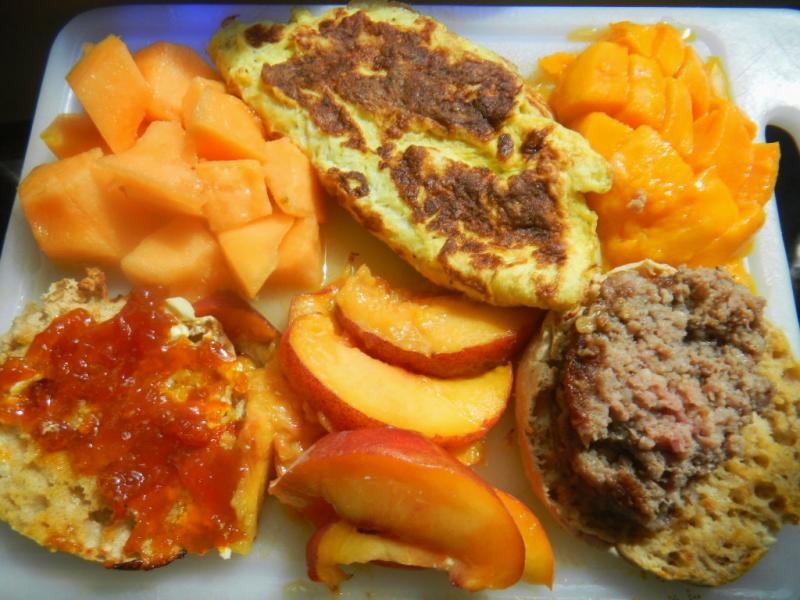 The fruits and melon were all at their very best ripeness and made for a nice consolation after a stormy sunset that turned into some thing quite unexpected and beautiful.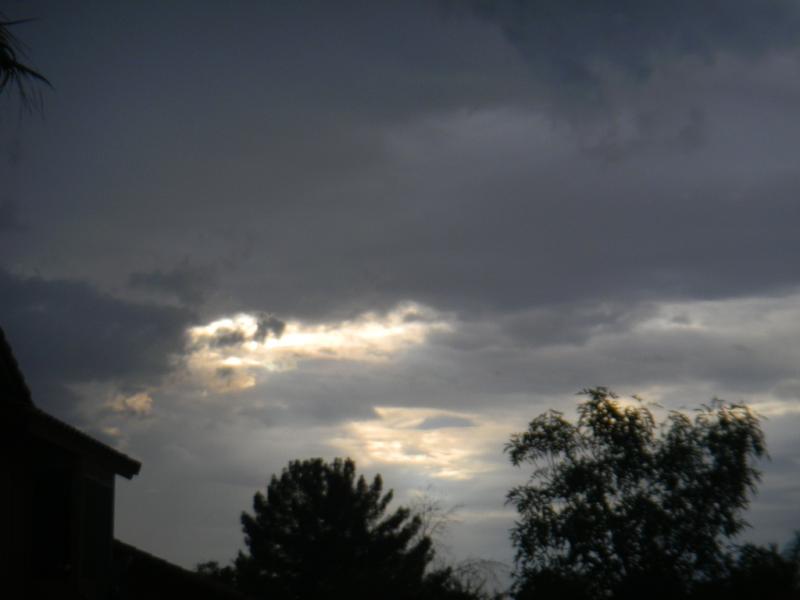 How strange that this ugly storm….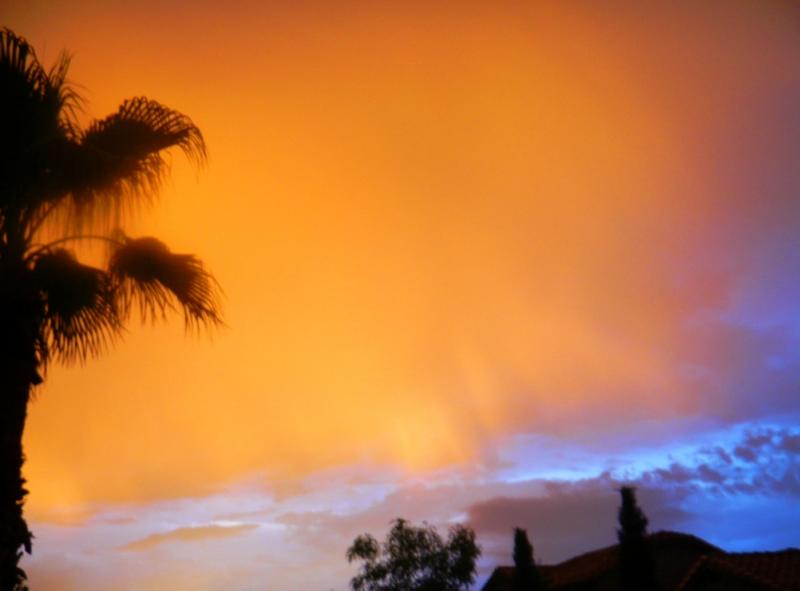 turned into this Western facing sunset of orange rain coming down…… but looking East at the same time was a double rainbow.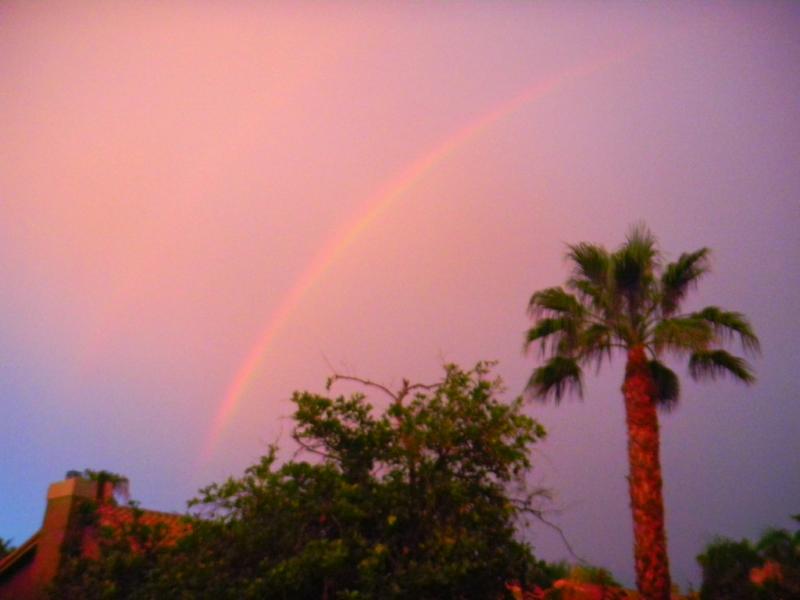 Formula
| | | | | |
| --- | --- | --- | --- | --- |
| Pinch of ADY plus | Build 1 | Build 2 | Total | % |
| Multigrain SD Starter | 10 |   | 10 | 2.67% |
| AP | 45 | 25 | 70 | 18.67% |
| Water | 0 | 25 | 25 | 6.67% |
| Yeast Water | 45 |   | 45 | 12.00% |
| Total | 100 | 50 | 150 | 28.00% |
|   |   |   |   |   |
| Multigrain SD Levain |   | % |   |   |
| Flour | 75 | 20.00% |   |   |
| Water | 75 | 20.00% |   |   |
| Hydration | 100.00% |   |   |   |
|   |   |   |   |   |
| Levain % of Total | 150 | 23.08% |   |   |
|   |   |   |   |   |
| Dough Flour |   | % |   |   |
| AP | 250 | 66.67% |   |   |
| Whole Wheat Bread Flour | 50 | 13.33% |   |   |
| Dough Flour | 300 | 80.00% |   |   |
|   |   |   |   |   |
| Salt | 7 | 1.87% |   |   |
| Water | 200 | 53.33% |   |   |
| Dough Hydration | 66.67% |   |   |   |
|   |   |   |   |   |
| Total Flour | 375 | 100.00% |   |   |
| Water | 275 | 73.33% |   |   |
| T. Dough Hydration | 73.33% |   |   |   |
| % Whole Grain Flour | 14.67% |   |   |   |
|   |   |   |   |   |
| Hydration w/ Adds | 73.33% |   |   |   |
| Total Weight | 667 |   |   |   |
|   |   |   |   |   |
| Add - Ins |   | % |   |   |
| Honey | 0 | 0.00% |   |   |
| Butter | 0 | 0.00% |   |   |
| Toadies | 0 | 0.00% |   |   |
| Dehydrated onion | 0 | 0.00% |   |   |
| Ground Sesame 2 & Flax seeds 2 | 0 | 0.00% |   |   |
| Parmesan & Romano 10 g each | 0 | 0.00% |   |   |
| Red Malt | 0 | 0.00% |   |   |
| White Malt | 0 | 0.00% |   |   |
| Total | 10 | 2.67% |   |   |