Lucy's Take on Cleo's and Ian's Hamburger Buns
We based this bun recipe on Ian's and Cleo's fine hamburger buns that can be found here: 
http://www.thefreshloaf.com/node/33946/hamburger-onion-parmesan-buns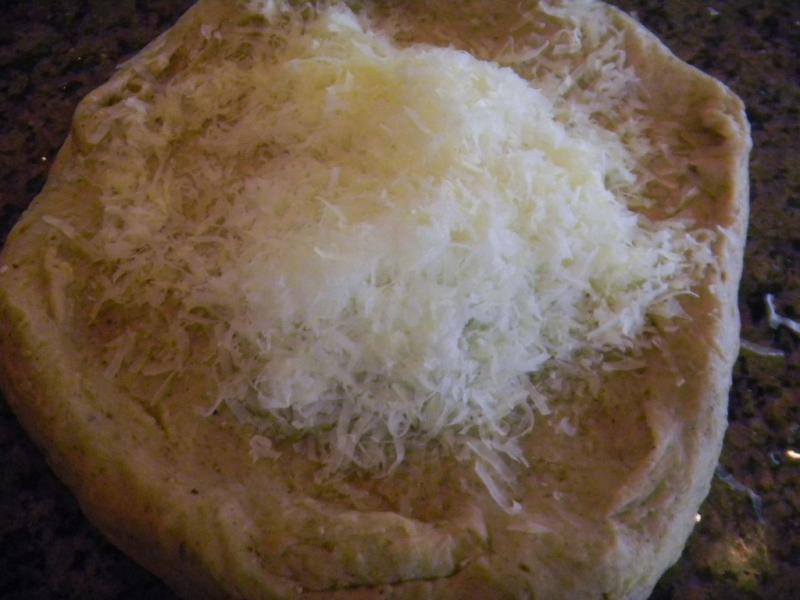 We don't have his flour combination but we tried out best to come at least a little close to them.   So, Lucy used some AP and white whole wheat instead of the spelt, European and durum flour that was Ian's choice.  We called Ian's hand by keeping the potato flakes, butter, honey, dehydrated onion, Parmesan cheese and a pinch of ADY.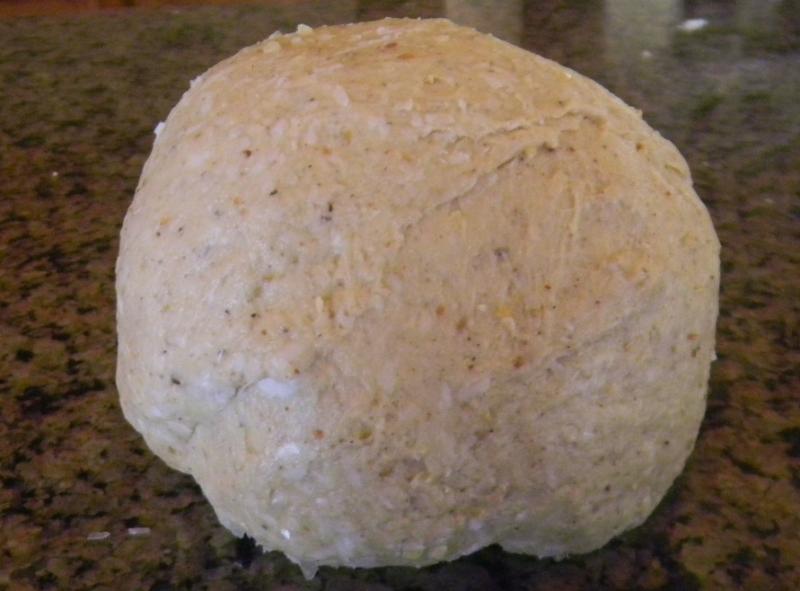 We then raised Ian's formula a pecorino cheese, some ground sesame and flax seeds,  red and white malt and Toadies while switching out the milk and replacing it with cream and some left over fig re-hydration water from the last bake.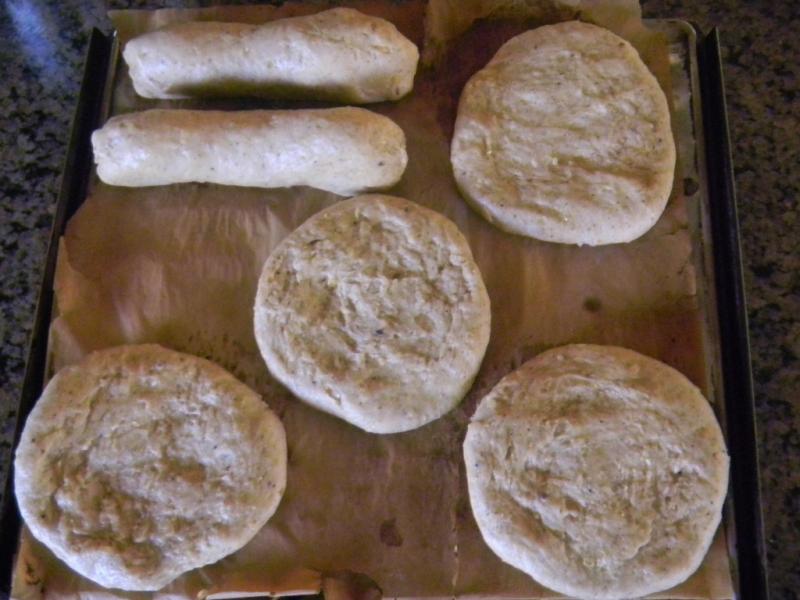 The final change was to use the pinch of ADY with some apple cherry yeast waster and some SD starter in one poolish kind of double levain that should balance itself out with acid and sweetness to become more neutral - as most hamburger buns seem to end up being for some reason.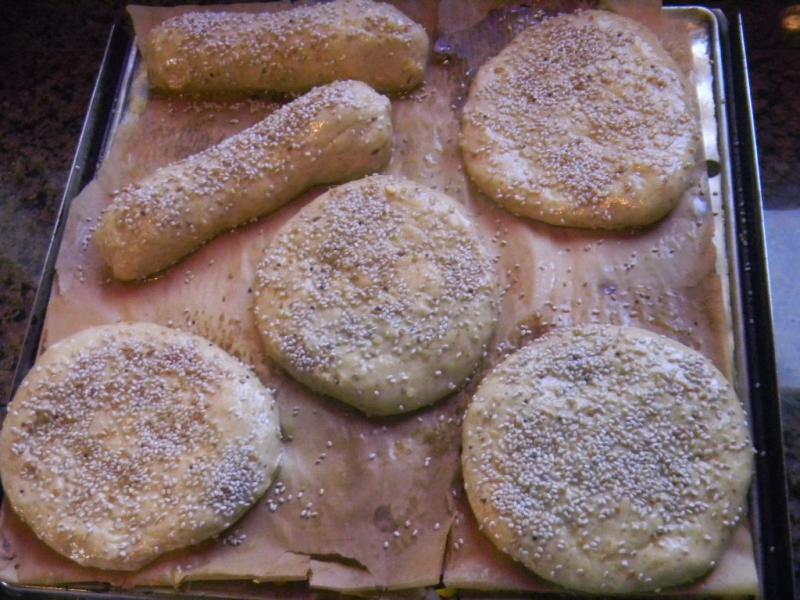 We did a one stage, 3 hour build to get the levain to double.  We took the dried onions and re-hydrated them in 30 g of water and the salt for 1 hour.  We autolysed everything else except the cheese with the liquids for a half hour and then added the salt, onion and water mix.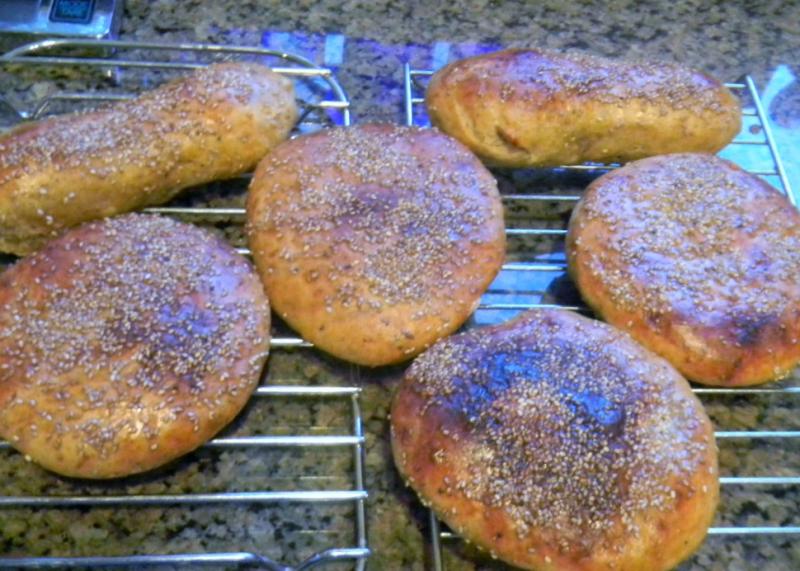 We squished this through the dough through our fingers and did 6 minutes of slap and folds before resting the dough for 10 minutes and then doing 4 mote minutes of slap and folds.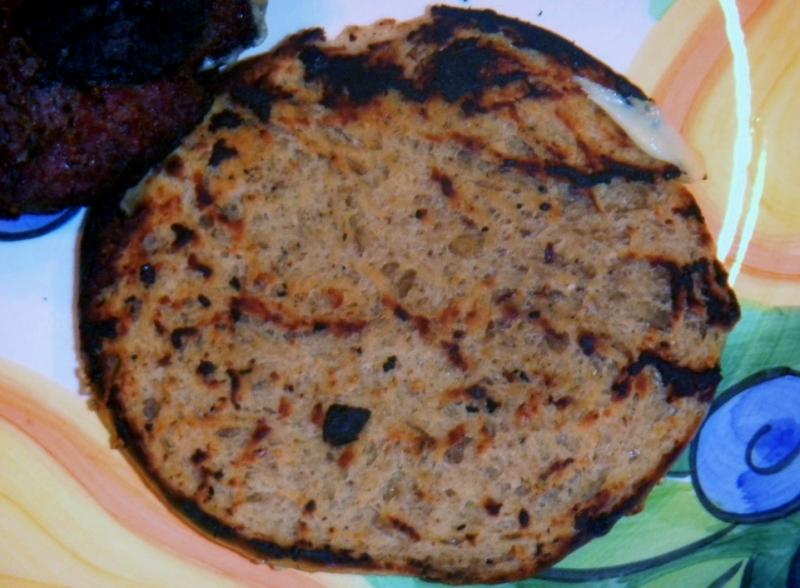 A beautiful open moist, soft and grilled crumb.  Jsuit delicious!
The gluten had developed very well.  After a 15 minute rest we did 1 more minute of slap and folds.  We then stretched the dough and incorporated the (2) cheeses with a set of S&F's.  15 minutes later we did another S& F and then allowed the dough to rest for1 hour.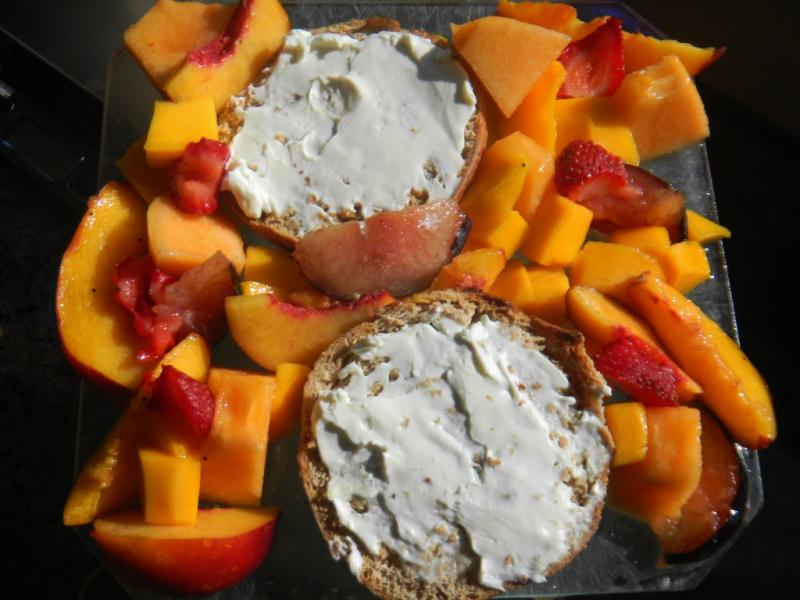 A bagel breakfast to get the day started.
We then pre-shaped the dough into 4 thin buns that we like so much and 2 hot dog buns.  10 minutes later we final shaped them and put then on parchment paper - on top of the the mini oven's vented top portion of the broiler pan.  We then egg washed them and covered them in white and tan poppy seeds since we hadn't used them at all.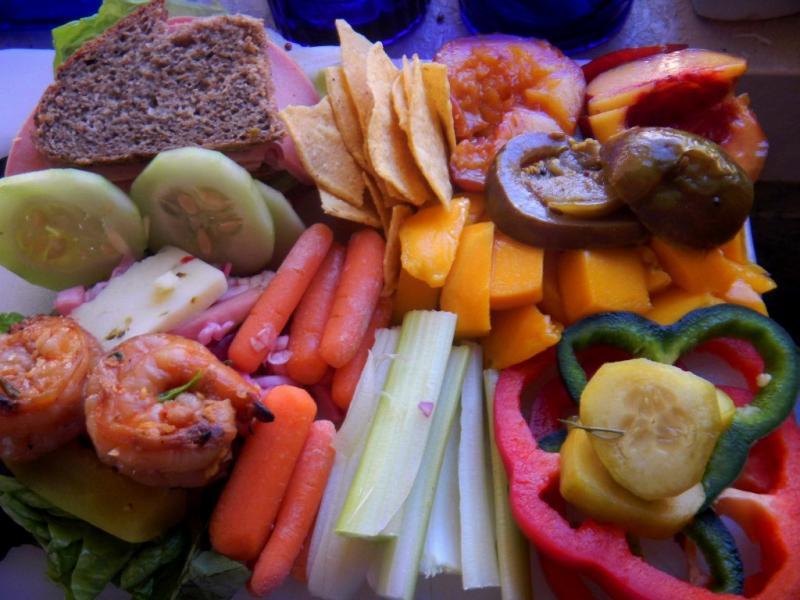 Nothing wrong with a Bologna sandwich and a grilled shrimp salad lunch to go with the mango,nectarine, peach, bread and butter pickles,  pickled eggplant, carrots cucumbers, celery, red and poblano peppers, pickled onion cucumber and tomato relish with a few extra cucumber slices on the side.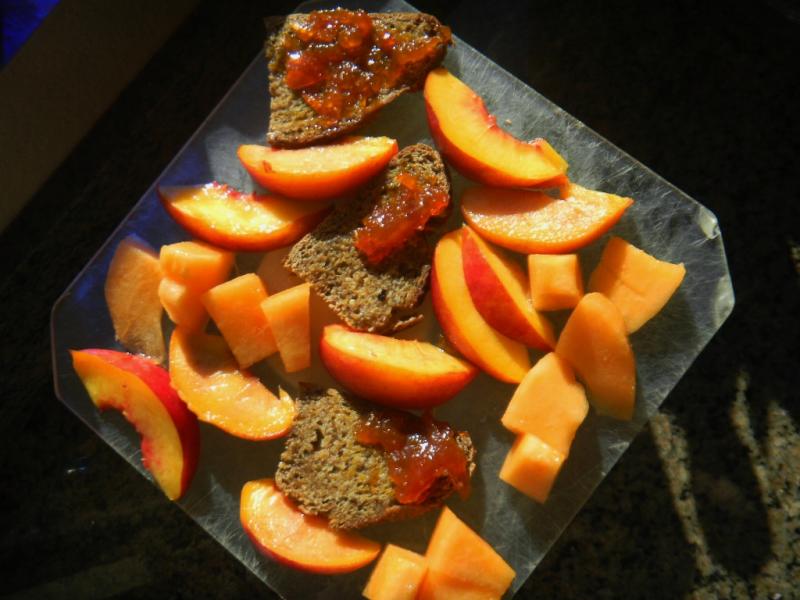 Others had a different breakfast and lunch with some stuff being the same.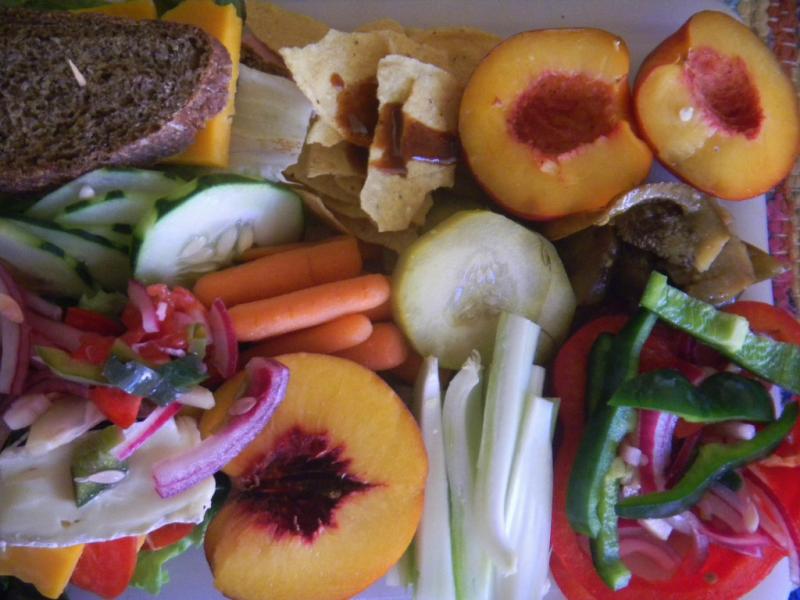 The buns proofed on the counter in a used trash can liner for 2 hours.  They puffed themselves up nicely so we egg washed then again and placed them in the 425 F mini oven set on convection from the get go. No need for steam when the buns have egg on their face.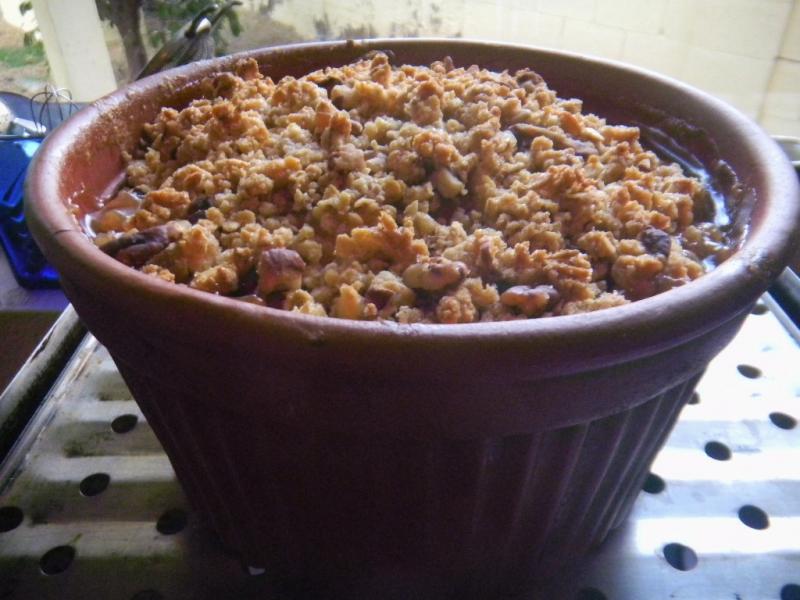 Don't forget the peach, nectarine, mango and plum crisp with pecan  and vanilla granola topping.
After 8 minutes, we turned the oven down to 400 F - convection.   In another 12 minutes the buns were deemed done and removed from the oven to cool on a rack.  They browned up well.  When they were still warm, we cut them and put them on the grill to toast.  These are some really fine tasting buns.  The flavor of the onions and cheeses come through well.  No complaints.  Cleo and Ian have a real winner just like trailrunner said when she made them.
We actually divided the levain in half and are using the other half for Thursday's pizzas trying to follow David Snyder's Pizza Bliss to some degree.
Formula
Pinch of ADY plus

Build 1

Total

%

Multigrain SD Starter

10

10

2.67%

AP

45

70

18.67%

Yeast Water

45

45

12.00%

Total

100

125

28.00%

 

 

 

 

Multigrain SD Levain

 

%

 

Flour

75

20.00%

 

Water

75

20.00%

 

Hydration

100.00%

 

 

 

 

 

 

Levain % of Total

150

23.08%

 

 

 

 

 

Dough Flour

 

%

 

AP

250

66.67%

 

Whole Wheat Bread Flour

50

13.33%

 

Dough Flour

300

80.00%

 

 

 

 

 

Salt

7

1.87%

 

Water

200

53.33%

 

Dough Hydration

66.67%

 

 

 

 

 

 

Total Flour

375

100.00%

 

Water

275

73.33%

 

T. Dough Hydration

73.33%

 

 

% Whole Grain Flour

14.67%

 

 

 

 

 

 

Hydration w/ Adds

73.33%

 

 

Total Weight

667

 

 

 

 

 

 

Add - Ins

 

%

 

Honey

0

0.00%

 

Butter

0

0.00%

 

Toadies

0

0.00%

 

Dehydrated onion

0

0.00%

 

Ground Sesame 2 & Flax seeds 2

0

0.00%

 

Parmesan & Romano 10 g each

0

0.00%

 

Red Malt

0

0.00%

 

White Malt

0

0.00%

 

Total

10

2.67%

 

 

 

 

 

20g of extra onion water were not included

 

 

in the hydration or weight calculations