Pizza Bliss Redux
August 26, 2013
 My first batch of Ken Forkish's "Pizza Dough with Levain" (See Pizza Bliss) produced the best pizza crust and, after freezing, some of the worst I've had. But I did learn a tremendous amount from the comments and the information generously shared by other TFL members, and my second batch will exploit what I have learned.
One thing I've learned is that Forkish's Flour Water Salt Yeast has some great ideas about how to approach baking, but you shouldn't take his times and temperatures too literally. They are "sample schedules." My experience with, I think, five or six bakes from this book book strongly supports the "Watch the Dough, Not the Clock" dictum.
So, using the same formula as last time but scaled back to half of what's in the book, here are my timelines for a second mix of this formula:
Aug 27, 2013

11:00 AM

 

Mix levain

04:30 PM

Levain is ripe. Refrigerate it. (Had a conference call scheduled.)

05:30 PM

Take levain out of fridge.

06:00 PM

Mix flour and water for autolyse.

06:40 PM

Mix salt and levain into final dough.

07:10 PM

Stretch and fold dough.

09:30 PM

Dough has expanded by 50% and has lots of bubbles. Divide dough into 3 balls. Freeze one. Refrigerate two.

Aug 28, 2013

06:00 PM

 

Remove dough balls from fridge. Allow to come to room temperature and continue fermentation.

07:00 PM

Turn on oven to pre-heat the baking stone.

08:00 PM

Bake pizze!
MENU
Pizza with wild and domestic mushrooms sautéed with garlic and parsley, deglazed with Pinot Grigio. San Marzano tomatoes. Freshly grated Parmesan cheese.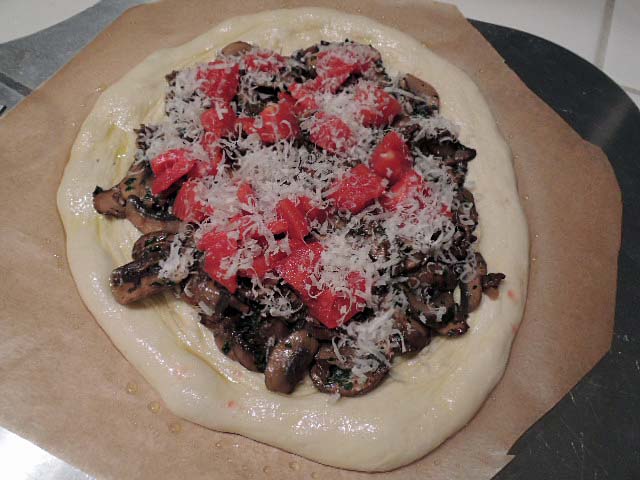 Assembled, ready to bake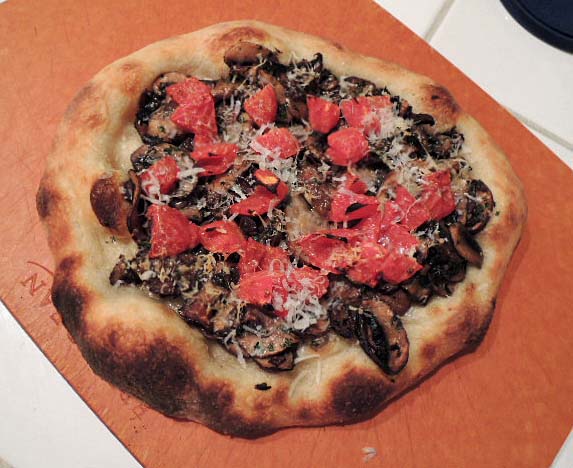 Baked and ready to enjoy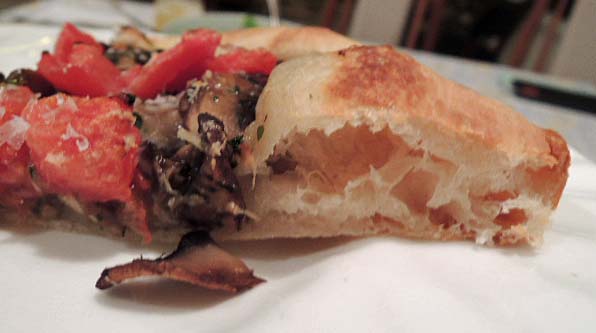 Slice of pizza
Pizza with caramelized onions and garlic. Mixed fresh herbs. San Marzano tomatoes. Shaved Parmesan cheese. Fresh basel.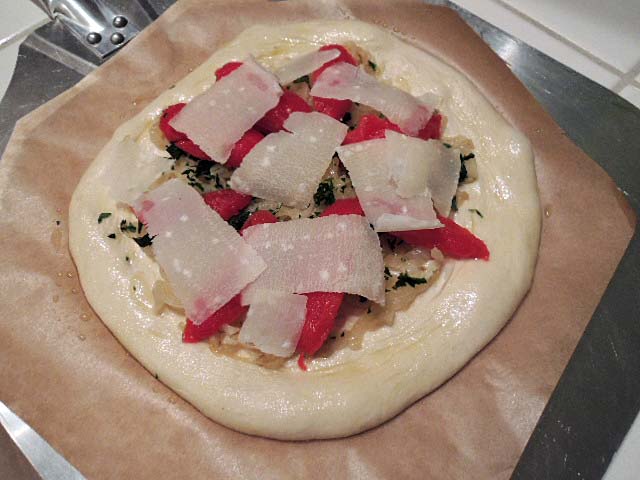 Assembled, ready to bake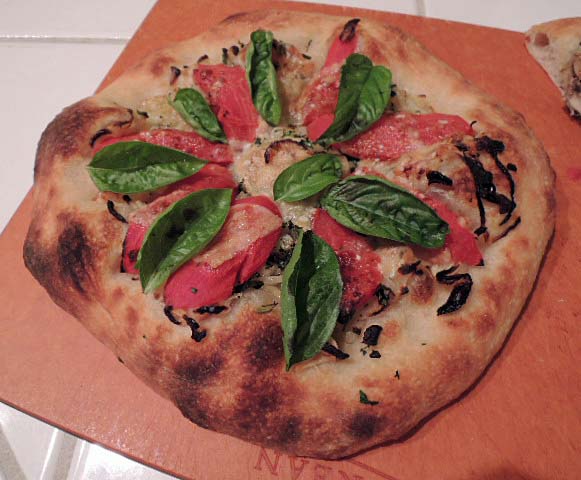 Baked, ready to slice and enjoy
Green salad with mustard vinaigrette.
 The dough was lovely to handle. It was a bit less elastic than the first mix. In the oven, there was dramatic oven spring (Yay!). The crust was delicious. It was significantly less sour than the first mix but had a wonderful sweet, complex flavor and was thin and crisp. The joy is back!
We will see how the third ball bakes up, after 2 or 3 days in the freezer.
I so appreciate all the great problem-solving advice I received after my disappointing post-freeze pizza dough bake.
 David