August 15, 2013 - 12:02am
Quite often - especially during holiday times - spending time with my family can interfere with the optimal sourdough build schedules.
If we then run out of bread I usually make some improvisations based on Dan DiMuzio's Pain De Campagne (90% bread flour, 10% medium rye, 68% water, 2% salt, 0.3% instant yeast, from memory).
These breads are quick because they are same-day breads; but they still take about 5 hours from start to finish.
Two of these variations have been especially popular with my family:
The one pictured in the title photo is made using bread flour, medium rye and wholegrain wheat flours, plus toasted sesame oil.
This results in a very rich flavour and a moist crumb with a very light feel.
 The other bread uses a brown rice flour scald and high extraction wheat.
Both formulas use a bit more yeast than in the original formula, bulk proof for about 2 hours.
Here the formulas:
1. Sesame Mixed Flour Campagne (Ugh...)
| | | |
| --- | --- | --- |
|   | Weight | Bakers % |
| Bread Flour | 350 | 70 |
| Light Rye Flour | 50 | 10 |
| Wholegrain Wheat Flour | 100 | 20 |
| Salt | 10 | 2 |
| Instant Yeast | 3 | 0.6 |
| Water | 320 | 64 |
| Toasted Sesame Oil | 40 | 8 |
| Yield | 873 | 174.6 |
2. Rice Campagne
| | | |
| --- | --- | --- |
|   | Weight (g) | Percent |
| Rice Scald |   |   |
| Brown Rice Flour | 100 | 20 |
| Boiling Water | 300 | 60 |
|   |   |   |
| Final Dough |   |   |
| High Extraction Wheat | 400 | 80 |
| Water | 100 | 20 |
| Salt | 10 | 2 |
| Instant Yeast | 3 | 0.6 |
| Rice Scald | 400 | 80 |
| Yield | 913 | 182.6 |
Here a crumb shot of the Sesame Campagne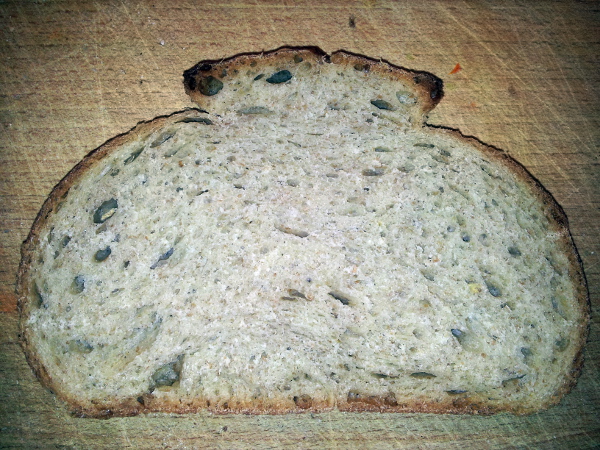 And here a picture of the Rice Campagne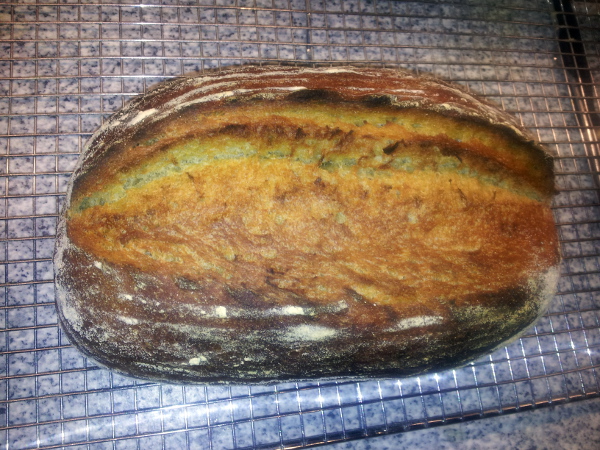 Enjoy,
Juergen