August 12, 2013 - 10:48am
Yeast Water 70% Whole Grain English Muffins
We haven't made English Muffins for a while and wanted to up the whole grains and use YW for the leaven.   We used the 25% sifted out portion of our whole grain milling to feed the YW levain so this has the effect of being 4 times that amount being whole grain for calculations.  Thee grains milled were rye, whole wheat, spelt, farro and Kamut.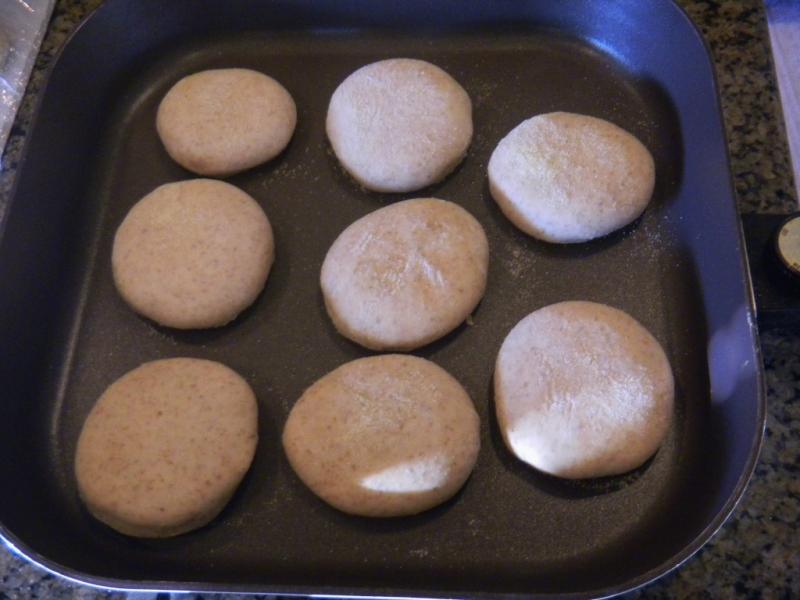 We did a 2 stage levain build that took 12 hours and then added it to the dough four and milk at 9 PM the night before - less the salt, sugar, baking soda and vinegar.  We mixed it with a spoon and left it on the counter overnight until 6 AM the next morning.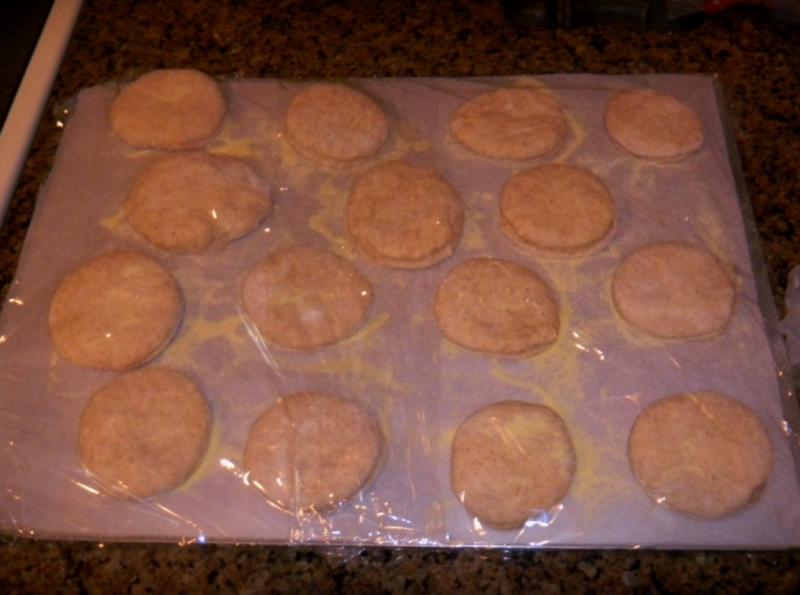 The rest of the ingredients were added the next morning and distributed thoroughly with 4 minutes of kneading.  We added the vingar to activate the baking soda since there was no SD acid to do so.  We rolled the dough out to a little less than ½" and cut out the muffins with a plastic glass.
The EM's were places on parchment sprinkled with semolina, semolina was sprinkled on top of the EM's and then they were covered with Plastic and allowed to proof for 45 minutes.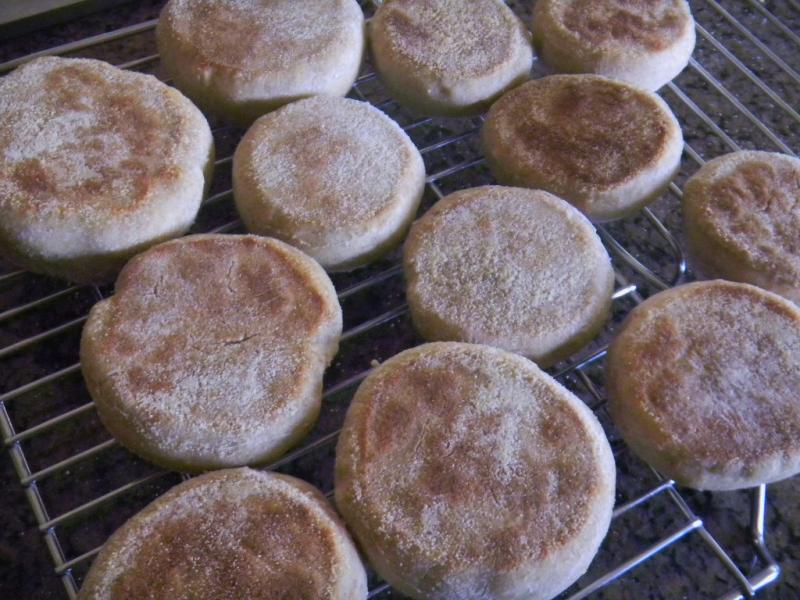 An electric fry pan was heated to 340 F and the EM's were grilled on both sides for 5 minutes each side until brown and then they were moved to a cooling rack.  These came out well puffed up, with decent holes but no sour taste.  A perfect recipe match  for those who want a healthy, non sour, English muffin.  We liked them right out of the pan with butter and jam or toasted.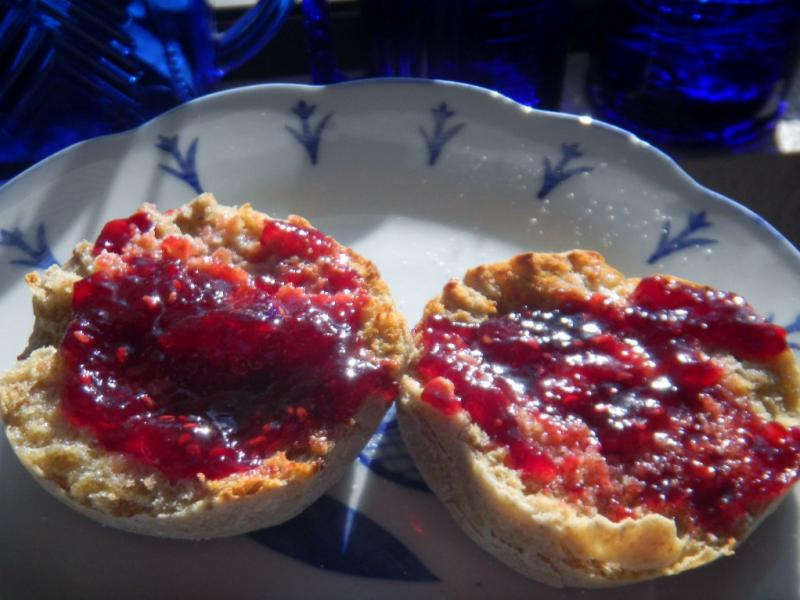 Oregon Red Raspberry Jam seemed to work OK.  Yummy!
Breakfast EM Sandwiches - toasted EM's with medium caramelized minneola marmalade, Apple wood smoked and maple cured bacon, a mushroom omelet with habanero jack cheese inside and Co-jack on the outside.  Surrounded with sliced peach, strawberries, red raspberries and sweet cantaloupe.
Formula
 

Build 1

Build 2

Total

%

Yeast Water

100

0

100

23.20%

AP

50

0

50

11.60%

 25% Sifted Rye and Wheat Bran

50

25

75

17.40%

Total

200

25

225

17.40%

 

 

 

 

 

YW Levain

 

%

 

 

Flour

125

29.00%

 

 

Water

100

23.20%

 

 

Hydration

80.00%

 

 

 

 

 

 

 

 

Levain % of Total

28.37%

 

 

 

 

 

 

 

 

Dough Flour

 

%

 

 

White Whole Wheat

72

16.71%

 

 

AP

234

54.29%

 

 

Dough Flour

306

71.00%

 

 

 

 

 

 

 

Salt

8

1.86%

 

 

Milk

254

58.93%

 

 

Dough Hydration

83.01%

 

 

 

 

 

 

 

 

Total Flour

431

100.00%

 

 

Milk 254, Water

354

82.13%

 

 

T. Dough Hydration

82.13%

 

 

 

% Whole Grain Flour

69.61%

 

 

 

 

 

 

 

 

Total Weight

793

 

 

 

 

 

 

 

 

1 T of sugar, 1 tsp each baking soda and vinegar

 

 

& 8 g of salt added  the next morning

 

 

 

Before the kneading, rolling and cutting