Dark whole grain bread, almost black.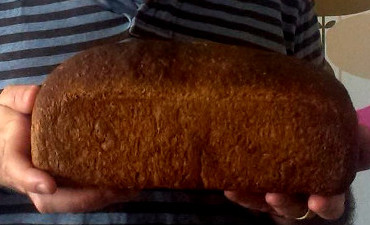 Dark bread, almost black. This is a kind of a Pumpernickled bread, adapted to the mediterranean palate. In southern Europe we are not used to eat those german 100% black ryed breads. We find it too heavy, so this is a light version with greater role of wheat flour:
Ingredients:
- 200 gr bread flour
- 150 gr whole wheat flour
- 100 gr whole rye flour
- 60 gr molasses
- 260 ml water
- 1 tsp cider vinegar
- 1 tsp instant coffee *
- 2 tsp cocoa powder
- 9 gr salt
- 6 gr instant yeast or 18 gr fresh yeast
- 1 tsp fennel seeds
- 3 tsp caraway seeds **
* You can replace instant coffee and water adding 260 ml of light coffee (100 ml of coffee and 160 ml of water). It doesn't matter if coffee is decaf.
** You can replace caraway seeds by cumin seeds. It's not the same but it's similar.
Mix coffee with water, molasses and vinegar.
Mix flours with cocoa powder. Mix wet ingredients with dry ingredients.
Let it rest 20 minuts. Knead. Add salt. Knead. Add seeds. Knead. Add yeast.
Let it rest between 1 hour and 1hour and half. Preshape a batard. Let it rest 10 minutes. Shape a batard and put it into a tin spreaded with oil. Let it rest about 1 hour or more. Preheat the oven at 240C (464F). Put the tin into the oven. Create some steam. Reduce heat to 190C (374F) and bake the bread 35 minutes.
More info: http://breadgallery.wordpress.com/2013/06/26/pan-negro-apumpernickelado/