Overnight Country Blonde from "Flour Water Salt Yeast"
My first bakes from Flour Water Salt Yeast, by Ken Forkish
David M. Snyder
July 20, 2013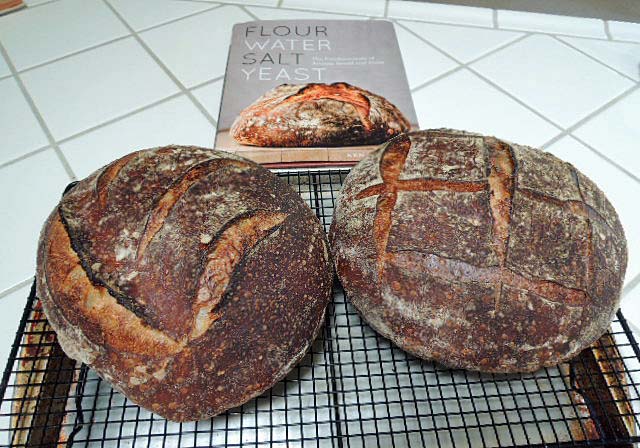 I've been aware of Ken's Artisan Bakery in Portland, Oregon since shortly after it opened. I've driven by it a few times on my way to somewhere else, but, if I've ever had Ken's bread, it has been in Portland restaurants. And I'm pretty sure I have.
On our last visit to Portland, I browsed Ken Forkish's baking book, Flour Water Salt Yeast, at Powell's bookstore. I liked it immediately, and I ordered it as soon as I got home. Flour Water Salt Yeast won both the James Beard Award this year and also the very prestigious IACP award. It is certainly a great addition to my bread book library.
Forkish is clearly writing for the home baker who wants to bake the highest quality bread of a particular type: Crusty, open-crumbed, mixed flour hearth loaves. The book is short on bread science and focused rather than comprehensive. But it does a superb job of demystifying bread making. Forkish presents a set of techniques and very manageable equipment requirements that apply to essentially every formula in the book. The breads and pizza doughs vary in leavening (levain only, levain plus commercial yeast or commercial yeast only), flours used and their proportions and fermentation schedules. Forkish, encourages his readers to experiment with these variables but based on sound principles. The breads presented are ones produced in Ken's Artisan Bakery, with the formulas and procedures are modified somewhat to better fit the typical time demands of the working and/or parenting home baker. I really think this book will encourage its readers to want to make bread and feel confident that they can and will make great bread.
After reading Flour Water Salt Yeast pretty much from cover to cover, I decided to make the "Overnight Country Blonde" for my first bake from the book. This is a 90% white flour, 5% each whole rye and whole wheat, 78% hydration bread. It is a pure levain-raised bread. The prescribed schedule is to refresh the levain in the morning, mix the dough in the mid-afternoon and ferment it at room temperature until the next morning, when it is divided, shaped, proofed and baked by noon. That's a nice schedule. However, my dough was clearly fully fermented after 6 or 7 hours, rather than the 12 to 15 hours called for. This was not really a great surprise, given that my kitchen was at least 80ºF. So, I retarded the dough in the fridge overnight and proceeded from there the next morning. I decided to make one 1.8 Kg miche rather than two boules. This meant that I baked on a baking stone rather than cast iron dutch ovens. The loaf was pretty slack going into the oven, but there was great oven spring.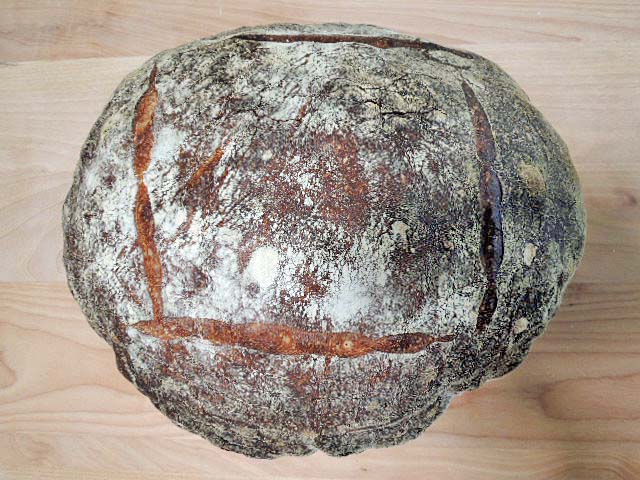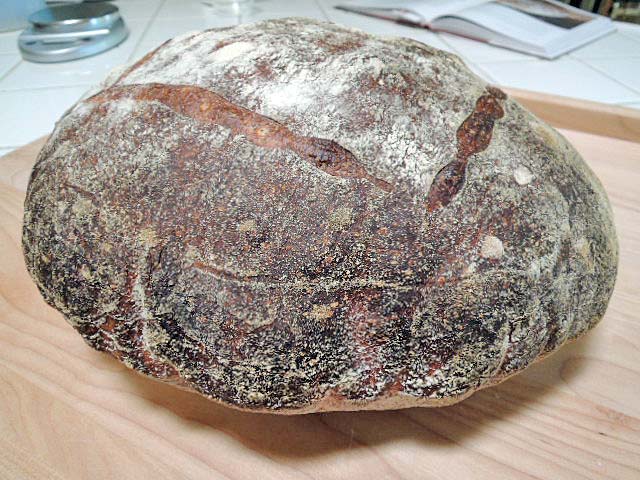 The resulting loaf had a thin, crisp crust that got chewy as the loaf cooled. The crumb was very open. In fact, there were huge holes, especially under the top crust, suggesting the dough had been over-fermented.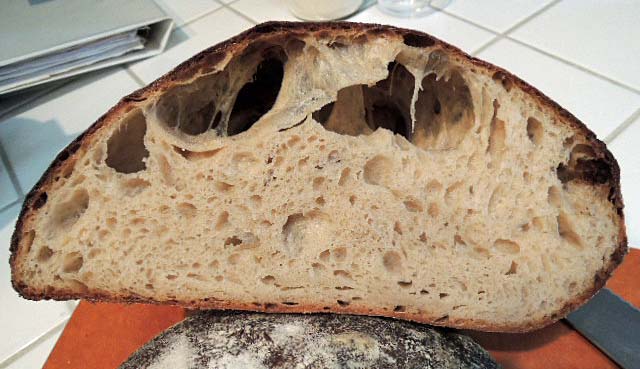 The crumb texture was otherwise marvelous. It was somewhat chewy but very tender. It had a quality for which I don't have a name, but it is very close to the sourdough bread I had in San Francisco as a child. I suspect it is partly the result of gentle mixing and partly of long, slow fermentation. The flavor was sweet, complex and moderately sour.
My wife and I both enjoyed this bread a lot, but I wanted to do it again without over-fermenting the dough, and I wanted a thicker, crunchier crust. For a second bake, I used the same levain which had been refrigerated for 2 days. I did not refresh it. I fermented the dough about 5 hours at which point it had expanded by 2.25 times. I divided into two 904 g pieces, shaped boules and retarded them overnight. The next morning, I let them proof another 90 minutes or so at room temperature and then baked in cast-iron dutch ovens. (At 475ºF, 30 minutes covered then 15 minutes uncovered.)
These loaves looked much more like those in the book. They had a thick, shiny crust that looked marvelous.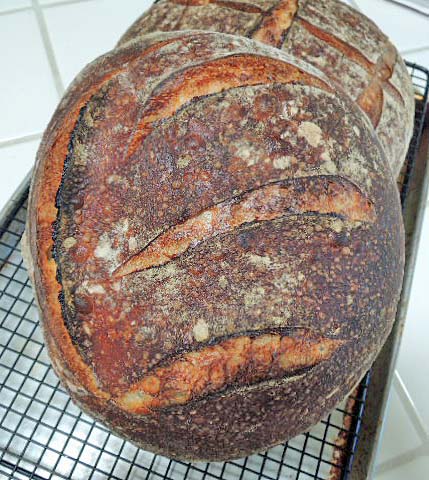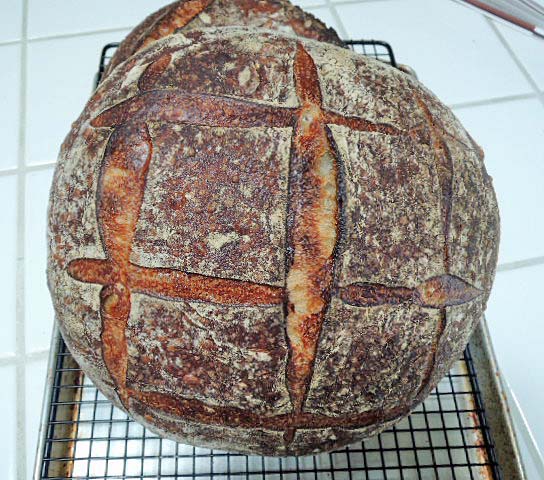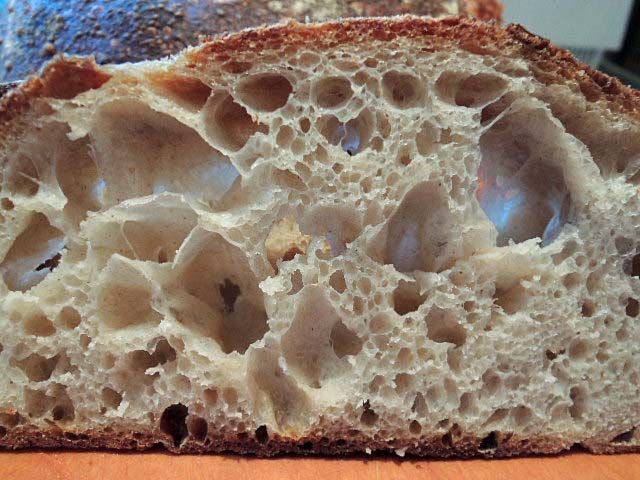 When sliced, the bread had a thinner crust than I expected. The bottom was crunchy but the rest of the crust was pretty chewy. The crumb was more evenly aerated, but there still were some pretty big holes near the top of the loaf. The crumb was chewier than that of the first bake. The flavor of the bread was pretty much the same - maybe a little less sour - but we will see how it develops over the next couple of days. Overall, this is a really nice, mostly white sourdough bread. I'm looking forward to fiddling with the flour mix and trying to slow down the fermentation.
There are many other breads in this book I really want to bake, not to mention the pizzas and focaccias. I very much like Forkish's approach to mixing and fermentation. He really emphasizes the value of a long, slow fermentation for flavor development. With the high Summer temperatures in my kitchen, to really slow things down, I need to try his formulas with a smaller amount of levain (or yeast) than he calls for.
David