Rye and olive oil ciabattas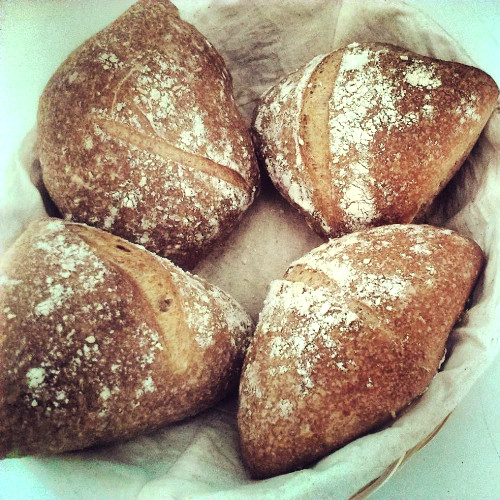 Ingredients:
- 375 gr bread flour
- 125 gr. whole rye flour
- 10 gr. salt
- 50 ml. olive oil
- 330 ml. water
- 5 gr. fresh yeast or 1,6 gr. of dried instant yeast.
Mix flours, salt and water. Knead five minutes and let it rest five minutes more. Continue kneading. Add yeast. Continue kneading.You can spread a little bit of flour on the table during the kneading process, if the dough is very sticky. When the dough is almost smooth add olive oil. Knead until olive oil has been absorved and dough is smooth, silky, and elastic.
Put it into a bowl. Cover and let it rest in the fridge, 12-24 hours.
Take the bowl out of the frigde. Put the dough on a floured surface. Do not degas. Cut it in portions (3 pieces of 300 gr or 6 pieces of 150 gr). Let it rest between 30 minutes and 1 hour. Meanwhile, preheat the oven.
Create some steam in the oven. Bake the ciabattas at 220-230 C, between 20 and 30 minutes depending on the size of the pieces. If you want to preserve the crunchiness of the bread, I suggest you to keep the ciabattas into the oven 5-10 minutes more, with the oven switched off and the door of your oven half-opened.
More info: http://breadgallery.wordpress.com/2013/07/18/chapatas-de-centeno-y-aceite-de-oliva/