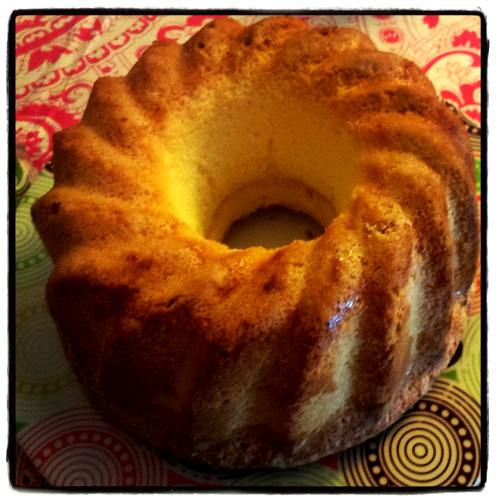 Ingredients:
- 6 medium eggs (6 yolks and 6 whites)
- 200 gr sugar
- 125 gr flour
- Pinch of salt
- 2 tbs Grand Marnier or Rum (optional)
To grease the silicone baking mold
10 gr butter
20 gr sugar
Divide yolks and whites.
In a bowl, beat egg whites until stiff peaks form. I suggest you to use a hand mixer.
In another bowl, mix egg yolks with sugar and a pinch of salt until the mixture becomes white. Add
flour, continue whisking and add Grand Marnier or Rum (optional). I also suggest you to use a hand
mixer.

Now mix the two preparations. Add the egg whites to the other mixture. Do it in three or four series,
moving the spatula until the two preparations become one.
Grease the silicone baking mold with some butter. Dust with some sugar the walls of the baking
mold. Fill the mold. Dust a little bit more of sugar on the top and put it in the oven, preheated at
150C, duuring 1 hour.
I suggest you to use a high baking mold, because during the baking time the gateau rises 50% or
more.
When it's cooked, let it rest into the mold until it becomes warm, and then remove it from the mold.
You can cover the gateau with icing sugar, or serve it with crème anglaise, ice cream, strawberries,
or whatever you want.
You'll see the amazing texture of this gateau is like marshmallow because of its spongy consistency.
I'm sure you will enjoy it!
More info: http://breadgallery.wordpress.com/2013/07/10/bizcocho-de-saboya-2/