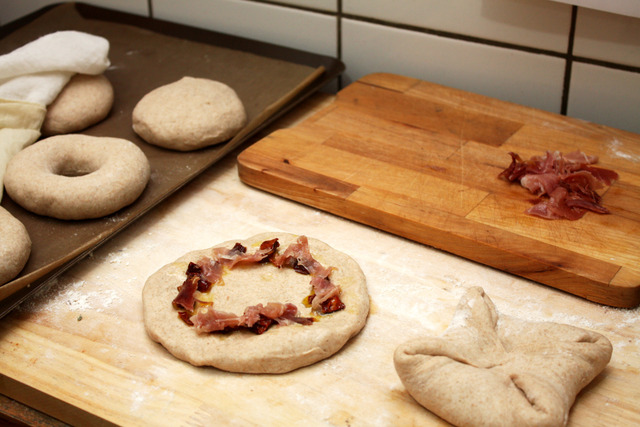 Recently my wife brought home an assortment of handmade bagels from a cafe in Taibei (Taiwan) which each had a generous chunk of something (e.g. soft farmer's cheese in one, sweetened sesame paste in another) stuffed inside the ring. I'd never heard of stuffed bagels before, although I suppose it was inevitable.
We liked them, but the dough was all from refined white flour, and the filling was one pinkie-sized lump on just one side of the bagel. Not only was the filling not well distributed around the ring, but it tended to have some air around it (not sure why), and looked like it would fall out if put vertically into toaster slots.
I decided to have a go at a whole-wheat, sourdough version with better distribution. I went with an overnight retarded sponge that was half of the final dough; it was half high-gluten flour, and the other half around 90% whole wheat, 10% whole rye.
After mixing the main dough the next day and shaping balls (pic, top center) and covering them for 20 minutes to let the gluten relax, I gently flattened and stretched them into thick pita-like disks, and added one of various groups of toppings in a neat ring shape (pic, center) -- for instance, dried figs or dates with chopped walnuts and a drizzle of organic honey; or chunks of smoked gouda; or prosciutto, sun-dried tomatoes and olive oil.
I then gently pulled at two sides of the disk at the side edges, stretching the dough a bit and folding it over to the center, pressing firmly to seal. I repeated this at the top and bottom (see pic on right). I then did the same with what were then protruding corners, making a roughly round shape. I repeated this motion to smooth out any folds some more until it was nice and round, and then poked a finger through the center to make the hole and gently stretch it as usual (see shaped bagel in pic on left). They got boiled, topped with different seeds for each filling type (for better visual identification) and baked in the usual manner. Some needed a few minutes of additional baking to make up for the additional moisture in the fillings.
The results were excellent. The stuffing technique, as opposed to just adding the extra ingredients in the dough, means that the exterior of the bagels stays very intact, as opposed to the messiness and tearing you might get when trying to shape something that has had nuts or something moist added. Also, the honey isn't dispersed, so you get the honey flavor right where the nuts and either figs or dates are, which is perfect. And since the fillings are pretty much centered, you get a very nice visual effect when you slice the bagel before toasting. Finally, unlike the purchased bagels that inspired this project, the fillings in mine seemed solidly embedded enough that I was able to put the bagels vertically in a toaster without fear of them falling out.
I don't have more pics of the baked exteriors or crumb, as I was juggling this with toddler care, but thought I'd share this idea, including a photo to show the stuffing technique I tried, and see who else here has been doing stuffed bagels (a search showed nothing). I may try chorizo-scrambled egg-cheese, or cream cheese-blueberry, or mozzarella - sun-dried tomato - olive next.