Since we discovered that my hubby's digestive upsets are lessend when he eats spelt bread versus regular wheat bread, I am working on a recipe he would like. I also wanted to combine the health benefits of spelt and sour dough. I believe , this one came out pretty good and I got a thumbs up from him.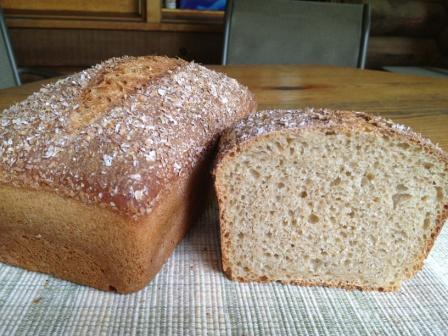 I started with the breadtopia's sour dough spelt formula and made some adaptions:
25% Whole Spelt      84gr freshly ground)
75% White Spelt       251gr
1.8% salt                     6gr
7.5% Brown Sugar     25gr   (hubby likes it sweet)
19.4% Spelt SD            65gr
58.2% water               195gr
1.5% oil                          5gr
I did 2 feedings then mixed the dough, autolyzed and did 3 or 4 S&F in about 30 min. intervall, shaped, put in pan and up inthe fridge till bedtime, took it out and baked it next morning.
In comparison to Breadtopia I doubled the SD (I think it makes the bread lighter) added sugar and oil.
Are there any suggstions how to treat spelt SD?  Up till now I start with my rye culture and feed it twice with spelt about 12 hours apart. Would be a different way better?
As always input is appreciated.
Barbara