Baguettes (July 7, 2013) - FIrst attempt and lessons learned
Well, I decided to try to make baguettes.  I loosely followed dmsnyder's instructions and Anis Bouabsa's formula (scaled to 80%) from here, with some adjustments based on my schedule and my laziness.  Specifically, I mixed the dough but did not knead it, let it rest at room temperature for about 45 minutes, then parked it in the refrigerator for about 12 hours without any folding.  I portioned the dough and did a very cursory pre-shaping step consisting of simply forming some rough rectangular blobs.  After a 30 minute rest, I formed the loaves and let them rise for about 1 hour.  I attempted to score the loaves without much success (I guess my knife wasn't sharp enough).  Then I baked with some steam at 450F for 20 minutes.
Super lazy pre-shaping step.  I did not find the dough to be too sticky or unmanageable.  These were 175g (~ 6 oz.) portions.  I figured smaller loaves might be easier to handle.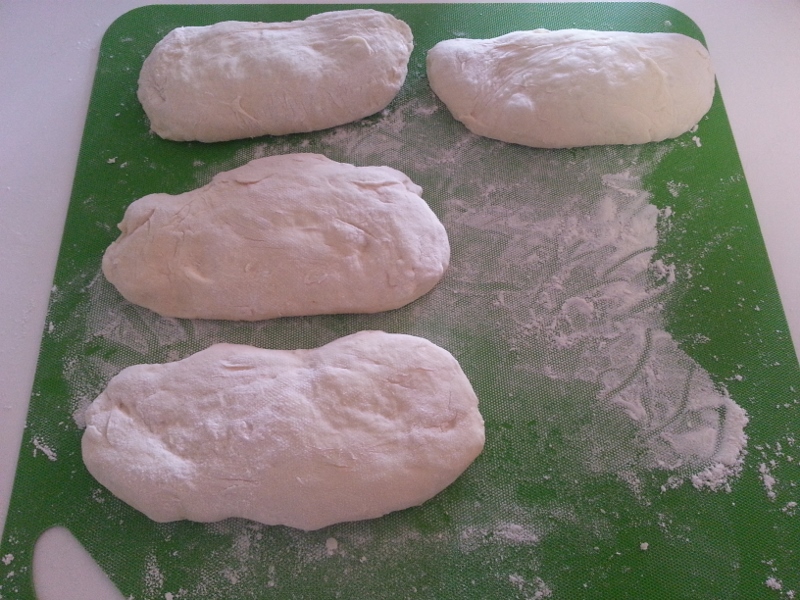 After watching a couple of videos on youtube, I was ready to go. There may be better/more helpful videos out there.  These are the two I happened to watch.
http://www.youtube.com/watch?v=rEpedY__hsM
http://www.youtube.com/watch?v=8d0dzpJAbbU
I did these very quickly, as I didn't want to obsess and end up overworking the dough.  The smaller amount of dough made it slightly difficult to form a good seam with the side/heel of my hand.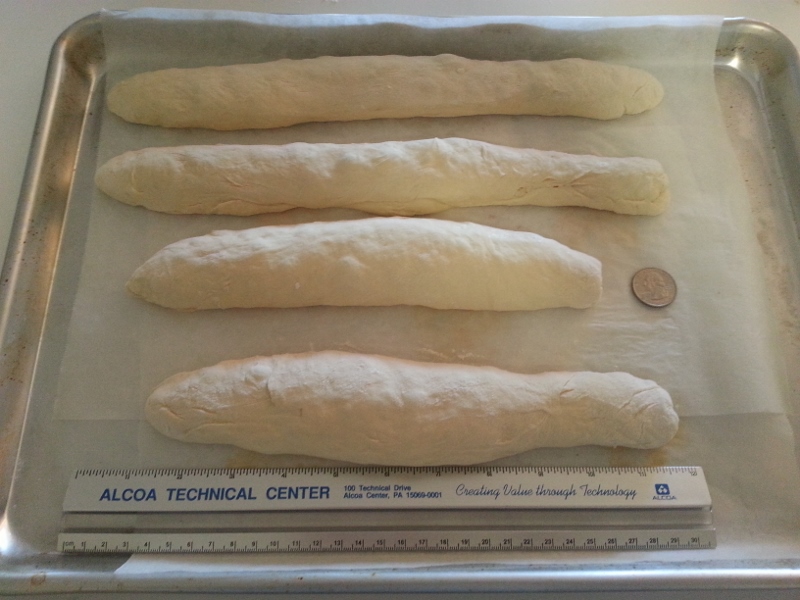 I proofed directly on a parchment lined baking pan, without couching.  The loaves spread out sideways as a result and  the spacing of these was awful.  I should not have loaded more than three on this pan.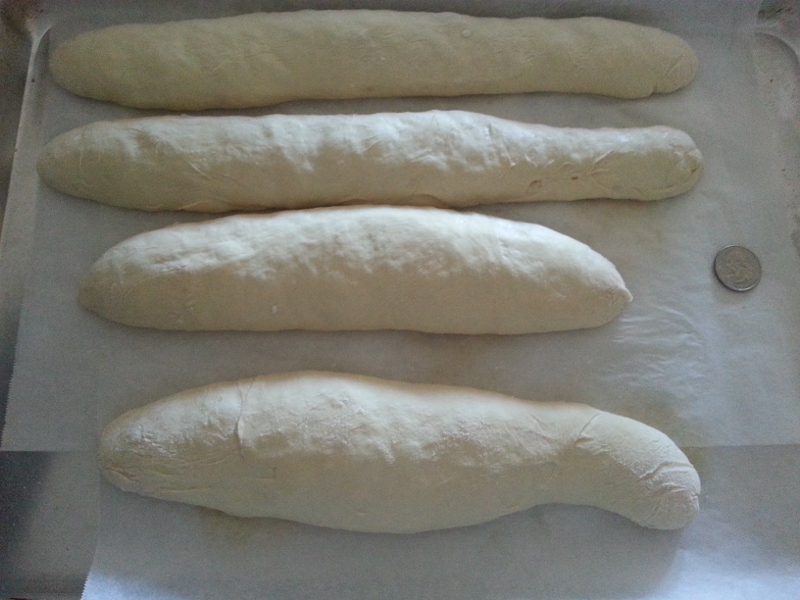 Scoring was a disaster.  First I tried with a paring knife, then tried 2 different serrated knives.  As as you can see, the blades were dragging and pulling the dough.  I finally gave up.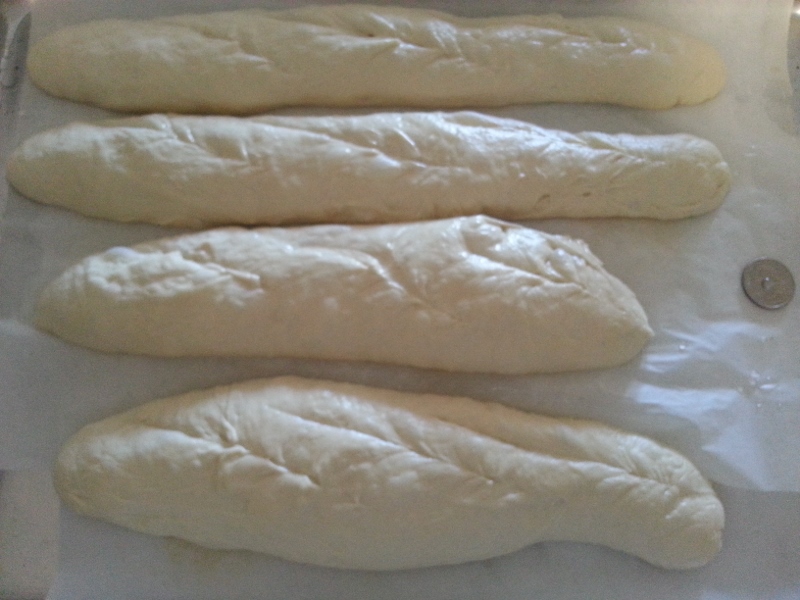 Yikes! After 15 minutes at 450F, the tops were golden brown but they didn't look quite done.  I decided to go for 5 more minutes.  In retrospect I should have dropped the temperature.  The loaves look a LOT darker in the photos than in person.  I guess the lighting was too cool and my phone's camera picked up too much blue.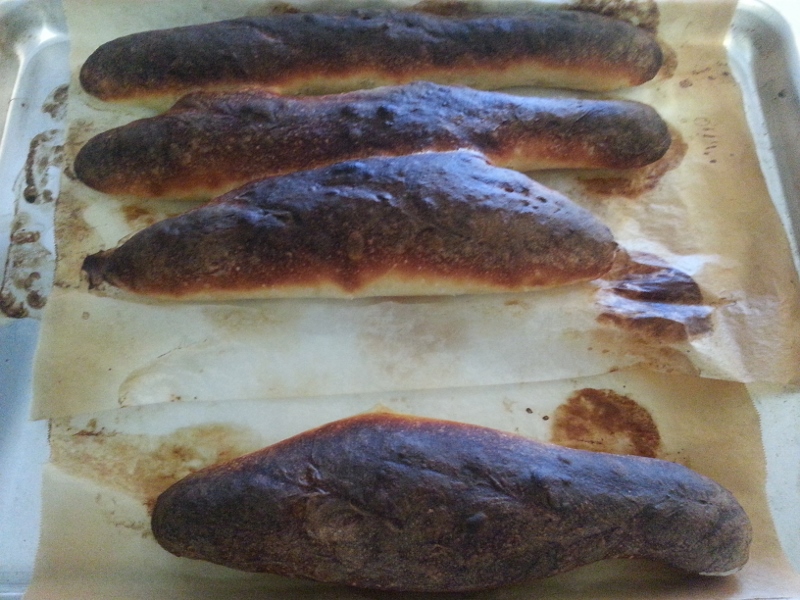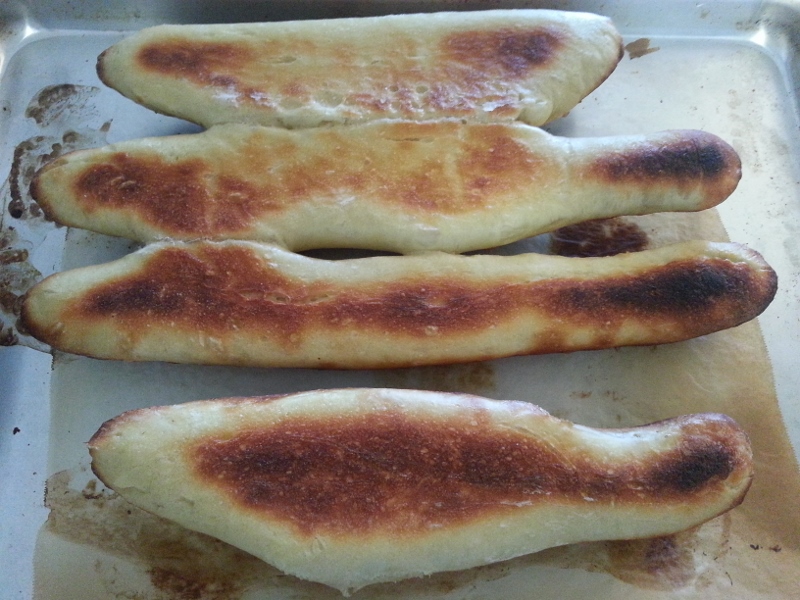 I had to run out the door, so I left these to cool and then sliced one open 2.5 hour later after I got home.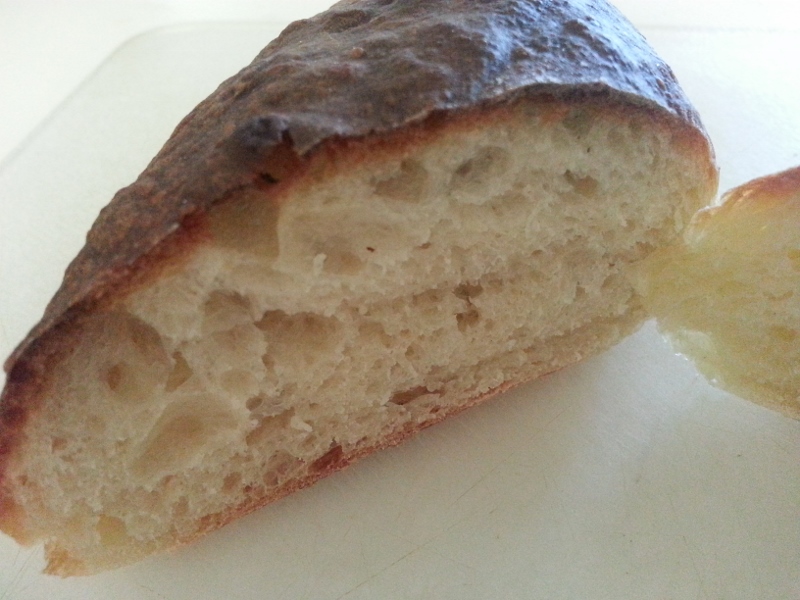 Despite the problems with scoring and the overly browned crust, I'm pretty happy with the results.  The crust is somewhat crispy (maybe not cracklingly crispy) and has a nice chewiness.  I didn't get a ton of oven spring, but the crumb is still somewhat open and tender with a slight chew.  I must have liked it, because I finished a loaf within a few minutes.