It all started out simple enough
And then, latter on, things went to hell in a hand basket in an instant.  It is getting to the point where even my apprentice doesn't have a clue anymore.  She never had one in the first place, so she has an excuse and has plausible deniability…. unlike some others, like me.  But, some are still blameless because we were nearly almost close enough to call it that….. if you are not paying attention while  reading this ….which could be easy enough on your part.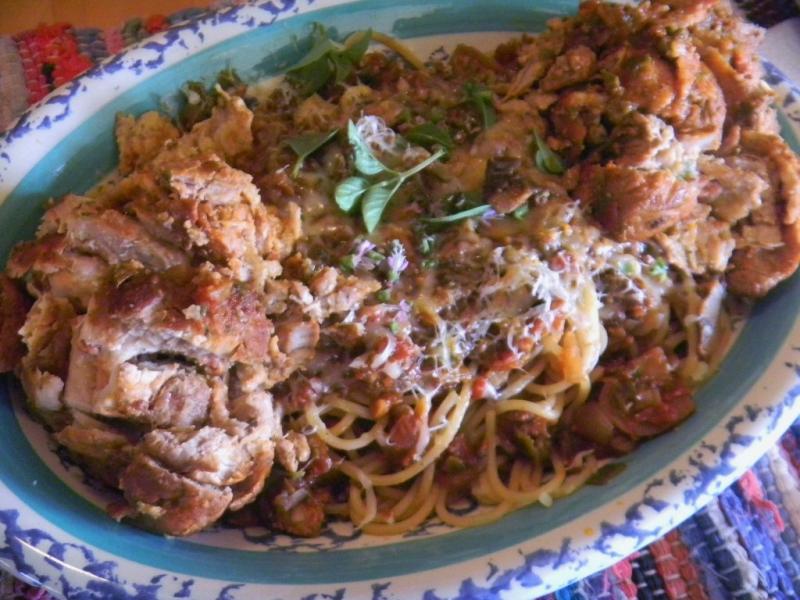 It all started last Saturday, the day before Father's Day, when we decided to have Sunday Gravy on the wrong day.   We were out of a lot of home made stuff that needed replenishing but decided to blow them off in favor of some fine Sunday Gravy on Saturday thinking  a it a better thing to do ….on the wrong day.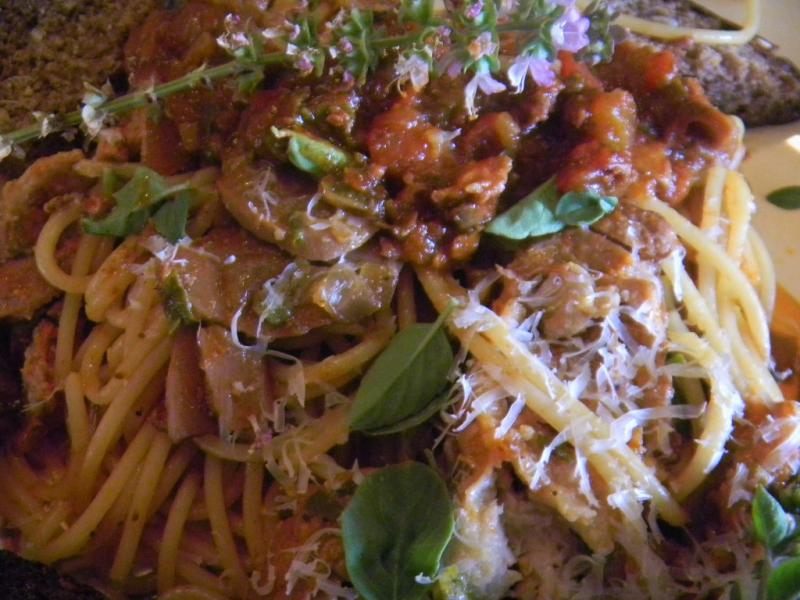 The Ezekiel bread was a odd choice.
The gravy went well and turned out tasty even though we only had hot Italian sausage and some pork chops that we flattened out and stuffed with cheeses, herbs and sausage and then rolled up into larger tied sausages that we browned in a pan.  The tomato sauce came out tasty too, just the way we like it, spicy and dark with the crushed red pepper, chicken stock, mushrooms, onions, Cabernet and Swiss chard.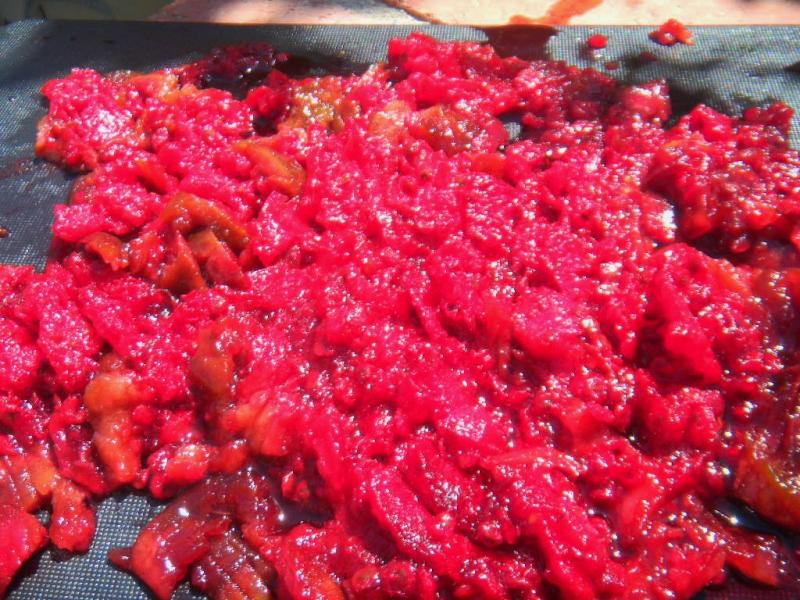 So Fathers Day was set to make or finish making all the stuff we out of like kosher dill, bread and butter and Indian eggplant pickles, apricot jam, prickly pear jam and 3 bottles of arancello that had been sitting on skins since January.  The prickly pear and arancello are two main ingredients in a fine margarita we like …..so they so they went first.  Everything turned out just great.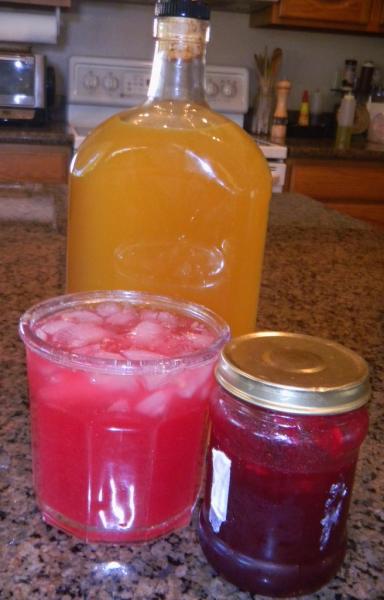 Yesterday, I decided to make pizza for dinner, using the left over gravy for sauce,  and wanted to try a new crust recipe that didn't require any retarding of the dough but used yeast water form the liquid, a pinch each of desem and rye SD starters and a pinch of ADY for a poolish all mixed into one combo levain.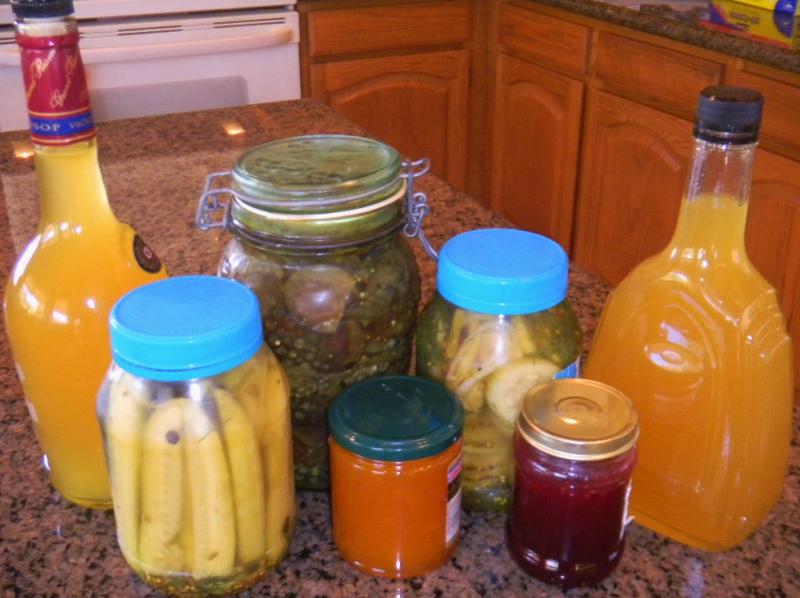 We decided to do a 2 stage build starting at 10 AM hoping it would be ready with pizza hitting the stone at 6.45 PM.   We used 2 hours for both builds since all the starters can double in 3 hours in the summer.  By 2 PM the levain was mixed with the rest of the ingredients that had been autolysed for an hour.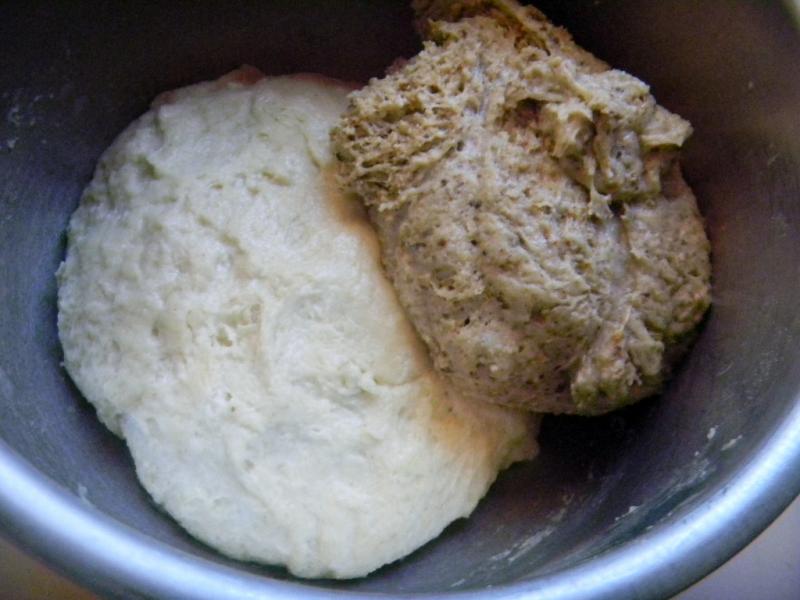 We were looking forward to this dough since it was 32% whole multigrain with toadies for the first time.  All the whole grains were packed into the levain.  This dough also had almost 30% semolina in it too making it a little more Italian.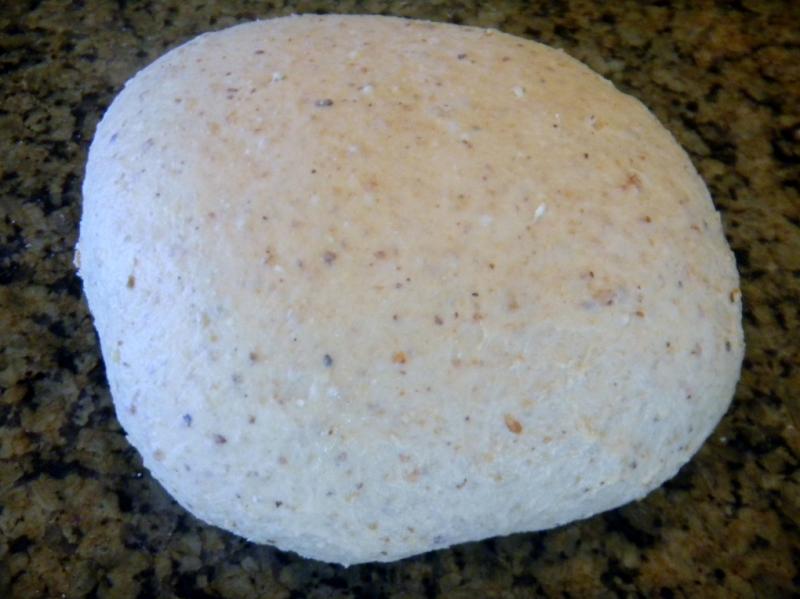 We did 10 minutes of slap and folds and 3 sets of S&F's 15 minutes apart.  The home made sun dried tomato, garlic and rosemary were incorporated during the first S&F. The dough came together beautifully and was ready to go after 3 hours of proofing on the counter.  It smelled terrific.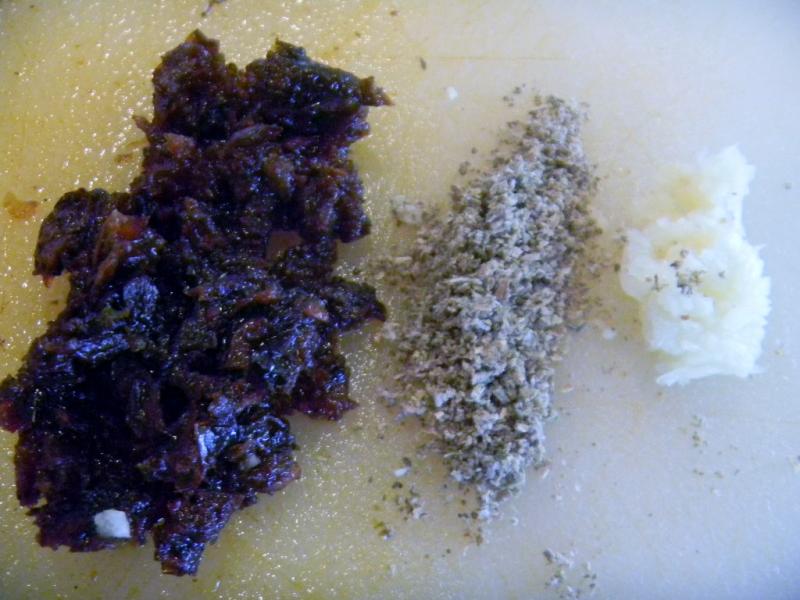 The 3 hour proof gave us all kinds of time to make the pizza fixings.  Hot Italian sausage was browned first followed by caramelized; onions, mushrooms, poblano, hatch, jalapeno and green chilies that were browned in the same pan in succession.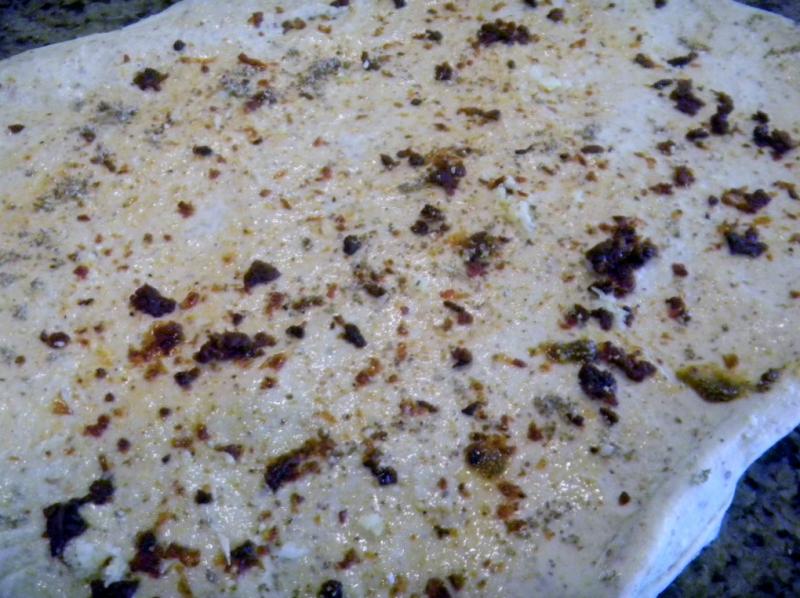 We chopped up some basil, olives red peppers, green and red onion, made the mojo de ajo, grated the cheeses and found the pepperoni in the freezer.  We even had time to make a nice salad - something we never do on a pizza night.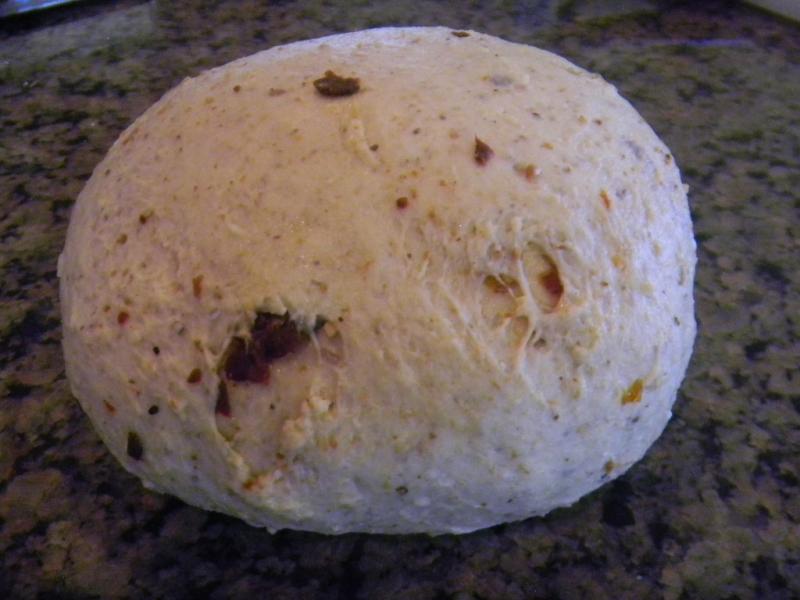 Instead of making 2 smaller pizzas I decided to make one larger one and this is where things starter going wrong.  The crust formed perfectly, extensible yet strong but it was too big for the peel.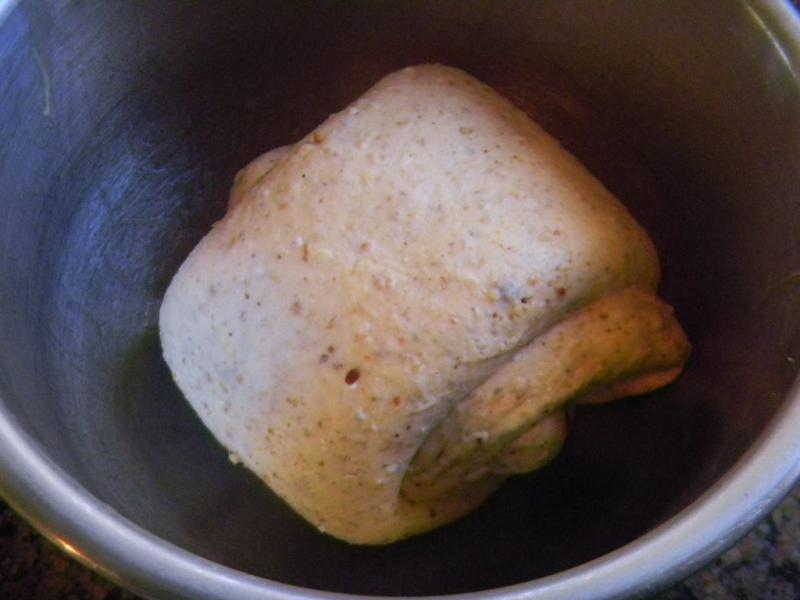 After hand forming I had rolled out the middle with my new, mini, black and green, alligator rolling pin found at Goodwill just for this purpose - it worked beautifully.  I covered it in mojo de ajo, docked it and prepared to par bake the crust for 3 minutes as we always do – but this was a don't.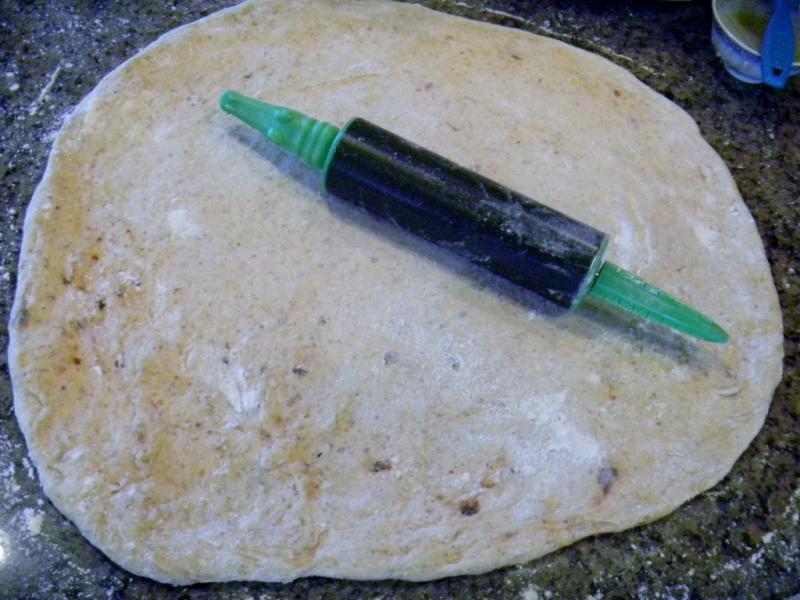 When I went to slide it onto the stone the front hung upon the peel sticking badly and back slid quite freely making the most beautiful, brown, 3" high ribbon candy that stone had ever seen.  Just perfect if one was making ribbon candy in a 500F oven on a pizza stone,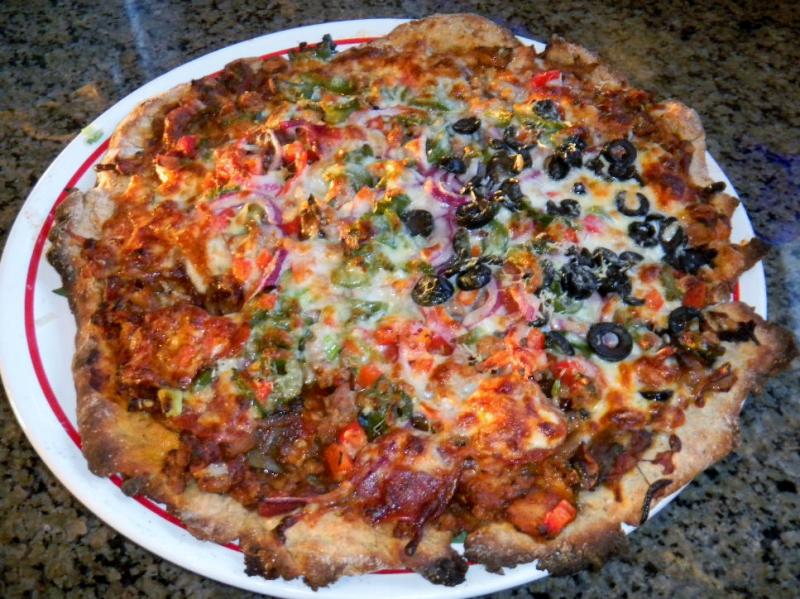 I immediately looked at my apprentice who muttered 'Was für ein dummer Idiot' under her growl while wisely running out of the kitchen as fast as she could.  I grabbed the dough off the 500 F stone no longer than 5-7 seconds after it landed - but that was plenty enough time to really change it into a different kind of pizza dough.
After reforming it as best we could it didn't really have a discernable raised edge, was twice as thick as usual and was about 3 " less in diameter than the original but it did barely fit the stone. We par baked the blob for a minute longer than usual, 4 minutes due to its thickness.  Then we loaded it up, no pepperoni or olives for my wife and no olives for the daughter and baked it for 8 more minutes - 3 minutes longer than normal in the top and bottom stone set up.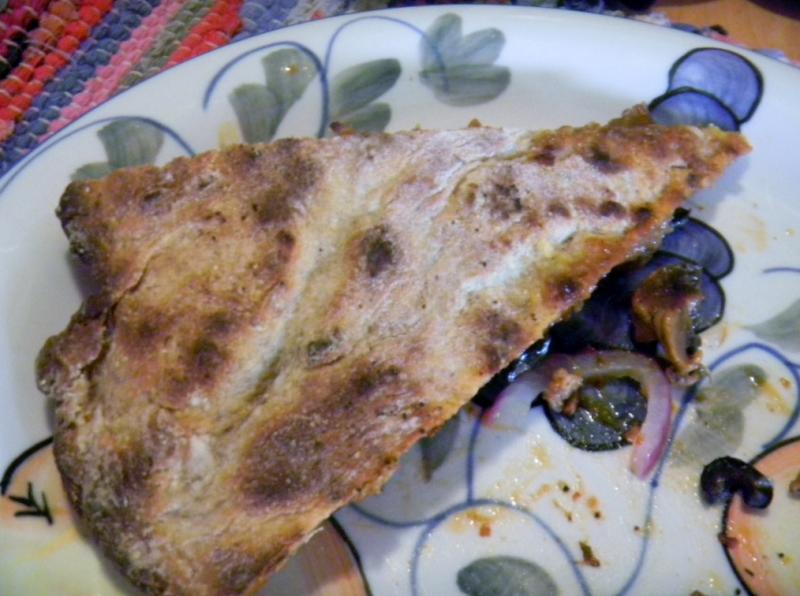 It wasn't a complete disaster, and I can prove it.   For those who have grown used to near perfect pizza and having it for so long, this was quite a letdown.  The crust was nicely brown on the top and bottom, crispy and very tasty but …..not at all close to being right either.  No one said this was the best pizza or pizza crust ever but, the proof that it wasn't a total disaster is that the pizza is gone and no one touched the salad.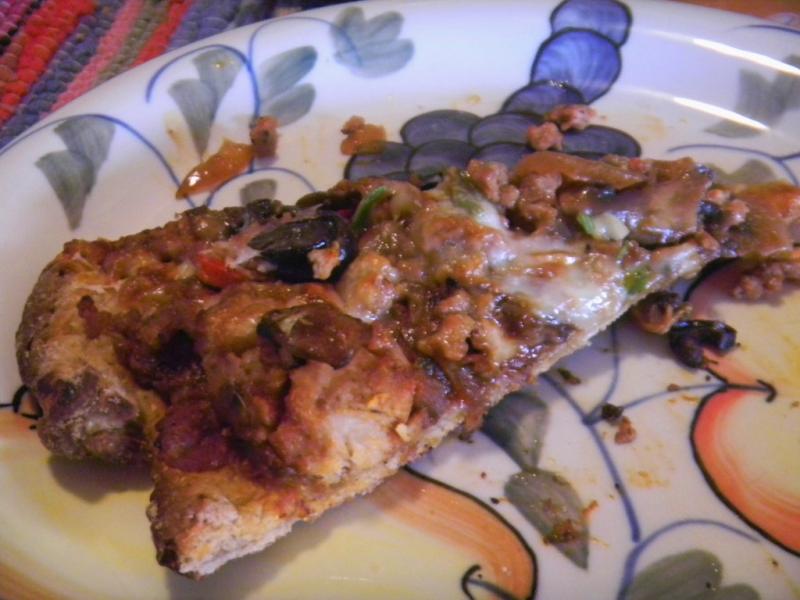 Can't wait to make this crust again and see what it is really like when not final shaped into ribbon candy and scorched on a blazing hot pizza stone while loading.  The one thing I learned is that Sunday Gravy made on Saturday for a Monday pizza sauce is the way to go every time.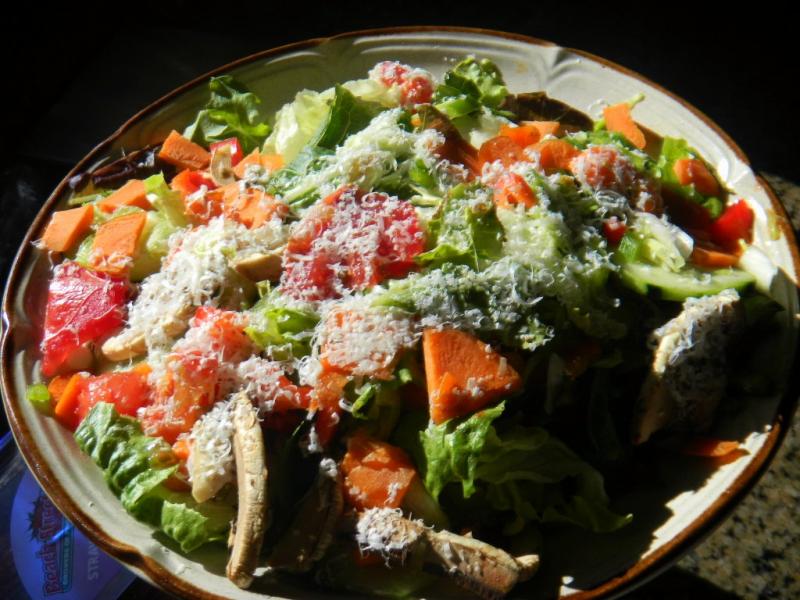 My wife pinched off a little bit of the salad this morning for her bag lunch sandwich.
Formula
| | | | | |
| --- | --- | --- | --- | --- |
| YW, WW & RyeSD Poolish | Build 1 | Build 2 | Total | % |
| Rye & WW SD Starter | 10 | 0 | 10 | 5.88% |
| Multigrain Mix | 0 | 23 | 23 | 13.53% |
| Semolina | 0 | 17 | 17 | 10.00% |
| Toadies | 0 | 10 | 10 | 5.88% |
| Whole Wheat | 20 | 0 | 20 | 11.76% |
| AP | 25 | 0 | 25 | 14.71% |
| Yeast Water | 45 | 25 | 70 | 41.18% |
| Water | 0 | 0 | 0 | 0.00% |
| Total | 100 | 75 | 175 | 102.94% |
|   |   |   |   |   |
| Combo Starter Totals |   | % |   |   |
| Flour | 100 | 58.82% |   |   |
| Water | 75 | 44.12% |   |   |
| Starter Hydration | 75.00% |   |   |   |
| Levain % of Total | 35.00% |   |   |   |
|   |   |   |   |   |
| Dough Flour |   | % |   |   |
| Semolina | 50 | 29.41% |   |   |
| AP | 120 | 70.59% |   |   |
| Total Dough Flour | 170 | 100.00% |   |   |
|   |   |   |   |   |
| Salt | 5 | 1.85% |   |   |
| Dough Water | 125 | 73.53% |   |   |
| Dough Hydration | 73.53% |   |   |   |
|   |   |   |   |   |
| Add - Ins |   | % |   |   |
| VWG & DE. 5 g each | 10 | 5.88% |   |   |
| Olive oil | 15 | 8.82% |   |   |
| Total | 25 | 14.71% |   |   |
|   |   |   |   |   |
| Total Flour w/ Starter | 270 |   |   |   |
| Total Water w/ Starter | 200 |   |   |   |
|   |   |   |   |   |
| Tot. Hydration  w/ Starter | 74.07% |   |   |   |
| Hydration w/ Starter & Adds | 71.43% |   |   |   |
| Total Weight | 500 |   |   |   |
| % Whole Grain | 32.59% |   |   |   |
|   |   |   |   |   |
| One small clove of garlic |   |   |   |   |
| 1 g of dried roemary |   |   |   |   |
| 1/2 sun dried tomato |   |   |   |   |