Flour percentages and flavor impact
Had a question today on flours. Went out over the weekend and procured some different varieties, then whipped up a couple of loaves. The following are the recipes I used:
500g Poolish starter (1:1:1 ratio)
275g water
400g RM White
50G KAF WW
30G RM Oat
20G RM Spelt
20G salt
Version 2 I subbed Rye for the Oat.
S&F method, fold and rest thrice, 10 minute rests. BF 3hrs (warm day). 2 Folds at 10 minutes, 2 Hr FP. In at 450 for 40 minutes with steam and this is what I got: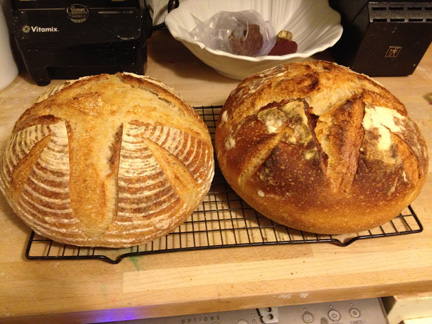 On the right is the Rye variety. I found these both to be quite similar, though the addition of the Spelt seems to have impacted them nicely. Nuttier ( a bit, more balanced, crumb is good).
However, the difference between the two was hard to discern. I set a 4% mark for the spelt and 6% for the Oat/Rye. Question: Anyone have a good "experimental" percentage that seems to give us some cornerstone for getting some real flavor changes? I'm gonna bump to 10% next time.. see what happens. Appreciate thoughts/comments.