Soft white pull apart dinner rolls
I have gone 'off' bread so to speak and for two months now have not baked a loaf.  A single man living alone, I find buns and muffins much more practical for my current lifestyle.  Corn bread muffins have been a fave and manana, I will bake the 3gmas corn bread muffins with bacon and corn yumm!
My latest fave recipe is from PR's ABED: soft white bread.  I have cut the recipe in half and reduced the sugar by one third: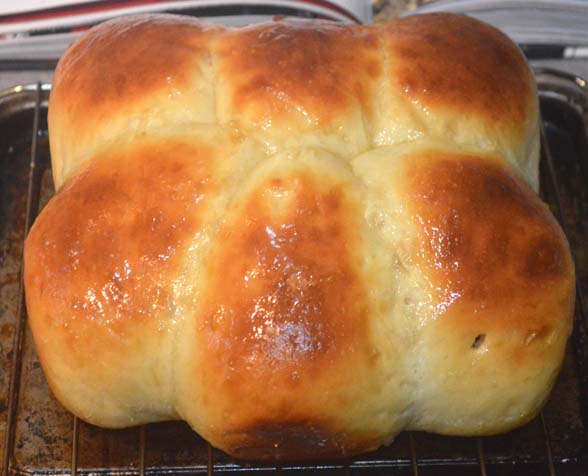 Proofed in a 9x9" lasagna pan.
Proofed on parchment and supported by a linen cloche.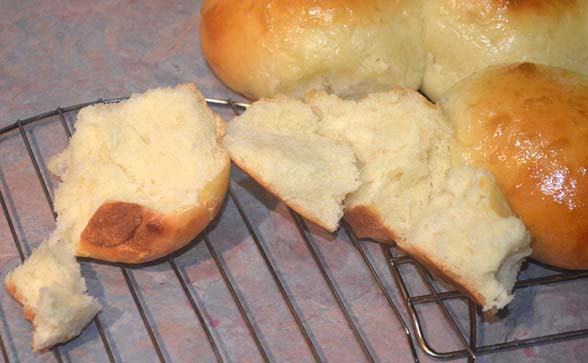 Beautiful flavour and crumb.  Next bake I will build a wooden square to contain the free standing rolls on parchment, a little bigger than my lasagne pan, just for fun and to help the rolls spring up more.
Recipe
300g flour
210g warm milk
29g sugar
2T oil
2T honey
½ egg, beaten
1t salt
11/2t yeast
Brushthe remaining egg wash over the rolls fefore baking and brush with melted butter 5 minutes after coming out of the oven.
Enjoy,  Brian
Bake @ 350F 40 minutes